Take me down to the paradise city…
There are few people in this world that achieve one-name recognition, and Slash is one of them. A legendary guitarist who shot to fame as part of the rock supergroup Guns N' Roses – and later went on to do his own projects – Slash has been rocking stages for well over 35-years. While he has been seen wearing a number of different luxury watches over the course of his career, more recently it has been a Rolex Submariner "Hulk" that has been spotted on Slash's wrist.
Rolex Submariner 116610LV – "Hulk"
Hulk Submariner Key Features:
– Production Years: 2010 – 2020
– Case Size: 40mm
– Material: Stainless Steel
– Functions: Time w/ Running Seconds, Date Display
– Bezel: Unidirectional, Green Ceramic Insert w/ 60-Minute Scale
– Dial: Green w/ Luminous Markers
– Crystal: Sapphire (Flat w/ Cyclops Lens)
– Movement: Rolex Caliber 3135
– Water Resistance: 300 Meters / 1,000 feet
– Strap/Bracelet: Oyster Bracelet w/ Glidelock Clasp
Click here for our Ultimate Reference Guide on the Rolex "Hulk" Submariner 116610LV.

Slash's Style
Brash and over-the-top, Slash's style is iconic as his music. Rarely seen without his signature black top hat, oversized sunglasses, and wild hair, Slash's look is truly like no other. So, it is probably no surprise that the rock superstar wears the boldest colored Rolex watch of all time, the green bezel and green dial reference 116610LV Submariner Hulk.
While Slash has been a loyal Breitling watch wearer for many years, he's also been (easily) spotted wearing this special Rolex, most notably while on the road with the Guns N' Roses world tour, joining fellow rock stars Axl Rose and Duff McKagan. Many celebrities own at least a few different luxury watches, and it's almost like an endorsement or stamp of approval whenever they choose a specific model. And we have to say, this pairing of two big, bold personalities is one of those truly awesome matches.
Rolex Hulk Submariner Reference 116610LV
The Rolex Submariner ref. 116610LV made its debut at Baselworld 2010, seven years after Rolex first introduced the color green to their Submariner line with the green bezel 50% Anniversary edition (known as the "Kermit"). Large, bulky and eye-poppingly-green, the green bezel and green dial Submariner "Hulk" lives up to its nickname, which comes from the brawny, green Marvel superhero.
A modern Rolex sports watch produced from 2010 to 2020, the "Hulk" Submariner 116610LV features all the contemporary improvements found on modern Rolex watches, like a Cerachrom bezel, which is a proprietary ceramic material used by Rolex that's extremely scratch-resistant and impervious to the fading effects of UV light. Another major upgrade to the bezel was the markings on its 60-minute timing scale, which were coated in platinum, as well as the topping the inverted triangle with a luminescent dot in Rolex's proprietary Chromalight material for optimum legibility in low light.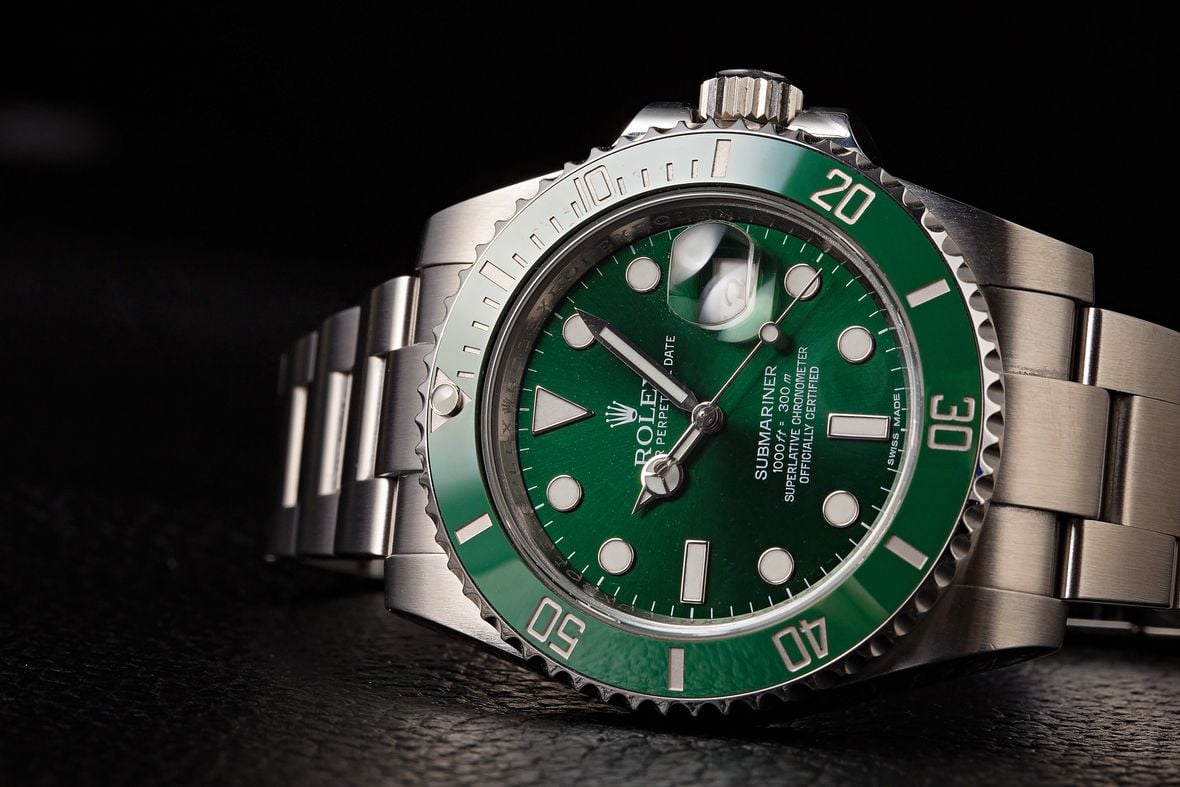 The All-Green Submariner
Along with the ceramic bezel, the Rolex ref. 116610LV also features a larger "Maxi" style dial with oversized luminescent hour markers and fatter Mercedes style hands. While this Maxi dial was used across the Rolex ref. 116610 range, it was particularly striking on the ref. 116610LV since it also featured a bright green sunburst dial. Rolex originally called it "green gold" upon its launch due to the thin coating of pure gold that serves as the metallic base layer for this watch's killer green dial. It may not be visible to the naked eye, but it's definitely a feature worth noting, as well as a feature definitely worthy of a rockstar like Slash.
It's probably clear by now that what makes this watch so special is its all-green color. Historically, Rolex's stainless steel Submariner was only available with a black dial and bezel insert. Blue was an option for those who purchased a two-tone or solid gold Submariner. However, those who wanted a stainless steel version of Rolex's signature dive watch were limited to just black. The only two exceptions to this are the older ref. 16610LV and the newer ref. 126610LV, and while both of these stainless steel Submariner watches have green bezels, they are both fitted with standard black dials, making the Submariner Hulk to be the only model to feature both a green dial and a green bezel.
While green is Rolex's official company color, you'll notice that it is curiously absent from the majority of the watches that have been produced throughout the brand's history. It is only in more recent years that Rolex has started adding small splashes of green to its various watches like the Datejust or Day-Date with their olive green dials. Even those don't shine as brightly as the green of the Submariner ref. 116610LV and having green on both the dial and the bezel is more than notable, but truly extraordinary for Rolex's iconic (and typically rather reserved) professional dive watch.
What Slash Loves About the Hulk Submariner 116610LV
While the green Maxi Dial and matching green Cerachrom bezel are incredibly important features of the Submariner Hulk ref. 116610LV, the six-digit 11661x generation also introduced a slew of firsts to the Submariner collection like the Super Case, Chromalight lume, and solid-link Oyster bracelet with Glidelock clasp extension system. If Slash wasn't already sold on this watch by the bold color alone, these highly practical features probably helped seal the deal.
Chromalight Lume
Chromalight is Rolex's proprietary luminous material that glows blue in the dark instead of the more commonly green-tinted hue of Super-LumiNova. Although the green would be really on-brand for the Hulk, the blue glow of Chromalight is supposed to be longer lasting and easier to read, which is a major improvement for a sports watch that needs to be highly legible for extended periods in dark water.
The Super Case
The "Super Case" sounds like something out of a Marvel comic itself, doesn't it? What's interesting to note about this case is that while it's bulkier and appears significantly larger than the case of its predecessor, it was given the same 40mm diameter as the previous Submariner Date generation. However, that's about the only thing that has stayed the same. The Super Case was updated with a thicker profile, fatter lugs, broader crown-guards, and a wider bezel. Because of these changes, the ref. 116610LV Hulk actually looks and wears larger on the wrist than previous Submariner watches, despite having the same 40mm case diameter.
The case of the Submariner 116610LV is made out of incredibly durable 904L stainless steel (which Rolex has dubbed Oystersteel since 2018). What's special about 904L stainless steel is that it is incredibly corrosion-resistant – even more than the already highly-resistant 316L stainless steel used for most watches.  Since the Submariner is Rolex's quintessential diver's watch, the 116610LV is water-resistant to 1,000 feet (300 meters) thanks to its Triplock winding crown and screw-down caseback. Another thing to note is that while the Submariner models with a blue bezel are also available in 18k gold or Rolesor (which is a two-tone combination of stainless steel and 18k gold) the green Hulk is only available in stainless.
Oyster Bracelet With Glidelock Clasp
The Rolex Submariner has been produced by Rolex since 1953, and each and every reference has been paired with the brand's trusty three-link Oyster bracelet. However, just like the watches themselves, the Oyster bracelet has received its own set of updates and upgrades over the last sixty-plus years.
This new Solid-Link Oyster bracelet features solid end-links and solid center links. This means that these pieces of the Oyster bracelet aren't hollow pieces of metal, but actually solid stainless steel, giving the watch a much heavier and sturdier feel on the wrist. Of course, Rolex has also used the same 904L Oystersteel for the bracelet that is used for the case, meaning that every part of the Submariner Hulk offers the same superior corrosion resilience.
Rolex also outfitted the Oyster bracelet with a machined Oysterlock clasp outfitted with the ingenious Glidelock extension system. This allows wearers to easily adjust the fit of the bracelet in 2mm increments up to a total of about 20mm to allow the Rolex Submariner to fit either under a leather jacket or over a thick wetsuit. Instantaneous adjustments can be made on-the-fly and without the use of any tools. While this feature was originally designed for professional divers, it also comes in handy for everyday wear on dry land. The Glidelock clasp makes the Hulk Submariner able to be easily adjusted to different wrist sizes – for example, if your wrist size fluctuates throughout the day, or if your partner likes to also sometimes wear this watch.
Scuba Diving or Stage Diving
A master of his craft and one of the greatest guitar players of all time, Slash certainly understands what it takes to be the best and could easily afford just about any luxury watch that his heart desires. With that in mind, this legendary guitarist has chosen the all green Hulk Submariner – a bold and unusual take on Rolex's iconic dive watch – to accompany him while he entertains countless fans all around the globe.
While Slash is hard to take your eyes off when he's on stage, the Hulk Submariner is one of those Rolex watches that's going to be hard to miss, even from the nosebleeds. Plus, when he's done touring and rocking out, Slash knows that this watch is the perfect, durable partner to accompany him whether he's deep diving below the surface of the ocean or just hanging out on the deck of a luxury yacht. Cheers, friend – and rock on!