From professional athletes and musicians to actors and Hollywood insiders, the Rolex Sea-Dweller Deepsea is a popular choice among A-listers. And given the watch's large 44mm stainless steel case, incredible water resistance to 12,800 feet, and heftier-than-the-Submariner style, that's no surprise. Big stars need big watches and the Rolex Sea-Dweller Deepsea fits the bill.
Rolex introduced the Deepsea in 2008 as an extreme iteration of the already-impressive Sea-Dweller saturation diving watch. The Deepsea Sea-Dweller has not only remained in Rolex's catalog since then, but the company has also issued three generations of the model thus far, with the latest one joining in 2022.
Let's take a closer look at Rolex's mega diving watch and find out which celebrities proudly wear the Rolex Sea-Dweller Deepsea watch.
About the Rolex Sea-Dweller Deepsea
Rolex Sea-Dweller Deepsea Quick Specs
Introduction Year: 2008
References: 136660, 126660, and 116660
Case Size: 44mm (17.7mm thick)
Case Material: Oystersteel (904L stainless steel alloy); Titanium Caseback
Bezel: Black Cerachrom; Graduated to 60 minutes; Unidirectional Rotating
Dial: Black or D-Blue
Lume: Chromalight
Crystal: Sapphire
Helium Escape Valve: Yes
Functions: Hour, Minute, Seconds Hands, Date, 60-Minute Timing Bezel
Bracelet: Oyster Bracelet; Glidelock Extension System; Fliplock Link (Discontinued)
Caliber: 3135 or 3235 Automatic Movement
Water-Resistance: 12,800ft (3,900m)
Click here for our Ultimate Buying Guide on the Rolex Sea-Dweller.
How Many Rolex Deepsea References Are There?
Rolex has made three Deepsea references since the model's debut in 2008.
Deepsea ref. 136660: 2022 – Present
Deepsea ref. 126660: 2018 – 2022
Deepsea ref. 116660: 2008 – 2018
However, each Deepsea reference is offered with the option of a standard black dial or a special D-Blue dial, which was introduced in 2014. Therefore, Rolex has made three references but six main models – if you count the dial variants – of the Deepsea Sea-Dweller, so far.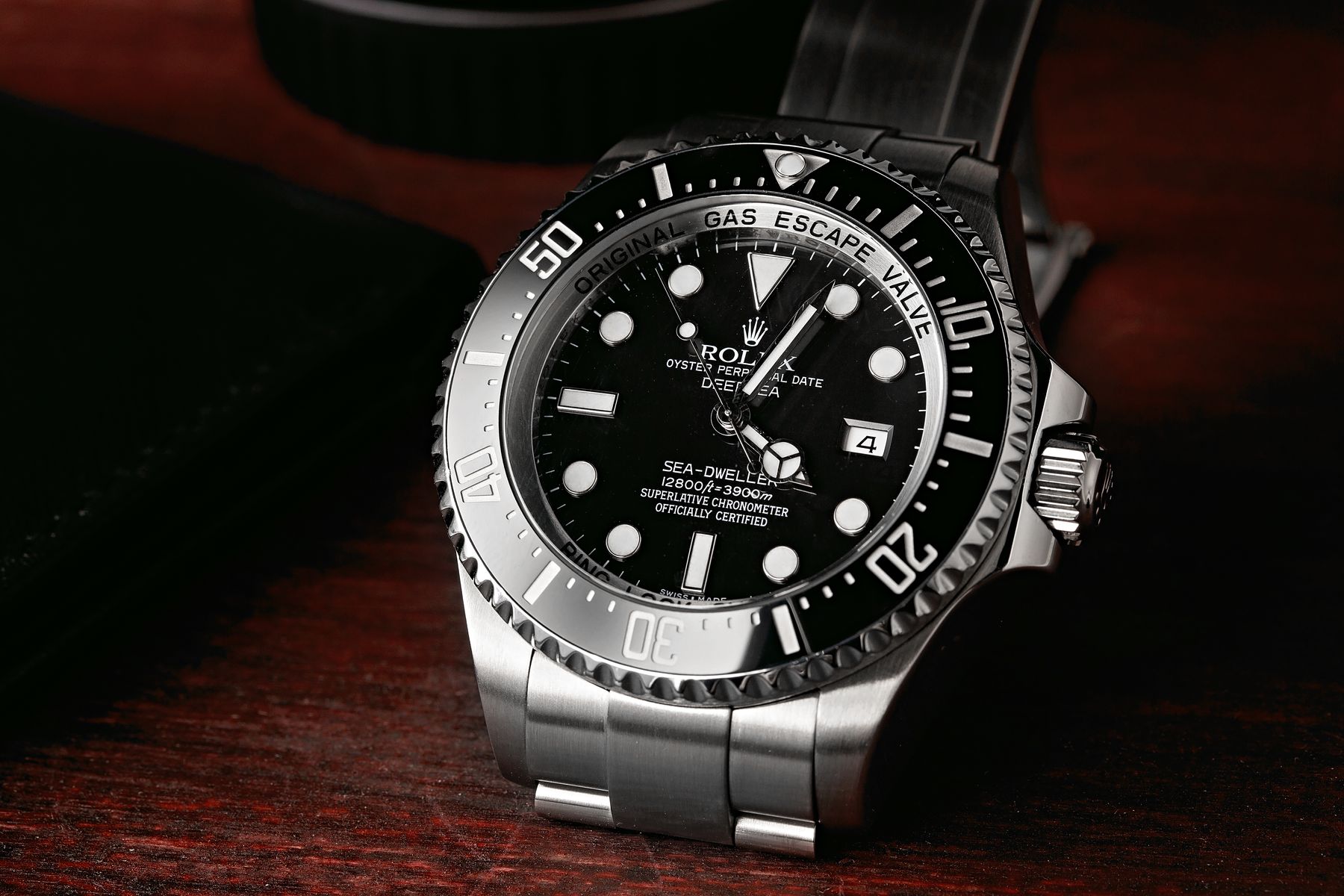 Rolex Sea-Dweller Deepsea: Standard Vs. D-Blue Dials
The Rolex Sea-Dweller ref. 116660 made its debut in 2008. To withstand its extreme water resistance, the Deepsea's bulky 17.7mm thick Oyster case is built with Rolex's patented Ringlock System. This architecture includes an ultra-hard stainless steel inner ring positioned in between the 5.5mm thick domed crystal protecting the dial and the titanium caseback shielding the movement. You can clearly see the ring thanks to the large "RING LOCK SYSTEM" engraving at 6 o'clock, accompanied by the "ORIGINAL GAS ESCAPE VALVE" inscription at 12 o'clock. The gas (or helium) escape valve, which was first used on the Sea-Dweller in 1967, is a mechanism that automatically releases gasses that may have seeped into the watch during post-saturation dive decompression periods.
The dial of the standard Rolex Sea-Dweller Deepsea ref. 116660 is in classic black, along with the characteristic combination of luminescent round, baton, and triangular markers with Mercedes-style hands. There's also the date window at 3 o'clock. Rolex fans will note the absence of the ubiquitous Cyclops magnification lens above the date aperture. The unidirectional diver's bezel on the Deepsea ref. 116660 is crafted in Cerachrom ceramic, and unlike the Submariner, includes the complete 60 markings all the way around.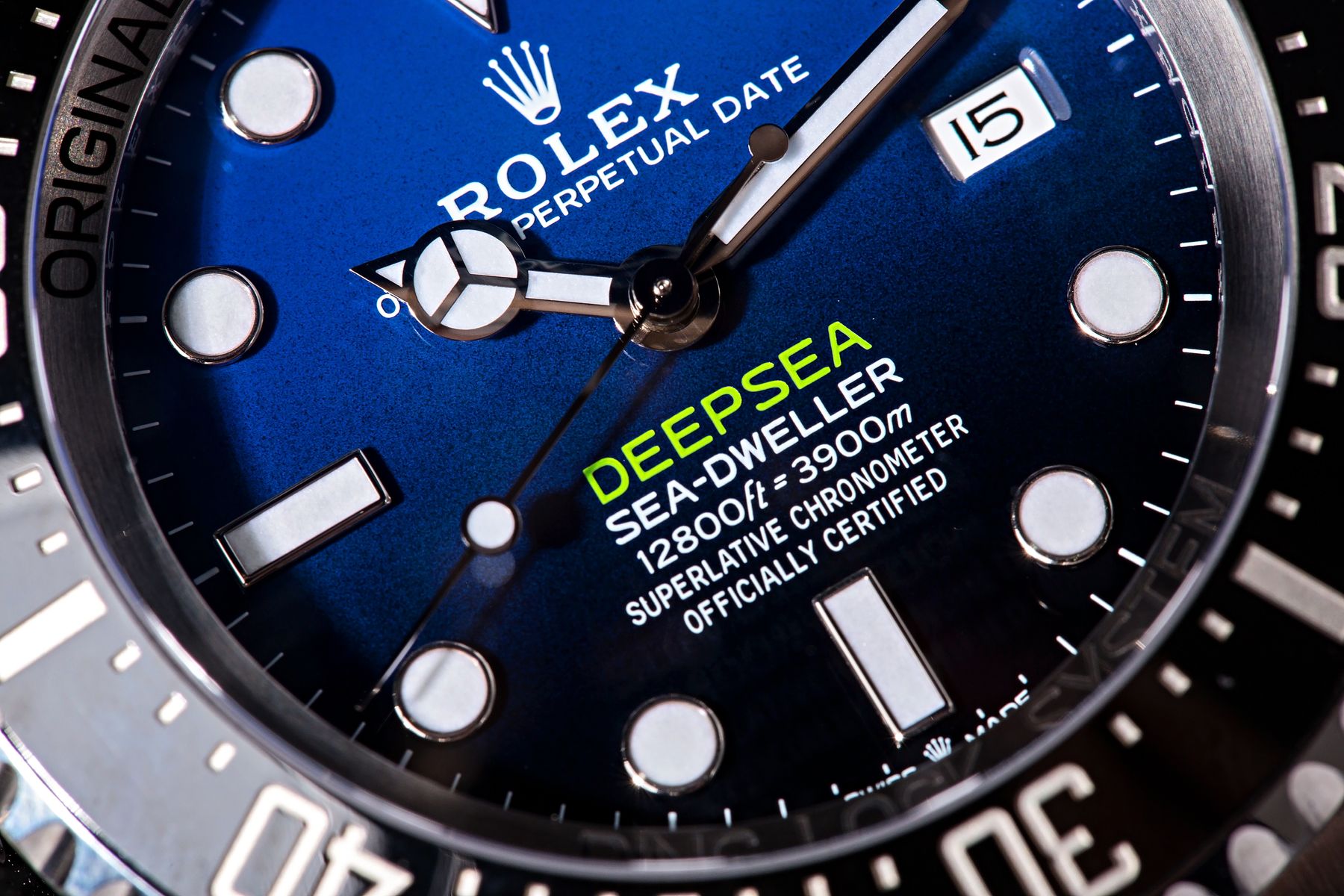 Deepse D-Blue Dial
The Rolex Sea-Dweller Deepsea ref. 116660 D-Blue dial was introduced in 2014 to commemorate James Cameron's historic dive to the deepest point on earth two years prior. This marks the first and only time Rolex has dedicated a model to a person – the only true celebrity Rolex watch, so to speak.
Functionally identical to the standard Deepsea, the only difference between the D-Blue version and the standard black Deepsea is the dial itself. The D-Blue dial features a color gradient that transforms from bright blue to deep black to symbolize how the waters get darker the deeper one ventures into the ocean. Plus, there's also the DEEPSEA label in the same bright green color as James Cameron's Deepsea Challenger submersible. The D-Blue Deepsea is often nicknamed the Deepsea "James Cameron" thanks to the man that inspired the dial design.
Rolex has continued to offer every generation of the Deepsea watch with the choice of a black dial or a D-Blue dial, and the latter is slightly more expensive.
Celebrities Who Wear The Rolex Sea-Dweller Deepsea
Given its bold wrist presence and impressive dive watch capabilities, the Rolex Deepsea Sea-Dweller is a popular choice among celebrities and below are just a few of the A-list individuals that can be spotted wearing it.
James Cameron
Sylvester Stallone
Dave Navarro
Joe Rogan
Buddy Valastro
Francis Ngannou
Tiger Woods
Charlize Theron
Stephen Curry
Ben Affleck
The list of celebrities who wear both the standard black Rolex Sea-Dweller Deepsea and the D-Blue Deepsea is long. Of course, at the top of this list is director James Cameron, the man whose record-breaking solo dive inspired the D-Blue dial variant. Yes, James Cameron wears the Deepsea "James Cameron" watch, although he can also frequently be spotted wearing a classic black Rolex Submariner.
In addition to James Cameron, other famous fans of the D-Blue version of Rolex's mega saturation dive watch include Hollywood veteran Sylvester Stallone, musician Dave Navarro, comedian and podcast host Joe Rogan, and celebrity chef, Buddy "Cake Boss" Valastro. MMA fighter and current UFC Heavyweight Champion, Francis Ngannou (a.k.a. the Predator), was also recently spotted with a Rolex Deepsea ref. 126660 "James Cameron" on his wrist.
On the other hand, a few celebrities that have worn the standard black Rolex Sea-Dweller Deepsea in public include former soccer star (and Tudor brand ambassador) David Beckham, three-time NBA Champion Stephen Curry, and Academy Award winning actress Charlize Theron.
Golf icon (and Rolex ambassador) Tiger Woods also wears the Deepsea – and he has both dial variants. When Tiger Woods won his fifth Masters in 2019, he had his Deepsea D-Blue on his wrist while putting on the coveted green jacket. Additionally, Tiger Woods even revealed to a journalist that he wears his Rolex Deepsea while sleeping!
Actor Ben Affleck wore a black dial Rolex Deepsea ref. 116660 in the movie 2012 Argo. While the watch looked fantastic on his wrist, there was one major problem with the wardrobe choice. The plot of the movie is centered on the Iran hostage crisis, which took place from 1979 to 1981. That's more than 35 years before the Deepsea was even developed! A more accurate choice for this period would have been a Sea-Dweller ref. 1665 or a Submariner ref. 5512.
Why Do Celebs Love the Rolex Deepsea Watch?
The Sea-Dweller Deepsea is not only Rolex's biggest watch, clocking in at 44mm in diameter and 17.70mm thick, but it's also one of the brand's most technically impressive, boasting a water-resistance rating of 12,800 feet (3,900 meters) deep. As such, it's not a stretch to see why overachievers who have attained celebrity status in their respective fields would gravitate towards Rolex's overachieving dive watch.
Many have asked why Rolex would even bother making a watch that can dive 100 times deeper than any person could survive. The simple answer is because Rolex can.
Every so often, the Swiss watchmaking giant likes to remind us that in addition to consistently producing the most popular luxury watches in the market, the brand can also flex mega technical muscle when it wishes to do so. And we're glad that the company did because the Rolex Sea-Dweller Deepsea is a watch that's enjoyed for both its striking looks and incredible innovation.