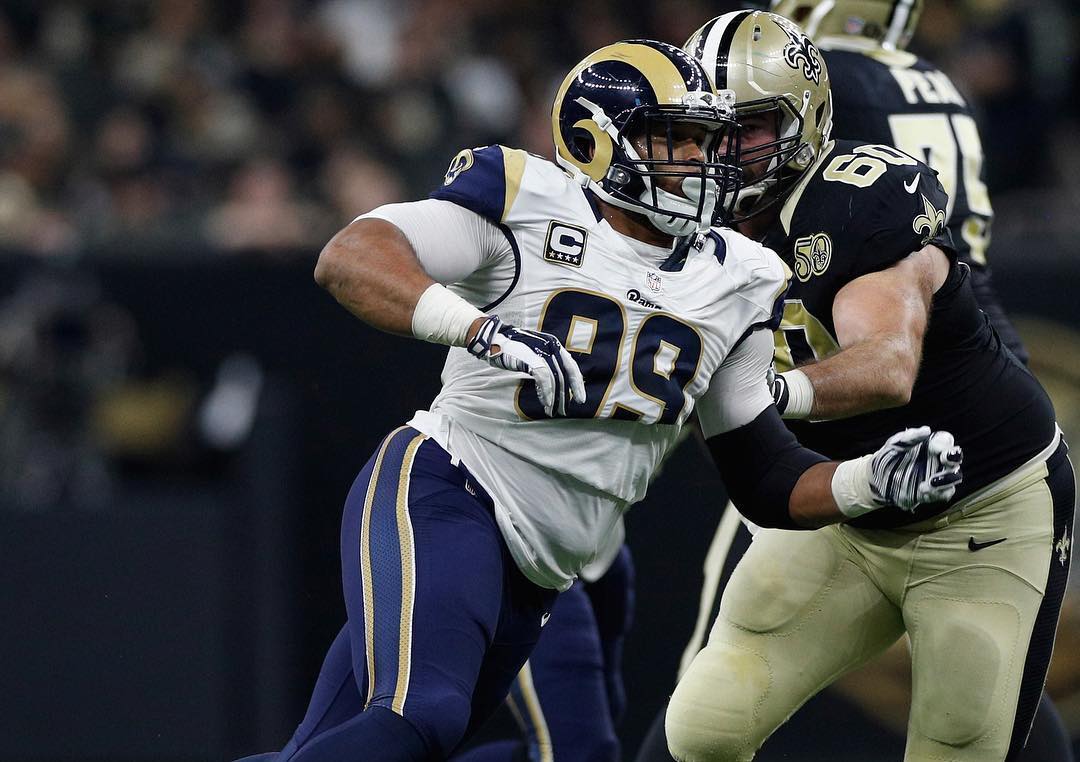 While Aaron Donald's team, the Los Angeles Rams, may be struggling, there is no doubt about the talent of this powerful defensive tackle. Aaron Donald is currently hailed as the best interior defender in the NFL. Prior to his professional career in the NFL, Aaron Donald played for the University of Pittsburg and not only was he the ACC Defensive Player of the Year, but he was also a unanimous All-American. In his third season of professional football, the 25-year old is steadily racking up the accolades. In addition to being voted MVP by his LA Rams teammates, he's also the 2016 winner of the Daniel F. Reeves Memorial Award.
Aside from playing solid football, Aaron Donald also caught our eye for his taste in Rolex watches. We have seen him wear two Rolex President models, one in yellow gold and one in platinum.
Aaron Donald's Yellow Gold Rolex President
https://www.instagram.com/p/BCnUYOdQFx5/?taken-by=aarondonald99
A top choice among Rolex's dress watches is, of course, the famous Day-Date President. While it is available in three types of gold as well as platinum, it is definitely iconic in yellow gold. The Rolex Day-Date made it debut in 1956 as the most luxurious Rolex to own at that time. It was the first chronometer to indicate the date and the day of the week written out completely on the dial. The inaugural Day-Date boasted a unique bracelet made specifically for that model. Dubbed the President bracelet, it is characterized by a construction of three rounded links. 60 years later, the President bracelet remains on of the distinguishing factors of the Rolex Day-Date.
Today, there are three different sizes of the men's Rolex President. The original 36mm, the now discontinued Day-Date II that measures 41mm, and the newest Day-Date 40. Looking at the size of the yellow gold President on Aaron Donald's wrist, it's either the Day-Date II or Day-Date 40. Although the Rolex President is one of the brand's most luxurious dress watches, Aaron Donald is just as comfortable pairing it with jeans and a t-shirt as he is with a formal tux.
Aaron Donald's Platinum Rolex President
https://www.instagram.com/p/ysac_SwF42/?taken-by=aarondonald99
Aaron Donald's other choice for a Rolex President is the very special platinum version with an ice blue dial. In fact, the ice blue dial is only reserved for Rolex watches crafted in platinum, ensuring there's no mistaking it for another white metal, such as steel or white gold.
https://www.instagram.com/p/4mXD8fwF9v/?taken-by=aarondonald99
The platinum Rolex President worn by Aaron Donald is the Day-Date II version sporting a 41mm case. As we can see from his Instagram photos, he loves to wear it during very special occasions like when he's accepting his numerous well-deserved awards. Considering Aaron Donald's talent on the field, we're pretty sure he'll be picking up scores of other awards this year—and perhaps even another Rolex or two.