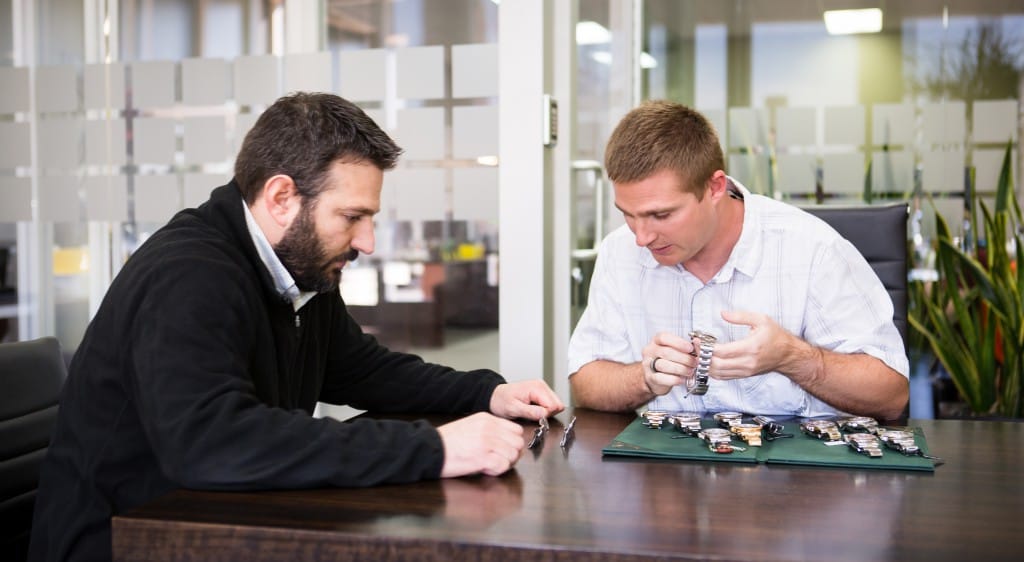 Here at Bob's Watches, we are big fans of the Instagram profile @rolexdiver. He posts great shots of his collection of which includes a Yacht-Master, a Sea-Dweller, Submariners and GMT-Master timepieces. On his last visit to Bob's Watches, we sat down for a chat to find out more about his Rolex passion and how he got started on Instagram.
Meet Alan Szabo Jr., a.k.a @rolexdiver.
Bob's Watches: When and why did you start collecting Rolex watches?
@rolexdiver: In high school I got my pilot's license, that turned it all around for me and I started looking at pilot's watches. In 2004 after I graduated high school, I went to a store to buy a Rolex but the salesperson talked me into getting an OMEGA versus the Rolex because of the model I was looking at. I had a small budget of around $3,000 – $4,000, so I was looking at the Air-King, but she showed me the Speedmaster Professional and I don't regret the OMEGA purchase one bit. That's what started my high-end watch desire, any watch before that was around $200 watches.
I had the OMEGA for two years and in 2006 I bought my first Rolex, a platinum dial Yacht-Master. Among all the brands and watches in the store I was drawn to that Rolex Yacht-Master. After buying the Yacht-Master I really started enjoying the Rolex line. Six months later, I was in Hong Kong and went into the Rolex store and they laid a bunch out for me and I bought the Turn-O-Graph they remade based off the Datejust because it looked a little different and I liked it.
When I started scuba diving I immediately decided I needed a watch for diving. It was the perfect reason to add to my Rolex collection, since I didn't have any Submariners at the time. I purchased a Submariner to use specifically for diving.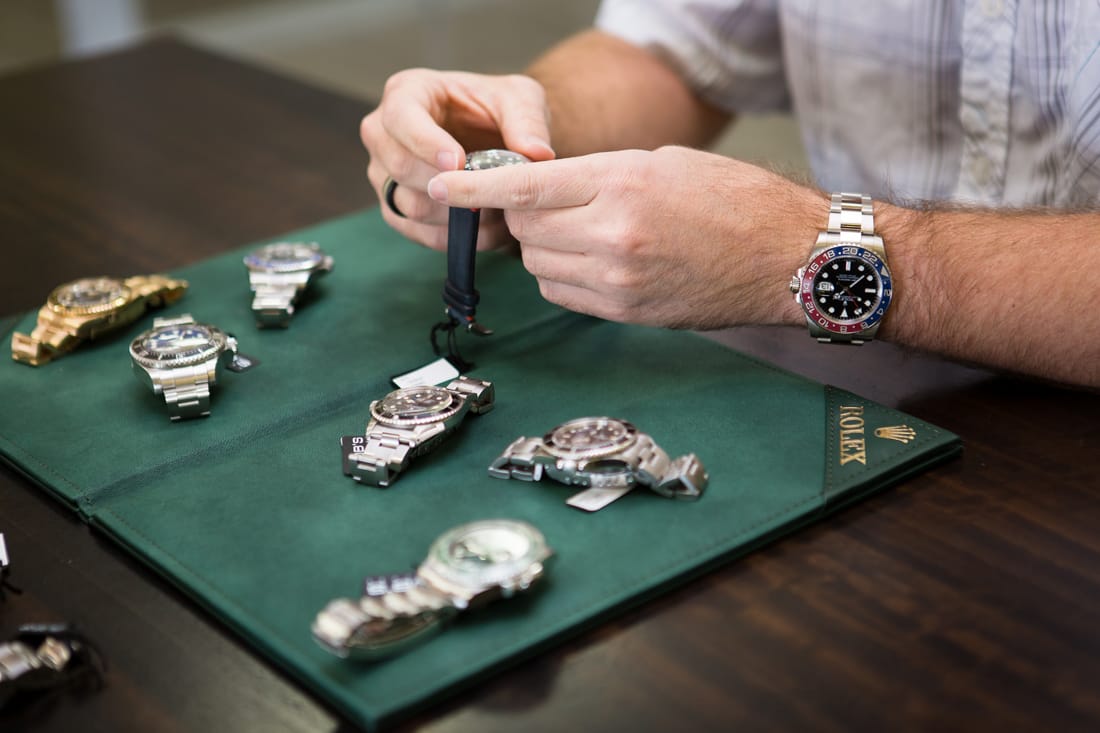 BW: Do you purchase Rolex watches based on the activities you are into?
@rolexdiver: Yes – flying, yachting, diving.
BW: What is so appealing about Rolex watches?
@rolexdiver: The biggest thing for me is the tool watch heritage. Your guy in 1955 was buying a Rolex Submariner to go scuba diving with and rely on that. That's more or less of why I own my Submariner, I purchased them because I wanted to wear them while scuba diving. Granted, we use diving computers for 99% of everything, but to have your Rolex there on your wrist, you look at it and you know you have your back up timer if your computer dies. It fits over my suit, and when I take my suit off I adjust my bracelet in a second and it fits for every day. It's an awesome all around tool watch. It's a little expensive for a tool but that's alright, It is what brought me to the Rolex line and why I like them, specifically the tool line. I don't currently have any Daytonas, Datejusts, or Presidents. My collection is all pretty much Submariners and GMTs.
BW: So aside from the watches themselves, you appreciate the history of the Rolex brand?
@rolexdiver: Oh yeah! I also collect Mondani books too.  I have a few of those books so I can look at the nice photos and the actual descriptions of what was around at the time versus reading about it online.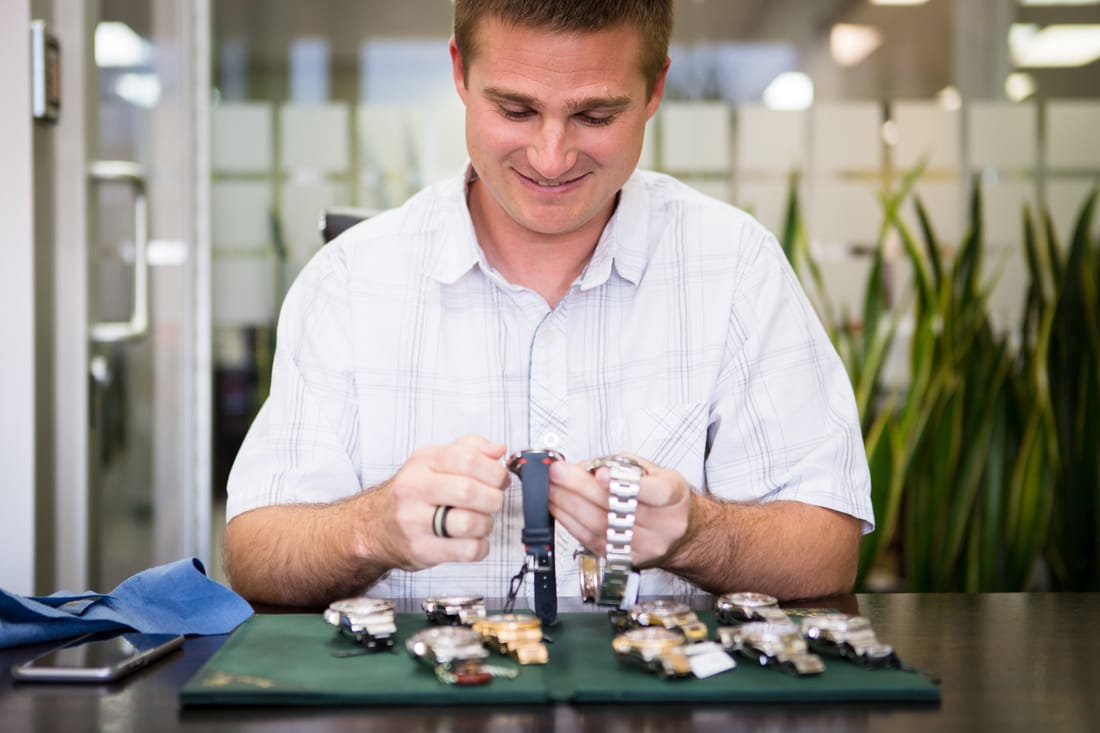 BW: Do you lean more towards vintage pieces or more modern pieces?
@rolexdiver: I'm a big modern person right now. The oldest watch I own is a GMT-Master dated the year I was born which I purchased 6 months ago. Other than that, almost everything I own is a ceramic bezel watch, But now I'm looking at a 1680 that you have here. I wanted to check it out because I was thinking of getting one.
BW: How do you decide what your next purchase is going to be?
@rolexdiver: I do a lot of online searching and a lot of forums. I search a little every day until I find something that interests me. I have unconventional working hours, so I'm always on the Internet. There's really no pattern, it's kind of random. I just bought a "Root-Beer" GMT from here a few days ago, which I wasn't planning on.
BW: Do you actively sell your watches, or are you more focused on building your collection right now?
@rolexdiver: I'm mostly focused on building my collection. I did let go of my Turn-O-Graph. I never wore it. I could almost count on one hand how many times I wore it in the last 10 years and I didn't have any emotional attachment to it. I sold it to make way for pieces I would actually wear.
BW: What's in your current collection?
@rolexdiver: GMT-Master II 16760, Yacht-Master
16622, Submariner
116613LB, GMT-Master II 116719BLRO, Submariner 114060, GMT-Master II 116710BLNR, Deepsea Sea-Dweller 116660, and just since yesterday, the GMT-Master 16713 "Root Beer".
BW: Tell us a little about starting your Instagram account.
@rolexdiver: I started it around Thanksgiving in 2014. I always had a small hobby of taking pictures. I did a lot of landscape photos and I really like night photography. Then I said well, I have a few watches now because I started collecting more in 2012, so I'll take a few pictures of my watches. I specifically took pictures of my watches to use as  wallpaper on my computer. That was truly the start of it all. along with using the pictures as my wallpaper, I would also send some to my friends. once I started sending them four pictures a day, they said I needed to do something different with them.  At first I joked about starting a Facebook page for my watches but I didn't use Facebook much, So I decided to create an Instagram account and that was it. I started the @rolexdiver Instagram profile.
The first six months I had a decent amount of followers, a trickling of a few followers a day if I was lucky. My followers started increasing significantly when bigger accounts such as @WatchesofInstagram would re-post my photos. I would gain 1,500 new followers that day. It exploded from there.
Now I have a relationship with some accounts on Facebook like @rolexaholics and others.We post each others pictures and tell our followers about each other. We also look out for each other and let each other know when someone's picture has been re-posted without credit. It is a great little group of guys.
BW: What do you use to shoot your pictures, and how do you decide which watch to photograph and post?
@rolexdiver: Canon 60D DSLR with a kit lens. The equipment adds a little, but it's really about placement and light control. If I'm out and about it's a wrist shot. All the photography I do at home is long exposure shots and all my watches are stopped for the picture. My photos are generally at the 10-10-31 position, like in an advertisement shot, because I like how it looks. I'll get the watch to stop at 10-10-31 and shoot the watch and wear it for a few days, then do the same with another watch. That's how I do the rotation. All my pictures are dated of the day I take the picture, I don't like pictures to show a different date. It's one of those little OCD things that has evolved because there was a time I didn't care much. I generally do three to six posts a day.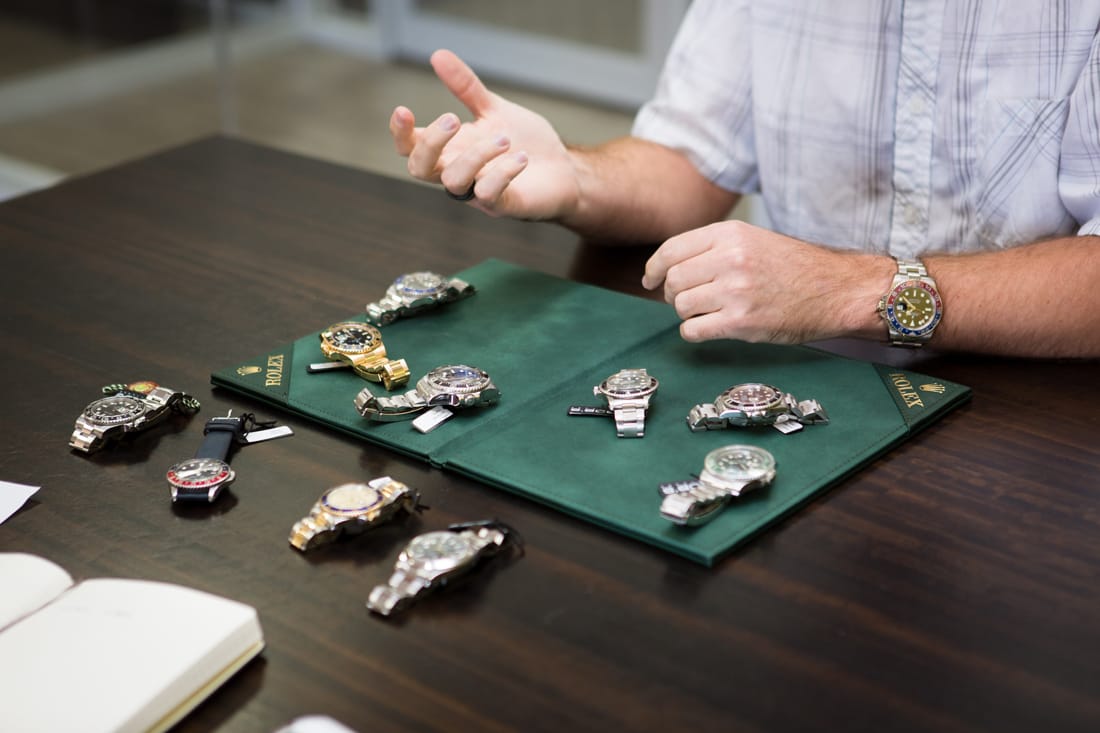 BW: Which pictures elicit the most engagement from other Instagram users?
@rolesdiver: The multiple watch photos. Generally  The more watches in the picture the more "likes" it gets. Not always, because I have a lot of macro photos I've shot that have done incredibly well, but with the multiple watch photos you have something more people can relate to.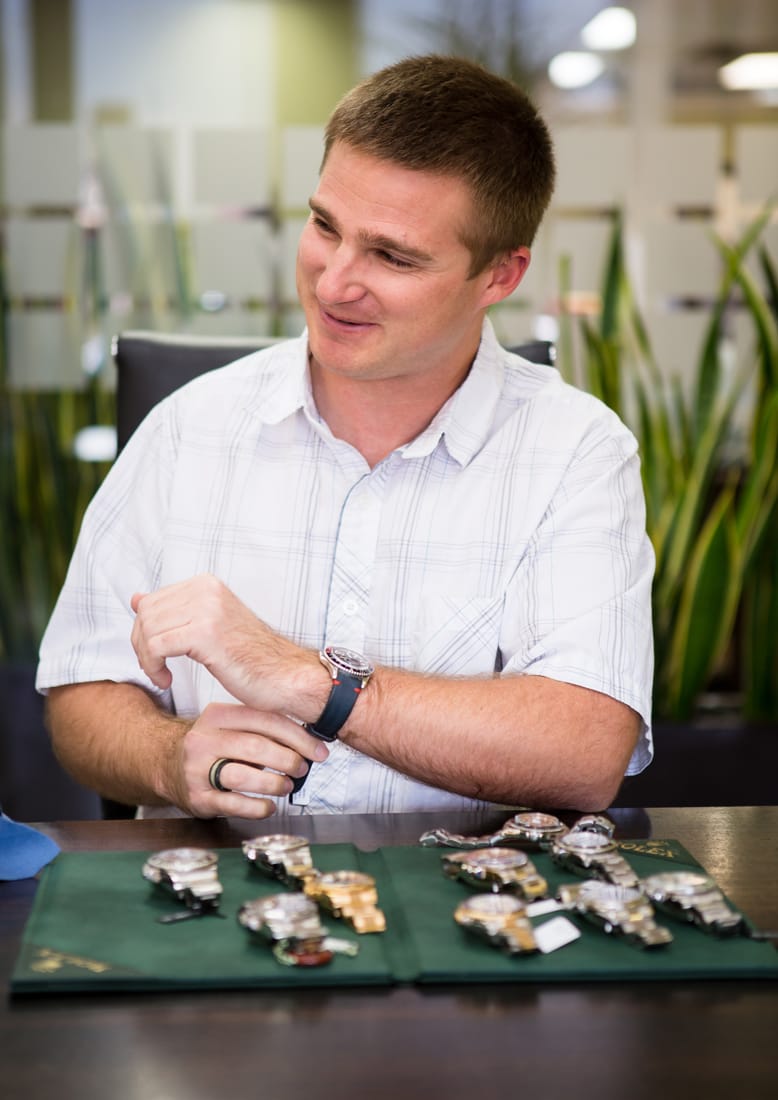 BW: What's your favorite picture that you've posted?
@rolesdiver: It changes every day. I really like the group shot I did last week of my collection rolled out on my granite countertop. Now it needs to be updated because I just added a watch to my collection yesterday.
BW: And finally, what is your grail watch?
@rolexdiver: I am wearing it (GMT-Master 116719BLRO). I was 100% on a white gold Submariner until after I got my first GMT, which I had bought from Bob's in August last year. That was life changing. I travel a lot and I use the features of the GMT, so I was like, yup, now I love GMT. I kind of wanted one gold watch, so I got myself a white gold GMT. Now I'm back to collecting two-tone or steel watches. I used to not like the look of two-tone, but I've grown into it. A full yellow gold Rolex, I don't know if I can do it yet, that comes with age I guess.