If there was ever a city that could use a leg-up, it's Detroit. A modern byword for devastating industrial collapse, the former Motown's trajectory has been in freefall for decades, with some inner city areas being described as little more than war zones.
So any business that wants to make its home here is big news, and can only be a good thing. Right?
Watch brand Shinola certainly thinks so. CEO Tom Kartsotis, the man behind the multi-billion dollar Fossil group, is aiming to put some pride, and crucially some jobs, back into the once bustling metropolis.
On first reading, he and his new company are doing everything right. Shinola is attempting to capitalize on some nostalgia for the good old days, even setting up shop in the historic Argonaut building; in a past life, a General Motors research facility. And to be fair, the good old days were very good indeed. Formerly the undisputed automobile capital of the world, the city also had a thriving arts and culture scene and the river was a major hub for cargo shipping and passenger transport.
Though the good old days are long gone, Shinola brings about a set of new watches to the table that are oddly similar to the all time classic Rolex Submariner, Daytona, and more. 
Made in America?
Shinola was established in 2011, making it a young company by anyone's standards, and an embryo in the watch industry.
Their first offerings were released in 2013, the 40mm and 47mm Runwell models, both special editions with a production limited to 2,500 pieces in total. They sold out in a week. A second run later the same year met with similar success.
The new kid was off to a running start, with patriotic horology fans prepared to meet the surprisingly-high-for-a-quartz-watch price tag, seemingly happy to fork out for an honest-to-goodness piece of Americana.
More model ranges followed, all designed to reflect the city's blue-collar background; simple, rugged and bold, and all bearing the magic words 'Built in Detroit'.
Which is where the problems started. Because, as it turns out, 'built in' and 'assembled in' are not interchangeable terms. The Shinola production facility comprises an assembly line where components shipped in from Asia and elsewhere are combined into the various watch cases. According to the FTC and their lack of a sense of humor over these things, that does not constitute 'Built in Detroit' or even 'Made in America'. To wear that distinction, every part needs to be actually manufactured in the U.S., not just gathered together and shoehorned into a case.
On its own, there is nothing wrong with Shinola's strategy. Sourcing the various constituents that go into a watch from a number of different manufacturers and combining them is how Rolex got started. The big difference is in quality and price.
Quartz Tech, Mechanical Money
Shinola is actually a partnership of three companies: Bedrock Manufacturing Co., the brand development enterprise founded by Tom Kartsotis, Taiwan-based dial maker BAT Ltd., and Ronda AG, a Swiss firm specializing in mass produced quartz watches.
The calibers found inside Shinola watches all come from Ronda and, yes, the majority are quartz.
There is an awful lot of snobbery in the horology world over quartz. Listen to any hardcore collector on the subject and you will hear them complain about the 'absence of soul' or the 'lack of artistry' in an electronic watch.
But some incredible models have been made using quartz movements. Omega's Speedy Skywalker, for instance, or the Breitling Superquartz or the Grand Seiko 9F, even Rolex had a few quartz watches called the Oysterquartz.
And while Shinola are obviously not in that sort of company, it hasn't stopped them charging the sort of money for their watches that could make you believe they think they should be.
At present, you won't find any Shinola for less than $550. Their top chrono, the 48mm Black Blizzard, comes in at $1,500. Diamond-set ladies watch The Cass costs $2,100. These are all, just to reiterate, watches assembled on a production line in Detroit, from parts brought over from China and Thailand, powered by a cheap quartz engine.
You don't need us to point out the sort of mechanical pieces that can be bought with that kind of money.
Why So Much?
Reputation is all in the horology industry, and any watch is obviously sold for far more than the sum of its parts. But the prices being charged for Shinola products seem to be bordering on the absurd.
A group of eggheads did some number crunching recently, based on the most up-to-date figures available (2014), and concluded that each Shinola watch takes about an hour to make. Add the cost of the components, with the Ronda movements the most valuable, said to be worth about $25 each, and it gets pretty hard to justify those price points.
Of course, it can be argued that the money is going to help a struggling city dig itself out of a hole. But is it? Yes, it has created a decent number of jobs, but there is nothing actually made in Detroit, or America in fact, going into any of the watches. No U.S. company is benefitting with extra orders for steel production for example.   
And was choosing Detroit as a base in the first place a purely altruistic act? Was it from the desire to help an impoverished city reclaim some former glory, or was it simple business economics?
When Kartsotis first purchased the Shinola name back in 2001, he commissioned a focus group to find out how much consumers would be willing to pay to buy a pen made in China, the U.S in general or Detroit in particular. Such is the renown of Detroit's fall from grace that most people were prepared to fork out a premium for a motor city pen. Couple that with a plentiful workforce just ready and waiting, and no shortage of real estate up for grabs, and Detroit made some financial sense.
Early Stages
Of course, this could all be extremely cynical. Shinola is, as we said, a very young company, still finding its way in a massively competitive market. Cost notwithstanding, they are making (or at least assembling) some attractive watches and are certainly not sitting still.
The recently released Bedrock series, their first dress watch range, marked a departure from the sort of no-nonsense tool models they had been producing up till now. A handsome 42mm quartz piece starting at, gulp, $700.
More exciting is the limited edition Lake Eerie Monster, the company's initial foray into mechanical movements. A 43mm black dialed, steel dive watch with a ceramic bezel, it doesn't even try and hide the fact that it is a cut-price Rolex Submariner, partly because the price isn't cut as much as you might hope. You'll find them for about $2,250.The Future
It would be nice to think that eventually Shinola will grow big enough that it can start to put more into the watchmaking process than merely assembling foreign components on a production line. At present, their only mechanical movement, the R150, is manufactured at the Ronda factory in Switzerland and transported over fully made. The next step, currently underway by all accounts, is for the Detroit workers to be trained up to construct the mechanism themselves.
That is obviously going to take some time, but it shows that Shinola is heading in the right direction and is making investments in its people.
Between that and the variety of products starting to make their way into the brand's lineup, it could be an interesting one to watch.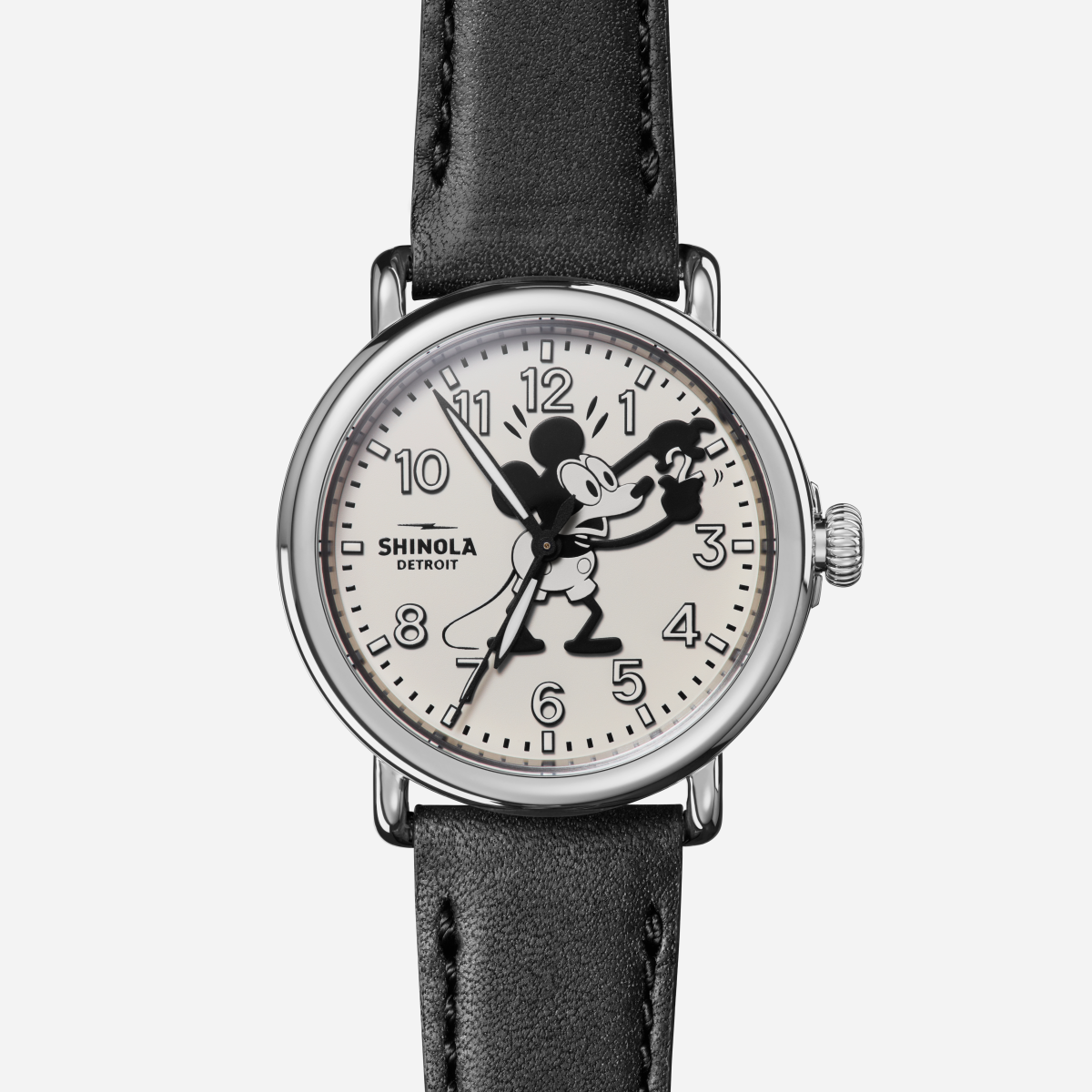 Update September 2019:
Although Shinola made quite an initial splash with their (slightly deceptive) "made in America" marketing claims, the brand has ultimately failed to maintain the momentum and gain traction among members of the serious watch collecting crowd. A number of notable individuals own Shinola watches, including former U.S. Presidents Bill Clinton and Barrack Obama. Additionally, their Runwell collection established a strong design language for the brand, one that was imitated by numerous other brands throughout the industry. Shinola even expanded production to include more models with automatic movements; however none of this has proved enough to earn them a seat at the table with the industry big names.
Shinola does not make bad watches, but where the brand seems to come up short in the eyes of serious collectors is in regards to liquidity and value for money. With prices starting around a few hundred dollars, and topping out around $1,500, Shinola watches are relatively affordable; however the resale market on them is far more like an offering from a fashion watch brand than a proper luxury timepiece manufacturer.
Additionally, when it comes to value for the money, $1,500 for a top-of-the-line model isn't exactly a bad deal; however competition is fierce at that price point, and once you approach the $1,500 mark, pre-owned options from highly-respected big brands like Omega, Tudor, and Oris start to become options.
Despite their ongoing efforts to bring more aspects of production in-house, it will likely be an uphill battle for Shinola to gain back interest among the watch collecting community. Above a certain price point, buyers want something more for their money than just a good-looking watch. Whether that "something extra" comes in the form of proprietary materials, in-house movements, a rich and storied heritage, or just simply unparalleled bang-for-buck, customers want that extra special something that brands like Rolex have by the bucket load.