The bezel is the metallic or ceramic ring that surrounds the face of the watch on the exterior of its case. Due to its relative size and prominent placement, the bezel has a significant influence on the overall design and functionality of a timepiece. Below is an overview of the different types of bezels that are fitted to Rolex's various watches.
Fluted Bezels
The fluted bezel is one of the most classic and iconic Rolex design elements, even making its way to the wall-mounted clocks located in shopping malls and airports around the world. Initially, the fluting on Rolex bezels had the function of enabling the bezel to be screwed down onto the middle case of the watch to help ensure waterproofness; however, today the fluting on Rolex bezels is purely ornamental. Fluted Rolex bezels are exclusively craft from solid gold and serve as a mark of distinction among Rolex's various timepieces.
Smooth Bezel
The smooth bezel is Rolex's most traditional bezel design, and is craft from stainless steel, gold (yellow, white, or rose), or platinum. Depending on the specific watch and year of production, smooth bezels can range from flat to domed. Although the smooth bezel is not a design unique to Rolex, it is easily the most understated, versatile, and timeless among all the different Rolex bezel styles, and is the default option for Rolex's entry-level watches.
Professional
The different bezels fitted on Rolex's various sport/professional lines of watches all belong to the larger, "professional" category of bezels. Unlike a traditional bezel, whose core function (beyond holding the crystal onto the watch) is to add a design element and look good, professional bezels have markings on them to aid with the specialized, additional function of the sport/professional watch. Professional bezels fall into three general categories.
Rotating Timing Bezel
Rotating timing bezels are most commonly marked with a 60-minute scale, and are used in conjunction with the minute hand to time events up to one hour in length. A rotating timing bezel can either be unidirectional (like on the Submariner or Sea-Dweller) or bidirectional in their motion (like on the Yacht-Master or Turn-O-Graph), and are manufactured from a wide variety of different materials.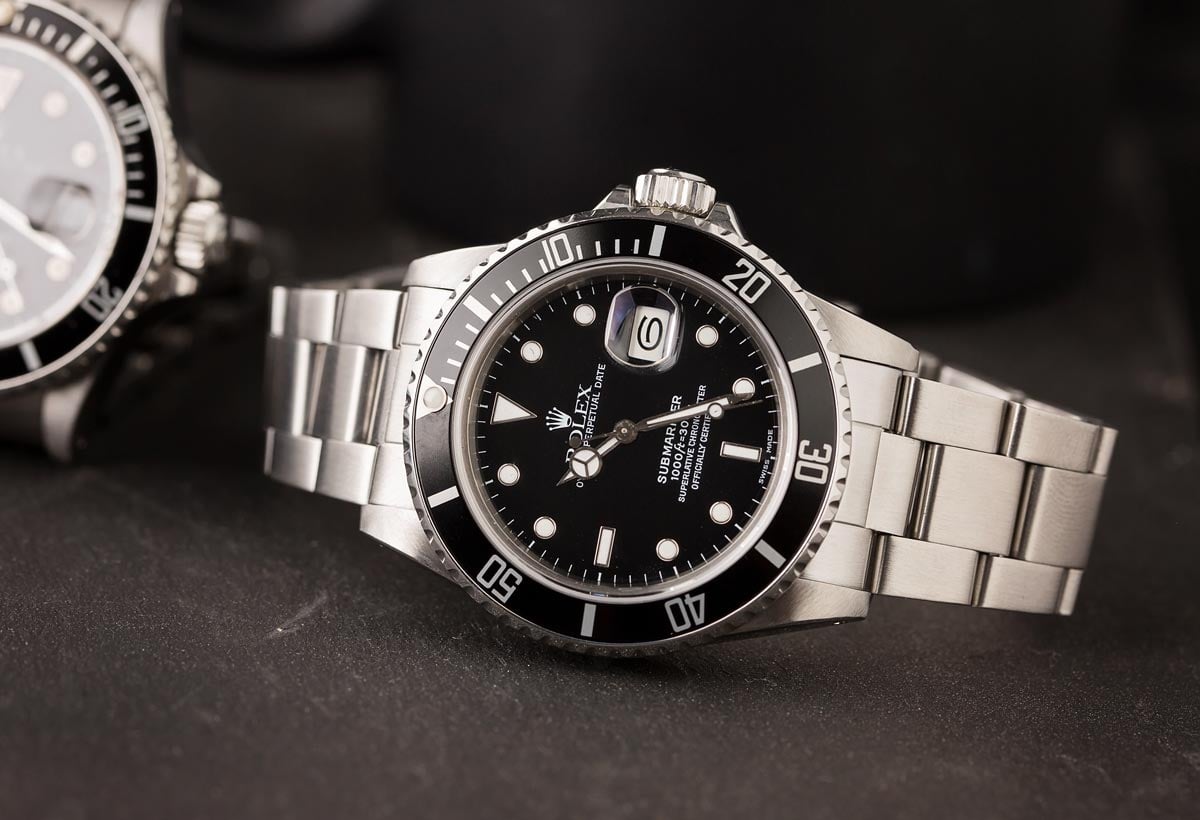 24-Hour Bezel
As its name suggests, a 24-hour bezel is marked with a 24-hour scale, and can either be rotating – like on the GMT-Master and GMT-Master II lines of watches – or stationary, like they are on the Explorer II. Used in conjunction with a 24-hour hand, a rotating 24-hour bezel can be used to reference a secondary time zone, while a fixed 24-hour bezel can be used as a prominent AM/PM indicator.
Tachymeter
Tachymeters are fitted to watches with chronograph functions, and can be used for measuring speed based on travel time, and also for computing distance based on a given speed. Marked with a tachymetric scale, and exclusively fitted to Rolex's Daytona like of chronograph watches, Rolex's tachymeter bezel has been manufactured in stainless steel, acrylic, gold, and Cerachrom (ceramic).
Ring Command
With the advent of their revolutionary Ring Command bezel, Rolex created a direct link between the outer bezel of the watch and the intricate movement within. Historically, rotating bezels have functioned entirely independently from the movements that resided within the case of the watch; however Rolex's Ring Command bezel has changed this, and merged the two into a single piece of integrated mechanical engineering. Available as either a fluted bezel on the Sky-Dweller, or as a Professional bezel on the Yacht-Master II, the Ring Command Bezel represents the pinnacle of Rolex bezel functionality.
Gem-Set
Gem-set bezels are the precious gem-encrusted bezels that are reserved for Rolex's most exclusive and luxurious timepieces. Although they are typically fitted with diamonds, Rolex's gem-set bezel has also been manufactured with other precious stones, such as the rainbow-colored sapphires that adorn the latest rendition of the gem-set Rolex Daytona in Everose pink gold. Carefully selected and set for optimal beauty, color, and sparkle, gem-set bezels represent the apex of luxury and precision.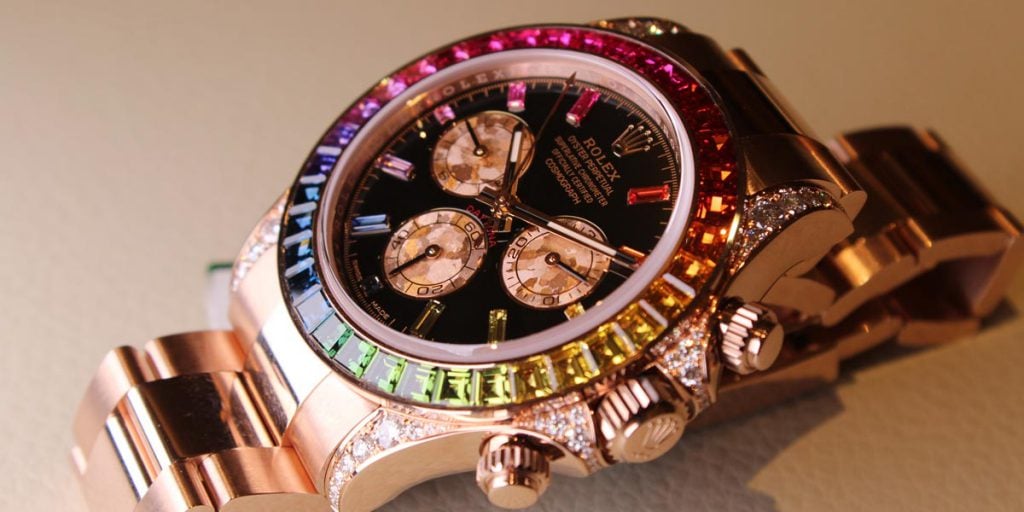 Engine Turned (not currently in production)
Although they are not currently an offering in Rolex's present-day catalogue, engine turned bezels represent a historically popular alternative to Rolex's fluted and smooth bezels. Manufactured in a number of subtle design variations and metal options throughout the years, engine turned bezels have always been the perfect option for those that did not want a fluted bezel, yet still desired a more ornate aesthetic than Rolex's smooth bezel would provide for their watches.
Textured – includes Bark, Linen, Pyramid, Florentine, etc. (not currently in production)
Textured bezels are the somewhat miscellaneous category of stationary bezels that includes a relatively large number of atypical designs that were most frequently used on Day-Date watches and precious metal variants of the Datejust. Most commonly craft from gold, textured bezels often have their textures mirrored on the bracelets of their accompanying watches, and most frequently appear on limited, ornate iterations, or those that were manufactured as a special order.