Every now and again, when browsing through used or vintage watches online (more or less a daily occurrence), I stumble across a watch that sparks a bit of an internal dialogue of sorts. "Man, there sure were a lot of manufacturers making this complication back in the day! Why did this complication fall by the wayside? Wow, wouldn't that be cool/practical in a modern application?" These are just a few of the directions my mind wanders in, and though there are a number of luxury watches and complications that trigger this thought process, the one at the front of the pack is the triple calendar chronograph.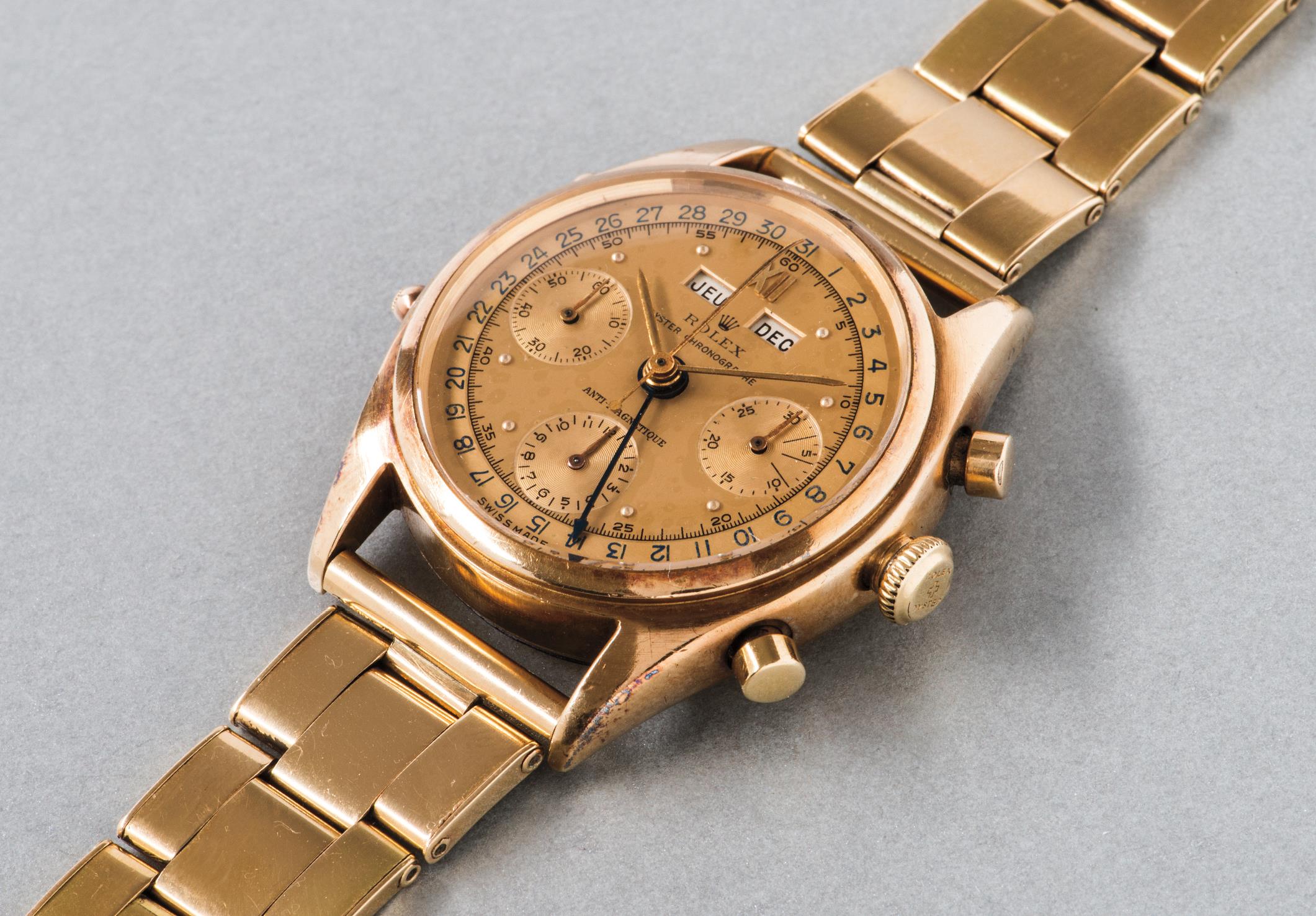 The Triple Calendar Chronograph Was Quite Common 
Throughout the 40s, 50s, and 60s, this complication was quite commonplace, as the early Valjoux calibers 72c (triple date chrono) and 88 (triple date chrono with moonphase) were available to pretty much any watch manufacturer willing to slap a dial over it. What makes it interesting is not only the complication itself, but also its layout. Day and month are indicated on two separate disks near the 12 o'clock position, and the date is indicated via a pointer hand around the perimeter of the dial. Though packed with features, these calibers were quite compact overall, and were often fitted into cases around 36-38mm in diameter – rather conservative, especially by today's standards. The caliber itself clocks in somewhere under the 30mm mark.
Despite the many variations out there during the earlier years, things rapidly begin to dwindle as we creep through the successive decades. A hunt through the more modern years will reveal that there were still a few players in the game, though most of the watches out there were coming from obscure offshoot brands, who clearly stumbled across some calibers by fluke and opted to throw a watch company together.
Of the noteworthy brands who held on, Zenith maintained the complication in its chronomaster line, which eventually evolved into an annual calendar chronograph to ease issues with needing to advance the date (at an increased cost, of course). Other brands like Ulysse Nardin, Blancpain, and of course Patek Philippe with the reference 5960 also went down the rabbit hole of annual calendar chronographs, but this pulled the complication out of the accessible/affordable segment entirely.
Only a Few Still Remain
Unless I'm completely missing out, the final real holdout in the category for an extended period of time wound up being Omega, with their Speedmaster Triple Date. Shunned by hardcore Speedy fans as being "not a real Speedmaster" on account of its altered sub-dial positions and added complications, his watch remains a bargain by Speedmaster standards, and one that I regularly contemplate acquiring. When you consider that the entry point is approximately 20% higher than what you'd pay for a good condition "Bond" Seamaster, the value equation is pretty hard to ignore.
By now some of you have been racking your brains thinking, "I'm sure I've seen one of these around in a current collection somewhere". You're not wrong, but can you recall where specifically? Again ignoring the more costly annual calendar options, it's slim pickings for now. The Longines Master Calendar is one example that uses a Valjoux 88-style indication through a modified Valjoux 7751 self-winding movement, packed into a 40mm case and fitted with a textured silver dial and blued hands.
The other contender comes from Eterna, who in recent years seems to be fading further and further into obscurity. While the brand picked up a little traction with their Super Kontiki diver a couple of years ago, we've heard very little in the way of news from them recently, and there's much speculation floating around regarding their future. That part aside, their 1948 Triple Calendar Chronograph is a simple yet killer interpretation of this complication, in that it perfectly ticks all of the classical boxes without seeming dated.
Its case design is reminiscent of Vacheron's "Cornes De Vache" chronograph, and its anthracite dial has a nice sunbrushed sheen to it that's especially eye-catching. Some will (rightfully) argue that its design is derivative, but when you're looking for something that is understated and classically styled, there's pretty much no avoiding that – no matter which brand you turn to these days.
Practical due to its indications, yet impractical due to its need for date adjustment, there's still a certain charm to the triple calendar chrono that I just can't seem to shake from my system. It's almost similar to lusting after a vintage car with a carburetor. You know it's going to annoy you on occasion, but when you're able to enjoy it for what it is, that joy and satisfaction will easily offset the minor frustrations.