The world of vintage Rolex has developed its own unofficial language over the years, with certain words or phrases being coined to describe various, usually highly desirable, pieces among collectors. Throwing around names like "Blueberry" or "Double Red" at a meet up is generally enough to see every eye in the room light up. But perhaps above all others, and especially for those enamored of the most famous dive watch of all time – namely the Rolex Submariner – is the term, "MilSub."
To the untrained eye, it appears as though the MilSub is just another variation of the famous Rolex Submariner dive watch, but it's so much more than that. It's a part of watchmaking history that often trades hands for astronomical prices, and many avid Rolex collectors will agree that they're worth every penny. Let's find out what makes ref. 5517 so special and among the rarest and most expensive vintage Rolex watches of all time.
Rolex "MilSub" Submariner 5517
Rolex MilSub Submariner Reference 5517 Key Features:
Reference Number: 5517 (5513/5517)
Years of Production: 1971 – 1979 (approx.)
Case Size: 40mm
Materials: Stainless Steel
Bezel: Bidirectional Timing w/ Aluminum Insert
Bezel Insert: Black Anodized Aluminum, Fully-Demarcated to 60-Minutes
Dial: Matte Black w/ Luminous Hour Markers, Circled 'T' on Lower Half
Hands: Sword Shaped w/ Luminous Material
Luminous Material: Tritium
Crystal: Acrylic (Domed)
Movement: Rolex Caliber 1520
Water Resistance: 200 Meters / 660 Feet
Strap/Bracelet: Nylon Pass-Through Strap (Fixed Lug Bars)
Approx. Price: $200,000 (Minimum)
Click here for our Ultimate Buying Guide on the Rolex Submariner.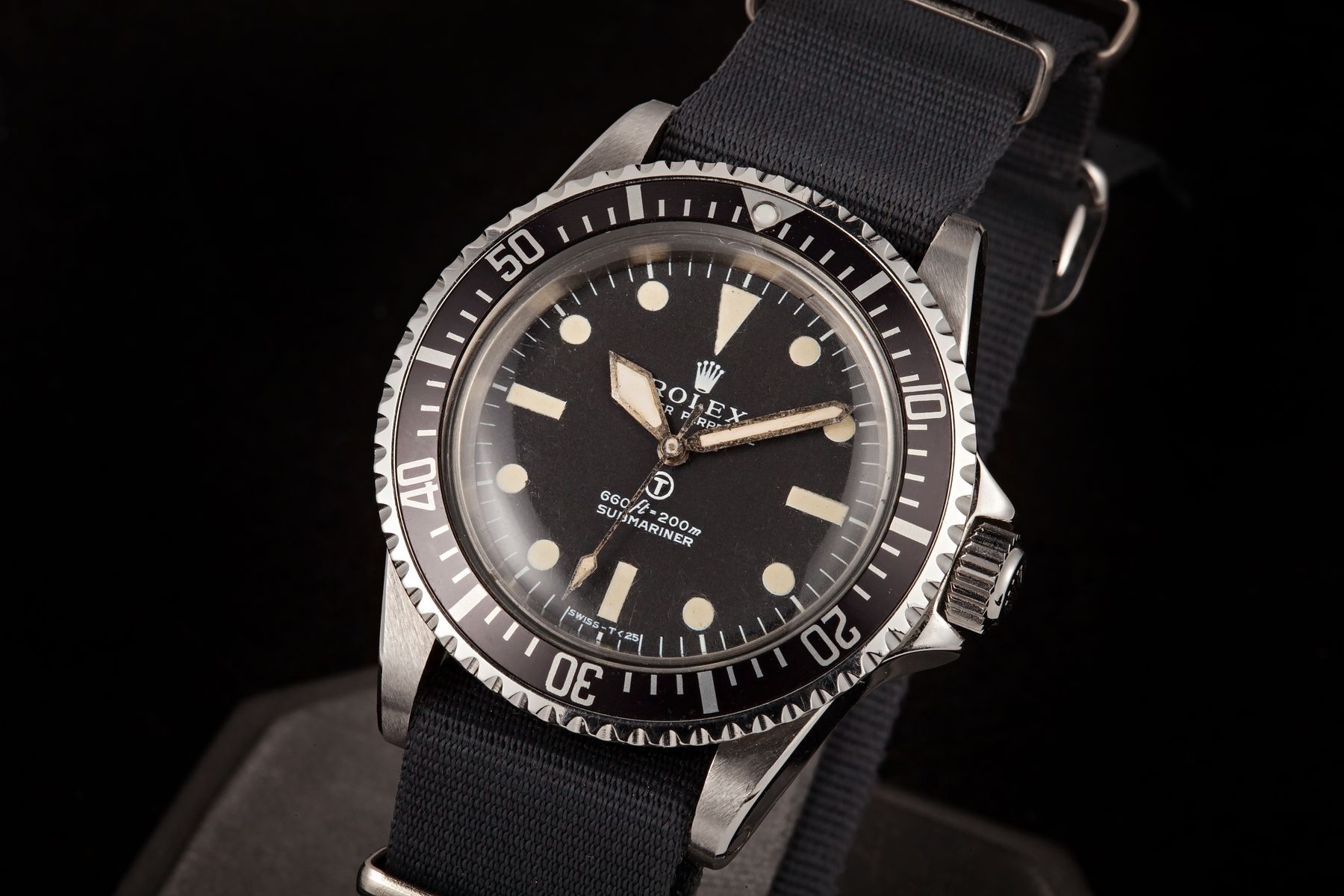 Rolex Submariner "MiliSub" Watches
A compound of the words "Military" and "Submariner," it describes any of the four different references that were modified to meet the requirements of the British Armed Forces, going back as far as 1957. That was the year the Ministry of Defense (MOD) came knocking on Rolex's door, looking for a timepiece reliable and sturdy enough to become standard-issue for the Royal Navy's relatively new division of underwater combatants. They were furnished with about 50 off-the-shelf examples of the reference 6538, more commonly known as one of the "Big Crown" Submariner references, or alternatively, the "Bond Sub" for its time on Connery's arm during Dr. No.
To give you some more background, these watches have typical characteristics of a vintage dive watch, such as a bi-directional 60-minute bezel, an acrylic crystal, no crown guards, and a self-winding movement. Rolex produced the original ref. 6538 for just a handful of years until the late 1950s, when it was replaced by the 55xx series furnished with improved movements and the addition of crown guards to better protect the crown stem, among many other upgrades. Overall, they are an excellent base for the MilSub because they're durable and, of course, waterproof enough for military divers and other defensive military operations.
After extensive field testing, the MOD brought the watches back, asking for just some minor adjustments. Firstly, a redesign of the bezel to make it easier for divers to grip while wearing gloves. Rolex increased the diameter of the bezel so that it hung over the sides of the case, and changed the coin-style edging to the serrated design we know today. They also constructed it from nickel silver instead of plated brass to make it less susceptible to corrosion and cracking under impact. The other main revision was to swap the standard spring bars with soldered bars between the lugs to hold the NATO strap. The changes were so slight they did not even warrant an entirely new reference number; the customized military watch was christened the A/6538.
The first MilSub served with distinction until 1967, when the Royal Navy switched allegiances and opted instead for Omega's reworked Seamaster 300. However, the limitations of its Naiad winding crown at shallow depths brought the MOD back to Rolex just four years later in 1971.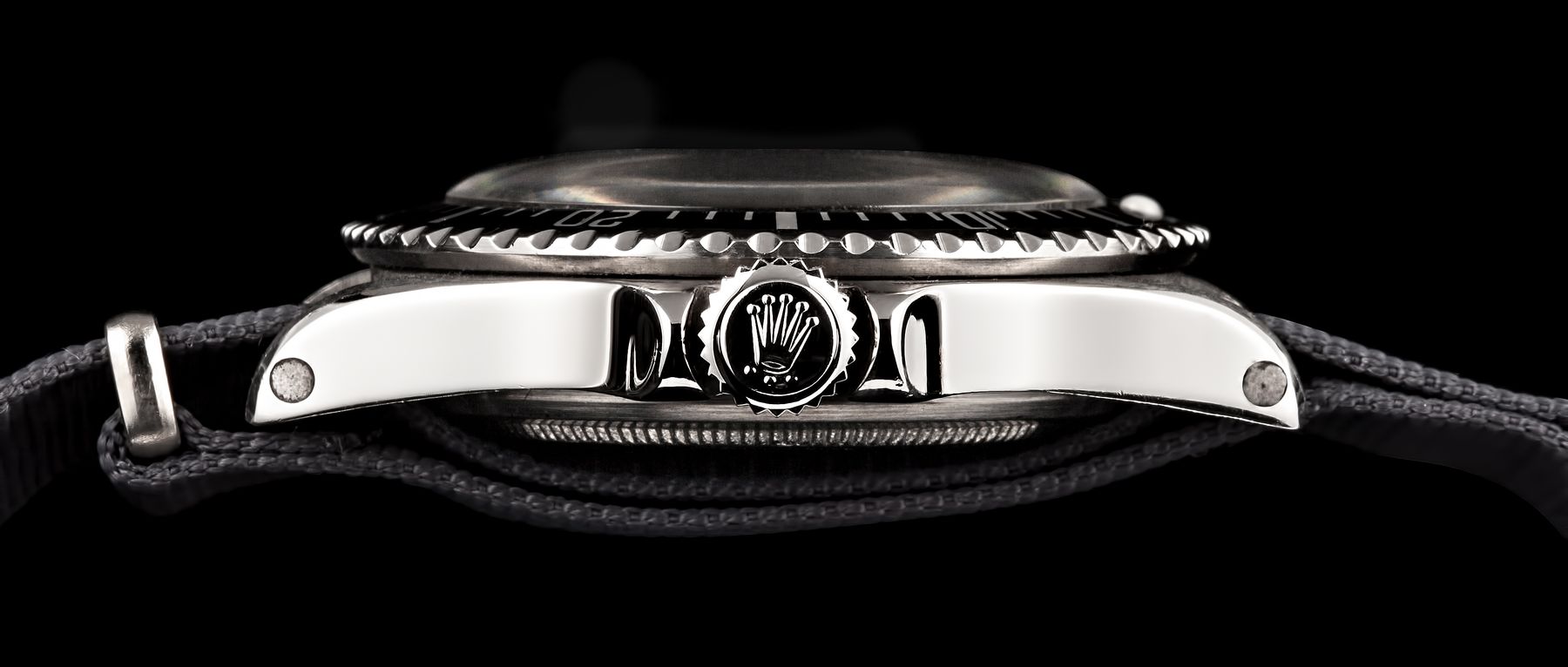 The Rolex MilSub Submariner Reference 5517
By 1971, the Submariner had graduated to a more modern iteration with the ref. 5512 (COSC-certified) and ref. 5513 (non-chronometer). Between 1971 and 1979, British Special Forces would take delivery of around 1,200 pieces, split across three references based on the 5513. Practically identical, they all incorporated the design changes first seen on the A/6538, along with a couple of further tweaks.
The bezel, now made of stainless steel, included hash marks on its aluminum insert that continued round for the full 60-minutes rather than just the first 15, as on the commercially available Submariner. The handset was switched on most from the trademark "Mercedes-style" to a pair of large "sword" or "gladiator" hands, and a seconds hand with an arrow-shaped tip. Additionally, unlike virtually every civilian Rolex, the case backs were engraved – those destined for the Special Boat Service (SBS) designated with "0552" before their individual ID number, their counterparts for the SAS marked with "W10."
In addition, they retained a special symbol on the dial carried over from the initial MilSub from the 50s. A small letter 'T' in a circle above the six o'clock denoted that the original, and highly dangerous, radium lume used on hands and indexes had been stripped by MOD subcontractor Burford, and replaced with the much safer Tritium. It is one of those tiny details that is oh so important when looking at vintage Rolex.
Rolex MilSub Submariner References
The real difference between the last three MilSubs is based on their dates of release. The early 70s saw the 5513 reference used, followed by models issued as 5513/5517, which are known as double stamped. The final piece is the most coveted of all Submariners, with the possible exception of the COMEX ref. 5514 with its retrofitted helium gas escape valve.
The ref. 5517 is the only reference with no civilian equivalent. Although in reality it is not a particularly heavily-modified 5513, the fact it has a unique number, and a backstory very few watches can match, make it among the most grail-like pieces in the Submariner canon. Issued only to the military, every example of the 5517 came with broad arrow hands and, while prices for authentic models have always been high, they have recently crossed over into the astronomic. The premiums are based on a few other factors too, rarity value being among the most important. Of the approximately 1,200 or so MilSubs, only around 180 are still in circulation. That is 180 over all three examples from the 70s. With Special Forces soldiers not famous for taking it easy on their kit, most of the watches have been either lost or destroyed.
That hardworking nature is another reason there are so few surviving pieces in their original condition. As it is vital for all military equipment to be in perfect working order, MilSubs were sent in for servicing far more frequently than normal, leading to replacement parts being used – especially the handset. The large surface area of the sword hands led to peeling and oxidation, and many were swapped for new ones. A completely unadulterated 5517 is almost unheard of, and when one surfaces, bank managers tend to get nervous.
Starting points in six figures are to be expected, and can climb a long way north of that. Of course, as more time passes and even fewer pieces are available for sale, buying into the MilSub club will only get more and more expensive.
To give you an idea of just how much these rare Rolex MilSubs are trading hands for these days, an example of ref. 5513/5517 from 1975 was recently sold at Bonhams Knightsbridge for $268,000. Part of its charm, other than the obvious rarity of the watch itself, is that it was sold by the original owner, who acquired his MilSub while serving in the Royal Navy. Another very nice example of the "Double Stamped" MilSub sold for $223,000 at auction at Christie's, featuring the original dial with the "Gladio" hands and correct bezel with full minute hash marks. It was accompanied by a "Hudson" letter from Rolex HQ confirming its authenticity. It isn't often that we see the fabled Rolex MilSub hit the market in its original condition, but when we do, they resell for massive amounts of money. Considering their unique place in Rolex history, we'd say the price is justified in the current market.
The Rolex MilSub Dilemma
Anyone familiar with collecting vintage watches, and Rolex in particular, will have identified the problem with the ref. 5517 straight away. The Submariner is already, by far, the most counterfeited luxury watch in the world. The temptation for miscreants and ne'er-do-wells to take a standard Sub and convert it to look like one of these ultra-rare examples, and add a zero or two onto the asking price, has proven too great to resist in recent times.
No MilSub, especially the 5517, should ever be an impulse buy, but rather one that comes at the end of some long, exhaustive research on both the watch and the seller. There are a host of details to be on the lookout for and becoming an expert is the only way of ensuring you don't make a very costly mistake. Of course, it also doesn't hurt to buy the Rolex 5517 from a reputable seller with a long-standing reputation in the industry. If you choose the right seller, they should even be able to help you source and authenticate the MilSub to ensure that it is genuine. Still, it also doesn't hurt to arm yourself with as much knowledge as possible on the watch before you buy.
It is obviously a whole load of extra effort, but then, you are dealing with an extra special watch. Whereas any MilSub is exceptional, the ref. 5517 is the preferred choice of the world's most elite fighting forces, and with remaining numbers of barely a handful, it is in a class of its own. If you find yourself lucky enough to find and buy one that is in honest, original condition, don't pass up the opportunity to add it to your watch box.