The Air-King is kind of a Rolex legend. Not only has the collection been ticking away since World War II, but it boasts one of the longest production runs for a single reference in the company's history. And as the decades passed, the Rolex Air-King went largely unchanged. So much so, we thought we'd always be able to rely on it for its clean, simple aesthetics and entry level price range. 
Then in 2014, Rolex mysteriously discontinued the Air-King. And when it surprisingly reemerged in 2016, experts and collectors alike couldn't quite decide if it was a Frankenstein-like remodel or essentially a new watch in itself. So how did we go from Rolex-classic to modern-reincarnation? I'll walk you through it.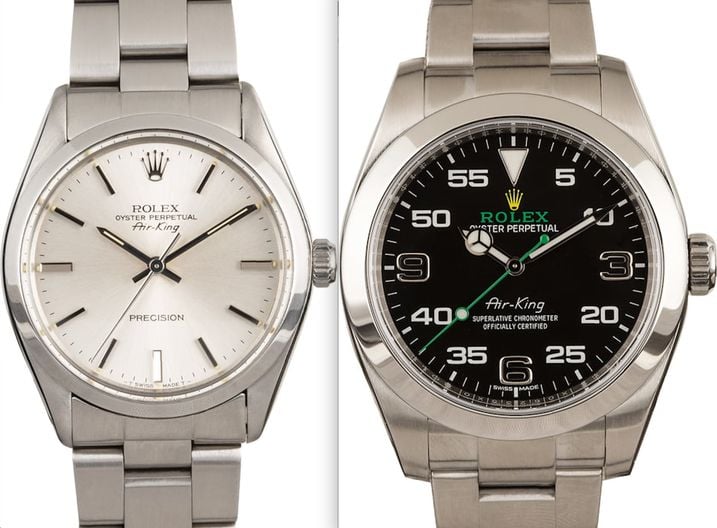 The Original Air-King: A Rolex Institution
First released in 1945, the Rolex Air-King was part of a larger series of watches to honor the RAF pilots of the Battle of Britain. But long after the other models were phased out in the 1960's – Air-Lion, Air-Giant, and Air-Tiger – the Air-King, beloved by pilots, lived on. 
It is small for a pilot's watch of today's standards. But when it was first released, that 34mm case was considered large (times change, go figure). What pilots, and collectors with style loved about the Air-King was that clean, simple face that was classical and easy to read on the fly.  And even though it saw a myriad of dial changes throughout the years, the Rolex Air-King largely remained the same. 
For decades, you could always count on those simple baton hands and smooth bezel. That statement even stands with the addition of rare international editions like the 36mm 5504 which borrowed a case from the Explorer, and the Air-King Date which featured a date window at 3 o'clock, complete with cyclops magnification lens on its crystal. During this epic Air-King era, we saw references 4499, 6552, and the Air-King 5500 which remained in production for 37 years.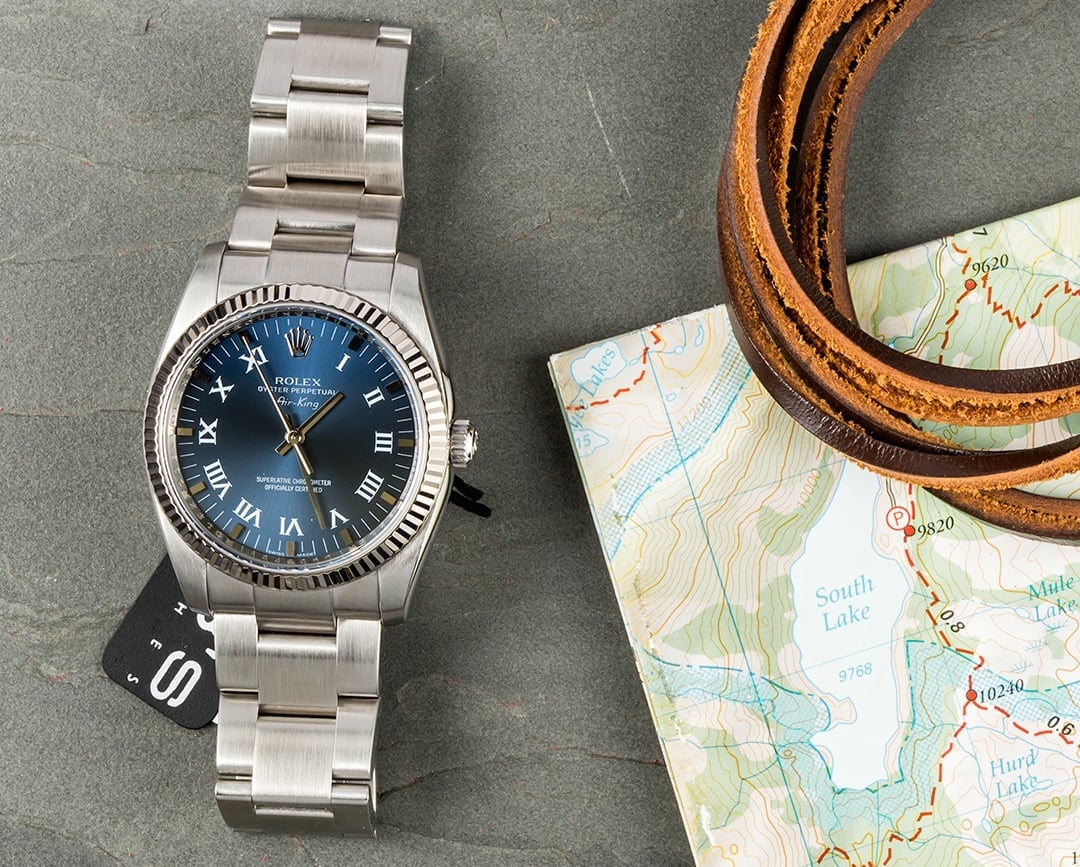 But then the millennium ushered in a new, albeit short-lived, period for the Air-King with the 14000 series. Over the next few years we enjoyed an upgraded Caliber 3130 movement and got used to that uncharacteristically cool engine turned bezel. And in 2007 with the arrival of the 1142XX series, we got that flashy (and now coveted) 18k white gold fluted bezel, new Oyster bracelet and a fancy COSC certification. Until then, this was the boldest Air-King we'd seen yet. And little did we know, this last series would last less than a decade and close out an era. 
The New Rolex Air-King: Debate Whether Improved
With an enlarged 40mm case and a black dial with yellow and green accents, for many, the only clue that the reference 116900 is an Air-King is the inscription on the face. For those who used to wear a ref. 5500 or even a 14000 series, this new watch with an internal antimagnetic shield, COSC certification, and an unrecognizable modern-edge just doesn't have the same soul as the classic Air-King. And it's not supposed to.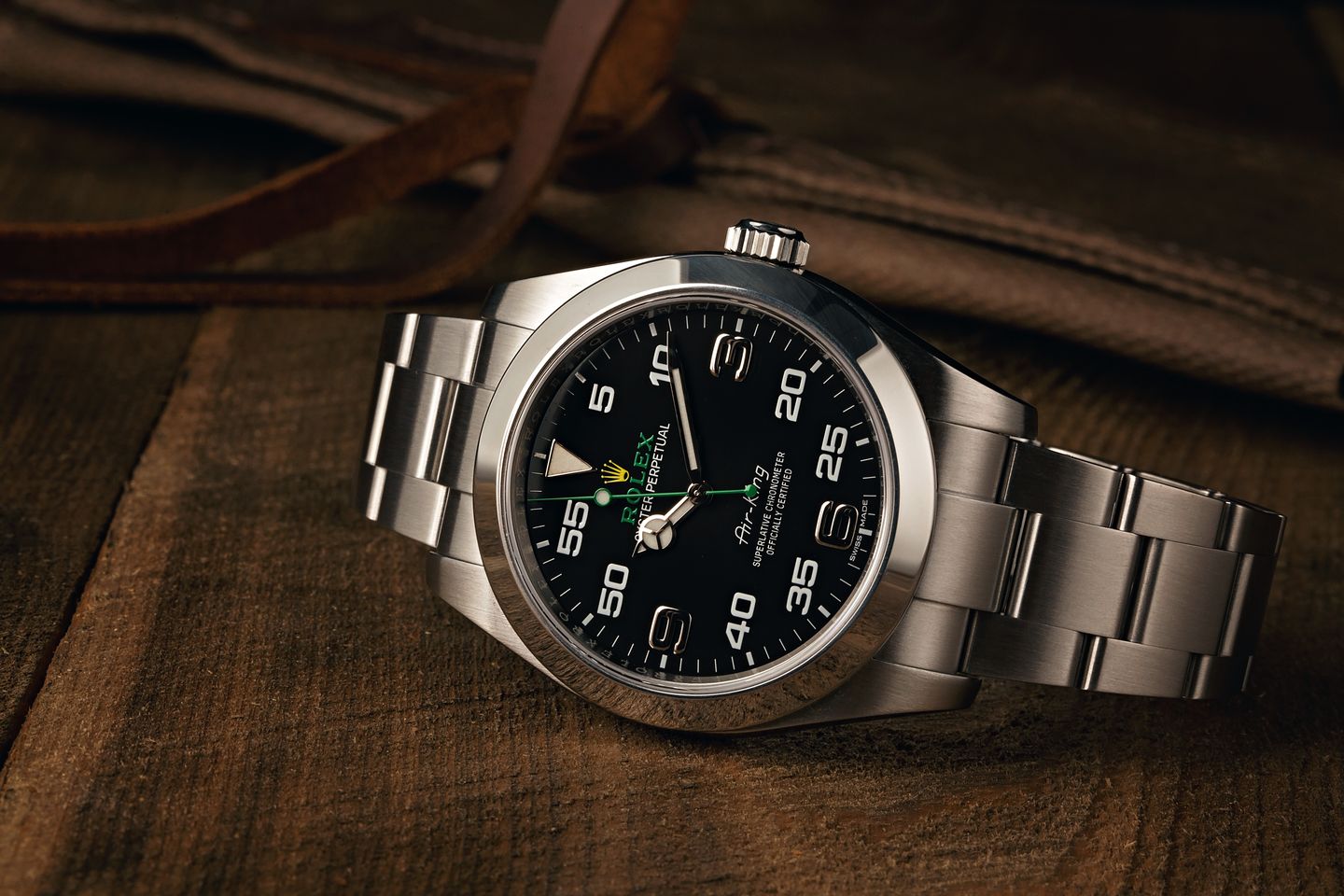 The new Air-King was built to user in a new era for the beloved timepiece. For one, Rolex didn't want the Air-King to be the classic, entry-level piece it had always been. As with most Rolex timepieces, each one is built for a specific kind of person. The Air-King, originally built for pilots, had just flown too far from its original purpose over the years.
One year before the 2016 release of the Air-King 116900, Rolex released a new 39mm version of the classic Oyster Perpetual to fill the classically styled, entry-level position within their catalog. Shedding these old expectations is what allowed Rolex to have some room for creativity here, and allowed the Air-King to embody the spirit of a pilot's watch again.
The black dial with large contrasting hour markers make the new Air-King face easy to read, and yellow and green accents on the Rolex insignia and seconds hand bear a striking resemblance to the cockpit instruments the Swiss horlogerie created for the Bloodhound SSC Project. But even without that reference to the hybrid-jet-engine car, the colors and dark face automatically evoke a feeling of cockpit instruments, don't they?
Other features that make the new ref. 116900 Air-King look, and feel, like a totally different watch include the upgraded 40mm case borrowed from the Rolex Milgauss. This tactile element might be the hardest new feature for Air-King lovers to get used to, as it is significantly larger (and thicker due to its internal magnetic shield), creating a totally different presence on the wrist. But, in light of the Air-King's new status, the size-up does bring this watch up in ranks amongst other modern 21st century pilot's watches.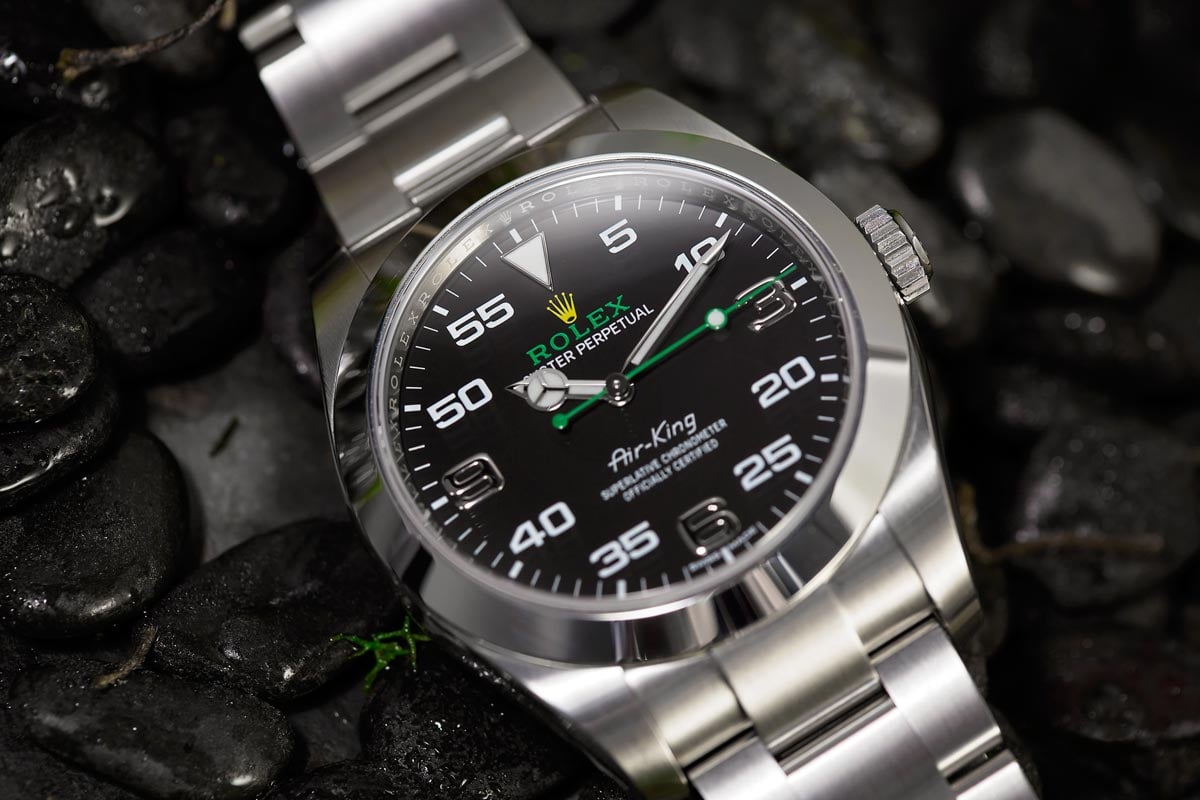 Another feature that takes a minute to get used to are the quirky hour markers. If you look close you'll notice that there are printed Arabic numerals at 5-minute intervals that indicate the minutes. But at 3, 6 and 9-o'clock you'll find the hours which are white gold and applied to the surface. And you know what else is different? The hands. They are also Mercedes-style hands which are a big style-departure rom the slender baton hands of previous models.
But not all the changes to the Rolex Air-King are apparent on the surface. Ticking inside is the Caliber 3131 (also borrowed from the Milgauss) that offers additional protection against magnetic forces. Like other Rolex movements from the 31xx series, the Caliber 3131 beats with an accuracy of -2/+2 seconds a day with a 48-hour power reserve and COSC certification. 
So, back to the debate about whether the new Air-King was 'improved.' Obviously, it is different. And obviously, some people hate it. But if you ask me, you just can't look at the new Air-King and compare it to the old one. While it wasn't given a new name, this watch has really been given a new identity that needs to be recognized.
At its core, it is still a pilot's watch. But this new take on the Air-King was meant to be a clear departure from its vintage past so that it can take root with pilot watch enthusiasts of today. And if you look at it like that, maybe you can start to like this watch for what it is.