What are Rolex Tiffany dials? In short, they're simply regular Rolex dials that have been stamped with the Tiffany & Co. name. However, that short explanation hardly does justice to the significance of these co-branded dials within the vintage Rolex collecting crowd. While Rolex now maintains an incredibly tight level of control over its products, co-branding was once fairly common – a practice that really took hold in the sixties and continued for over three decades.
Much like rail dials, tropical dials, or Paul Newman dials, "Tiffany dials" are just another one of the minute variations in the world of vintage Rolex collecting that can have an enormous effect on the value of a watch. But why are Tiffany dials so coveted and expensive, and which vintage Rolex watches have them? Let's delve into the details with a comprehensive overview of Rolex Tiffany dials.
Click here for our Vintage Watches Ultimate Buying Guide.

Tiffany & Co. & Rolex Co-Branding Relationship History
As a well-known jewelry retailer, Tiffany & Co. has had a long history of selling timepieces from a variety of top-tier Swiss watch manufacturers, including Patek Philippe, Audemars Piguet, and of course, Rolex. In fact, in 1851, Tiffany & Co. became the first store in the United States to sell Patek Philippe watches – and the relationship continues today with select Patek Philippe timepieces still featuring Tiffany & Co. branding on their dials.
On the other hand, Rolex and Tiffany struck up a co-branding deal around the late-1950s. The deal allowed Tiffany & Co. to print its renowned name on the dials of the Rolex watches that were sold in its boutiques. Early Tiffany Rolex dials were done by hand at Tiffany's flagship store in New York City but eventually, other Tiffany retail locations began stamping Rolex dials too.
Furthermore, Tiffany & Co. stocked replacement dials at its service center for repair purposes. Consequently, many replacement Tiffany-branded dials were either stamped at one of its service centers or retail locations, rather than being done at its New York City flagship store like the original examples.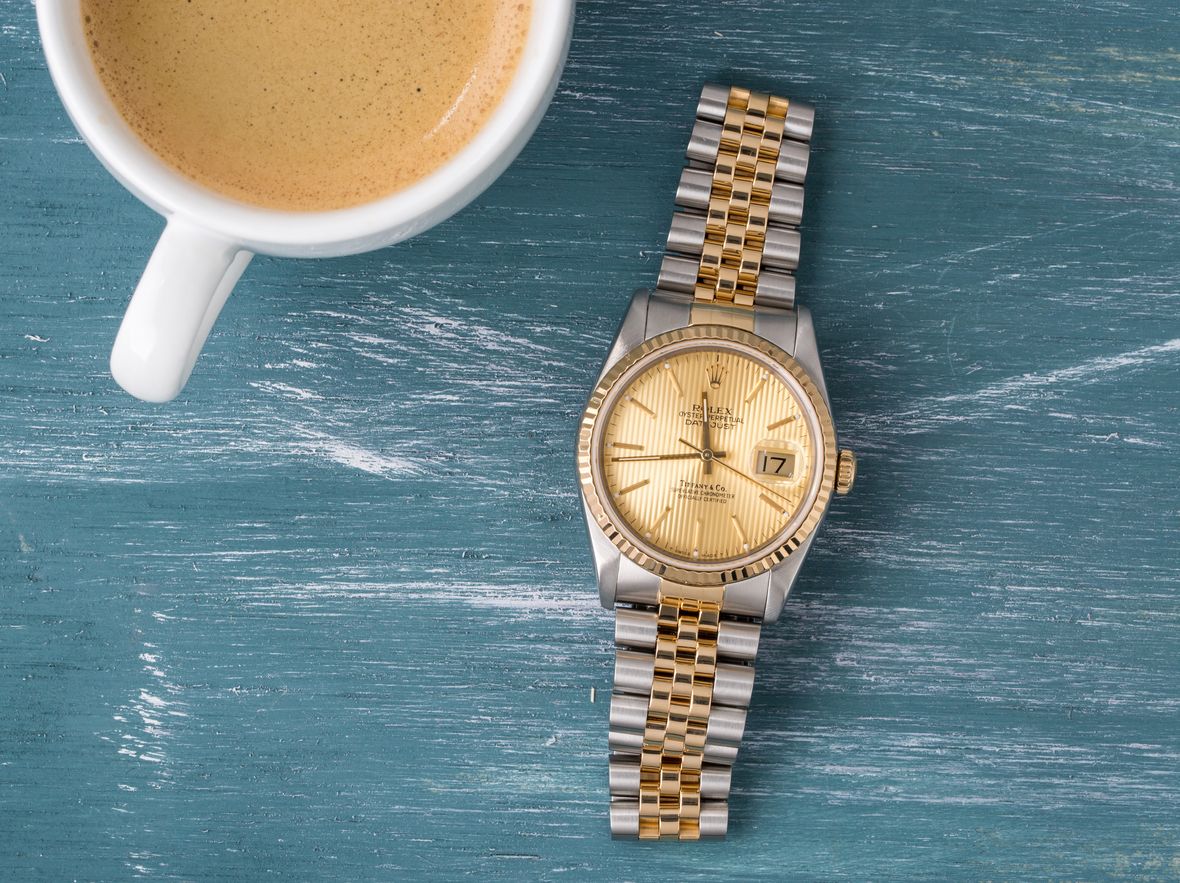 The Dispute over Tiffany Dials
Eventually, much of the dial branding was ultimately taken over by Rolex, where the watchmaker stamped the dials with Tiffany logos at its factory in Geneva, Switzerland. For several decades, Tiffany-branded Rolex watches could be sent to either company for servicing and repairs, but in the early 1990s, Rolex decided to stop supplying co-branded watches, and would no longer honor warranties if the dial stampings had been done at a Tiffany & Co. location. As a result, Tiffany & Co. stopped selling Rolex watches, and the two companies parted ways for good.
It's important to note that Tiffany was by no means the only retailer that had its name on Rolex dials. Other notable Rolex retailer co-branded dials include the following:
– Rolex Cartier Dials
– Rolex Serpico Y Laino Dials
– Rolex Bucherer Dials
– Rolex Joyeria Riviera Dials
– Rolex Linz Dials
– Rolex VC&A (Van Cleef & Arpels) Dials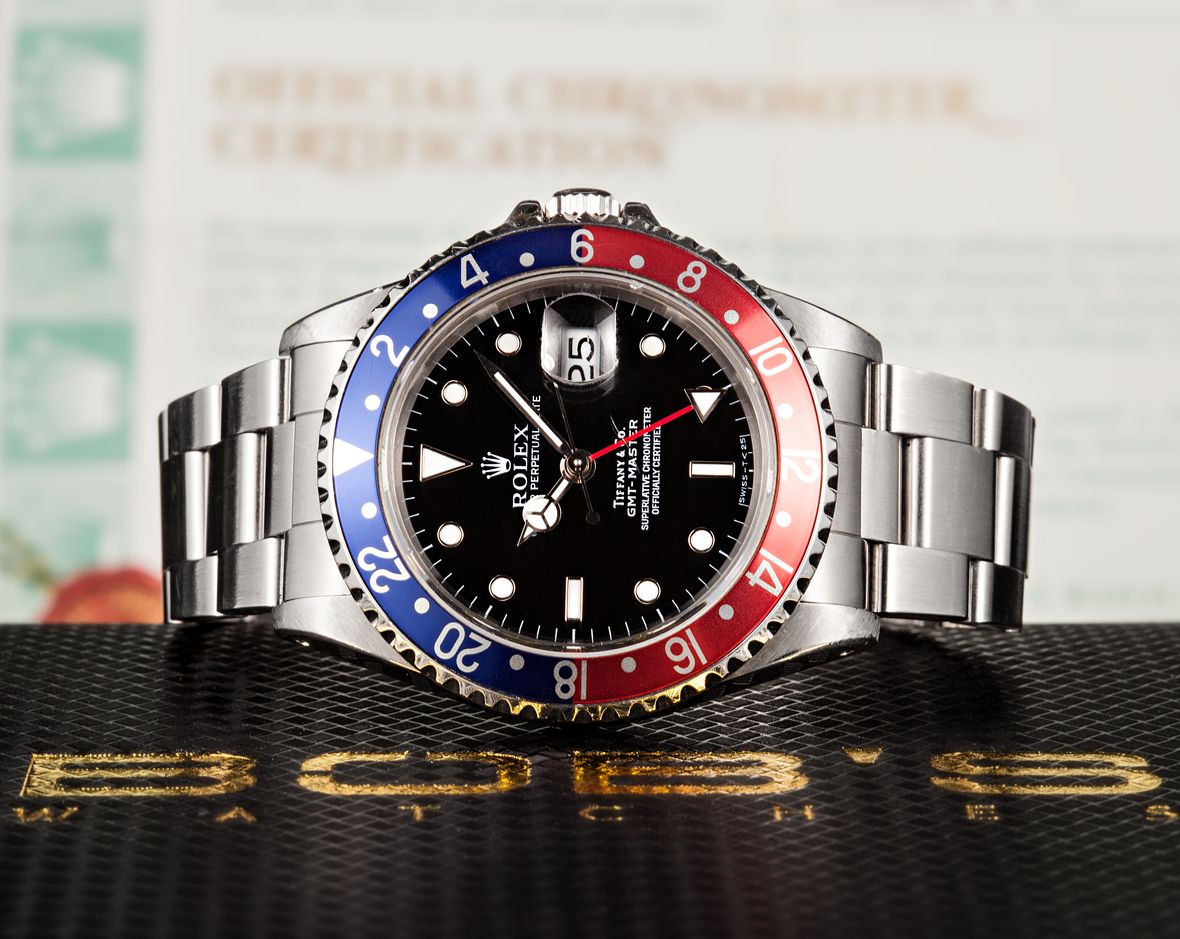 Rolex Tiffany Dial Variances
As mentioned, although Tiffany & Co. did stamp its name on quite a few Rolex dials, many watches with Tiffany dials came pre-printed from Rolex. Since both Rolex and Tiffany & Co. were printing dials with the Tiffany name, a variety of inconsistencies can be found among Tiffany-branded dials, and these details can differ depending on when the dial was produced and which company did the printing.
To complicate matters further, because Tiffany & Co. did not have a singular location in which all of the dial printing was done, an even greater range of incongruences exists among the various Tiffany & Co. dials in existence today. Consequently, properly authenticating a genuine example can be an extremely difficult task.
Rolex Watches with Tiffany Dials
Moreover, the double-signed Tiffany and Rolex dials were not exclusive to any one particular model. Since Tiffany retailed most (if not all) of Rolex's lineup during the years that it was an official retailer, there are examples of many different Rolex models with co-branded Tiffany dials:
– Air-King
– Explorer
– Explorer II
– Datejust
– Day-Date
– Daytona
– GMT-Master
– GMT-Master II
– Oyster Perpetual
– Sea-Dweller
– Submariner
Due to the disjointed dial printing process and the resulting inconsistencies between dials, Rolex Tiffany dials are some of the most counterfeited dials in the vintage watch world. Tiffany & Co. printed its name on watches from several different manufacturers, and since fonts, colors, spacing, and even the location differ from one dial to the next, spotting a fake Tiffany dial requires a keen eye and a decent knowledge of vintage watches.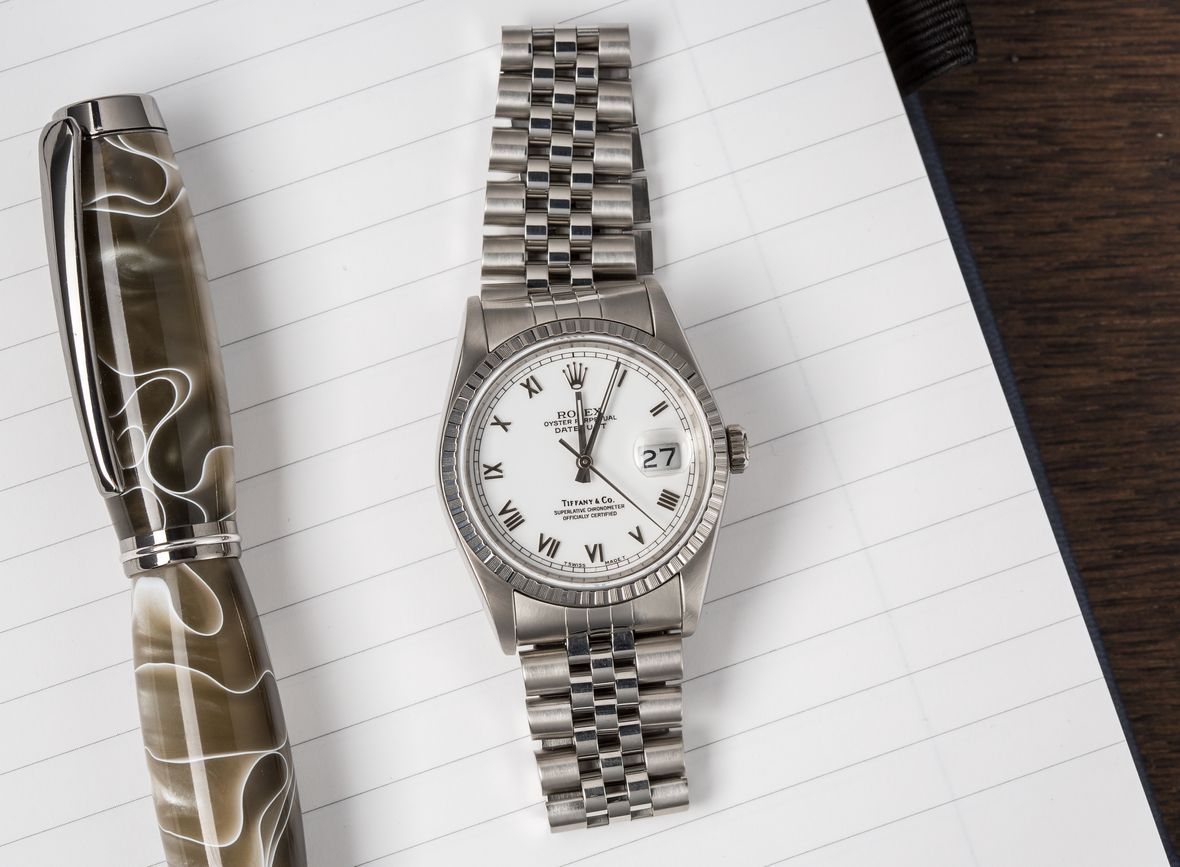 The Value of Rolex Tiffany Dials
Tiffany stamped Rolex watches are some of the most talked-about and collectible pieces in the vintage watch space. They make up a prized niche segment within the already booming vintage Rolex watch market and offer the brand recognition of both Tiffany & Co. and Rolex.
The fact that Rolex Tiffany dials are no longer produced after being discontinued in the early 1990s, means that there is now a limited supply of examples available. And this pool of watches gets continuously smaller as collectors snap them up for their collections. Double-signed dials add another touch of rarity and distinction to an already sought-after reference and Rolex collectors favor models that have a little something that make them stand out.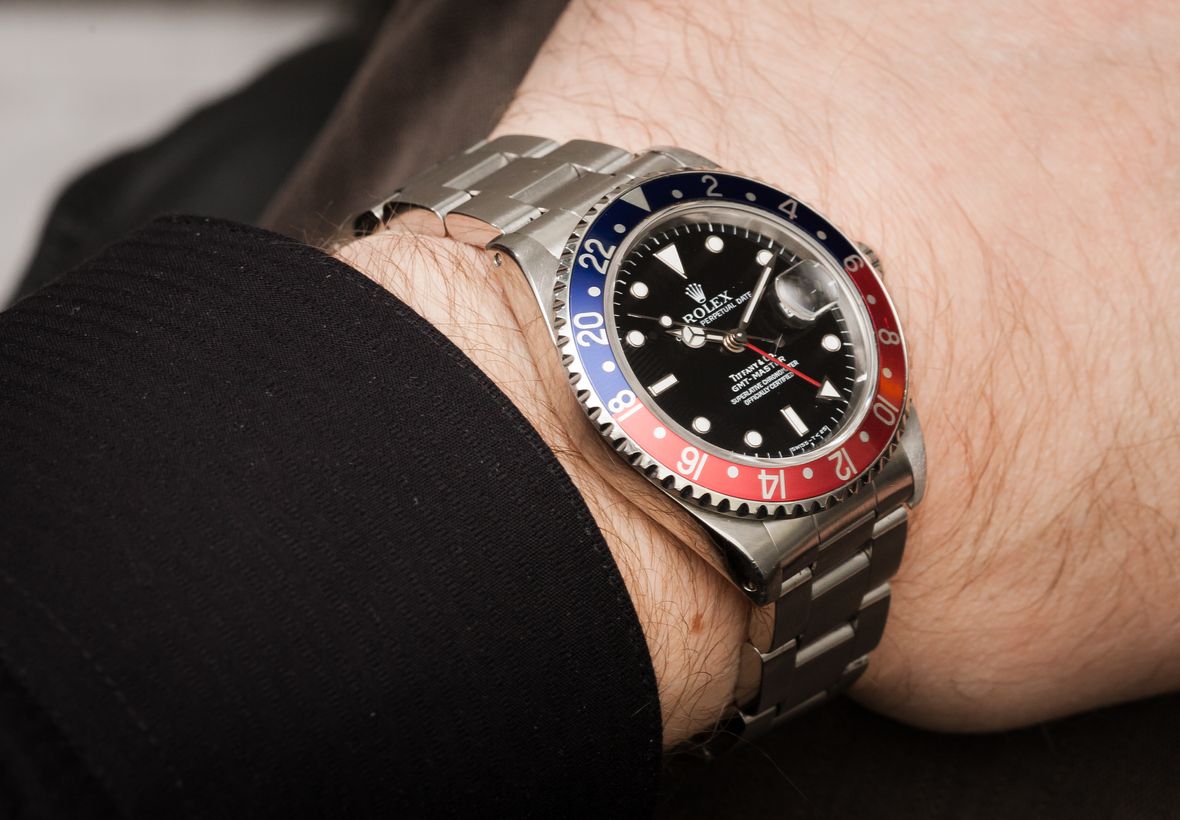 How Much Is a Rolex Tiffany Dial
It is not uncommon for a Rolex watch with a Tiffany dial to sell twice or three times the price of a comparable model with a standard dial. Additionally, if the watch happens to still be accompanied by its original Tiffany & Co. paperwork from back when it was originally purchased, it is almost guaranteed to benefit from a further increase in resale value and collectibility.
In August 2020, Christie's sold a Tiffany dial Rolex Submariner ref. 1680 for $43,750, which is well above the value of a vintage Submariner 1680 with a standard dial. In November 2018, Phillips sold an Explorer II ref. 16570 with a Tiffany dial for over $32,000 and in December 2020, Sotheby's sold a steel GMT-Master 1675 with a black bezel and Tiffany stamped dial for $44,100.
For vintage Rolex collectors, Tiffany dials represent a past era in the company's history. Rolex now prides itself on an entirely in-house production process and a tight level of quality control. Co-branded dials, let alone the highly inconsistent dial printing process that took place during the Tiffany & Co. partnership, are not something that Rolex would ever tolerate today – and that is exactly why collectors will pay a premium for them.