If you're reading this article, chances are you own at least one Rolex and you want to keep it in excellent condition. One of the best ways to do this is to store your Rolex watches properly. There are several factors to consider, such as how often do you wear your watch? Do you live in an area with high humidity? And does your Rolex have a date display or other function that needs to be adjusted if the watch is not worn regularly? In this guide, we will discuss each of these factors in further detail and break down various watch storing options so that you can make a decision that suits your lifestyle and your timepiece (or timepieces) the best.
Click here for our Ultimate Buying Guide on Rolex watches.

Factors to Consider Before Choosing How to Store Your Rolex
One of several factors to consider is: How often do you wear your Rolex? If you wear your Rolex daily, then storing it in a watch box or safe should suffice. Most Rolex watches have a reasonable power reserve that should keep your timepiece functioning correctly from the moment you take it off at night until you put it back on the next morning. If you prefer to reserve your Rolex for special occasions or choose to rotate between several watches, then you may want to consider storing your Rolex on a watch winder. This option will keep the movement in motion as well as the date and time current, and it will save you the additional step of having to reset it each time you want to wear it.
If you're planning on storing your Rolex for an extended period of time, make sure that the movement is well-lubricated and that the crown and gaskets are in good condition before storing it. You may also want to wind it about once a month to allow the movement's components to move around and lubricants to circulate. Allowing the movement to remain stagnant for long periods of time may ultimately require more maintenance in the long-run (although this also is also highly dependant on the age of your watch and its previous service history). On the other hand, keeping your watch perpetually on a winder will cause minor amounts of additional wear and tear and it is unnecessary if you'll only be wearing it a handful of times each year. Leaving your Rolex sitting still in a watch box or safe with an occasional wind should work just fine.
Another factor to consider is humidity, temperature, and other elements such as light and dust. Even if you have your luxury watches safely tucked away in a box, moisture and other elements may still cause damage over time. The vast majority of Rolex watches are water-resistant, but if you have an older vintage model – especially one that has not had its gaskets replaced recently – humidity and dust can find their way into the case, causing damage to both the movement and dial/hands. If you think this may be an issue, consider a humidity-controlled watch box or safe that will keep your Rolex dry and cool. It's also recommended to keep your Rolex in a dark place, away from light if you will be storing it long-term, as constant light exposure to the dial may cause it to fade over time. While some aging is desirable on older Rolex watches, it's best to preserve the dial's quality for as long as possible.
Watch Storage Options: Pros and Cons
Where to keep your Rolex watches comes down to personal preference, which can be influenced by the size of your collection, your lifestyle, and your financial or spatial means. Unless you only own one watch like a Rolex Submariner and wear it every single day, you will more than likely need a place to keep your watches when they aren't on your wrist. Watch storage options can include their original boxes, display cabinets or cases, wraps, wallets, winders, safes, and sometimes a combination of more than one of these methods. Let's explore a few of the most common Rolex storage options along with the positives and negatives associated with each one.
Original Boxes
This one is probably not ideal for many people but it certainly will work for storing your Rolex. Keeping the original box and papers of a watch (assuming yours came with them if your purchase it pre-owned) can be important should you ever wish to sell the watch for its maximum secondary market value. However, using the original boxes as storage systems is not a good idea for a couple of differnet reasons.
Firstly, these boxes are really designed to be packaging and presentation materials rather than items that will receive daily use. Overusing a box (opening, closing, handling, etc.) will only harm its condition and thus reduce its value. Store original boxes in a separate box in a cool, dry location, and away from any kind of light to prevent the exterior from fading or becoming laden with dust.
Secondly, it can just look a bit cluttered and messy – especially if you own multiple watches. You can't see the watches themselves in most styles of packaging and in some cases, boxes from the same brand have no distinguishing marks to give you a clue as to what you're about to see when you open it. If you have another Rolex storage option, it is generally best to keep your watch elsewhere and it shouldn't return to its original box until it's time to send it off to a new home.
Display Cabinets
A display cabinet is a bit of an old-fashioned concept in this slick, tech-heavy world – and also one that requires a larger footprint than most options. However, for those who prefer to arrange their watches behind glass in a static position, it is still an option. Individual watch stands are extremely available and a tasteful display cabinet can make for a characterful display when marshaled with care and attention.
Watch Boxes
This is many collectors' preferred method of daily and mid-to-long term storage. The watches are presented nicely under glass (options without a glass top are also available), allowing one to admire their beloved collection, even when the watches aren't on their wrist. Keeping them in one place also makes it easy to choose a watch to wear without hassling with a safe or watch winder, although display cases are also perfectly acceptable options for storing luxury watches within a safe, hence why some collectors might opt for one without a glass top and then simply keep that entire watch box inside their safe.
Watch Rolls, Wraps, & Wallets
If you're on the move and sometimes need to travel with multiple watches in your possession, a watch roll, wrap, or wallet is pretty much a necessity. They're light-weight and durable options that work nicely when transporting your Rolex watches with you from point A to B and they come in various options and configurations that range from single pouches to multi-slot wallets. While we still recommend having a long-term storage option at home like a watch box or safe, it's also convenient to have a wrap or wallet at your disposal should you choose to travel with your Rolex collection.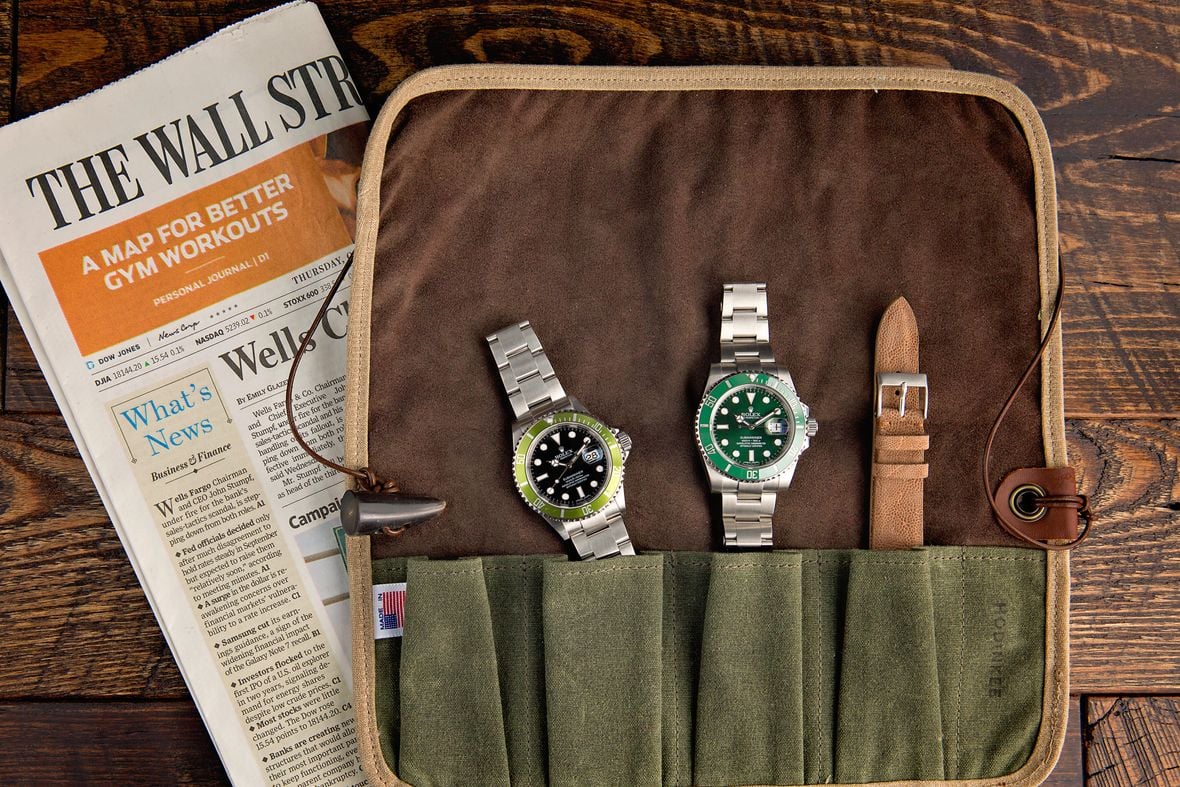 Watch Winders
Watch winders have become a bit of a "must-have" accessory for neophyte luxury watch owners. And while they are convenient, there are also a couple of drawbacks to keeping your watch constantly running. It is certainly true that leaving a watch entirely stagnant for a long time isn't ideal for it (lubricants were designed to move, springs, were designed to flex, etc.), but for a few days or a couple of weeks at a time, it really makes no practical difference. Conversely, leaving a watch running all the time does slightly increase the wear and tear sustained by some of its components, which are perpetually moving against each other.
The key to whether a watch winder is a good thing for your Rolex collection comes down to its size and composition. It's also worth mentioning that in order for a watch winder to be at all effective, you do need to own a Rolex with an automatic movement, rather than a quartz model or one with a traditional hand-wind movment. If you have watches that are very rarely worn, it's not a bad idea to give them a little activity every couple of weeks to make sure that the lubricants are still being worked around. However, a watch winder is far more than what is needed in order to keep these seldom-donned models in proper mechanical condition.
With that in mind, there are specific models that would benefit from the use of a watch winder. Those are very complicated models featuring things like annual calendars or Moonphase indications. For example, the Rolex Sky-Dweller features an annual calendar complication that only needs to be reset once per year. However, the functionality of an annual calendar can really only be appreciated if you actually do not have to reset your watch each time you want to wear it.
Safes and Safe Deposit Boxes
Probably the absolute safest place to keep your Rolex collection is a top-quality safe – or even safer still, a safe deposit box at your local bank. There are some stunning options for home safes on the market these days with sections for automatic watches, manual watches, spare parts, straps, original boxes, and literature – and many of the higher-end models offer external finishes to die for, as their designers have taken into consideration that they will be residing in people's personal homes.
Polished wood, laser-cut metal, leather-clad steel… There are many, many luxurious options available to those with an effectively unlimited budget to spend on their Rolex storage solution. Brands such as Brown, Stockinger, Savoy, Döttling, and Buben and Zorweg stand out as market leaders. Although the price tag for such stylish security is high, it could end up looking like a drop in the ocean next to the cost of replacing or repairing watches stolen or damaged due to insufficient storage solutions.
Lastly, a safe-deposit box is easily the most secure option, but it does come at the cost of giving up a certain amount of access to your Rolex watches. A safe deposit box cannot be opened unless both you and a bank representative are present, and even getting into the safe room requires the bank to verify your identity with a photo ID. While the odds of your watch getting stolen while inside a safe deposit box are incredibly slim, you can only access your collection during the bank's operating hours, and this can be a deal-breaker for some collectors.
Along with insurance and keeping your timepieces in good running order, finding them a home in which they can live happily and healthily for many years to come is not an endeavor at which to be sniffed.