How do you wear a Rolex? The simple answer is that you wear it on your wrist – but if you really want to do things right and look your absolute best, wearing a Rolex is actually a bit more complicated than that. Things like the type of watch, the size and shape of the case, the fit of the strap or bracelet, and even your watch's placement on your wrist can all impact how your Rolex looks when you wear it, and since Rolex watches are some of the most famous and recognizable luxury timepieces in the entire world when you wear them, they get noticed. While every Rolex model can be worn differently and personal preference will always be the number one factor, there are a few key things you should always keep in mind when trying to style your watch.
Can you wear a Rolex Sea-Dweller with a suit? What about a Rolex Cellini with a t-shirt and jeans? With this guide, we're going to make sure that you look like a seasoned collector every time you slip on your timepiece and pair it with your outfit. For anyone who needs help in how to wear a watch properly, we are here to help. As you'll learn, just putting on a Rolex isn't enough to tie your look together or make you seem stylish. So whether you plan to wear your Rolex watch every day or just a few times a week, this Rolex style guide can help you get started.
Click here for our Ultimate Buying Guide on Rolex watches.

How Your Rolex Should Fit Your Wrist
Comfort Is Key
All style tips and wristwatch etiquette aside, you want to make sure that your Rolex is comfortable to wear. While there certainly are some important points to follow if you want to look your best, if your watch is uncomfortable, then you will either not wear it as often as you'd like or even simply not enjoy it as much as you should.
Personal preference will always be the number one factor in terms of how a Rolex watch should fit your wrist. However, there are some general tips that you can adhere to so that your watch both looks its best and feels good on your wrist.
Don't Wear Your Rolex on Your Actual Wrist
Although colloquially we say one wears their watch on their wrist, this isn't exactly the case. A watch should be worn on the lower part of the forearm, just adjacent to the wrist. Whether you're wearing the watch on a metal bracelet or a Rolex leather strap, here is our stance. Wearing a watch directly on the wrist will be uncomfortable for several reasons.
First, the bone that protrudes on the pinky side of the wrist (the head of the ulna) will likely hurt if there's a heavy Rolex watch sitting on top of it for a long time. Plus, the winding crown (or the chronograph pushers on a Daytona) will have a tendency to dig into your hand, eventually causing blisters or scratching. Not good!
When you're figuring out how to size your Rolex, always make sure that the watch sits on the area next to the wrist. Wearing your watch in the proper location on your arm will go a long way towards ensuring that it stays comfortable to wear all day long, even when the circumference of your arm slightly fluctuates throughout the day.
Always Wear Your Rolex On Your 'Correct' Wrist
When you wear a watch, it is customary to wear it on your non-dominant hand. This allows for easy operation of the watch's functions with your dominant hand. Because of this, most right-handed people will then wear their watch on their left hand, and most watches are configured for right-handed users.
Many Lefty people will simply wear their watch on their right wrist, but some may want to try and track down a lefty version of their watch (if possible) or just have to give in and wear it like they're a righty.
Certain things like the chronograph pushers on a Rolex Daytona or Yacht-Master II are specifically designed to be operated by the right hand. While they can certainly still be used with your left hand, the overall configuration is very much intended for right-handed use. With that in mind, personal comfort is paramount, so if you want to wear your watch on your dominant hand, don't let this guide stop you!
Make Sure Your Rolex Is Not Too Tight or Too Loose
Just like clothes and shoes, it's essential to get your Rolex to fit just right. Too tight and it'll be uncomfortable to wear, especially if your wrist slightly fluctuates throughout the day. Too loose, and not only will it look awkward, but the watch will have a tendency to spin around your arm and be prone to more knocks and bracelet stretching.
Your watch should also be fitted to your wrist properly by removing any extra links that make it slide around or extending the bracelet so that it's not too tight. If your watch doesn't fit well, it's going to make you look sloppy and unprofessional, or at the very least, like a new collector. And remember, you actually wear your watch just above your wrist, not on top of your wrist. Not sure you're doing it right? Follow our watch sizing guide here.
How to Make Your Rolex Bracelet Bigger or Smaller
Having your Rolex's strap or bracelet properly fit your wrist is an important part of making sure that it looks its best and feels great on your wrist. Traditional leather straps are relatively easy and straightforward to adjust on the fly, but for metal Rolex bracelets, the process of adjusting them can be slightly more involved.
Some Rolex bracelet clasps feature built-in extension systems that allow for tool-free adjustment of the bracelet. Other clasps feature micro-adjustment settings that allow you to set the circumference of the bracelet to be in between sizes. However, should you need additional adjustment beyond what is possible through the clasp, you can also easily add or remove bracelet links to achieve a custom-tailored fit.
Does Your Rolex Have a Built-In Extension System?
Some Rolex watches come equipped with clasps that can be adjusted. For instance, the modern Rolex Submariner, Deepsea, and Sea-Dweller watches are outfitted with the Glidelock adjustment system. If you look underneath the Glidelock clasp, you'll see that you can extend or contract the bracelet in 2mm increments (up to a total of about 20mm) – without the use of any tool. You just need to pop the adjustable side of the bracelet from the clasp and glide it back and forth along the inside of the clasp until you find the size you need, then click the bracelet back into place. Submariner watches with the Glidelock system extend up to 20mm while the Stainless steel Sea-Dweller and Deepsea can extend an additional 26mm beyond that due to their Fliplock extension system.
Some Rolex watches, such as the Datejust, GMT-Master II, Daytona, and many others, come with an Easylink extension system for micro-adjustments. Using a similar method as above, you can just pop one side of the bracelet away from the clasp and extend it out for a larger fit or fold it inward and snap it back for a tighter fit. The Easylink can extend/contract the bracelet on the fly by 5mm without the use of a tool.
You May Need to Add or Remove a Bracelet Link
If the Rolex still doesn't fit right after using the built-in extension systems, then it be may necessary to remove a link or two from the bracelet. You can find a watch specialist you trust to do this, or if you're feeling confident, you can also do this at home with a few tools. If you are removing links from your Rolex bracelet, keep in mind that the clasp should be as centered with the case as possible, rather than off to one side. This will help to keep things balanced on your wrist.
If you're removing the links yourself, you will need the appropriate screwdriver, a bottle of purple (low strength) Loctite, a soft cloth to lay your Rolex on while working on it, and some paper towels.
Use the screwdriver to carefully unscrew a pin holding two links together and pull out the pin. Then wipe the leftover Loctite residue on the pin with a paper towel and set it aside. Repeat the process to unscrew the pin on the other side of the link you want to remove.
To put the bracelet back together, apply a small amount of the Loctite solution on the end of one pin, join the two open links together, thread the pin through the hole, and carefully screw it back into place. Make sure to keep the leftover link(s) and pin(s) in a safe place in case you need to readjust or sell your Rolex watch in the future.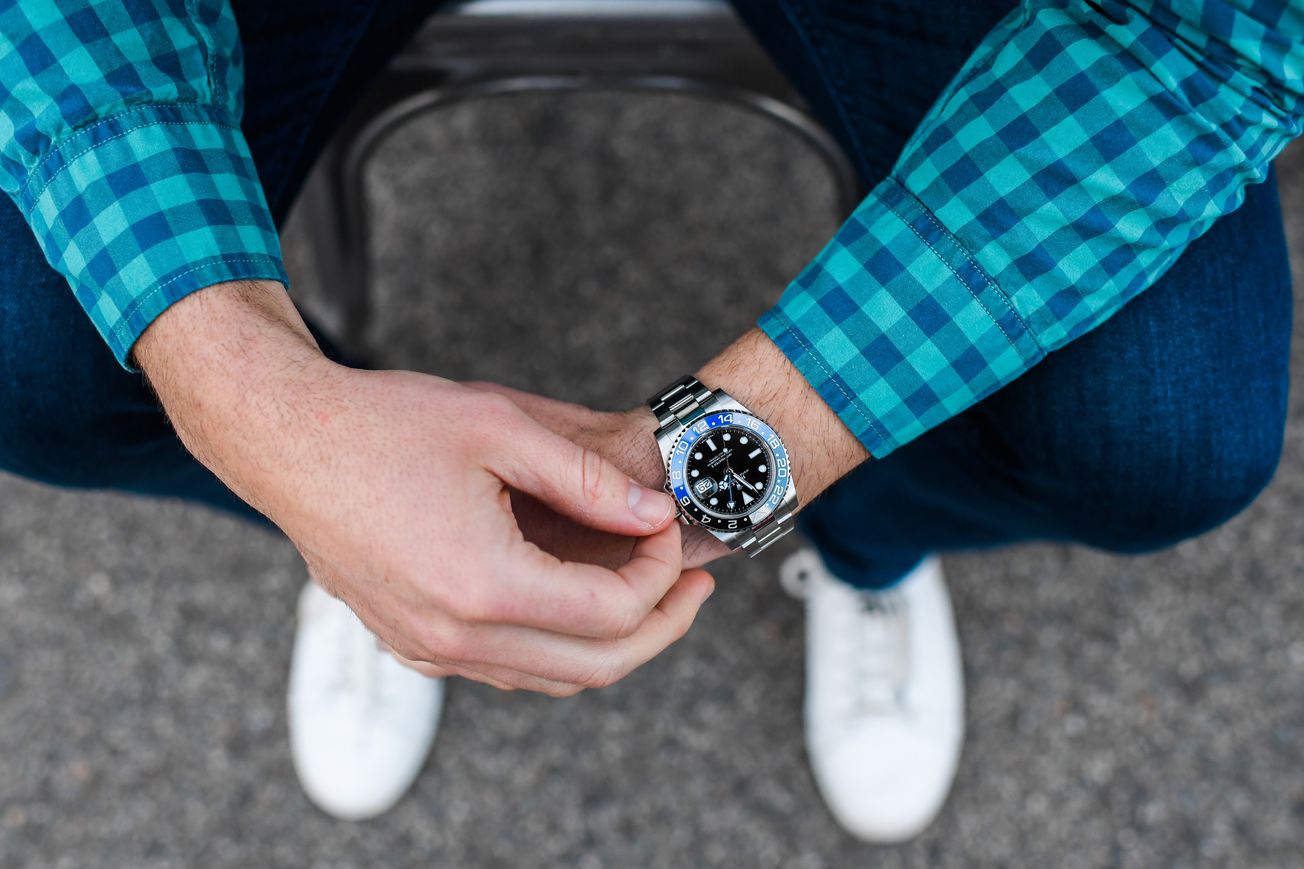 How to Wear a Rolex
In truth, there is no "wrong" way to wear a Rolex. The best way to wear a Rolex watch is the exact way that you feel comfortable wearing it, and this will differ from one person to the next depending on their individual style and preferences. However, there are a couple of pointers to keep in mind when styling your Rolex to ensure that it is appropriate for the occasion and works well with the rest of your wardrobe.
Match Your Rolex to the Occasion
You don't need us to tell you gold is dressier than stainless steel. However, when it comes to pairing your watch with the occasion, the overall style of the watch is a huge indicator of what's appropriate. If you're going to a gala, reach for a white or yellow gold Rolex Cellini with a simple and refined dial over the sports watch. It's not that your dive watch cannot work well with a suit, but why not reach for a model that was designed from the ground up to effortlessly slip under the sleeve of a dress shirt.
If you want to dress up a simple but sharp collar shirt and pants for date night, throw on that two-tone. It has just enough of a luxury touch without being a full gold statement piece. For the Sunday night football party with the neighbors, a stainless steel sports watch or even something with a fun and colored bezel will be the perfect pairing. You can even switch up the strap of your watch to match the colors of your favorite sports team – it might not be an everyday look, but will definitely look the part at your next tailgate party.
Cohesive Not Contrived
If you've got a brown leather band, just be mindful to not pair it with black leather shoes – the leather of your watch band should match the color of leather on your belt and shoes. You don't need to go crazy trying to match the exact shades of your leathers, but generally speaking, black leather straps look best when paired with black leather shoes, and the same goes for brown leather straps with brown shoes.
Additionally, if you're wearing a colored bezel or face, don't feel like you need to exactly match it to your tie or your shirt. It's okay for your watch to add a splash of color where the rest of your clothes lack, or to pair a green face with a blue shirt. You want everything to be coherent and cohesive, but you don't want things to be overly matchy-matchy or feel contrived.
Your Watch Should Enhance Your Style Not Steal The Show
On that note, your watch should be the finishing piece that ties your entire look together. While you're proud of your watch, it shouldn't be the main focal point – you should be. Your Rolex should speak to you and your sense of style and enhance your outfit, rather than overpowering it completely.
Wearing an ultra-luxurious watch as a statement piece is certainly a celebrated style, and when done properly, it can completely make an outfit and take it to the next level. However, even when specifically selecting a watch to stand out, there is a fine line between you wearing a watch and that same watch wearing you.
How To Pick a Rolex Watch for Every Occasion
Rolex makes a wide variety of different watches, and while every single model that the brand produces could easily be the only watch you will ever need, there are certain types of timepieces that work especially well in certain environments or settings.
BUSINESS WATCHES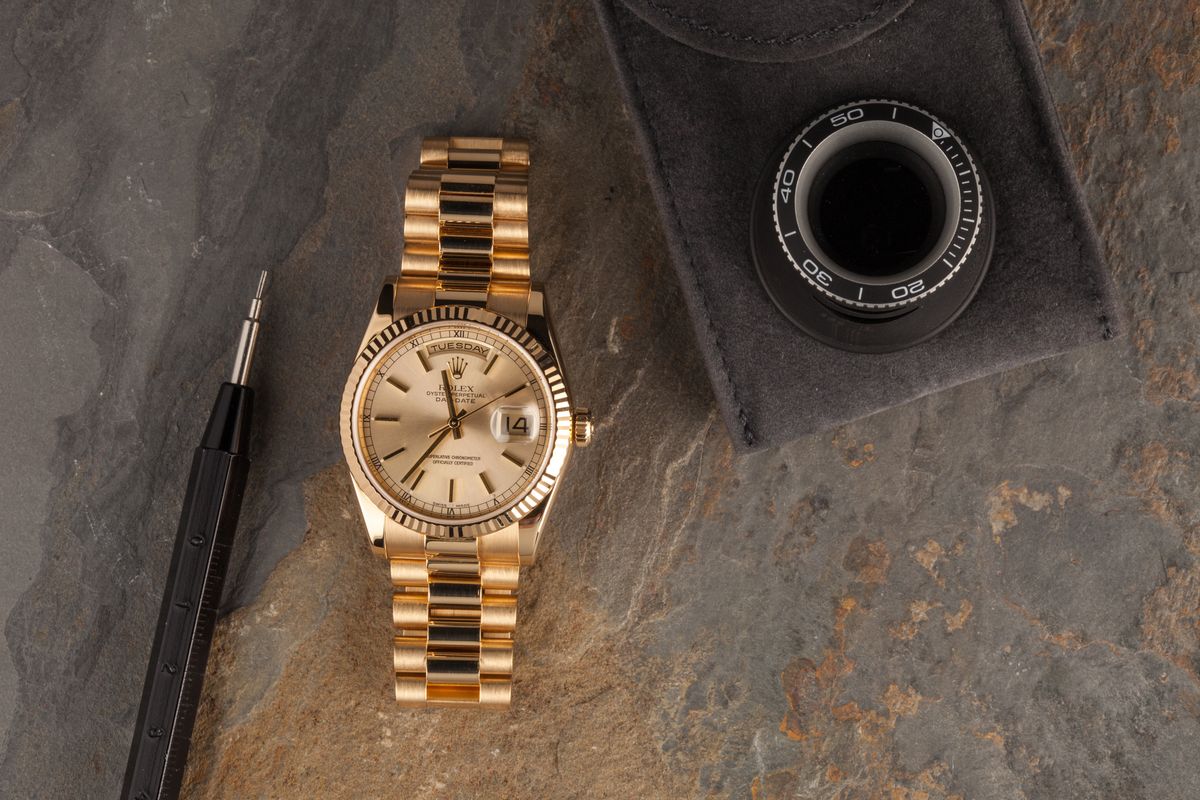 There is no firm definition about what constitutes a "business watch" but there is the general understanding that they sit somewhere between a casual watch and a dress watch. While both casual and dress models can easily be worn with business attire, the ideal Rolex business watch would be a model from either the Datejust, Day-Date, Sky-Dweller, or Oyster Perpetual collections.
Within all of these Rolex collections, you will find models that range from dressy to casual, but there are certainly some configurations that are better suited for business attire than others. A classic statement piece such as a yellow gold Day-Date President is a timeless option for a business watch, while the Sky-Dweller was designed to be the ultimate luxury travel watch, making it the perfect timekeeping companion for the jet-setting, C-level executive.
RACING WATCHES

The concept of a racing watch actually predates the invention of the automobile, although most modern racing watches have histories and heritages that are inextricably linked to the world of motorsports. Typically, racing watches feature highly legible displays and a method of measuring elapsed time (often in the form of a chronograph complication). Additionally, many racing watches also feature tachymeter bezels, enabling users to use their watch to calculate average speed or distance.
For Rolex, the brand's go-to racing watch is the Cosmograph Daytona. First launched in 1963, the Rolex Daytona gets its name from the legendary racetrack in Daytona Beach, Florida. Featuring both a 12-hour chronograph and a tachymeter scale bezel the Daytona is one of the world's most famous racing watches, along with being one of the most desirable and valuable Rolex watches in existence. Perfect for the racetrack, but easily dressed up to pair with more formal attire, the Rolex Daytona works well for nearly every possible occasion.
MILITARY WATCHES

Due to their legendary reliability and durability, Rolex watches have a long history of being used by military personnel around the world. Along with countless privately purchased Rolex watches being used for active duty, the brand even created certain models specifically for Britain's Ministry of Defence, built to exacting military specifications.
In terms of Rolex military watches, the collections that have the richest histories of military use are the Submariner, Explorer, and GMT-Master. While actually military-issued Submariner references (aka Rolex MilSub watches) are incredibly rare and collectible, all Rolex watches from these historic tool watch collections can easily play into that same military aesthetic. Additionally, due to their rugged, purpose-built aesthetics, military watches work best with either casual or sports attire; however, their stark color palettes offer remarkable versatility and can be easily worn with a number of other outfits without looking at all out of place.
CASUAL WATCHES

The concept of a casual watch is a bit nebulous, but the category aims to define the concept of being a highly versatile timepiece that can be worn in most environments and with most outfits. Not overtly dressy or too sporty, casual watches define the majority of the go-anywhere, do-anything timepieces in Rolex's catalog. However, there are certainly some Rolex watches that are more dressy or sporty that fall within the greater "casual watch" category.
Many Rolex watches make great casual watches, and even certain outright sports watches like the Submariner or Explorer also make great casual watches that can be worn with a variety of attires. That being said, some of the best Rolex collections to browse through for casual watches are the Datejust, Oyster Perpetual, and Milgauss. While you will certainly find options within the Datejust collection that lean more towards the dress watch or business watch side of the spectrum, a classic stainless steel or White Rolesor Datejust is about as casual as you can get, and these models work perfectly with everything from jeans and a T-shirt to a relaxed button-up and slacks.
DIVE WATCHES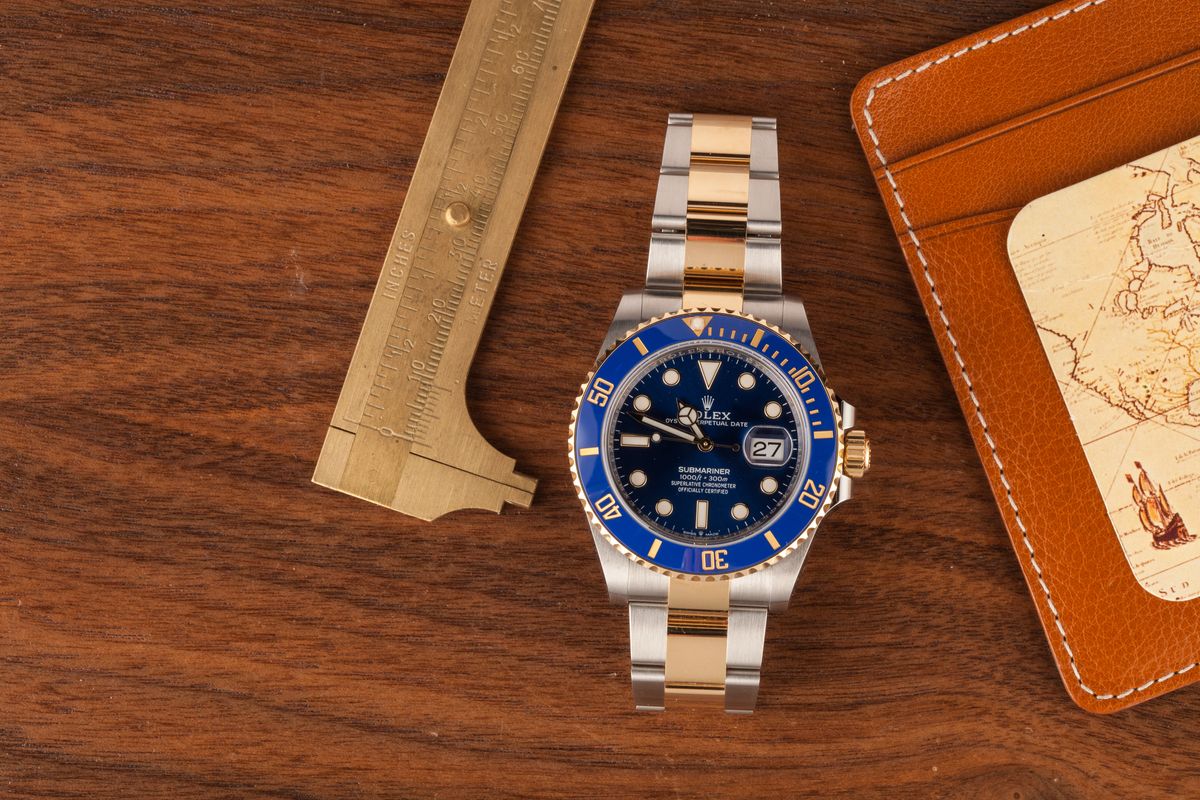 Dive watches are easily one of the most famous categories of timepieces, with countless offerings available from a wide variety of different brands. Offering ultra-legible displays and highly water-resistant cases, dive watches are frequently worn by both scuba divers and non-divers alike due to their function-forward styling and practical features.
As the creator of one of the very first dive watches ever invented, Rolex offers a number of truly legendary dive watch models. While all Rolex watches boast official water-resistant ratings of 100 meters / 330 feet, the brand offers 3 dedicated lines of professional dive watches in the form of the Submariner, Sea-Dweller, and Deepsea. Overtly sporty and perfect for your beach-side getaway, Rolex dive watches pair perfectly with swimsuits and shorts; however, their clean versatile styling also enables them to be easily worn with both casual and business attire.
SPORTS WATCHES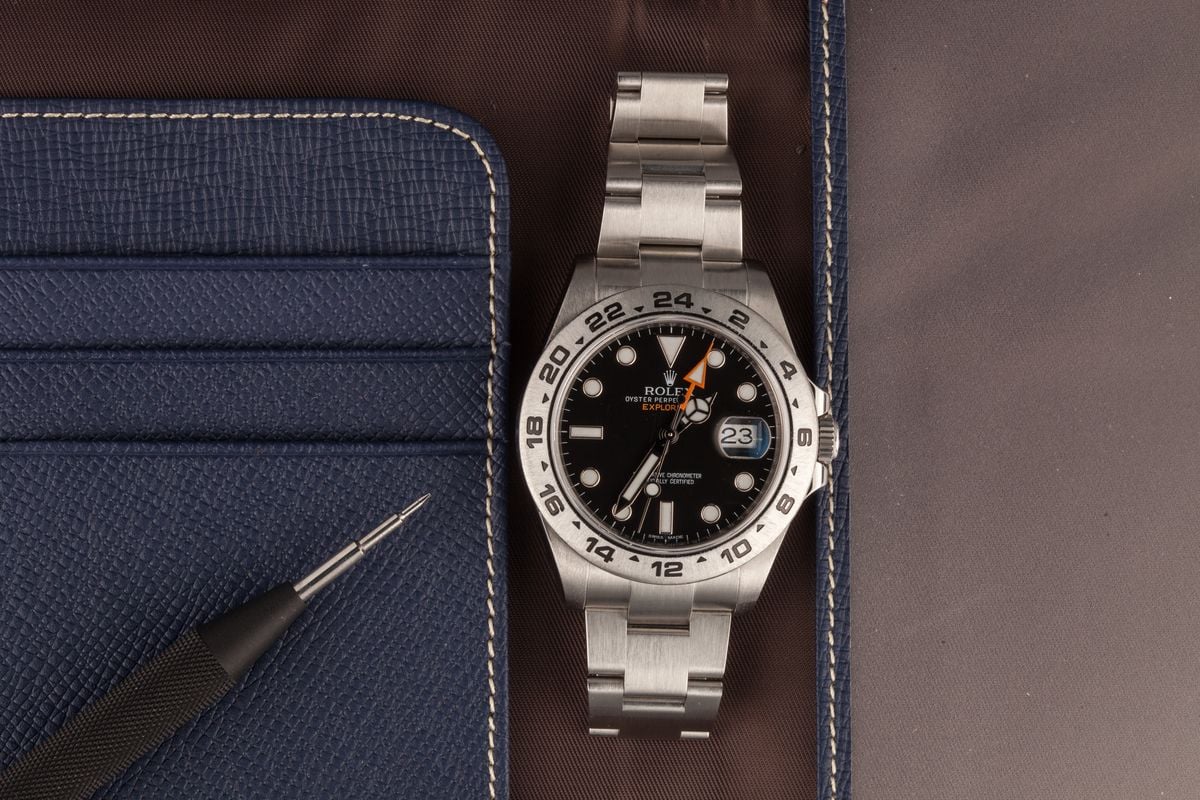 Half of Rolex's catalog is entirely devoted to sports watches and tool watches, and it was these models that significantly contributed to the brand's sterling reputation during the 1950s and 1960s. Designed and built specifically for certain sports or environments, Rolex sports watches often include additional features or complications that make them specifically suited to their intended uses. From chronograph complications to unidirectional rotating timing bezels, Rolex's sports watches are the definition of purpose-built timekeeping designs.
Some of the most famous Rolex sports watch collections are the Submariner, Explorer, GMT-Master II, Daytona, and Sea-Dweller. Today, Rolex's sports watches – particularly its various stainless steel models – are among the most desirable and coveted timepieces in the world with multi-year waiting lists present at retailers worldwide. Although they were originally developed for use during exploration or professional sports, the universal acclaim of Rolex sports watches has guaranteed that they look at home with nearly any attire, whether you choose to wear them with shorts and a t-shirt or pair them with a sports coat and slacks for a more formal and professional appearance.
DRESS WATCHES

The definition of what constitutes a proper dress watch has never been less strict, and it is becoming increasingly common to see other types of timepieces such as sports watches or casual watches being worn in dressy situations instead of traditional dress watch models, or collections with more traditional and restrained styling.
While there are certainly references within the Datejust and Day-Date collections that could easily pass as dress watches, Rolex actually produces a dedicated line of dress-oriented luxury timepieces in the form of the Cellini collection. All Rolex Cellini watches are exclusively crafted from precious metals (either 18k gold or platinum) and feature elegant and refined designs that are specifically intended to be paired with a nice three-piece suit and worn and black-tie and business formal events.
PILOT WATCHES

Rolex watches have a long history of being worn by pilots and airline crews; however, the brand actually now produces a number of options specifically intended for use inside the cabin of the airplane. Originally, pilots' watches were nothing more than highly accurate and legible timepieces that could be easily referenced at a glance by those flying an airplane. Over the years, this category has expanded and now many modern pilot watches feature the ability to simultaneously track multiple time zones.
In terms of Rolex pilot watches, the collections that are best suited to navigating the skies are the Air-King, GMT-Master, and Sky-Dweller. While the modern Rolex Air-King closely adheres to the design ethos of the very first pilots watches, offering a highly legible display and a simple, time-only movement, other Rolex models such as the currency GMT-Master II offer two independently adjustable hour hands and the ability to track three different time zones at once.
TRENDING WATCHES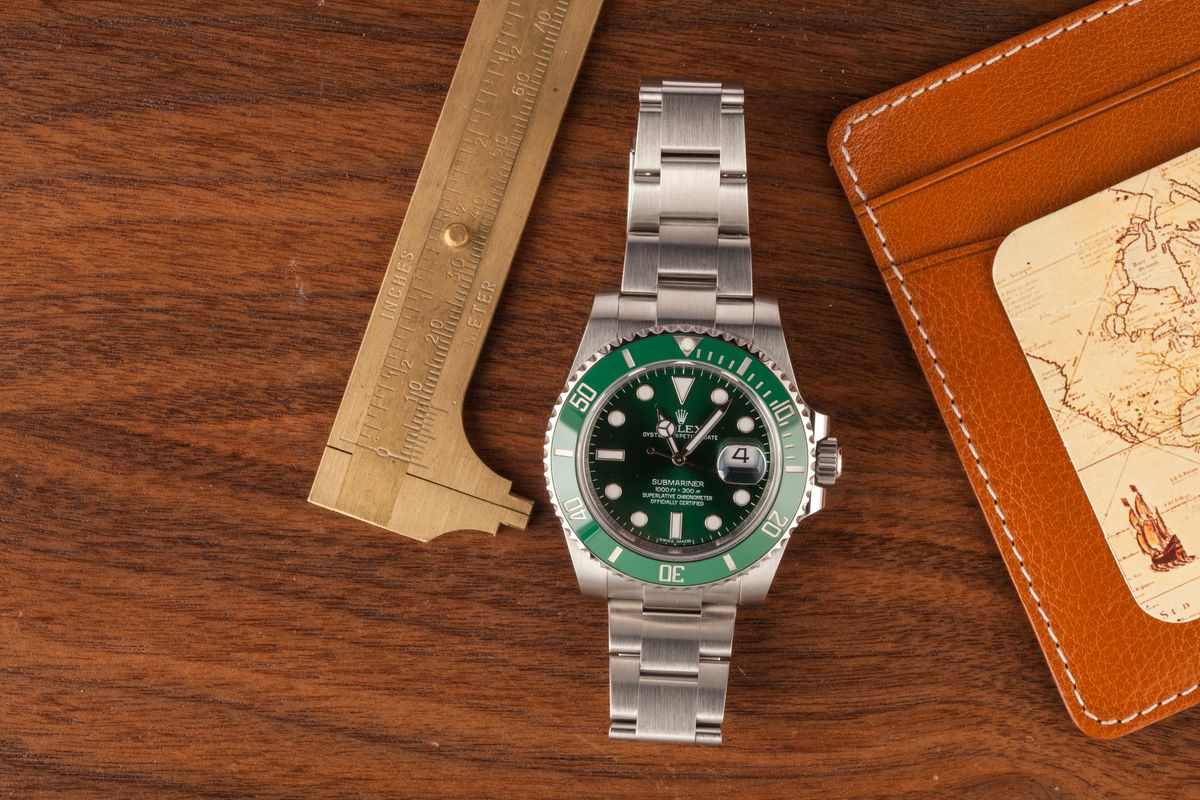 Along with producing some of the very best luxury watches in the entire world, Rolex also produces some of the most desirable timepieces that money can buy. While many other brands offer watches that are far more expensive than those produced by Rolex, arguably no other timepiece is more difficult to purchase at retail than a stainless steel Rolex sports watch.
Not all Rolex watches are impossible to purchase at retail, but many of the brand's stainless steel sports models – particularly the Datyona, Submariner, and GMT-Master II are completely sold out at retailers, with multi-year waitlists present for even the most basic steel models. Many of these watches sell for significantly more than their original retail prices, and it is not uncommon to see some of these trending Rolex watches trading hands for roughly twice the value of their brand-new retail prices.
WATCHES UNDER $5,000

While all brand-new Rolex watches cost more than $5,000, there are still plenty of Rolex watches under $5k when shopping on the pre-owned market. Not all Rolex collections will have watches that come in under $5,000, but with a little bit of searching, you will have ample options available, including both vintage and modern references.
Many of Rolex's sports watches – regardless of reference – will be priced above $5k simply due to their widespread desirability. However, there are still countless options available that can be found for significantly less than the price of a brand-new Rolex. Some top options include older references from the Datejust, Oyster Perpetual, Date, and Air-King collections. Many of these iconic classics can be found for well below $5,000 – especially if you are looking at older models from the 1980s and 1990s. The style will vary greatly depending on the specific model, but like all Rolex watches, many of the top models available for less than $5k work perfectly with almost any attire, whether you plan on dressing them up to wear with a suit, or dressing them down to wear to your weekend poolside barbecue.