While every Rolex model can be worn differently, there are a few key things you should always keep in mind when trying to style your watch. Can you wear a Rolex Sea-Dweller with a suit? What about a Rolex Cellini with a T-shit and jeans? With this guide here, we're going to make sure you look like a seasoned collector every time you slip your timepiece on and pair it with your outfit. For anyone who needs help in how to wear a watch properly, we are here to help. Because as you'll learn, just putting on a Rolex isn't enough to tie your look together or make you seem stylish. So if you are wearing your Rolex watch every day or just a few times weekly, this guide can help.
Is Your Rolex Too Tight or Too Loose?
Just like clothes and shoes, it's essential to get your Rolex to fit just right. Too tight and it'll be uncomfortable to wear and look like you're wearing a child's watch. Too loose and not only will it look sloppy, but the watch will have a tendency to spin around your arm and be prone to more knocks and bracelet stretching. If you need to get the perfect fit but don't know how to size a Rolex – whether you own a dive watch like a Rolex Submariner or a dress watch like a Day-Date, read our handy guide for some useful tips.
Here's Our Guide On How To Wear A Rolex Watch:
1. Don't Wear your Rolex on Your Actual Wrist
Although colloquially we say one wears their watch on their wrist, this isn't exactly the case. A watch should be worn on the lower part of the forearm, just adjacent to the wrist. Whether you're wearing the watch on a metal bracelet or a Rolex leather strap, here is our stance. Wearing a watch directly on the wrist will be uncomfortable for several reasons.
First, the bone that protrudes on the pinkie side of the wrist (the head of the ulna) will likely hurt if there's a heavy Rolex watch sitting on top of it for a long time. Plus, the winding crown (or the chronograph pushers on a Daytona) will have a tendency to dig into your hand, eventually causing blisters or scratching. Not good!
So when you're figuring out how to size your Rolex, make sure the watch sits snug on the area next to the wrist.
2. Always Wear It On Your Correct Wrist
When you wear a watch, you put it on the wrist of the hand you do not write with. This allows for easy configurations or alterations with your dominant hand. Because of this, most people will then wear their watch on their left hand. Most Lefty people will simply wear their watch on their right wrist, but some may want to try and track down a lefty version of their watch (if possible) or just have to give in and wear it like they're a righty.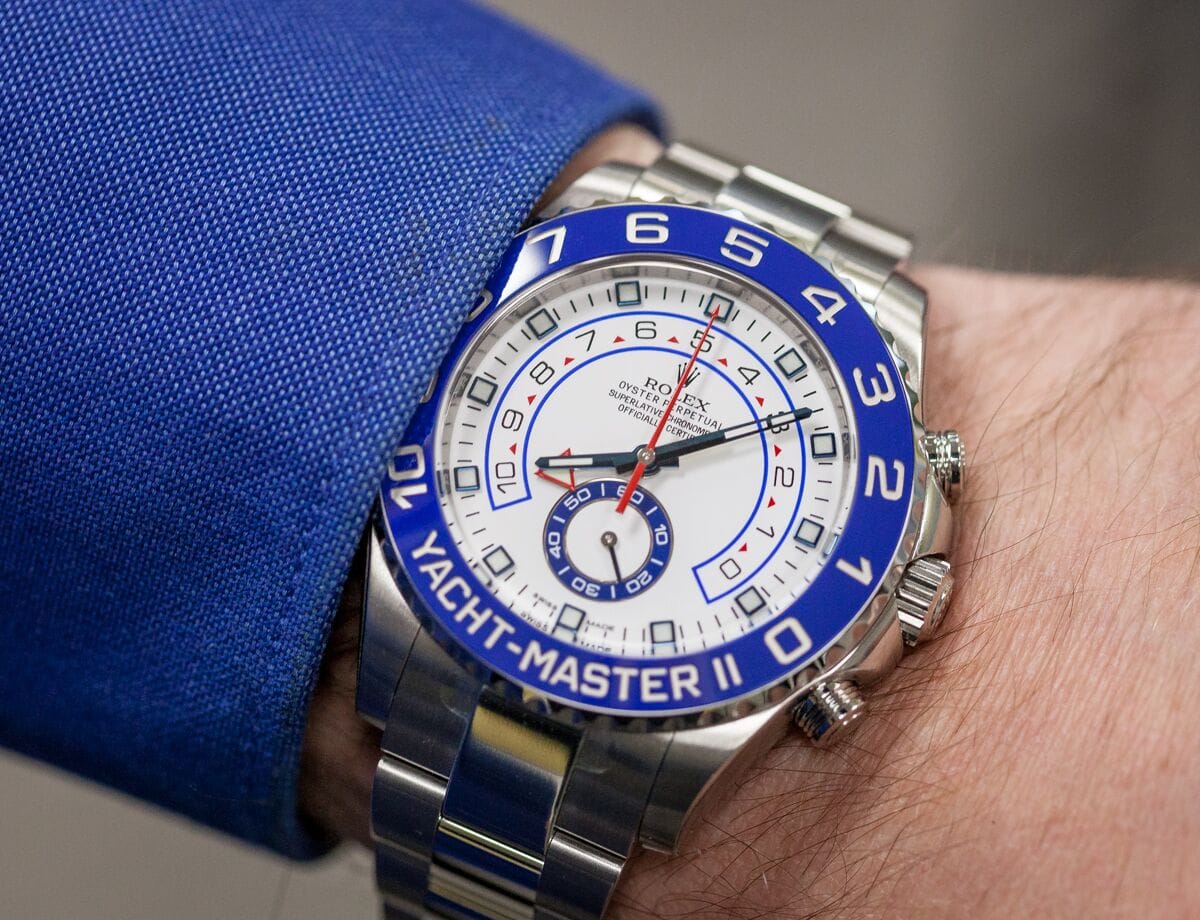 3. Ensure It Fits Properly
Your watch should also be fitted to your wrist properly by removing any extra links that make it slide around or extending the bracelet so that it's not too tight. If your watch doesn't fit well, it's going to make you look sloppy and unprofessional, or at the very least, like a new collector. And remember, you actually wear your watch just above your wrist, not on top of your wrist. Not sure you're doing it right? Follow our watch sizing guide here.
4. Use The Occasion To Determine Which Alloy
You don't need us to tell you gold is dressier than stainless steel. But, when it comes to pairing your watch with the occasion, the alloy is a huge indicator of what's appropriate. If you're going to a gala, reach for a white or yellow gold Rolex with a refined dial over the sports watch – even if that has gold, too. And if you want to dress up a simple but sharp collar shirt and pants for date night, throw on that two-tone. For the Sunday night football party with the neighbors, the stainless steel model or even something with a colored bezel will do.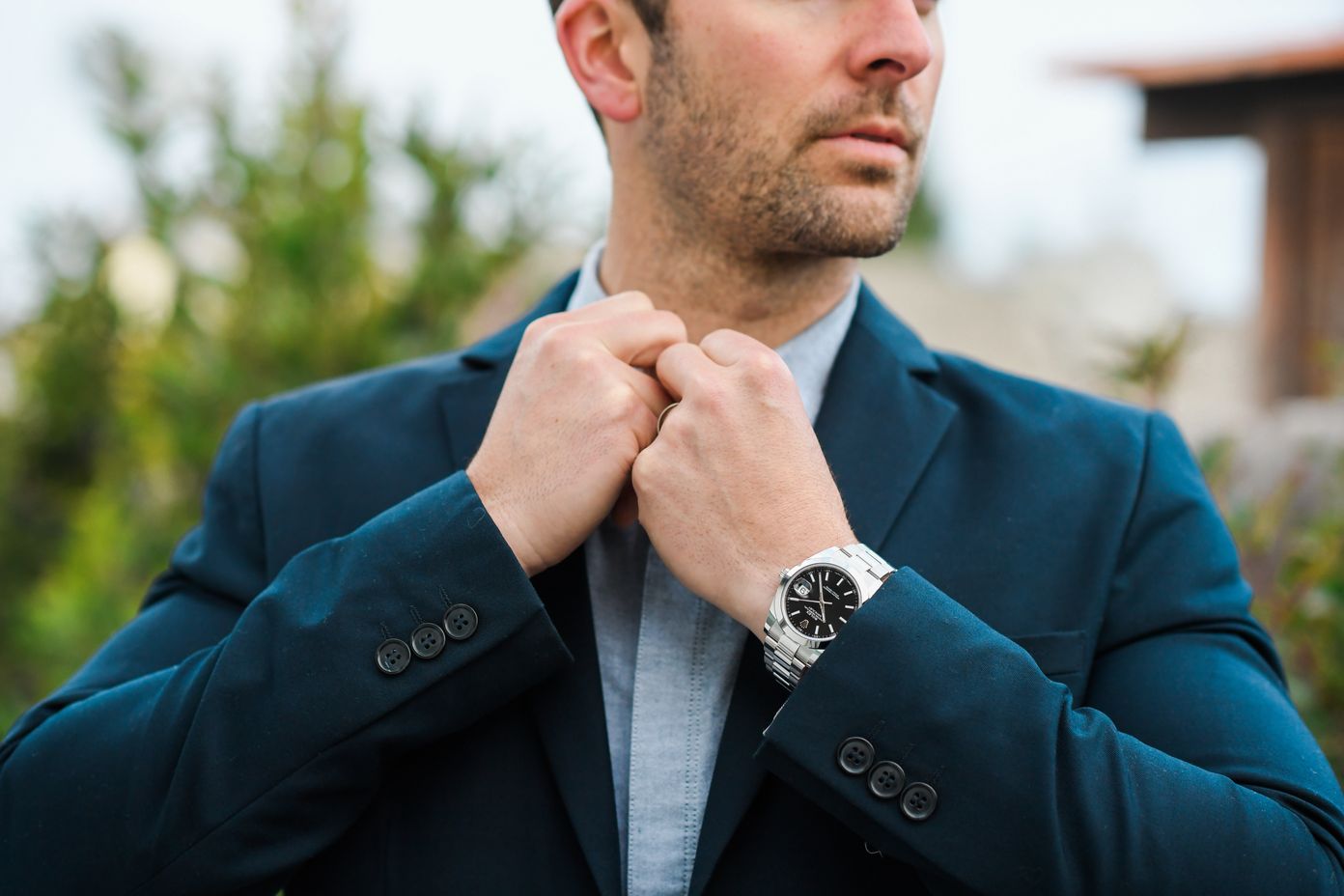 5. Be Mindful, Not Matchy-Matchy
If you've got a brown leather band, just be mindful to not pair it with black leather shoes. And if you're wearing a colored bezel or face, don't feel like you need to exactly match it to your tie or your shirt. It's okay for your watch to add a splash of color where the rest of your clothes lack, or to pair a green face with a blue shirt. Everything should be coherent, not matchy-matchy.
6. Remember Your Watch Should Enhance Your Style, Not Steal The Show
On that note, your watch should be the finishing piece that ties your entire look together. While you're proud of your watch, it shouldn't be the main focal point – you should be. Your Rolex should speak to you and your sense of style and totally enhance it. So next time you slip it on, remember that.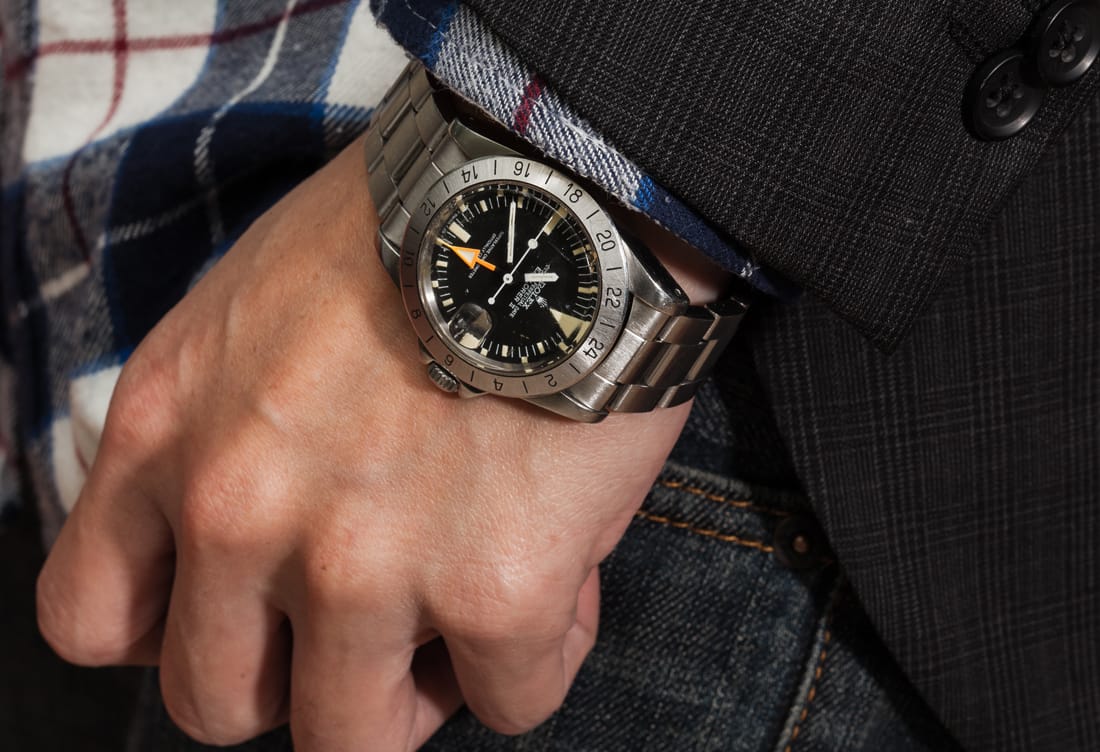 7. Check if Your Rolex Watch has a Built-In Extension System
Some Rolex watches come equipped with clasps that can be adjusted. For instance, the modern Rolex Submariner, Deepsea, and Sea-Dweller watches are outfitted with the Glidelock adjustment system. If you look underneath the Glidelock clasp, you'll see that you can extend or contract the bracelet in 2mm increments—without a tool. You just need to pop the adjustable side of the bracelet from the clasp and glide it back and forth along the clasp until you find the size you need, then click the bracelet back into place. Submariner watches with the Glidelock system extend up to 20mm while the Deepsea and Sea-Dweller extend up to 26mm.
Some Rolex watches, such as the Datejust, GMT-Master II, Daytona, and many others, come with an Easylink extension system for micro adjustments. Using a similar method as above, you can just pop one side of the bracelet away from the clasp and extend it out for a larger fit or fold it inward and snap it back for a tighter fit. The Easylink can extend/contract up by 5mm.
8. It may be Necessary to Remove a Bracelet Link
If the Rolex still doesn't fit right after using the built-in extension systems, then it be may necessary to remove a link or two from the bracelet. You can find a watch specialist you trust to do this, or if you're feeling confident, you can also do this at home with a few tools. If you are removing links from your Rolex bracelet, keep in mind that the clasp should be as centered with the case as possible, rather than off to one side, to keep things balanced.
If you're removing the links yourself, you will need the appropriate screwdriver, a red bottle of Loctite solution, a soft cloth to lay your Rolex on while working on it, and some paper towels.
Use the screwdriver to carefully unscrew a pin holding two links together and pull out the pin. Then wipe the leftover Loctite residue on the pin with a paper towel and set it aside. Repeat the process to unscrew the pin on the other side of the link you want to remove.
To put the bracelet back together, apply a small amount of the LocTite solution on the end of one pin, join the two open links together, thread the pin through the hole, and carefully screw it back into place. Make sure to keep the leftover link(s) and pin(s) in a safe place in case you need to readjust or sell your Rolex watch in the future.