Root beer reminds us of simpler times – days when you poured your drink over ice cream instead of ice cubes. But we had to grow up sometime, and thankfully, we've been treated with something just as sweet, the Rolex GMT Root Beer bezel.
Rolex first launched the GMT-Master in 1954 as a solution to the aviation world's need for a timepiece that could help pilots and airline crews keep track of time as they traveled across multiple time zones.  The result was a sports watch that included a 24-hour bezel that could be set against the GMT hand on the dial to track two different time zones simultaneously. Since its release, the Rolex GMT-Master has grown into an impressive collection of watches that are worn by everyone from professional athletes and celebrities to pilots and military personnel.
Now, it may not be quite as satisfying as the drink of your childhood, but the Rolex Root Beer GMT is undoubtedly a fun way to indulge in your luxury watch obsession. With that in mind, it probably goes without saying that not everyone agrees. Some Rolex GMT-Master enthusiasts find it hard to wrap their head around the idea of brown creeping up any further than a leather strap. But, for those who love the root Rolex beer bezel, these watches are a real treat.
Rolex GMT-Master "Root Beer"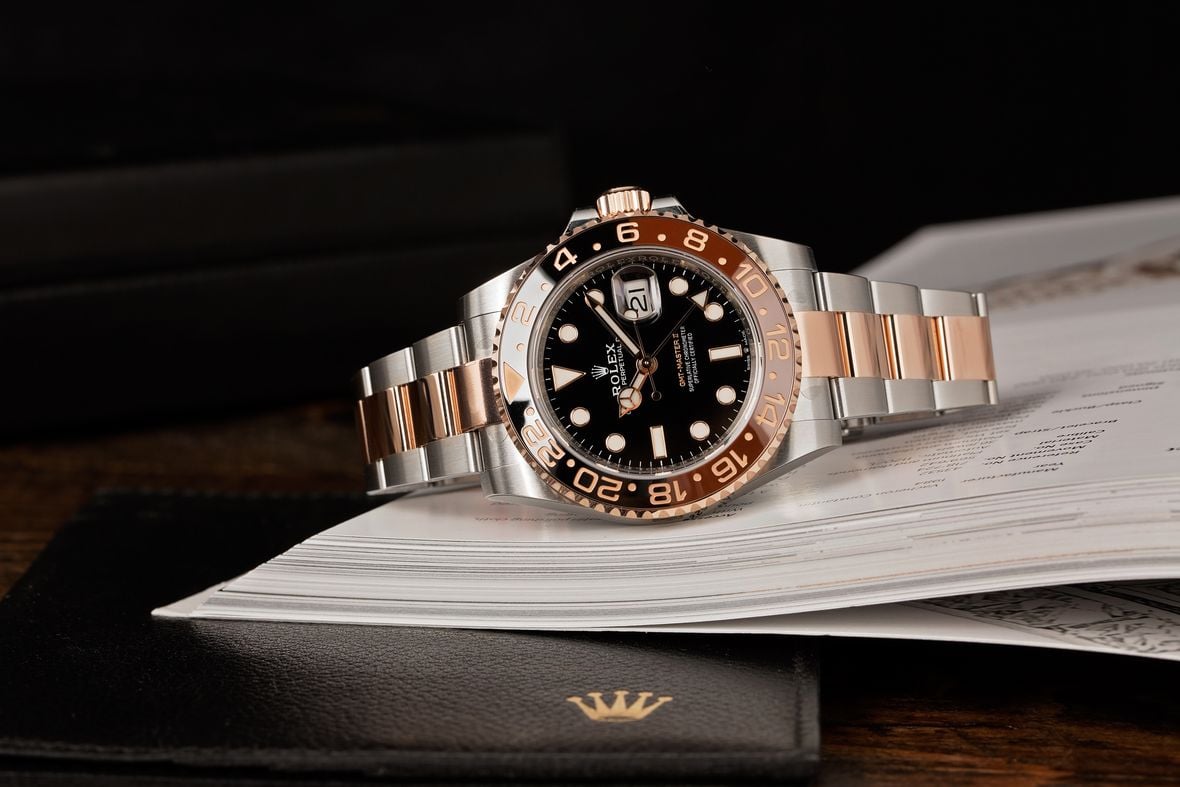 Rolex Root Beer GMT-Master Timeline
1970: Rolex introduces the first Root Beer GMT-Master, the ref. 1675/3
1989: Rolex introduces the GMT-Master II Root Beer ref. 16713
2006: Rolex discontinues Root Beer GMT-Master II
2018: Rolex re-introduces the Root Beer bezel in black and brown Cerachrom with the ref. 126711CHNR
Root Beer GMT References:
– 1675/3
– 16753
– 16713
– 126711CHNR (and 126715CHNR)


The First Root Beer GMT-Master ref. 1675/3
Root Beer GMT-Master 1675/3
Case Diameter: 40mm
Materials: Stainless Steel & Yellow Gold
Functions: Time w/ Running Seconds, Date Display, GMT Functionality (2 Time Zones)
Dial: Brown w/ Luminou Markers (Nipple Dial)
Bezel: Bi-directional, Brown and Gold Aluminum Insert w/ 24-Hour Scale
Crystal: Acrylic w/ Cyclops Lens
Movement: Caliber 1575
Strap/Bracelet: Oyster or Jubilee Bracelet
It's fitting that we were first introduced to the root beer bezel in the 1970's – it just feels vintage and oozes with funk, doesn't it? While it is a cool choice, it's also surprising. Rolex isn't known for putting itself out there, so the root beer bezel is really one of those rare instances when the brand decided to lean into the times and release something a bit offbeat and different from the other models in its portfolio.
The Rolex GMT-Master – a popular pilots watch since the 1950's – had largely been a handsome but utilitarian timepiece for the past two decades. Then around 1970, Rolex released the ref. 16753 as the first GMT-Master offered in Rolesor, which is the brand's signature combination of stainless steel and gold. This watch had two variants, the first featuring a black dial and matching black bezel, and the second with a brown dial paired with a brown and gold bezel – the very first Root Beer GMT-Master.
Rolex had been producing solid gold versions of the GMT-Master fitted with brown dials with brown inserts since the very beginning of the collection and these all-brown bezels are often referred to as "Root Beer bezels" by some collectors, but it was actually the ref. 1675/3 that marked the first use of the bicolored, brown and gold bezel, and marks the true start of the Root Beer GMT. Other distinctive features of this watch include a matching brown dial, and gold hour markers with a shape that ultimately resulted in their 'nipple dial' nickname. Lastly, the Rolesor Root Beer GMT-Master was available with the option of either an Oyster or Jubilee bracelet.
You can't blame Rolex customers of the 1970s for falling in love with this watch, as it was the color mood of the decade. It was lovingly called the "Root Beer" bezel for its slight resemblance to a frothy mug of the famous soda drink of the same name. However, all of a sudden we saw it gaining new nicknames like "Tiger Eye" or "Tiger Augen" due to its resemblance to the precious stone by the same name – an effort to make the watch sound more elevated rather than trendy. Then Clint Eastwood got his hands on one and it was (un)officially the "Clint Eastwood" (it was his personal watch and he wore it in a number of his films, including his 1982 movie Firefox).
Today, these first iterations of the Root Beer GMT-Master are relatively hard to find. While the GMT-Master ref. 1675 had quite a long production period, the ref. 1675/3 had a shorter run and was always more limited in numbers. Additionally, it has been decades since these watches have been in production, and some examples have simply been lost to history. Prices for Root Beer GMT's have also significantly increased in recent years and although they still haven't reached the point of certain other vintage Rolex models, it is highly likely that they are only going to get more expensive and harder to find in the coming years.
The Second Generation: GMT-Master II ref. 16713
Root Beer GMT-Master II 16713
Case Diameter: 40mm
Materials: Stainless Steel & Yellow Gold
Functions: Time w/ Running Seconds, Date Display, GMT Functionality (3 Time Zones)
Dial: Brown w/ Luminous Markers
Bezel: Bi-directional, Brown and Gold Aluminum Insert w/ 24-Hour Scale
Crystal: Sapphire w/ Cyclops Lens
Movement: Caliber 3185
Strap/Bracelet: Oyster or Jubilee Bracelet
Within GMT-Master history, it's important to note that in the mid-1980s Rolex launched its first ever GMT-Master II. This upgraded GMT watch featured improvements like a new type of GMT movement where the 12-hour and 24-hour hands are independently adjustable, launching the brand's iconic pilots watch into an entirely new era. During the first generation of the GMT-Master II, Rolex also introduced a new bi-colored bezel insert, the black and red 'Coke' bezel.
It wasn't until the late 1980s that the second generation of the GMT-Master II came about, leading Rolex to reintroduce the famous Root Beer bezel into the collection. Unlike the Pepsi and Coke bezels which were only available on the stainless steel models from this generation, the brown and gold Root Beer bezel was fitted to the two-tone mode, while the all-brown bezel insert was reserved for solid 18k yellow gold versions with matching brown dials.
Offering the widest variety of colors thus far, this generation is also noted as being the last GMT-Master II to feature aluminum bezel inserts before Rolex updated the collection to feature its proprietary Cerachrom ceramic bezels (more on that in the next section). But to get a closer look at this second generation of Rolex Root Beer GMT watches, let's take a closer look at the reference 16713.
In addition to the new movement and sapphire crystal, one of the most noticeable differences between this generation of the Root Beer GMT and the previous one is the style of hour markers fitted to its brown dial. Historically, Rolex's two-tone and solid gold GMT watches featured nipple dials. However, the brown dials fitted to the ref. 16713 featured applied markers with yellow gold surrounds that are very similar in design to the ones currently in use by Rolex today.
Although a relatively small feature, this modern approach to the dial made it feel much more in-line with the rest of Rolex's catalog, and the ref. 16713 marked a noticeable aesthetic departure from the previous Root Beer GMT-Master reference 16753. The Root Beer bezel version of the reference 16713 remained in production throughout the 1990s and early 2000s. However, Rolex eventually discontinued the Root Beer GMT-Master II in 2006 with many wondering if this unique watch would ever return to the collection.
The Comeback Kid: GMT-Master II ref. 126711CHNR
GMT-Master II 126711CHNR
Case Diameter: 40mm
Materials: Stainless Steel & Everose Gold
Functions: Time w/ Running Seconds, Date Display, GMT Functionality (3 Time Zones)
Dial: Black w/ Luminous Hour Markers
Bezel: Bi-directional, Black and Brown Ceramic Insert w/ 24-Hour Scale
Crystal: Sapphire w/ Cyclops Lens
Movement: Caliber 3285
Strap/Bracelet: OysterBracelet
When Rolex released its updated Root Beer bezel in 2018, it really reinvigorated collectors' adoration for this unique timepiece. For one thing, we hadn't seen a Root Beer GMT watch in more than a decade, and while it was never the most popular GMT model among collectors, it was appreciated for its unique aesthetic and the mark that it had made on the collection. So when Rolex re-introduced the Root Beer bezel in 2018, many were shocked to see it return.
Of course, the new Rolex GMT-Master II Root Beer ref. 126711CHNR had been brought into the 21st century with some much-needed updates. The two-tone configuration with yellow gold had been swapped out to stainless steel and Everose gold for a warmer and more modern appearance. Additionally, the bidirectional ceramic bezel is now black and brown with recessed Eversoe gold numerals, instead of being half brown and half gold and made from anodized aluminum like on all previous iterations.
With that in mind, the biggest and most notable upgrade to the bezel is the use of Rolex's proprietary ceramic material, which the brand calls Cerachrom. Looking at some of the earlier Root Beer bezels that were made out of aluminum, you can see that many of them have been subject to scratching and fading over the years. By using this new, incredibly durable and fade-resistant ceramic material for the bezel, Rolex is able to ensure that these warm colors will stick around more-or-less indefinitely. The creation of the bi-color Root Beer bezel in ceramic is also notable because it is incredibly difficult to manufacture. Rolex could have gone with just an all-brown Cerachrom bezel, so the effort to go back to the bi-colored bezel but with more modern colors and materials is certainly noteworthy.
The dial also got a much-needed upgrade. Rather than being brown with a sunburst pattern like before, the dial is gloss black with applied Everose gold markers that are filled with blue-glowing Chromalight lume. Of course, there are still the same Mercedes hands, but these are also now crafted from Everose gold and finished in Chromalight. While some prefer the inherently retro-feel of the warm brown dials found on older Root Beer GMT watches, the gloss black dial on the new reference 126711CHNR provides the watch with an undeniably more modern overall appearance.
This is the kind of watch that makes you do a double-take, as brown (not tan or taupe) is still an unlikely color to be featured on a watch. However, the way it's been integrated here alongside the pitch-black dial and the warm 18k Everose gold feels effortlessly stylish and contemporary. It is certainly possible that many years from now, we will look back on the ref. 126711CHNR and admire it for its retro aesthetics in the same way that we do the ref. 1675/3. However, (at least for the time being) it represents a truly modern take on the classic Root Beer GMT-Master, and it serves as yet another example of how Rolex is able to always push forward and innovate without ever losing sight of its past.