Root beer reminds us of simpler times – days when you poured your drink over ice cream instead of ice cubes. But we had to grow up sometime, and thankfully, we've been treated with something just as sweet, the root beer bezel.
Now, it may not be quite as satisfying as the drink of your childhood, but it's undoubtedly a fun way to indulge in your luxury watch obsession. However, I think it goes without saying that not everyone agrees. Many Rolex GMT-Master enthusiasts find it hard to wrap their head around the idea of brown creeping up any further than the leather strap. But, for those who (will admit they) love the root beer bezel, this watch is a real treat.
A Very Groovy History
It's fitting that we were first introduced to the root beer bezel in the 1970's – it just feels vintage and oozes with funk, doesn't it? While it's cool, it's also surprising. Rolex isn't known for putting themselves out there, so the root beer bezel is really one of those rare instances when the horlogerie decided to lean into the times and release something a bit off beat.
The GMT – a popular pilots watch since the 1950's – had otherwise been a handsome but utilitarian timepiece. Then all of a sudden, we're looking at the brown ref. 1675/3. It has a a gold bezel with brown and gold aluminum insert, a matching brown dial, and gold hour markers with a shape that lead to the 'nipple dial' title. The watch was a two-tone stainless yellow gold model, and you could choose a Jubilee or Oyster bracelet. The two-tone Rolex GMT-Master was also available with a more conservative black dial, but today the brown dial version is a bit more desirable in collectors eyes.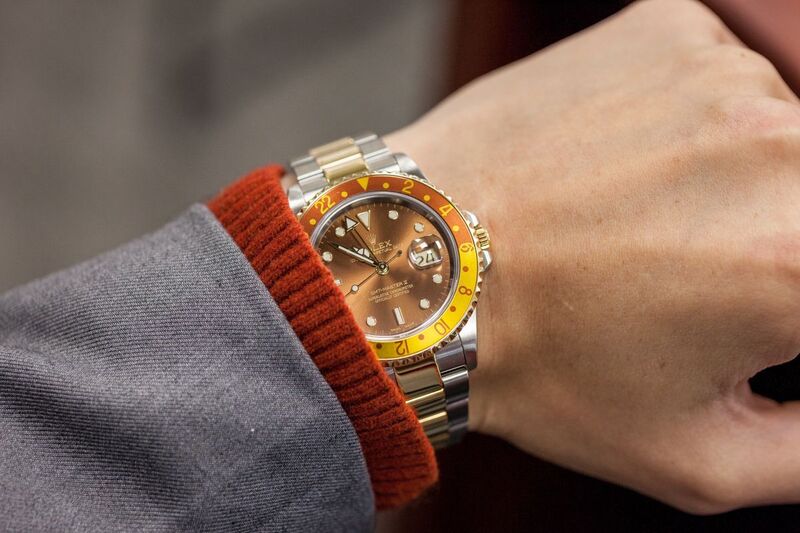 You can't blame Rolex customers of the 1970's for falling in love with this watch, it was the color mood of the decade. It was lovingly called the root beer bezel, well, for obvious reasons. But then all of a sudden we saw it gaining new nicknames like "Tiger Eye" which was an effort to make it sound more elevated than trendy. Then Clint Eastwood got his hands on one and it was (un)officially the "Clint Eastwood" – he wore it in a number of his films, including his 1982 movie Firefox.
It's a relatively hard to find watch. While the GMT Master ref. 1675 had quite a long production run, the ref. 1675/3 was always more limited and both are no longer in production. Prices for root beer GMT's have significantly increased in recent years, which really shows the degree of value and desire for this watch out there.
The Comeback Kid
When Rolex released their updated root beer bezel in 2018, I think it really reinvigorated collectors adoration for this unique timepiece. Of course, the new root beer bezel has been brought into the 21st century with some much-needed updates. The two-tone with yellow gold has been swapped out to stainless steel and Everose gold (which is totally on-trend), and the graduated ceramic bezel is black and brown instead of being half brown and half creamy gold.
Look closely and the Arabic numerals on the bezel are also Everose. The dial is black and the hour markers white, outlined in Everose and highly legible with lume. There are still the Mercedes hands, of course, but also craft from Everose and outfitted in lume. It looks really clean despite everything that it has going on.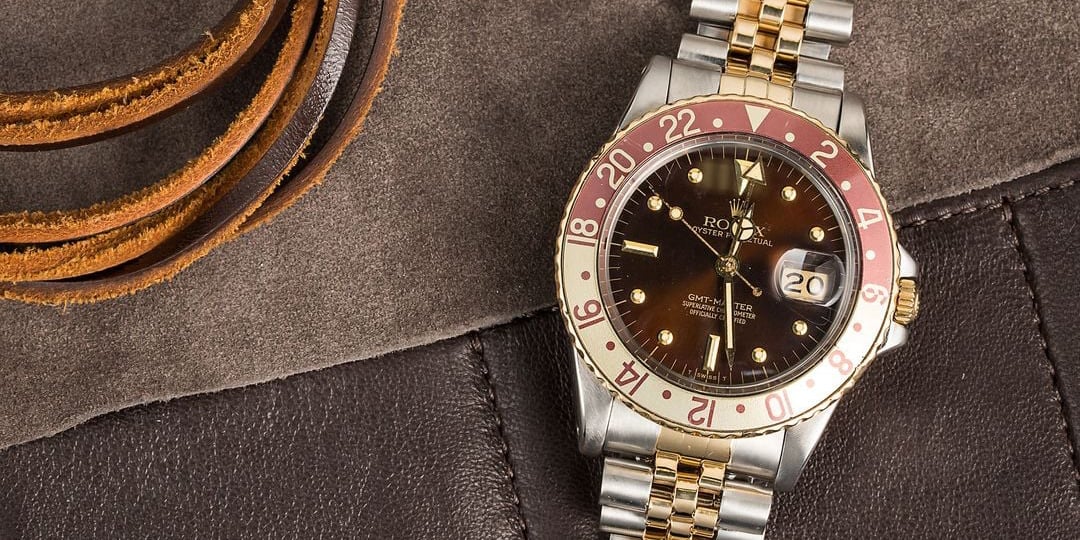 This is the kind of watch that makes you do a double take, as brown – not tan or taupe – is still an unlikely color to be featured in a watch. But the way it's been integrated alongside the pitch-black dial and the warm Everose feels effortlessly stylish. Although, I have a feeling in a few decades these words may haunt me. Maybe watch writers of the future will speak about this watch like I do with the ref. 1675/3 – admiring it for its uniqueness but generally regarding it as an anomaly.
Either way, I do believe the release of the GMT Master II 126711CHNR was an awesome release in itself, but also a great piece that makes collectors go back to admire and possibly rethink the 1970's predecessor. To avoid controversy I'd usually say don't @ me – but do it. The Bob's team and I want to know what you think of this unique and highly desirable Rolex.