Remember a few years ago, when everyone was saying the invention of the smartwatch was going to do away with conventional timepieces altogether? Before that, the actual smartphone itself was on the brink of doing the same thing. And if you were around in the 70s and old enough to be paying attention, it was quartz that was going to nail down the coffin lid on all things Swiss and traditional (which in all fairness, it almost did).
My point is that high-end mechanical watches have weathered every storm that has blown their way over the years. And not just weathered them, but continued to thrive until we have the situation today, where the industry has rarely been in ruder health.
Far from succumbing to each technological fad, impressive though they are, the soullessness of electronics has only served to rekindle an appreciation for the artistry and passion of a painstakingly created caliber and a beautifully crafted exterior. The market for mechanical watches, both new and pre-owned, is now vast, and an increasing number of people seem to be discovering the joys of collecting on a daily basis. For the newcomer, a dip of the toe into this new world of luxury watches can quickly become an overwhelming experience. There is enough information out there to fill several libraries, and just finding a place to start is daunting enough.
Additionally, there are also other aspects of the luxury watch industry that seem to defy common logic and go against everything that you know to be true. Before you even scratch the surface, you will find instances where plain stainless steel watches are selling for significantly more than solid gold version of the identical models – by millions of dollars. Additionally, you will find that you cannot simply buy a brand-new Rolex sports watch; all retailers are sold out, with waitlists spanning years and no end in sight. And if that doesn't confuse you enough, many pre-owned watches are now selling for significantly more than than original retail prices.
Buying your first watch will always be a completely personal choice, but in an effort to help you make sense of some of the most important points, we have tried to distill all that knowledge into easily digested chunks. So, read on below for our tips on how to get started and purchase your first watch.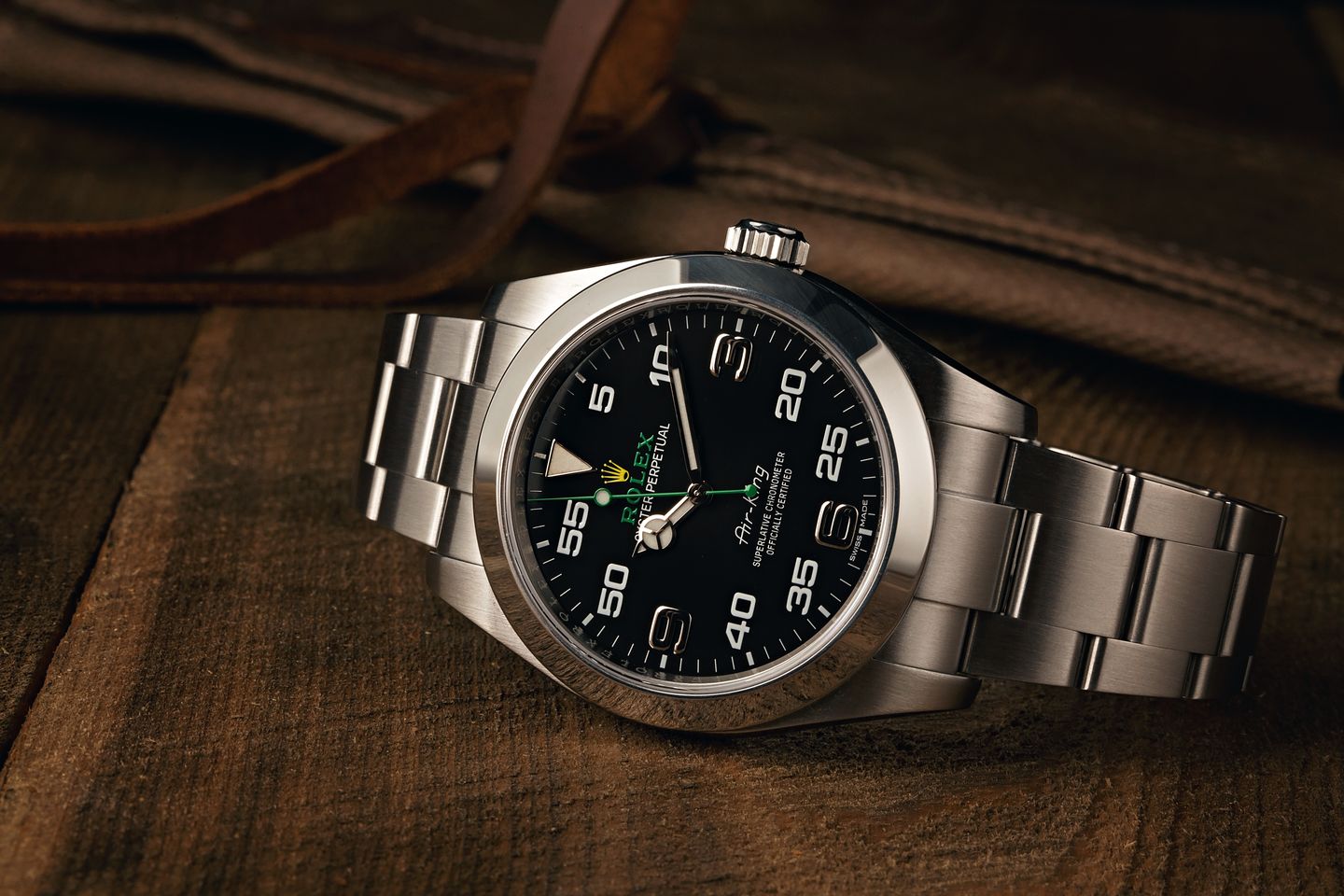 Budget?
Let's get this one out of the way first. In horology, there is always a more expensive option. There is always a costlier material for the case, or the dial and bezel could be given the gemstone treatment. Two very similar looking watches from two different brands could have two extremely dissimilar price tags, and the reasons may be all down to the name on the dial and not much else.
The best advice (which I wish someone had given me many years and countless spousal arguments ago) is to be honest with yourself on your budget and be disciplined enough to stick to it.
We have all fallen prey to watch envy at one time or another – seen a friend or colleague with just the ideal example on their wrist. Without keeping a good handle on your emotions, it will lead you to overstretch yourself financially. It can be a particularly tricky thing to do – buying a luxury watch is, of course, all about emotion. But if I can't act as an inspiration to others, at least let me be a warning; set yourself a realistic upper limit and don't go beyond it.
Go Modern or Vintage?
The modern versus vintage debate is one that takes up significant bandwidth across multiple blog platforms and forums, and it is filled with so much minutiae on both sides that there isn't enough room to go into it all here. My personal opinion? For your very first watch – especially if it is a mechanical one, I would recommend going modern.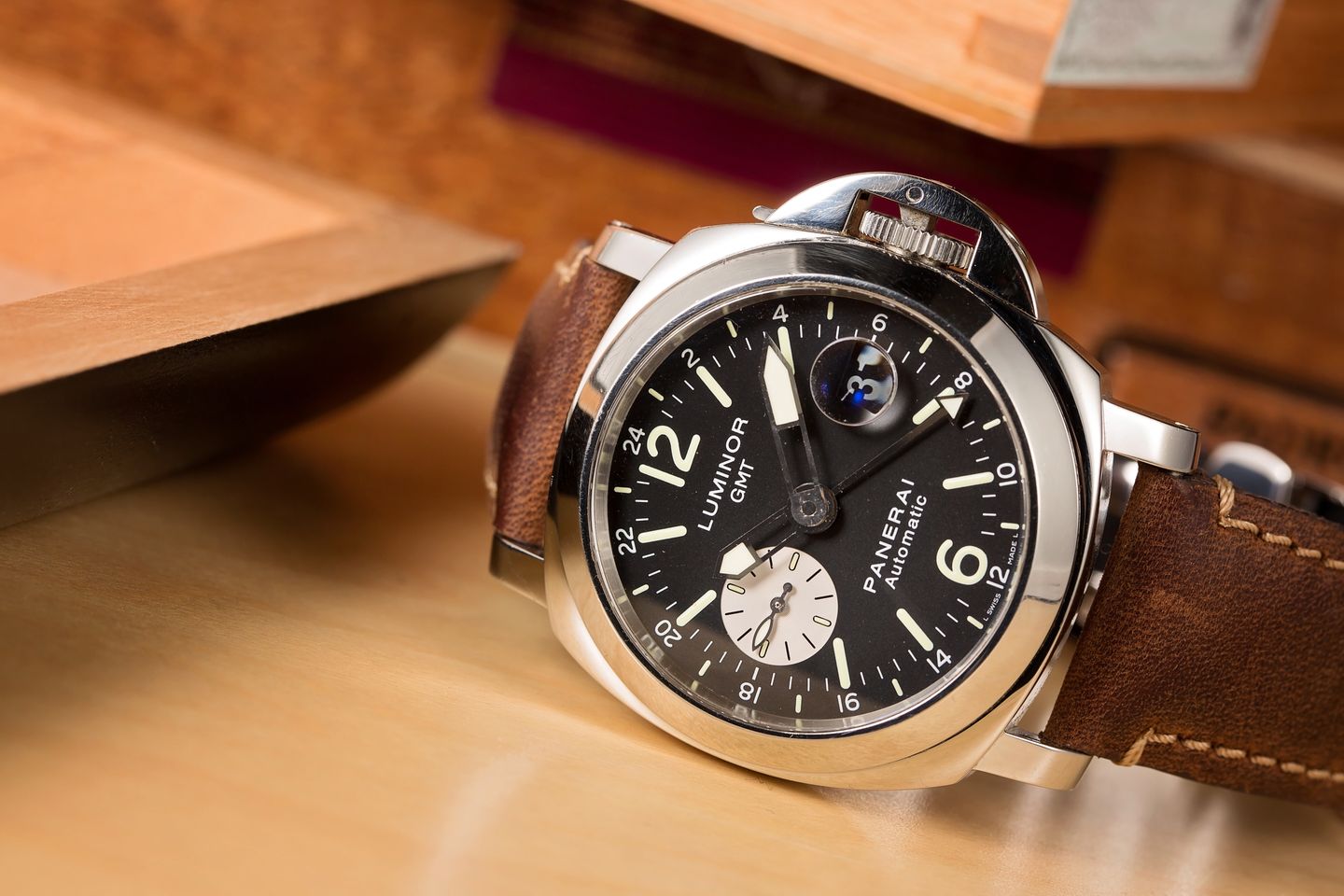 Think of it as buying your first car. Yes, there is a lot to be said for retro cool, but there is a lot more to be said for something that starts first time on a snowy morning and keeps running till you reach where you're going. A vintage watch takes more looking after than a modern one, and you need a certain amount of experience to know what that sort of looking after entails. A modern piece isn't maintenance free by any means, but you can expect it to be much easier to live with on a daily basis.
As an aside, note I've said modern rather than new. You can often get a lot more watch for your money buying a recently released model on the pre-owned market than you can wandering into a certified dealer and buying the box fresh version – but more on that later.
Style?
Here's where we start getting into the guts of the thing. There are a slew of different watch styles, of every conceivable design and with a whole range of functions – what you will see called complications.
Technically, anything beyond three hands that tell you the time is a complication. So, it can range from something as workaday as a date display, all the way up to the hyper complexity end where you will find things like tourbillons, moonphases, perpetual calendars, and minute repeaters.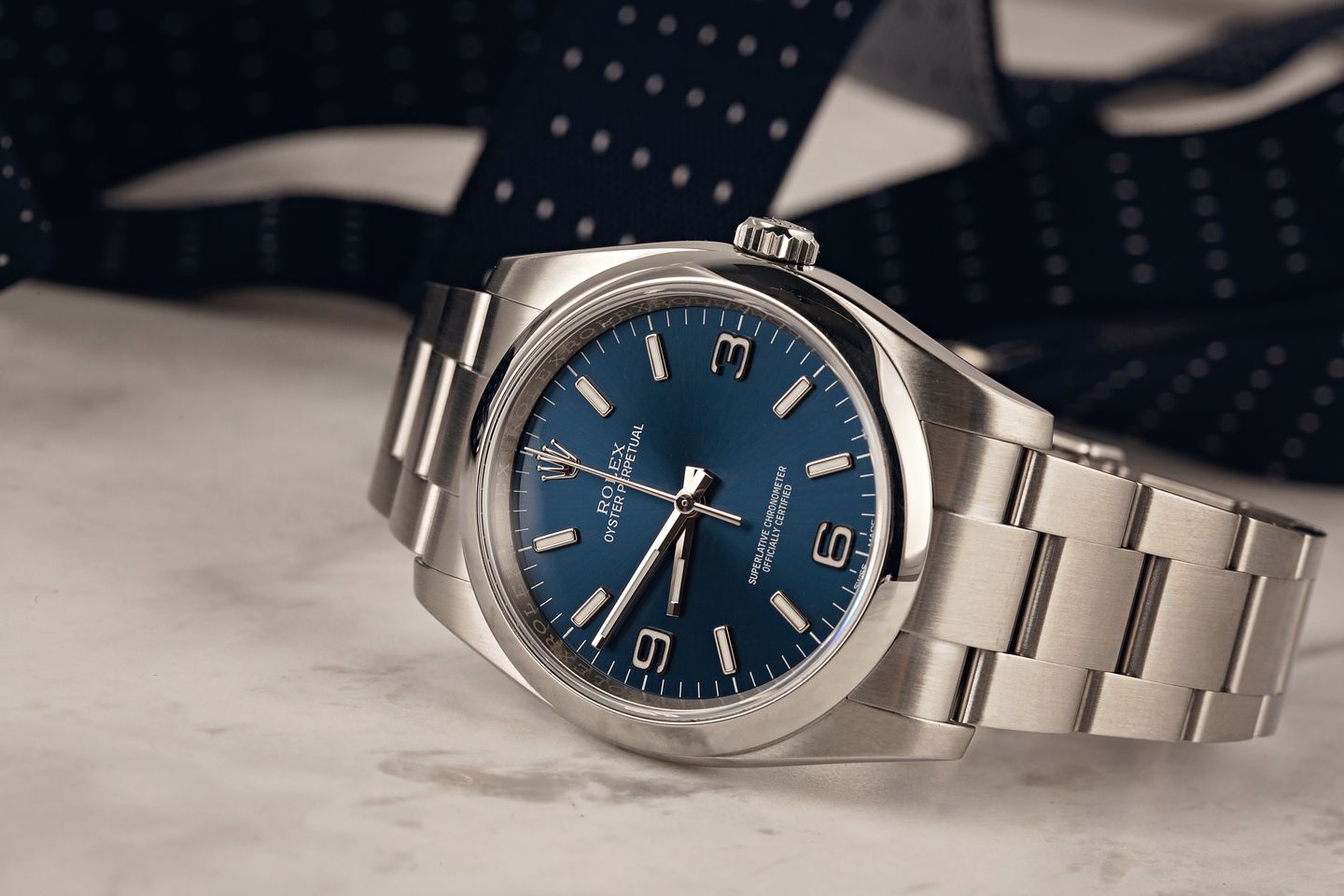 What you want out of your first watch is up to you (obviously), but you don't have to be put off by titles. If you like the look of the group listed as dive watches, it doesn't matter if you don't dive. (No one else who wears luxury dive watches does either, if we're being honest). Similarly, you're still allowed a chronograph regardless of whether you compete in the Le Mans 24hr or not. Both those types, and many more, serve other purposes – even if that purpose is nothing more than to look good on your wrist.
One question to ask yourself that can help in nailing down which style you want to get is, how many watches do you think you will buy overall? Is this the start of a whole new thing for you, or are you just after one serious watch to see you through every situation? If it's the former, it opens up a much broader choice. The latter, and you are going to want to go for something with a touch more aesthetic versatility – you need a piece that can be worn with a wider array of outfits without looking out of place. For that t-shirt to tuxedo flexibility, it can pay to look at the more simple, classically-styled offerings and avoid anything too brash or in-your-face.
Type of Metal?
This is part of the style section, but it is such a vital consideration it deserves a segment to itself. The type of metal you choose makes a big statement. A solid yellow gold watch says one thing, the same model in steel says something completely different. Rose gold, white gold, platinum, they all have their own qualities and the perceptions of others linked to them.
Beyond that is the question of expense. You would think, and in most cases be right, that a gold watch would cost more than a steel one. However, it is by no means always true. Yes, if you buy a brand new steel Rolex sports model at an Authorized Dealer, it will retail for less than its gold equivalent. But, you can't buy a brand new steel Rolex sports model at an authorized dealer (without waiting out an extremely long waitlist) because Rolex doesn't produce enough watches to meet demand.
Keeping the supply artificially low has seen the price of steel examples of pieces such as the Daytona skyrocket on secondary market. Now we are at the point where the Rolesor models (half steel/half gold) are significantly cheaper. In fact, pre-owned steel Daytonas are now roughly the same price as brand new solid gold ones. Exclusivity plays (at least) as big a factor in the cost of luxury watches as the sum of their parts.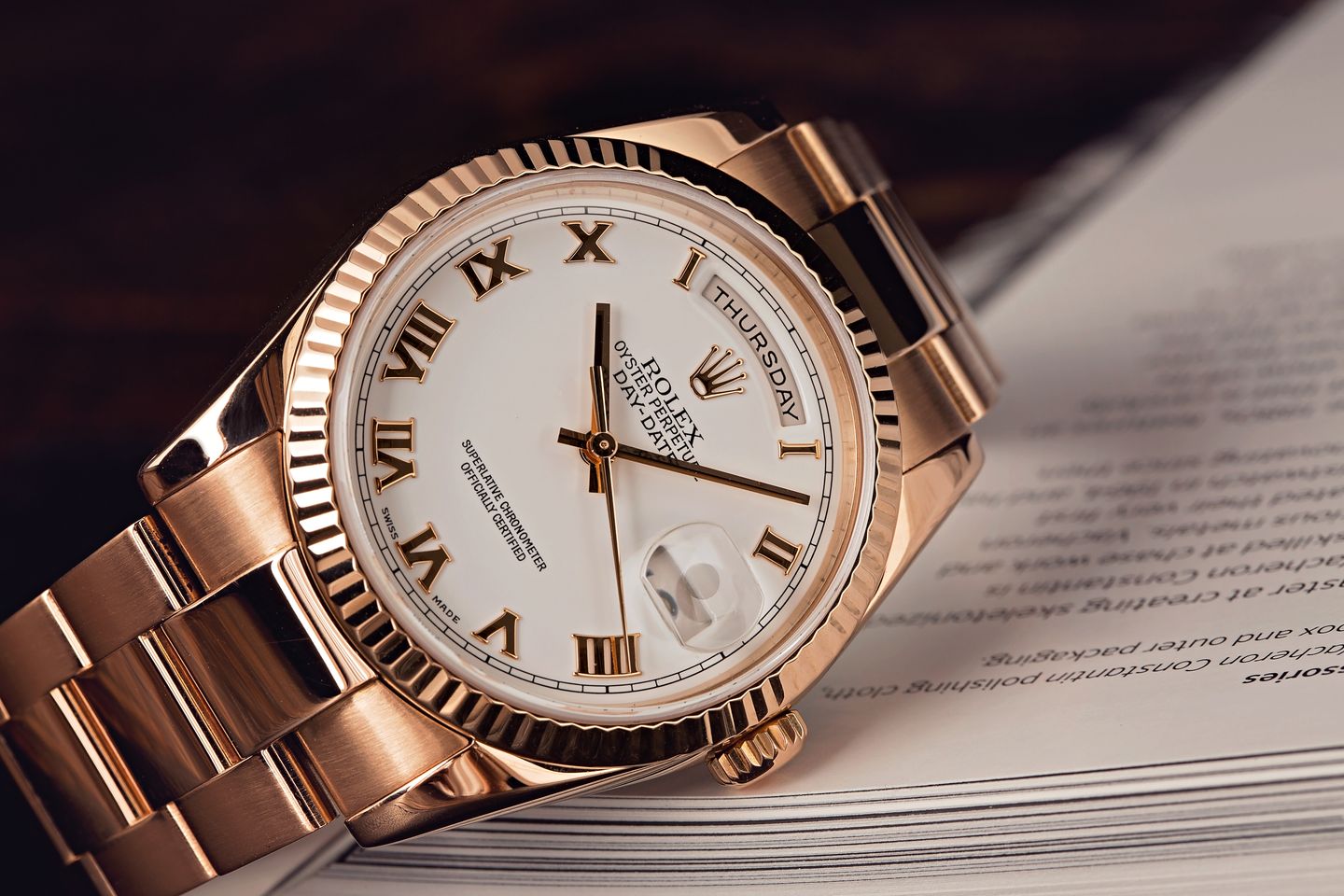 Where to Buy Your First Watch?
As we said above, buying brand new from an official retailer is not the only option when it comes to acquiring your first watch. The main advantage in visiting a store is the whole hands-on experience. If you have only ever seen your dream watch on a computer screen, there is no way you can get an accurate sense of what it will look like when you are wearing it. Therefore, going to a physical brick and mortar outlet and trying it on lets you see if it is a good fit size-wise, or if you need to be looking at something a bit bigger or smaller for your wrist.
But authorized dealers are generally hard places to get yourself a bargain. Many manufacturers will not allow anything in the way of discounts on their products, and for that reason, buying your watch on the pre-owned market is something to seriously consider. A brand-new timepiece, like anything, will (in most instances) depreciate as soon as its first owner takes possession. So a pre-owned example – one that has already been through that initial price dip – will generally have a lower asking price.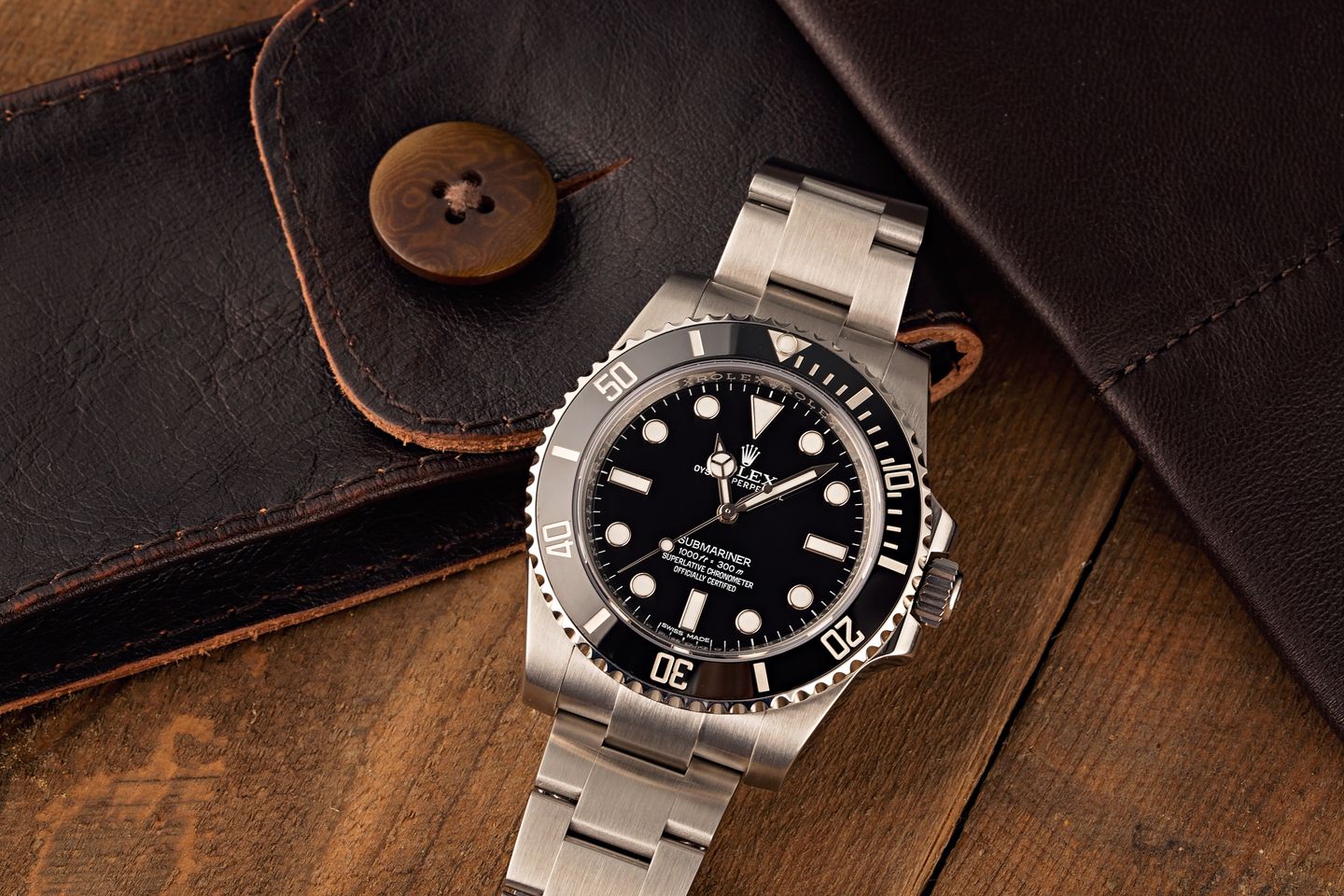 I say "in most instances" because, as we've already seen, certain pre-owned models are now selling for far more than their official retail prices simply because it is virtually impossible to get hold of a new one. As an example, a stainless steel Rolex GMT-Master II retails for $9,250, direct from Rolex. I'll save you a trip to your local dealers – you won't be getting one there. The brand has been keeping supply so restricted that many retailers are not even adding new customer names to the waiting list because it is just getting too long. So, if you want to buy that particular watch, the pre-owned market is your only option – as is paying an average of about $20,000 for it.
Now, are all used/pre-owned watch dealers created equal? Absolutely not! This is now an industry worth hundreds of millions of dollars a year. That kind of money – in whatever industry – attracts its fair share of vagabonds and ne'er-do-wells, and none more so than with pre-owned watches. It is no real hyperbole anymore to say that choosing the right seller is just as important as choosing the right watch.
Highly advanced technologies are creating evermore convincing fakes, and it takes expert specialists to be able to identify the genuine from the counterfeit. It is vital that you only give your money to retailers with an established reputation and iron-clad authenticity guarantees. I cannot stress enough how important it is to make sure you do your homework wile researching the purchase of your first watch, as it will help you avoid some seriously costly mistakes.
Those are some of the main points to think about before committing yourself to the initial step in your watch buying journey. If you already have the ideal first watch in mind, all to the good, but if you are still deciding, make sure to take your time. You can't really over-do on research – this is, after all, something that could well stay with you for the rest of your life.