At any given point in time, we have hundreds of luxury watches in-stock and ready to ship, and each year, we sell thousands of timepieces from different manufacturers to people all around the world. While this year was truly unprecedented (to say the least), pre-owned luxury watch sales remained stronger than ever and many people used watches as an alternate way to invest their money during this year of fluctuating markets and general uncertainty.
It is always interesting to see what trends we notice as we look at the sales data each year. Some things stay remarkably consistent from one year to the next – for example we generally expect Rolex watches to be among our top sellers, but we also noticed a consistent rising popularity in Omega watches, along with some interesting trends about the different brands and types of watches that experience different levels of popularity in different regions. So, what are the top luxury watches of 2020?
Rolex Is Still Number One
It comes as little surprise that Rolex was the most popular brand among our customers in 2020, making up more than half of our total sales for the year and out-selling all of the other brands combined. A number of different Rolex collections – particularly the brand's sport and tool watches – experienced strong sales for 2020, but there were two collections that stood out as the most popular: the Datejust and the Submariner.
The Datejust was our number one best-selling watch, accounting for approximately 27% of all Rolex sales, while the Submariner was number two, making up about 20%. While the GMT-Master collection (including both GMT-Master and GMT-Master II watches) was in third place among the Rolex models, the Submariner outsold the GMT-Master by a factor of 2:1 during 2020.
The most popular configuration for the Datejust was the iconic Yellow Rolesor (two-tone) variety with stainless steel and yellow gold, while the most popular Submariner configuration for 2020 was the classic date-displaying model in stainless steel. Both of these watches are cornerstone offerings of Rolex's catalog, and you'd be hard pressed to find two Rolex models that are more emblematic of the brand.
Click here for our Rolex Watches Ultimate Buying Guide.

Most Popular Rolex Watch: Submariner 16610
Rolex Submariner 16610 Key Features:
Case Size: 40mm
Materials: Stainless Steel
Functions: Time w/ Running Seconds; Date Display
Dial: Black w/ Luminous Hour Markers
Bezel: Unidirectional. Black Aluminum Insert w/ 60-Minute Scale
Crystal: Sapphire w/ Cyclops Magnification Lens
Movement: Caliber 3135
Water Resistance: 300 Meters / 1,000 Feet
Strap/Bracelet: Oyster Bracelet
Click here for our Ultimate Buying Guide on the Rolex Submariner. 

While the Datejust collection out-sold the Submariner in 2020, it is actually the Submariner reference 16610 that claims the title of the best-selling Rolex watch of the year. Compared to the Rolex Submariner, the collection is infinitely more diverse, and it is available in a number of different sizes and with a wide range of different options when it comes to materials, dials, bezels, and bracelets. As a result of this, the Datejust's greater sales numbers are spread across many different references, while those for the Submariner are all allocated to the same small handful of models.
The classic, date-displaying Submariner in stainless steel is (by far) the most popular configuration for Rolex's iconic dive watch. The recently discontinued ref. 116610 took second place among the various Submariner references, leaving the older ref. 16610 from the previous generation with aluminum bezel inserts to claim the title of the best-selling Rolex watch of 2020.
As one of the least expensive options among all stainless steel Submariner watches, the reference 16610 offers an attractive price point for buyers that are interested in adding one of these classic sports watches to their collection. Additionally, while the ref. 116610 features a Cerachrom bezel insert and offers a decidedly modern appearance, the older ref. 16610 followers a more classical design, and is a favorite among many collectors who prefer a more traditional overall aesthetic.
Rising Popularity of Omega Watches
Next to Rolex, the luxury watch brand that enjoyed the second most sales this year was Omega. The number of Omega watches we sold in 2020 significantly exceeded the number for 2019. This growth is impressive, but what is more impressive is that most of these Omega watches were sold during the second half of the year after we significantly expanded the number of Omega models we stocked on our website. If current market trends continue, we expect 2021 to be an even bigger year for Omega sales.
Omega watches sell very well both state-side and internationally, however we noticed a trend for 2020 that the brand was extremely popular in states that border an ocean or large lake – fitting given the brand's history of ocean exploration and strong ties to the sea. The usual suspects known for being states with strong luxury watch markets (California, New York, Florida, etc.) were all present, but we also noticed very strong numbers from other ocean-side states too, such as Massachusetts, New Jersey, and North Carolina. Furthermore, Omega sales numbers were also strong in many of the states that are in the Great Lakes area like Michigan, Ohio, and Illinois.
As for which Omega models were the most popular in 2020, it should probably come as no surprise that it was the Seamaster and Speedmaster. With one being the official watch of James Bond and the other being the official flight-certified watch of NASA, the Seamaster and Speedmaster are two of the most famous names in the entire watchmaking industry, and together they accounted for approximately 75% of all our Omega watch sales for 2020.
Most Popular Omega Collection
Although it is typically the Speedmaster that is the Omega model most pursued by collectors, it was actually the Seamaster that was the best-selling, and the reason for this likely lies in the diversity of the collection. Regardless of the specific model, all Omega Speedmaster watches are chronographs, while these models can range from professional dive watches to vintage-inspired dress watches, and everything in between.
Given how different they all are, it's easy to forget that the Seamaster Diver, Planet Ocean, Aqua Terra, Railmaster, Bullhead Chronograph, and Ploprof are all part of the greater Seamaster line – and this isn't even the entirety of its numerous sub-collections. Someone buying a watch from the greater Omega Seamaster collection can be interested in any one of a wide variety of models, while someone buying a Speedmaster is almost guaranteed to be interested in a chronograph with tool watch styling.
The Omega Speedmaster may be the brand's top watch when it comes to value on the vintage market and overall collectibility, but it likely appeals to a slightly smaller segment of the general population than the all-encompassing Seamaster collection. Consequently, the Seamaster line likely appeals to a much wider range of buyers, which is why it was ultimately the top Omega watch collection of 2020.
Click here for our Omega Watches Ultimate Buying Guide.

Top Breitling Watches of 2020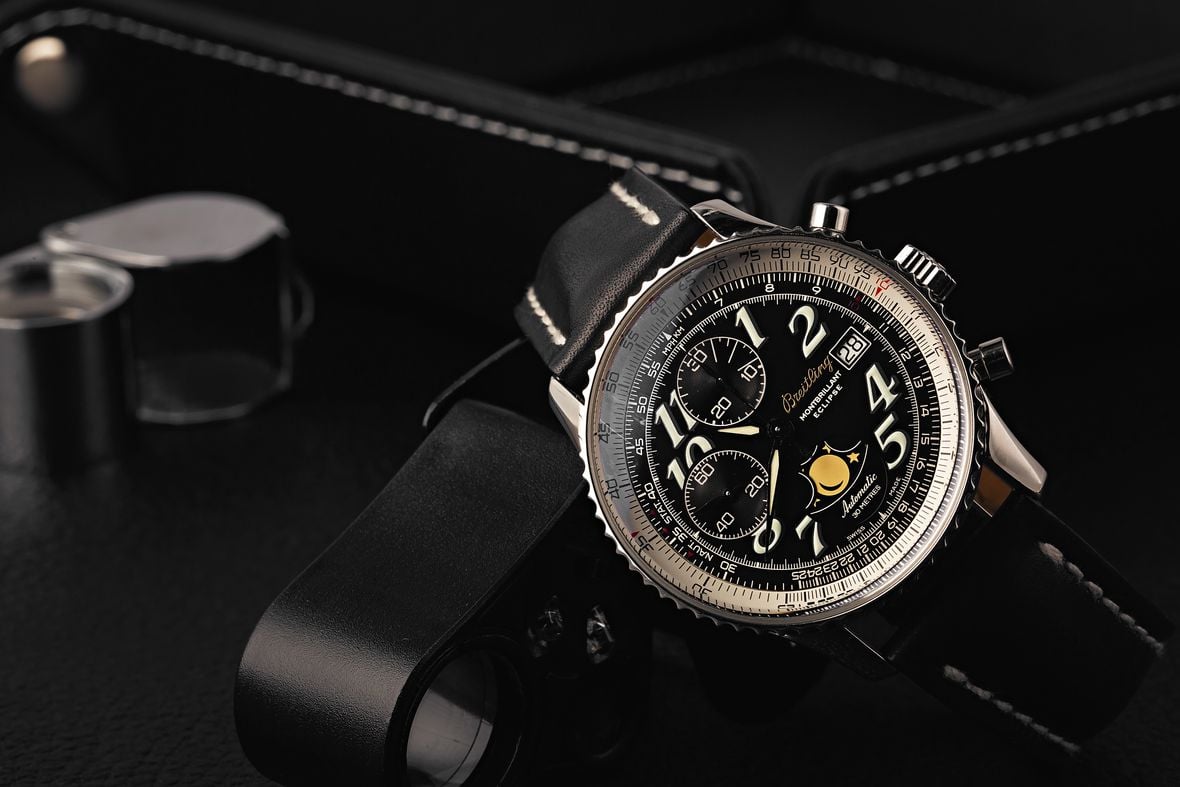 Breitling is easily one of the world's most famous luxury watch manufacturers, and the brand is one of the few that has even a similar level of notoriety as Rolex and Omega, while also being known for producing some of the finest quality watches available. As one of the world's premier luxury timepiece brands, Breitling watches saw strong sales figures throughout most of the country, particularly in the states known for having large luxury watch markets, like New York, California, Texas, and Florida.
However, one additional trend we noticed for 2020 was that Breitling sports watches were particularly popular in a number of states that make up the American Southwest. Breitling models such as the Superocean and Avenger were among the most popular next to Rolex and Omega in Arizona, Colorado, and Nevada, while the Navitimer was the most popular Breitling watch when it came to many of the states on the East Coast.
Click here for our Ultimate Buying Guide on the Breitling Navitimer

Top Oris Watches of 2020
Oris is often celebrated throughout the industry for offering Swiss-made luxury watches at very affordable prices. While they often cost a fraction of the price of similar timepieces from Rolex or Omega, Oris watches offer all the hallmark traits of a high-end wristwatch and occupy treasured places in collections alongside timepieces costing many times more than them. Naturally, Oris watches are popular in pretty much all of the same states that typically experience strong luxury watch sales.
However, one additional trend that we noticed for 2020 was that much like Omega, Oris watches were popular in states with coastal borders and those where the river networks and wetlands play a significant role in the overall landscape and culture. Oris gets its name from the nearby river that runs through the brand's hometown of Hölstein and as a company, water plays a strong role in nearly everything Oris does. Consequently, it comes as no surprise that Oris watches are most popular in the states that share this same love of water, such as California, Florida, Massachusetts, Maryland, and Louisiana.
As far as which Oris models were most popular in 2020, it was naturally the brand's two collections of dive watches, the Divers Sixty-Five and the Aquis. The Oris Aquis is the brand's flagship collection, and the Divers Sixty-Five is a popular favorite among vintage enthusiasts who want a timepiece with retro aesthetics but modern materials and manufacturing techniques.
Click here to learn more about Oris dive watches.

Top Tudor Watches of 2020
As a brand, Tudor is almost as old as its sibling company (Rolex). However, it has really only been within the last 10 years that the historic Swiss watch manufacturer has started to take on the form that we all know today. It almost seems strange to think that just fifteen years ago, Tudor watches were not being sold in the United States, and it was only after a major re-launch around 2009 that now-famous models such as the Tudor Black Bay and Pelagos were first created.
Vintage Tudor watches have been seeing significant increases in interest among collectors and the brand seems to have recognized the potential of its back-catalog. While its sibling company Rolex famously never makes reissue or heritage pieces, vintage-inspired designs are a core component of Tudor's current lineup and they currently account for the majority of the brand's sales, especially on the secondary market.
As far as regional popularity, Tudor watches tend to sell well in most of the same states that typically see strong luxury watch sales like California, New York, and Florida. However, the real story here is the percentage of total Tudor watch sales that are from Black Bay and Pelagos models. Including all of the different models and variations from the Black Bay line, Tudor Pelagos and Black Bay watches made up nearly 75% of all Tudor sales for 2020. As prices for the Rolex Submariner continue to increase – both at a retail level and on the pre-owned market, many customers are turning to Tudor dive watches as a more affordable alternative that is still from the greater Rolex parent company.
Click here for our Ultimate Buying Guide on the Tudor Black Bay.