The "Paul Newman" Rolex Daytona – no other watch in the brand's archives garners as much attention or excitement. To call it a vintage classic does not do the watch justice – that's like calling Superman a strong guy. But what is it about this collection of watches that gets Rolex enthusiasts in such a frenzy? Can it really be boiled down to the man who made it famous? Does a cool celebrity endorsement really have that much staying power? Or is it that when it was first released, it was basically ignored, collecting dust on the shelves, only to become very much in demand later? Or, perhaps, it has to do with the stupendous growth of the resale prices over the last few decades, which have reached absolutely astronomical levels in recent years.
While the Paul Newman Daytona is out of reach for most collectors' budgets, it's still an exciting watch to examine and learn more about. This guide aims to offer a bit more clarity on what many consider the greatest vintage Rolex watch on the planet. What, exactly, makes a Daytona ref. 6239 a Paul Newman Rolex? What are its features? Read on to learn everything you need to know about the "Paul Newman" Rolex Daytona reference 6239.
Rolex Daytona Reference 6239 – "Paul Newman"
Paul Newman Daytona 6239 Key Features:
– Reference Number: 6239
– Production Years: 1963 – 1969 (Approx.)
– Case Size: 36mm
– Materials: Stainless Steel; 14k Yellow Gold: 18k Yellow Gold
– Functions: Time w/ Running Seconds, 12-Hour Chronograph
– Dial: "Exotic" Dial (White; Black; Champagne) w/ Art Deco Numerals and Luminous Hour Markers
– Bezel: Fixed, Stainless Steel or Yellow Gold w/ Tachymeter Scale
– Pushers: Pump-Style (Not Screw-Down)
– Crystal: Acrylic
– Movement: Valjoux 72; Valjoux 722
– Strap/Bracelet: Oyster Bracelet; Jubilee Bracelet; Leather Strap
– Price: (Minimum) $100,000+ to $17.8 Million
Click here for our Ultimate Buying Guide on the Rolex Daytona.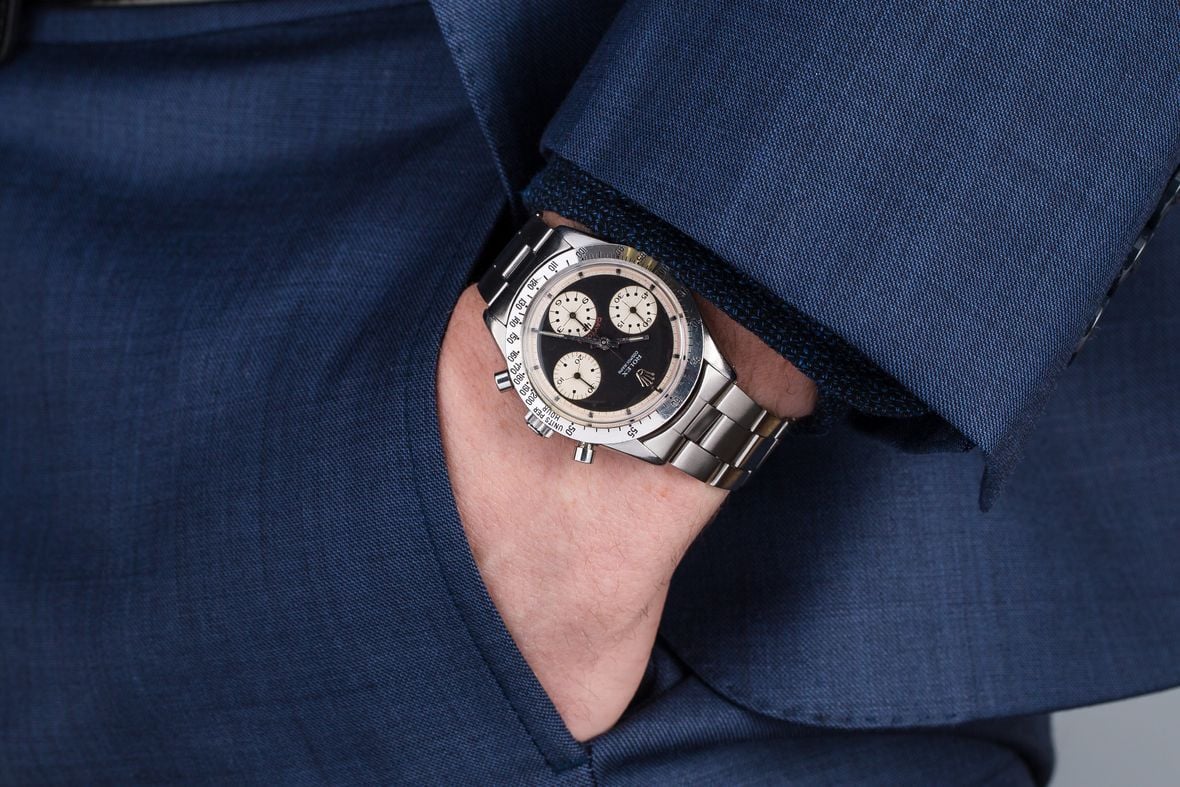 What Is A Rolex Daytona "Paul Newman?"
Starting in the 1960s, Rolex began offering a unique dial variation for Daytona chronographs. Officially dubbed the "exotic dial" by Rolex catalogs, it was quite an aesthetic departure from the regular Daytona dials and featured a stepped minute track and an Art Deco style font for the chronograph registers. Today, these exotic dials are collectively known as "Paul Newman" dials, and the Rolex chronographs that contain them are known as Paul Newman Daytona watches, but we will get to the origin of the "Paul Newman" nickname a bit later.
During this era, these exotic dials were not a popular choice. Instead, Daytona buyers mostly opted for the regular dial designs. Consequently, Rolex produced fewer of these exotic dials and some exotic-dial Daytona went so far as to have their dials replaced with standard dials during routine servicing. As a result, these exotic dials are significantly more difficult to find today and are now worth a small fortune to vintage Rolex collectors.
Between their small numbers and their very high present-day demand, sourcing an authentic vintage Rolex Daytona with an exotic dial in good condition is not an easy task. However, it is also important to note that, while the price disparity between a traditional vintage Rolex Daytona and an exotic dial Daytona is vast, the only difference between them is purely cosmetic.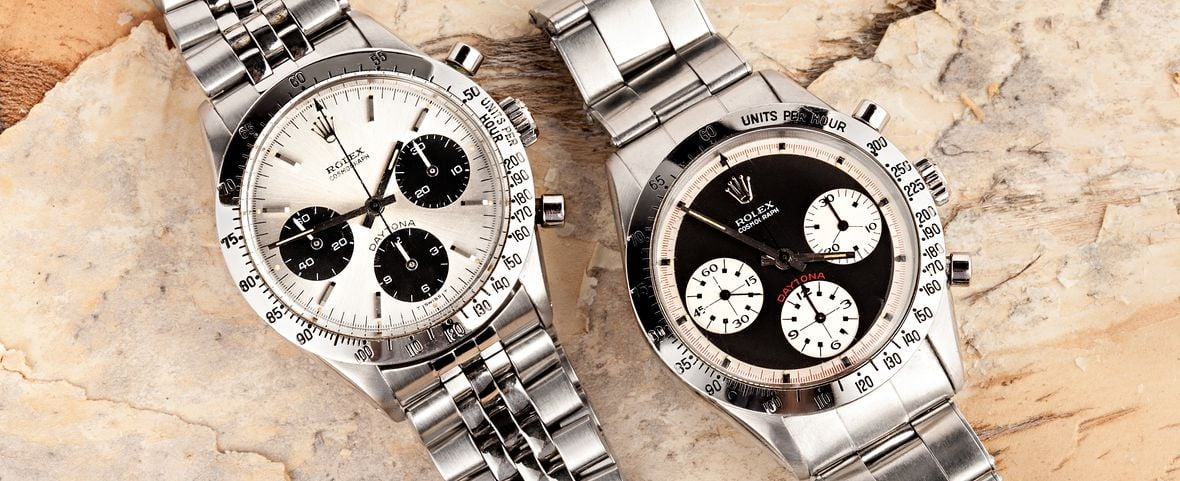 Exotic Dial Rolex Daytona Watches
Specifically, the Rolex exotic dials have the following features:
– The numerals on the trio of registers are in an Art Deco style font
– The indexes on the trio of registers include a square tip
– The trio of registers have crosshairs
– The register at 9 o'clock has a numeral configuration of 15/30/45/60 rather than 20/40/60
– The outer minute track sits on a contrasting color to the main dial
– It features either a black dial with contrasting light sub-dials or a light dial with contrasting black subdials
Exotic dials can be found on the following six vintage Rolex Daytona chronographs:
– Rolex Daytona ref. 6239
– Rolex Daytona ref. 6241
– Rolex Daytona ref. 6262
– Rolex Daytona ref. 6263
– Rolex Daytona ref. 6264
– Rolex Daytona ref. 6265
The Paul Newman Connection
While early models of the Daytona furnished with the exotic dial were not popular with Rolex clients, this quickly changed after they became associated with famed actor and race car driver Paul Newman. As the story goes, in a genius marketing move, Italian auction houses hyped up the fact that Paul Newman himself wore a Daytona with an exotic dial and began referring to these particular models as the "Paul Newman" Daytona watches. Also fueling the hype was the now-famous picture of Paul Newman himself with a clear view of the white dial Daytona ref. 6239 on his wrist.
Newman was gifted his Rolex Daytona 6239 by his wife, Joanne Woodward. In addition to boasting some serious acting chops, Paul Newman was also an accomplished racecar driver. To reflect that, Woodward had the back of his Daytona engraved with "Drive Carefully Me." This charming nod towards Newman's love for motorsport only further adds to the watch's fame in many collecting communities.
The Paul Newman Daytona Dial
Introduced in 1963, the Rolex ref. 6239 is the first iteration of the Rolex Daytona and also the first Paul Newman Daytona, in addition to being the actual reference that Paul Newman himself wore (although he did own a number of other Rolex Daytona watches later in life). While Paul Newman's own Rolex ref. 6239 sported a "Tri-color" white dial with contrasting black chronograph registers and red accents, the model was also produced with a black exotic dial with white registers and a red minute track surrounding the dial's perimeter.
Furthermore, the red color was also used for the DAYTONA logo above 6 o'clock on both dial variants, while the stationary metal bezel is engraved with the tachymeter scale. Additionally, the case of the ref. 6239 has pump pushers at 2 and 4 o'clock rather than the screw-down pushers that will later furnish the Daytona line. It is estimated that Rolex only produced about 2,000 to 3,000 exotic Daytona dials and only a fraction of those have managed to survive to this day, adding even further to its cult status and insane price premium on the secondary market.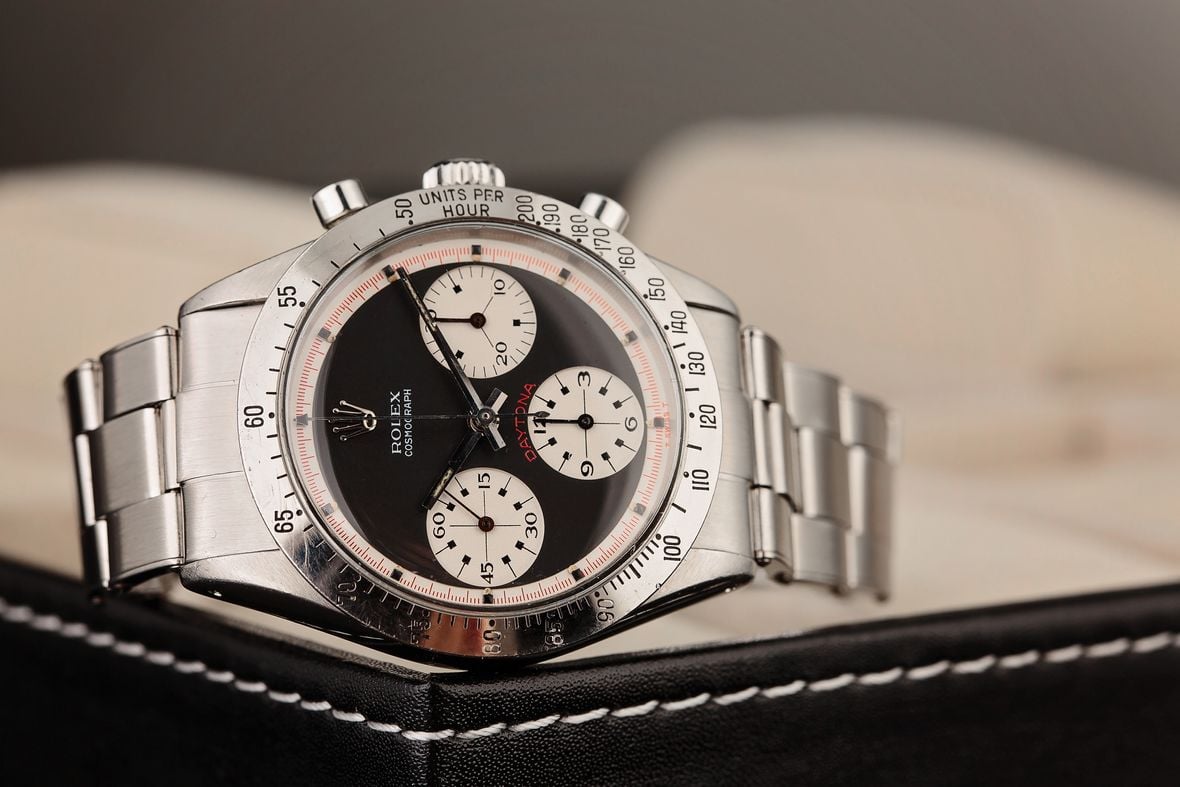 The Rolex 6239 Movement
Driving the Rolex Daytona Paul Newman ref. 6239 is either the Valjoux 72 or Valjoux 722 manual-wind mechanical movement with 17 jewels. Of course, in future Daytona models, the manually-wound movements would eventually be replaced by automatic ones; however, this change would not occur until 1988 and the first in-house Rolex Daytona movements would not make their appearance until 2000.
While the manual movement requires some effort on the wearer's part each, there's something quite satisfying about that ritual. Additionally, it is these hand-wind models from the first generation of the Rolex Daytona that are by far the most valuable and collectible, with even the least auspicious examples worth (at an absolute minimum) tens of thousands of dollars.
Other Paul Newman Daytona References
The sibling reference of the 6239 is the Daytona Paul Newman ref. 6241, which is exactly the same except for the fact that it has a black acrylic bezel rather than a metal one. The ref. 6239 was eventually phased out to make room for the ref. 6262, which made its debut in 1970.
The main difference between the ref. 6239 and the ref. 6262 is the updated Valjoux 727 movement with a higher frequency of 21,600bph. Aside from technical differences, the ref. 6239 and the ref. 6262 are aesthetically identical, although the later Daytona 6262 was only produced for about a single year between 1969 and 1970.
The $17.8 Million Rolex Watch
The very same Paul Newman Daytona that Paul Newman himself wore religiously for years went up for auction in 2017, fetching a cool $15.5 million – which works out to $17.8 million after the buyer's premium is taken into consideration. At the time of the sale, the actor's Daytona was the most expensive watch ever sold at auction.
Legend has it, Newman's personal Daytona had eluded collectors since the 1980s when he gifted the watch to James Cox, his daughter Nell Newman's former boyfriend. It remained in his possession until he sold it at Phillips Auction House in 2017, with a portion of the sale donated to the Nell Newman Foundation.
How to Buy the Rolex Daytona 6239
It is very difficult to find early model vintage Rolex Daytona watches. In fact, you can probably plan on spending many months on your search if you are a purist about original parts. Be sure to only deal with a reputable dealer so that you can focus on finding the right watch for your collection, rather than worrying about whether or not the seller is trying to scam you out of what can only be described as a significant amount of money.
With that in mind, when it comes to the exact cost of a Rolex Paul Newman Daytona ref. 6239, the price is almost impossible to predict. As one expert said, "Everyone who knows what these are already has one." The Daytona reference 6239 is not the most popular of the various vintage Daytona models, but it is the original Paul Newman Daytona and is certainly among the most interesting to pursue and collect.
Rolex Daytona 6239 Price
When Paul Newman gifted his Daytona to James Cox in the 1980s, it retailed for around $200. While the $17.8 million sum it fetched in 2017 is certainly not typical, examples of the watch still command a hefty premium, with a minimum open-market price of around six figures. Although, as we already mentioned above, it is nearly impossible to say how much any particular Rolex 6239 will fetch on the pre-owned market, because factors such as dial color, condition, and the presence of the original box and paperwork can all have a significant influence on overall resale value.
The Paul Newman editions of the vintage Rolex Daytona have enjoyed an incredible history thus far, illustrating that a rocky start can indeed end in a victorious finish. And the Daytona ref. 6239 was the beginning of what is now the most in-demand vintage Rolex watch currently out there.