You don't need to wear a watch anymore – we all have phones to check the time. But, a timepiece has a unique way of setting you apart from the crowd or starting a conversation that a cell phone totally lacks. Today, the wristwatch has become the ultimate status symbol; it's something no one really needs, but so many love to collect. And when you wear the right watch, you can bet everyone will notice.
So here, we wanted to highlight just a few of the sharp, sophisticated, high-end watches CEO's and c-suite executives love to shop for on our site. Whether you're on your way up or sitting comfortably in that corner office, these are the executive watches we think you should be strapping on. But first, here are some tips for styling your classic CEO wristwatch. If you're ready to browse our full section now be sure to shop business watches for executives, CEOs & C-Suites.
Styling the Best Watches for Businessmen
Before we get to the best CEO watches to wear, it's important to know how to wear them. If done well, a luxury watch is the best way to elevate your outfit, make the right impression, and start a conversation. Amazing how one accessory can help you do all this, right? So below, we're giving you the top tips to styling your executive watch just the right way.
Suit Up
Any of the CEO watches we are highlighting below can easily be dressed up. Forged out of the world's most beautiful and durable materials and often featuring incredible designs, these watches are the perfect accessory to your suit and tie.
In fact, your watch doesn't need to be made out of gold to be dressy or paired with a business-appropriate suit – a handsome stainless steel wristwatch can look just as good on your wrist with a suit. This is because sports watches have largely redefined their class, their iconic styles, and desirable designs allowing them to tread the line between a suit and casual attire flawlessly.
Don't Match Everything, Just Be Mindful
For example, if your CEO watch boasts a brown leather band, don't wear black leather shoes. Whatsmore, you don't need to match the exact color of your blue bezel to your tie. It's also totally fine to have your blue bezel act as a pop of color to your monochrome outfit – your look needs to be cohesive, not totally matching.
Make Sure It Fits Properly
If your watch doesn't fit your wrist perfectly, you run the risk of looking sloppy and unprofessional. And at the very least, you may look like a new collector. So, always get your band adjusted to your wrist – this may involve simply adding or removing extra links. And remember, your watch should actually sit just about your wrist, not on your wrist itself.
Care For and Clean Your Watch

The last thing you want to do is walk into the office with a watch that isn't wound or is dirty. Just because your watch is waterproof – which many nowadays are – doesn't mean they get clean in the shower. Take the time to properly clean your watch so that it looks just as good as your pressed shirt and well-hemmed suit. This is as simple as washing it down with soap and water and a soft cloth.
You also want to be sure to wind your manual watches every day so that they keep accurate time. But, this won't be much of a problem if you wear an automatic watch daily, as the movement of your wrist will keep the mechanical caliber in continuous motion. However, if you do put your timepiece away for some time, do remember to go into your watch box and rock it a bit so that it can keep time. This way next time you want to strap it on for the office, it's ready to go.
The Best Watches for Businessmen
This exclusive list of CEO Watches is amongst the best of the best – the watches that, like you, sit proudly at the top. We have chosen the watches here to fit every kind of executive's style, whether you're looking for something with a sporty flair, sheer elegance, or a total powerhouse.
10. Breitling Chronomat B01 – AB011012/G684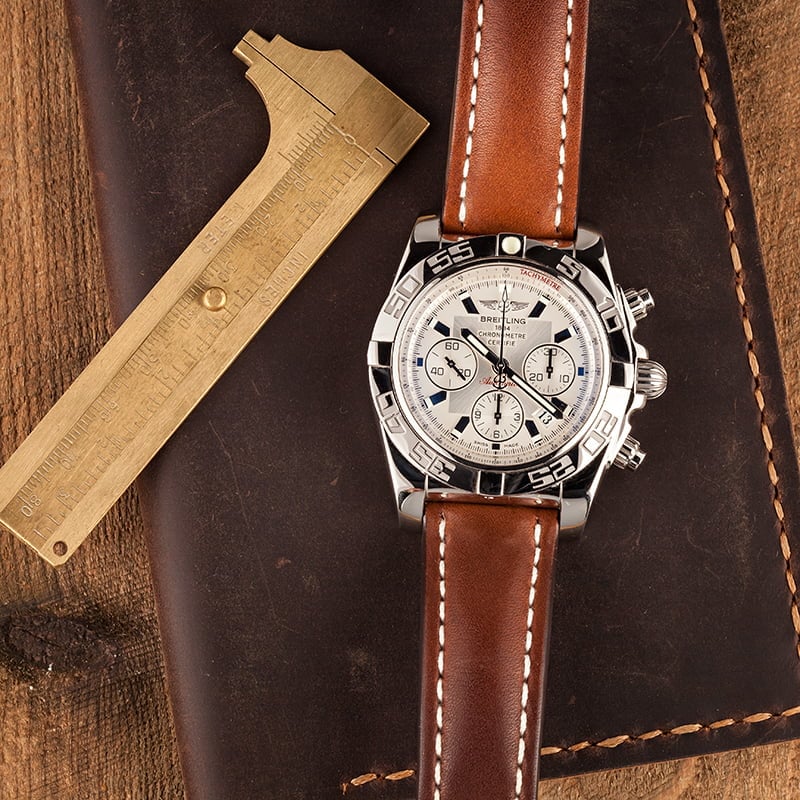 Key Features:
43.5mm case diameter
Stainless steel construction
Chronograph functionality
Rotating timing bezel
Date display
Tachymeter scale inner bezel
Breitling Caliber 13 movement
Check out the latest additions to the Breitling Chronomat lineup right here.

Made to be elegant enough to be worn with a suit or in the cockpit of a jet, the Breitling Chronomat was built for the stylish and talented Italian Frecce Tricolori aerobatics team. Breitling knew they needed a watch the pilots would feel just as comfortable wearing during their routine as they would at an event, so they paired high-functionality alongside high style. This is just the type of watch you need to run a company – allowing you to fly high and with style.
This Breitling Chronomat B01 – AB011012/G684 is the perfect watch for a c-suite exec. The Tachymeter scale, self-winding Caliber 13 movement with chronograph functionality and a 60-minute timing bezel will give you plenty to talk about with pilot watch collectors or timepiece enthusiasts alike. Plus, the high-polished finish of the case alongside that handsome silver dial and brown leather bracelet gives it a sophisticated look you'll always want to strap on for the day. What we also love about this Breitling Chronomat is that you really never need to talk it off, as its sporty yet sophisticated style will easily transition from the boardroom to the bar, to your weekend barbecue and home again.
9. Rolex Milgauss 116400GV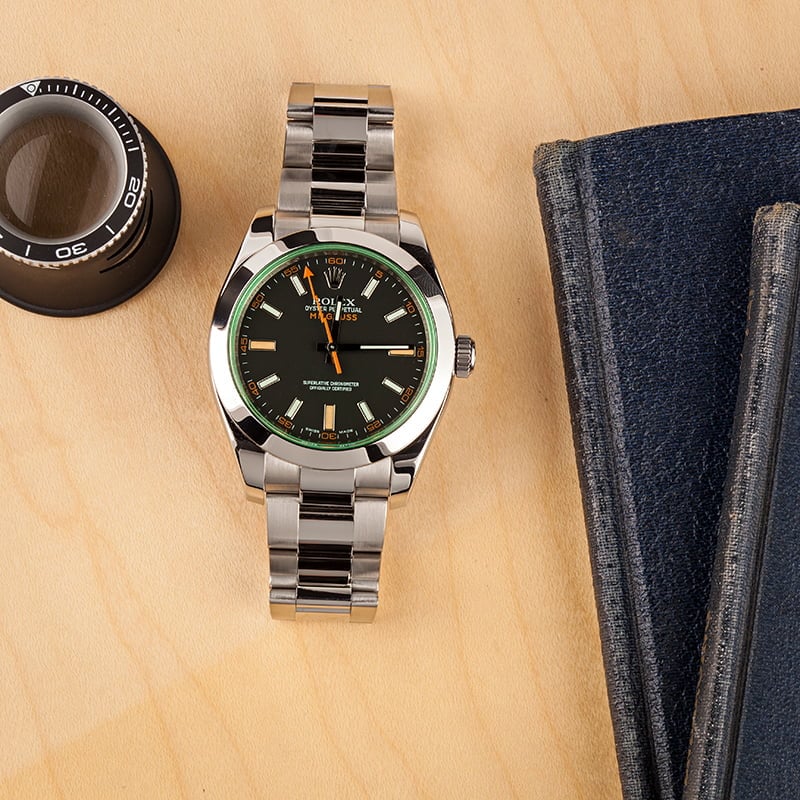 Key Features:
40mm case diameter
Stainless steel construction
Internal antimagnetic shield
Green-tinted sapphire crystal
Lightning bolt-shaped seconds hand
Rolex Caliber 3131 movement
Read our full guide on the history of the Rolex Milgauss right here.

One way to make an impression at the office is by wearing a watch that will turn heads for both the curious onlooker and the expert collector — and the Rolex Milgauss 116400GV is most definitely that watch. For many die-hard Rolex enthusiasts, a good anniversary watch is hard to resist. Nearly every tool watch in their portfolio includes an anniversary Rolex, including this Milgauss which has a special green sapphire crystal over the dial. This unique crystal almost makes the dial glow, making this Milgauss 116400GV a 'grail' watch for Rolex collectors.
Featuring its signature lightning bolt-shaped hand on the dial, which is the company's way of acknowledging the Milgauss' impressive anti-magnetism of up to 1,000 gauss, this watch is sure to start a conversation. Plus, this added functionality makes it perfect for c-suite executives working in tech and high-end machinery. There's also that unusually colorful dial, outfitted with orange markers on the 3, 6 & 9 o'clock. Additionally, this watch boasts impressive features like an automatic Caliber 3131 and waterproof Oyster case, rounding it out as both a sophisticated and durable professional timepiece.
8. 41mm Datejust II – 116334
Key Features:
41mm case diameter
Stainless steel and 18k white gold construction (White Rolesor)
White gold fluted bezel
Screw-down crown and case-back
Sapphire crystal
Rolex Caliber 3136 movement
Read our full guide on the Rolex Datejust II vs. Rolex Datejust 41 right here.

We already featured the classic 36mm Datejust, but there has to be a spot for the larger, 41mm Datejust on this list, too. This enhanced version of the Rolex classic gives you a larger presence, but also a totally unique look. In fact, here on this Datejust II ref. 116334 you'll get this exclusive black dial topped with matching black Roman numeral hour markers. Additionally, the luminous material at the 9-hour marker and on the hands is long-lasting Superluminova, there's also a unique 60-minute track around the dial in contrasting white.
What we also love about this Datejust II ref. 116334 is the 18k white gold, serrated bezel. This luxurious addition really adds depth to this watch, making your eyes circle the dark, beautiful dial. Overall, this is a bolder choice for those who want to make a statement but is still classic enough that it is sure to transcend time and style. If you're looking for a watch that's going to be a powerhouse alongside you at the top, don't look any further.
7. Rolex Submariner 116613LN
Key Features:
40mm case diameter
Stainless steel and 18k yellow gold construction (Yellow Rolesor)
Unidirectional timing bezel with ceramic (Cerachrom) insert
300 meters of water resistance
Luminous dial and hands
Rolex Caliber 3135 movement
You can find our full history of the Rolex Submariner right here.

The Submariner is a Rolex icon – the kind of watch that every collector wants to own. With that famous 60-minute timing bezel and a dial topped with luminous markers and Mercedes-style hands, this watch invites conversation from fellow collectors and novices alike. It is also one of the few watches that despite being sporty, is widely accepted as a timepiece that can be worn for all occasions – especially when you consider a sophisticated two-tone version like this.
This watch here sat in our vault new and unworn, the 40mm case outfitted in top-grade 904L stainless steel and 18k yellow gold, an inner reflector ring engraved with the serial number, a scratch-resistant sapphire crystal, and a striking black and gold bezel. The ref. 116613LN is also an impressive new iteration of this watch that dates back to the 1950s, featuring key upgrades like a Cerachrom ceramic bezel insert, longer-lasting lume, and a redesigned case and bracelet. This is the ideal executive watch for a person who loves the Submariner but who also wants an upgraded look that will fit into the office while standing out.
6. Rolex Daytona 16520
Key Features:
40mm case diameter
Stainless steel construction
Chronograph functionality
Tachymeter scale bezel
Sapphire crystal
Rolex Caliber 4030 'Zenith' movement
Check out the complete history of the Rolex Daytona right here.

While the famous Rolex Daytona is decidedly sporty, it is probably the ultimate example of a sports watch that has transcended its own category. Today, this is one of the most exclusive watches on the planet to own – both due to rarity and its extreme price point. So, strapping one on your wrist for the office will most definitely be seen as a statement piece and status symbol.
We've chosen this Daytona 16520 because it is a totally classic look that will never go out of style. Interestingly, this is also one of the last Daytona's to feature an outsourced movement before the introduction of the ref. 116520 in 2000. Here, this 16520 features a caliber 4030 Perpetual movement, which was produced by Zenith and then modified by Rolex to beat at a rate of 28,800 bph. Any serious collector will love talking over these juicy details with you, plus, you will literally own a piece of history. Circling back to that classic aesthetic, this Daytona features an iconic stainless steel case and bezel alongside the white dial topped with luminous markers and hands and three black chronograph subdials. You'll love wearing this watch in the office so much, we think you'll have trouble taking it off after-hours, too.
5. Rolex GMT-Master II – 126710BLNR
Key Features:
40mm case diameter
Stainless steel construction
24-hour hand with GMT functionality
Black and blue ceramic (Cerachrom) GMT-bezel
Jubilee-style bracelet
Rolex Caliber 3285 movement
Check out our Rolex Batman GMT-Master II comparison guide here.

The GMT-Master is the ideal timepiece for the c-suite exec who doesn't spend all that much time in the office anyway. Made, and worn, by the world's jet setters, this Rolex was made for pilots and is worn by successful globetrotters the world over. Plus, the GMT-Master II – 126710BLNR — aka the Batman — is one of the world's most sought-after and exclusive watches right now. If you walk into the office or your next client meeting wearing this watch, everyone is going to notice.
What's so special about this watch is that the entire thing is forged out of Stainless steel, including that dressy Jubilee bracelet. This pairing of durable with elegant has made collectors swoon – and sent waiting lists skyrocketing. However, we do get the occasional new and like-new GMT-Master II – 126710BLNR into the vault. Besides killer good looks, like the maxi dial with larger hour markers and hands, this watch boasts serious capabilities. Of course, you can use the bezel to track a secondary time zone, but this new iteration also features longer-lasting Chromalight, a brand-new cal. 3285 Perpetual movement that has a longer 70-hour power reserve as well as high-performance Paraflex shock absorbers. If you're going places in your career, this is the watch to own.
4. Omega Constellation Globemaster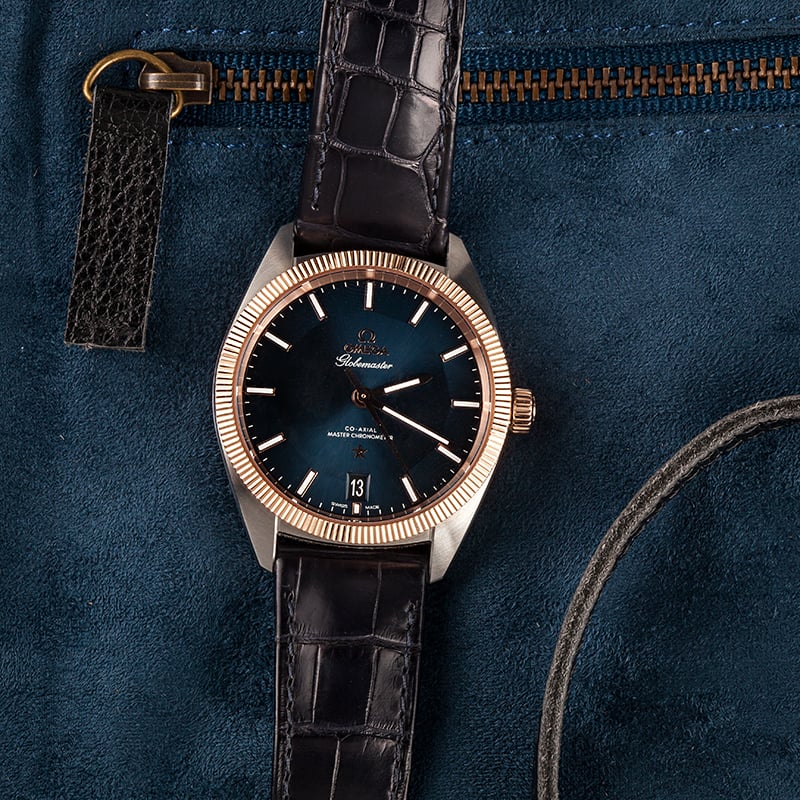 Key Features:
39mm case diameter
Stainless steel and 18k Sedna red gold construction
Vintage-inspired aesthetics
Pie-pan dial and fluted bezel
Date display
Display case-back
Omega Caliber 8900 movement
Read more about the latest men's Omega Constellation watches here.

Officially, the De Ville is Omega's lineup of dress watches, but the Constellation range also contains a number of dress-oriented pieces that work perfectly with everything from casual to formal attire. Most Omega Constellation watches feature designs that follow the general blueprint of the Manhattan model that was first introduced during the 1980s, which features integrated bracelets and the collection's now-signature bezel with 'claws' that extend over it. However, the various Omega Constellation Globemaster watches embrace classically-styled designs that draw their design inspiration from the original Constellation models from the 1950s and 1960s.
Featuring fluted bezels, sloped 'pie-pan' dials, and cases with traditional lugs, Omega Constellation Globemaster watches feature designs that are entirely timeless, yet still deeply rooted in Omega's rich history. Capable of effortlessly pairing with a suit, but not so overtly formal in design that they cannot also be worn with both business casual and leisure attire, these watches offer a perfect alternative to the more refined and elegant models that make up the De Ville collection. Additionally, while the overall aesthetics of the Omega Constellation Globemaster sub-collection are very much rooted in the past, the internal movements used to power these versatile watches are high-tech mechanical calibers that offer all of Omega's latest and greatest in-house technologies.
3. Rolex Datejust 126233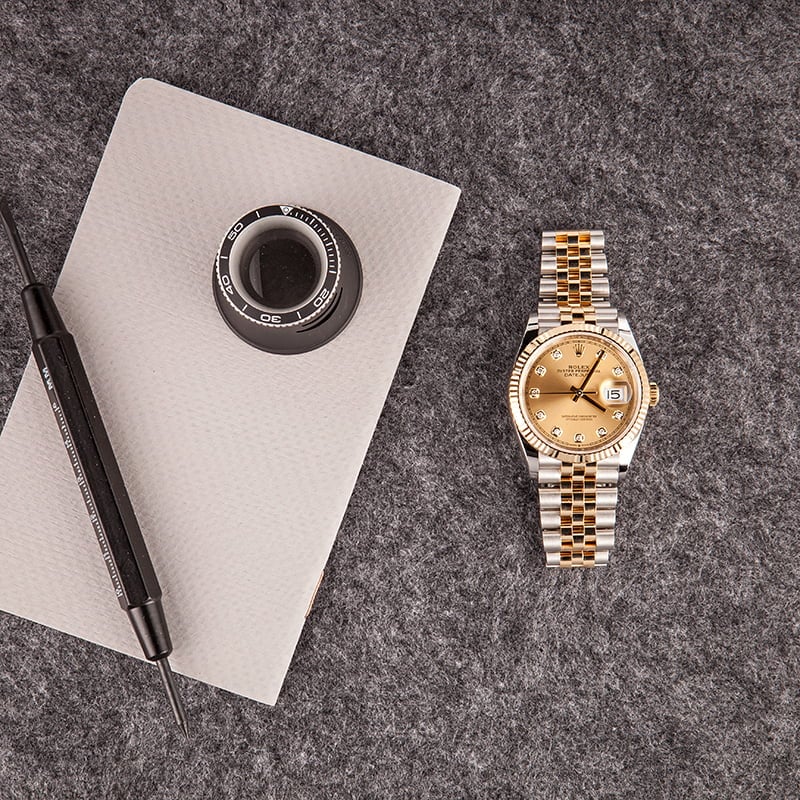 Key Features:
36mm case diameter
Stainless steel and 18k yellow gold construction (Yellow Rolesor)
Gold fluted bezel
Screw-down crown and case-back
Sapphire crystal
Rolex Caliber 3235 movement
Read the full history of the Rolex Datejust here.

There probably isn't a more classic watch on the planet than the Datejust. The Datejust boasts everything a professional wants out of their watch – reliability, sophistication, and enduring style. We love a two-tone Datejust for the office, as the stainless steel gives it much needed durability for everyday wear while the gold gives it an elevated look and feel that squarely positions you at the top.
This Datejust 126233 is a perfect example of the kind of Datejust you'd want to saunter into the office with. Firstly, that Jubilee bracelet – secured by a convenient Oysterclasp with a 5mm Easylink extension system – gives this timepiece a sophisticated feel that you just don't get from other Datejust's with an Oyster bracelet. Of course, the 18k yellow gold bezel and bracelet links add to this watch's elevated feel, but the Roman numeral applied hour markers on top of a white dial also give this Datejust a timeless look and feel. This is the kind of watch that every CEO wants to own, as it can easily pair with any suit and nearly every occasion.
2. Rolex Day-Date President 118206
Key Features:
36mm case diameter
950 platinum construction
Day + date display
Fixed smooth bezel
President-style bracelet
Rolex Caliber 3155 movement
Read our guide to the nicknames and defining elements of the Rolex Day-Date right here.

There is no watch in the world that is tied to success more closely than the Rolex President. This watch, which got its nickname after being worn by presidents, world leaders, and the rich and famous, is the ultimate status symbol for those at the top. This watch was the first in the world to proudly display the day and date on the dial, and since it was first released back in 1956, has only ever been forged out of precious metals. Naturally, this icon deserves a spot on your wrist.
This President 118206 is an extraordinary and highly-coveted example of this model, outfitted entirely in Platinum. This 36mm Platinum watch has a substantial weight that only comes with a precious metal like this, the feel of it on your wrist alone enough to make it feel substantial. But what is also special about this watch is its ultra-luxurious mother of pearl dial with diamond-set hour markers. For subtle dimension that catches your eye, the President 118206 also features polished and satin accents that make it the perfect c-suite accessory. Of course, this watch is also outfitted with the famously elegant President bracelet that boasts semi-circular links. Everything about this watch shows you mean business.
1. Patek Philippe Nautilus 3710/1A
Key Features:
42mm case diameter
Stainless steel construction
Integrated bracelet
Power reserve indicator
Date display
Patek Philippe Caliber 330 SC movement
Check out our complete guide on the Patek Philippe Nautilus here.

Wearing a Patek Philippe Nautilus is a serious power move. This watch isn't just the ultimate status symbol in the C-suite, but among the most exclusive in the world. Patek Philippe is one of the most famous watch manufacturers on the planet, the few watches they make every year being coveted and fought over by collectors. But, the Nautilus, easily their most iconic model, is even harder to get your hands on. The iconic design of the Nautilus was built to resemble the porthole on a ship, yet uniquely features these curved, octagonal sides that collectors just can't get enough of.
We're really excited to have this watch in our vault now, as it is one of the most sought-after watches in the world. The Nautilus 3710/1A is a particularly special model, featuring simplistic styling that is actually quite striking – just look at the Roman numeral hour markers, central hands, that date aperture at the 3-hour marker, and the unique "Comet" power reserve indicator just below the 12-hour marker. Yet despite the subdued face, the Nautilus 3710/1A features "Jumbo" stainless steel case measuring in at 42-mm. While this may seem large, the lugs on this watch allow the bracelet links to drop sharply away from the case and hug nicely against the wrist. This is really the ultimate statement piece.