Swiss watchmaker Richard Mille has crafted a U.S. exclusive watch even the most devoted collectors will have trouble getting their hands on. This extraordinary watch, revealed this fall at the brand's 'The Bridge' event — an annual classic car and art show — will only be released in sets of 18 for each of the four styles. If that's not exclusive enough, each piece clocks in at $828-thousand. But before you break out your platinum card, let us show you what this watch is all about. Say hello to the Richard Mille RM 12-01 Tourbillon.
About Richard Mille
While Richard Mille has been around for less than two decades, they've managed to make quite an impression on the watch world, pushing the boundaries by crafting watches made out of modern materials and strikingly contemporary design while heavily relying on the tradition of Swiss watchmaking. Should Richard Mille be considered a watch making giant among other brands such as Rolex, Omega, and Tag Heuer? We aren't sure yet, but lets look at the watches.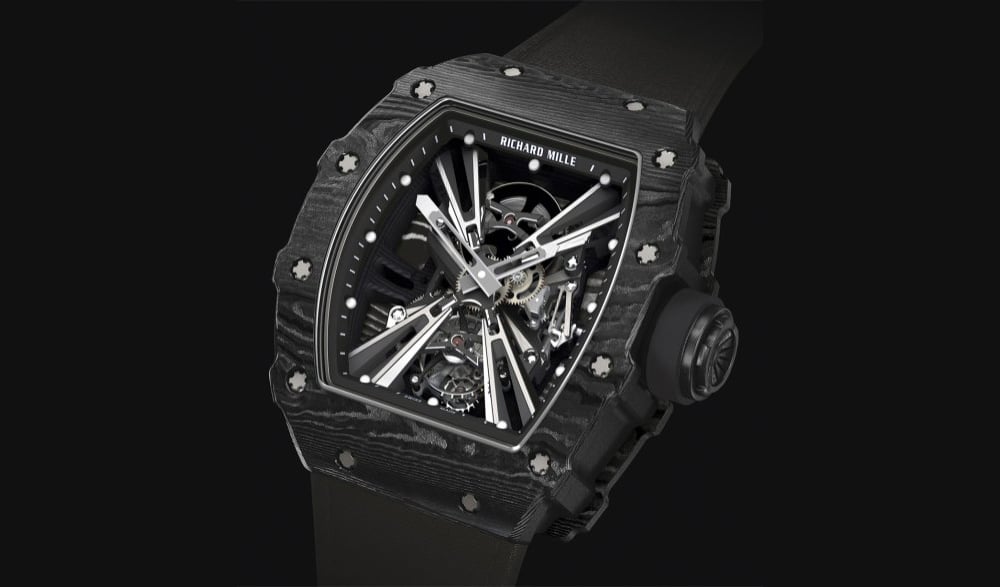 The RM 12-01
The new caliber RM 12-01 ticking inside this carbon case is no exception. Based on the famous RM 012 Tourbillon from their 2006 collection — which won the prestigious Aiguille d'Or award at the 2007 Grand Prix d'Horlogerie de Genève — the movement bent the rules of storied Swiss watchmaking by using steel and titanium for the bridges and baseplate. Now, RM 12-01 borrows the architecture, incorporating titanium bridges but using a technical unibody baseplate inspired by the chassis of racing cars. It actually has a fused caseband and baseplate, making it one single piece and so rigid it can withstand a whopping 5,000 Gs. It also boasts an impressive 70-hour power reserve.
While the complications are an ode to the tradition of Swiss watchmaking with modern materials, the case is a contemporary entity all its own. Each of the watches four carefully crafted styles feature the brand's signature tonneau case alongside their Carbon TBT material which makes them extremely light and durable despite their size — 39.3 mm across, 48 mm lug to lug and 13.84 mm thick.
The slick case materials you can choose from are black full Carbon TPT, Carbon and red Quartz TPT, Carbon and white Quartz TPT, or Carbon and Gold TPT. Very different from a few other colorful Richard Mille models that we've previously mentioned. Whatever you choose, each watch features a sapphire crystal that allows you to admire the caliber beneath the surface and is housed within that square, unique case that proudly displays the screws giving this watch a totally rough-around-the-edges but totally refined look.
Is it worth it?
But while this watch looks intricate, it doesn't feature crazy complications — the simple hands almost blending into the mechanism itself as they tell just the hours and minutes. You might not even notice that there are hour markers alongside the inside of the case dotted with small circles, the second markers small, linear, tally marks in between. Richard Mille finished off the watch with a rubber strap with a titanium clasp, fitting for this sporty watch that utilizes world-class racing materials and proudly displays all its inner-workings for the world to admire.
You can decide if it is worth it. Let us know in the comments below.
See the full Richard Mille collection.