When it comes to luxury watches for women, Rolex offers some of the best in the market. Not only do Rolex women's watches have fantastic designs but they also run on automatic movements—not a common practice in the predominately quartz-powered high-end ladies watch space.
So, given the appealing blend of classic looks and mechanical supremacy, it comes as no surprise that ladies watches are the top-selling models in Rolex's lineup.
For something a little different, today we're looking at three ladies' Datejust watches that come with special stone dials.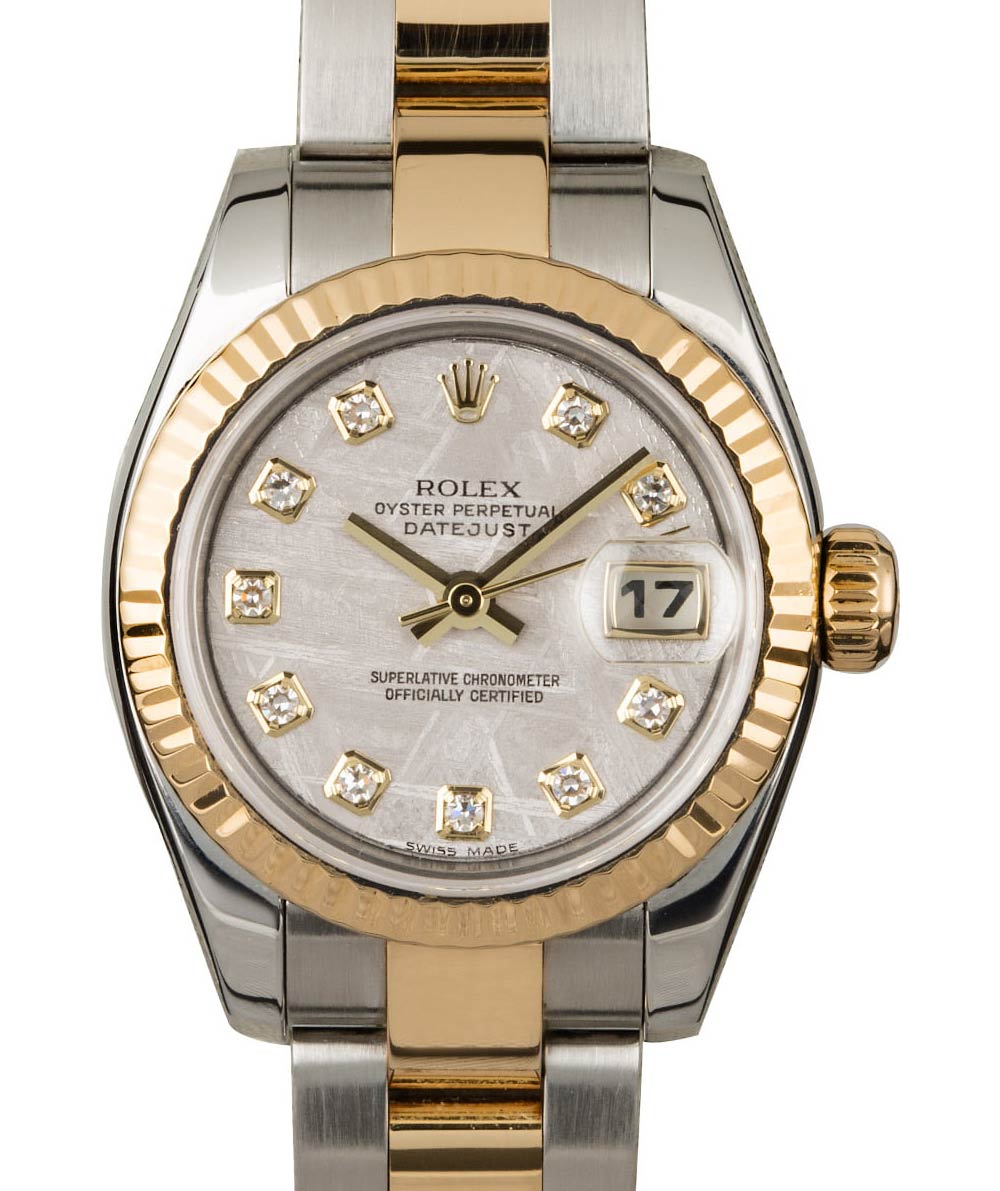 Two-Tone Ladies Datejust with Meteorite Dial
Prized for their beautiful naturally occurring pattern, Gibeon iron meteorites fell from the sky during prehistoric times and landed over an area spanning 171 miles long and 61 miles wide in Namibia. Today, any meteorites found in Namibia are considered national treasures and are not to be touched, exported, or moved. Therefore, any materials that were previously excavated from the Gibeon meteorites for decorative uses in luxury products are in limited supply. Due to limited supply, the material used the watch gives added value.
Rolex does still have a reserve of the beautiful extraterrestrial stone, which they use on select models from time to time. For instance, this two-tone ladies Datejust ref. 179173 does indeed house the extraordinary meteorite dial, characterized by its striking interwoven Widmanstätten pattern produced by long nickel-iron crystals.
Plus, for added luxuriousness, there are ten diamond hour markers on the dial framed by 18k yellow gold to match the yellow gold fluted bezel and winding crown on the 26 mm steel case. Completing the look of this fine ladies' Rolex watch is the two-tone Oyster bracelet with yellow gold center links flanked by steel ones.
Steel Datejust with Lapis Lazuli Dial
If earth-made stones are more your realm, then take a look at this striking dial crafted from blue lapis lazuli. A semi-precious stone that has been coveted since antiquity, lapis lazuli offers an alluring mix of color and texture.
The blue shade of this lapis dial looks especially vibrant contrasting against the white materials that sit alongside it on this Datejust ref. 16234. There are the stainless steel 36 mm Oyster case and Jubilee bracelet, the white gold fluted bezel, and white diamond indexes on the dial.
As a Datejust 36 model, this is not officially a ladies watch—in fact, the brand officially classifies the Datejust 36 as a man's watch—but in our opinion, this lapis and diamond Rolex watch would look particularly great on a woman's wrist.
Datejust President with Onyx Dial
While Rolex President watches for men refer to Day-Date watches, ladies' President watches are in fact Datejust watches fitted with the famed President band. Take for instance this gorgeous Datejust ref. 79138 crafted in 18k yellow gold from 26 mm Oyster case to fluted bezel to President bracelet.
What really makes this yellow gold ladies' President watch stand out though is the deep black onyx dial void of any hour makers. The face of this watch, which is home to three center hands and a date window, is a perfect example of when less is more.  
Much like the quintessential little black dress, this yellow gold ladies President with a black onyx dial will always look elegant and appropriate on.
Rolex offers a large variety of women's watches with a host of material options, size, and color options. However, those Rolex watches with stone dials offer something extra special.