The Rolex Datejust goes beyond watchmaking. It is an icon in its own right and has been the gold standard for status symbols for much of its 76-year history. Many references have come and gone throughout the years, but one of the most enduring and, therefore, various, was the Rolex Datejust 116200.
Rolex Datejust Reference 116200
Datejust 116200 Key Features:
– Production Years: 2004 – 2019
– Case Size: 36mm
– Materials: Oystersteel (904L Stainless Steel)
– Functions: Time w/ Running Seconds, Date Display
– Dial: Multiple Options Available
– Bezel: Fixed, Stainless Steel, Smooth Style
– Crystal: Sapphire (Flat w/ Cyclops Lens)
– Movement: Rolex Caliber 3135
– Water Resistance: 100 Meters / 330 Feet
– Strap/Bracelet: Oyster or Jubilee Bracelet
Click here for our Ultimate Buying Guide on the Rolex Datejust.

About the Rolex Datejust 116200
The Rolex Datejust reference 116200 was announced at Baselworld 2004. Fifty-nine years after the Rolex Datejust made waves upon its debut in 1945, the reference 116200 would enter the collection among the brand's first six-digit Datejust references. A small thing, perhaps, but a signifier that this was a Datejust of a new generation. Since the turn of this century, Rolex has evolved a lot. While it appears one of the more static brands on the surface – a reputation that is, in many ways, justified – Rolex's in-house improvements have been vast since the clock ticked over to the current millennium.
While the 21st century has seen just a couple of true Rolex novelties (such as the Yacht-Master II and Sky-Dweller), pretty much everything about the current catalog lineup is "new." New materials (ceramic and silicon) have entered the fray. Materials once regarded as experimental (904L steel case and sapphire crystals) are now standard throughout the collection. Even stalwart components like lume markers and buckles have received serious overhauls.
The reference 116200 emerged at the dawn of this quiet revolution and hung around for 15 glorious years. As such, it is one of the widest "transition" reference collections in the history of the brand, guaranteeing that if this stainless steel Datejust is right for you, there is likely a variation of the ref. 116200 that perfectly matches your individual style and aesthetic preferences.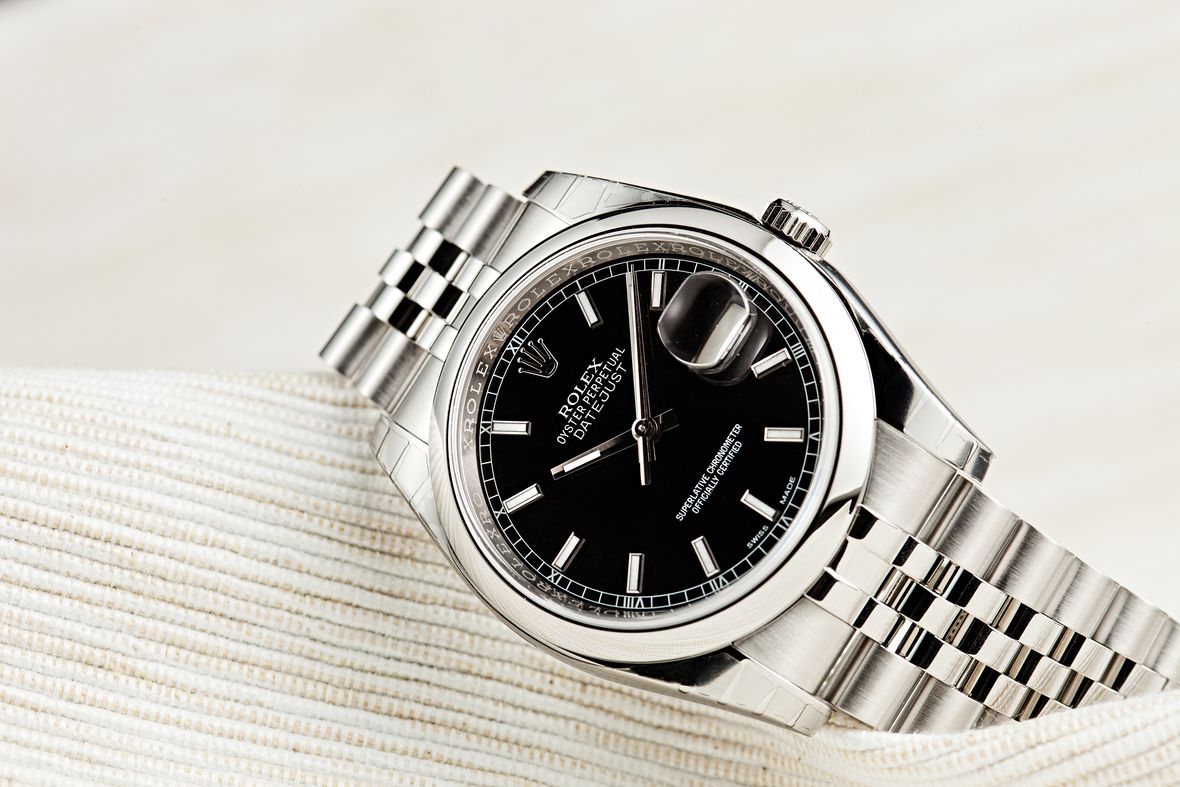 What You Can Expect From the Rolex Datejust 116200
So, what can you expect from the reference 116200? The simple answer is a lot. Although all ref. 116200 watches are crafted entirely from stainless steel and fitted with smooth bezels, the wide variety of different available dial options combined with the choice of either the Oyster or Jubilee bracelet means that the Datejust 116200 can take on a lot of different forms and it is relatively easy to find an example that speaks to you.
One thing you'll have to accept is the case diameter. The reference 116200 is a 36mm watch. For many, 36mm is a relatively small watch (at least by modern standards), but the Datejust has always had an uncanny knack for shrugging off perceptions that apply to virtually all its competitors. Where bi-color cases and bracelets might look a touch passé on less esteemed models, on the Datejust, it has always looked regal, aspirational, and just flat-out natural. Similarly, a diameter that plenty of modern customers would find terrifyingly small is the ideal size for the industry's most famous and universally recognizable luxury watch. Simply put, if 36mm sounds too small to you, it is worth trying a classic Datejust 36 on the wrist – you very well might change your mind.
For a lot of people, a Datejust simply isn't a Datejust without its iconic fluted bezel, which is (of course) not present on the ref. 116200. However, the result is a clean, hingly-versatile, and much more subdued watch than the fluted alternative. The smooth bezel Datejust has the clean lines of the Oyster Perpetual but with the added functionality of the date. The aesthetic of the brand's fluted bezel is a bonifide classic, but removing the fluted bezel opens up a world of possibilities when it comes to the rest of the watch.
The Jubilee bracelet looks far less glitzy when paired with a humble smooth bezel. Wild dial designs that might overpower the eye when viewed in tandem with a fluted bezel are made immediately palatable thanks to the more demure background. Therefore, the Rolex Datejust 116200 provides a perfect canvas for flair. In light of that, let's dive into some of the most successful (and challenging) dial designs seen throughout the 116200's run.
Rolex Datejust 116200: A Modern Take on a Classic
2008 was a really strong year for the reference 116200. In many ways, this era was a really good time for Rolex in general. There was still a bit of goofiness about the brand – a sense of real fun being had in real-time. The modern-day interpretation of that vibe can be found in the bright but benign Oyster Perpetual dials released in 2020. The colors themselves are pretty in-your-face, but the execution? Surprisingly safe. It is the perfect example of how a conservative company can, with a well-timed release, fool the buying public into thinking its latest offering is the craziest thing it's ever done.
Any one of those colorful Oyster Perpetual watches from 2020 will still find its fans in ten, twenty, or thirty years. Why? Because they are really solid pieces with classic designs in fresh colors. Some of the stuff Rolex produced in the late aughts was downright unconventional – and now we have reason to rejoice at that fact. The reference 116200 watches from 2008 had almost all of the traits of a modern Rolex but looked decidedly fresh – and to some, boarderline wild.
One of the greatest examples of this era's obsession with over-branding is the Jubilee dial, which sees the word "Rolex" repeated all over its surface. But it isn't that simple. Rather than using the conventional Rolex wordmark, we see the brand's name stylized as a series of interlocking geometric shapes. It is unusual and slightly even a bit off-base, but best of all, it is playful. Somehow, this crazy backdrop carries applied, polished hour markers incredibly well and looks comfortable surrounded by the simple polished steel bezel.
Datejust 116200 Unusual Features
At the same time, there was something wonderful happening inside the date window itself. During this period, Rolex was making Datejust 116200 watchs with alternating red and black calendar discs. That's right: a roulette date wheel on a modern Rolex watch. The look called back to the really early days of the Datejust, which were also known to feature these alternating red and black calendar displays, and represents one of the rare instances of Rolex reviving a design element from its past.
Another unusual design element found on certain reference 116200 watches is the Rolex "Bull's Eye" dial, which offers a striking take on what could be considered a sector dial layout. In general, sector dials are typically found on vintage watches, and those unfamiliar with Rolex's back catalog may find this viariation particularly intriguing.
Rolex's Bull's Eye dials have two distinct sectors, with the center circle appearing in one color and an outer ring (carrying the hour markers) rendered in another. These color combinations can sometimes be subtle (two types of silver) or offer a strong contrast (silver and black), but all variations are incredibly striking. When paired with a roulette date wheel, this short-lived style of Datejust 116200 watches becomes incredibly unusual and highly attractive.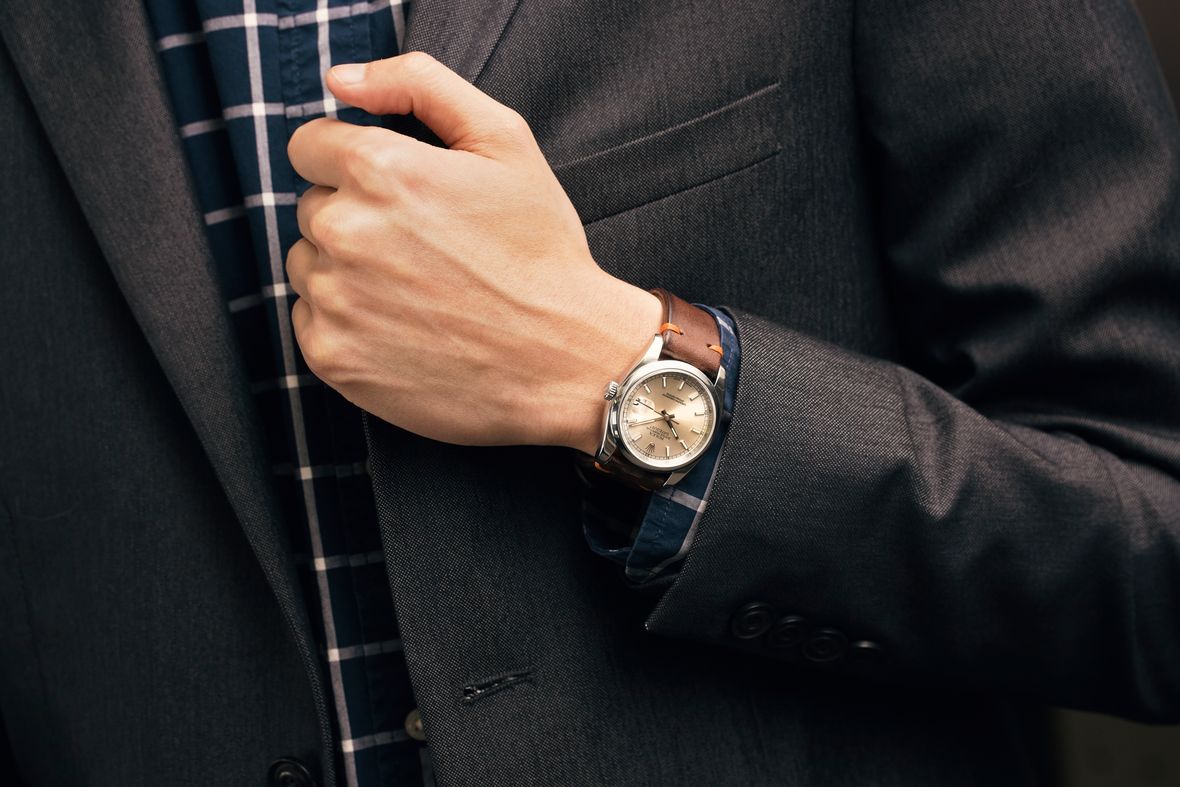 Buying a Rolex Datejust 116200
There was also a great deal of scope during this "transitional" era for nodding backward to the past and celebrating that which had gone before but was now able to benefit from modern manufacturing techniques. For eample, Roman Numerals enjoyed their presence on many reference 116200 dials. During this model's protracted run, all kinds of dial backdrops played host to a variety of differnet hour markers. Naturally, there were pared-back options in muted colors like silver or black, but these were joined by more vivacious options like the Jubilee dial design mentioned above, along with other styles adorded by concentric circles or even floral patterns.
The Rolex Datejust 116200 is one of the more mature designs currently available from the brand. At less than seven thousand dollars on the pre-owned market, this reference, like many pieces from this experimental era, makes a fantastic and characterful purchase for someone who wants the reassurance of having a Rolex on their wrist but prefers to not walk the same beaten path as everybody else. It seems likely that as time (and the Rolex brand) progresses, this exciting period of relative frivolity in design will only become more desirable as it shifts further and further away from anything we expect from the manufacturer today.
Caliber 3135 Movement
Beyond all of these memorable aesthetic elements, the Rolex Datejust 116200 is simply an incredible product at its core. With its wearable 36mm case diameter, in-house Caliber 3135 automatic movement, 100 meters of water resistance, sapphire crystal with Cyclops magnification lens, and the iconic instantly-changing date display at 3 o'clock, the reference 116200 continues to carry the torch of its exalted forebears.
This was the last generation of Rolex Datejust watches to feature the long-standing and highly-regarded Caliber 3135 movement. Following their initial release at Baselworld 2018, the new generation of Rolex Datejust 126xxx watches featured the updated new-generation Caliber 3235. Therefore, when it comes to brand history, it is quite hard to find a single reference that offers quite as many talking points as the legendary Rolex Datejust reference 116200.