Chanel might be one of the world's top fashion houses, but they've proven to be a formidable watchmaker as well. One of their most beautiful creations being the Calibre 3 which was introduced just this year, two years after they finally began producing their own in-house movements despite three decades of otherwise impressive luxury watchmaking.
"Chanel and I both believe that technology should be at the service of beauty," Frédéric Grangié, the CEO of Chanel Watches and Jewellery explained. "Chanel's Fine Watches, in fact all our creations, begin as an aesthetic concept which then takes shape through a range of techniques."
But, to understand the Calibre 3, we first have to look back on 1 and 2. The Calibre 1, which was released in 2016, was haute the minute it was released. Part of the buzz was that it featured a jump hour complication and the bridges were designed by Independent watchmaker Romain Gauthier, who, actually, is part-owned by Chanel. Then the Calibre 2 came along with the Chanel Première Camélia Skeleton, featuring a camelia-shaped movement. Once again, Gauthier stepped in to help out, creating the wheels.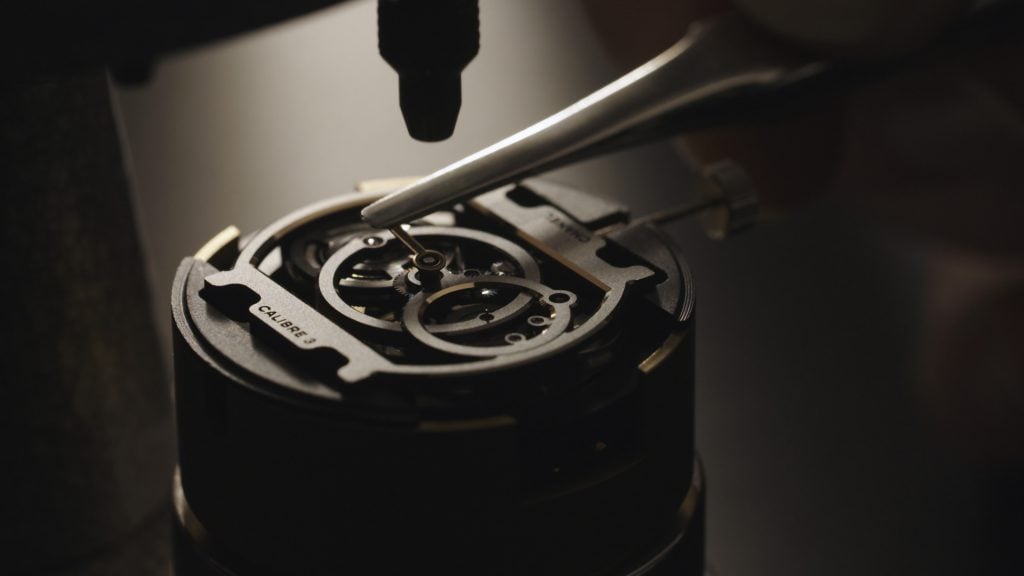 "The Calibre 1, which we put in the Monsieur de Chanel, was a masculine movement; one in which you could see the components, because that's what men want," revealed  Nicolas Beau, Chanel's global head of watch and fine jewelry business development. "However, by contrast we concealed the movement in a camellia for the Calibre 2, because that seemed a more feminine approach."
This brings us to the Calibre 3 that was released in 2018. Outfitted with the Boy.Friend skeleton case that puts the manual movement with a 55-hour power reserve, a wonderfully unique circular bridge design, and wheels without spokes proudly on display. And if you're wondering how wheels without spokes are possible, it's actually thanks to new state-of-the-art technology leveraged by the company.


What Chanel did was galvanically grow the wheels — which is essentially 3D printing but with chemicals. It allowed the fashion-house turned horlogerie to create these extremely unique, and absolutely stunning, wheels exactly to their specifications.

And to back up a little, if the Boy.Friend case looks familiar, you're indeed having deja vu. Chanel introduced the case in 2015, but back then it was surrounding a ETA 7001 manual-winding movement. Now, you look directly into the Calibre 3.
Finally, we have to take a look at the pure aesthetics of this watch. If you look closely, you'll notice that the see-through dial, surrounded by the beige gold case, doesn't feature any visible screws and is only attached to the case at the top and bottom — making the mechanism look like it's floating. Superb. Chanel also sprawls across the top near 12 o'clock, the two hands matching the case in beige gold, a mysterious color Chanel is keeping tight-lipped about. The look is then tied together with a simple black strap, keeping all the attention (and rightfully so) on the case.
In a large luxury market filled with innovation, it somehow feels like Chanel is competing with themselves and doing a hell of a job. The last three years they've managed to continually impress those within the industry with not only their designs, but their technical feats. Rumor has it the Calibre 4 is already underway — and we have to say, we can't wait to see how they'll top this.