There are many classic rivalries in the world, but perhaps the most unique and exclusive is the rivalry between two top watchmakers: Rolex and Omega. Submariner or Seamaster?
Both are Swiss companies dedicated to bringing the highest quality to their customers, and each will boast a superior product when compared to the mass of other watch manufacturers, but who really comes out on top when it comes to the battle of dive watches?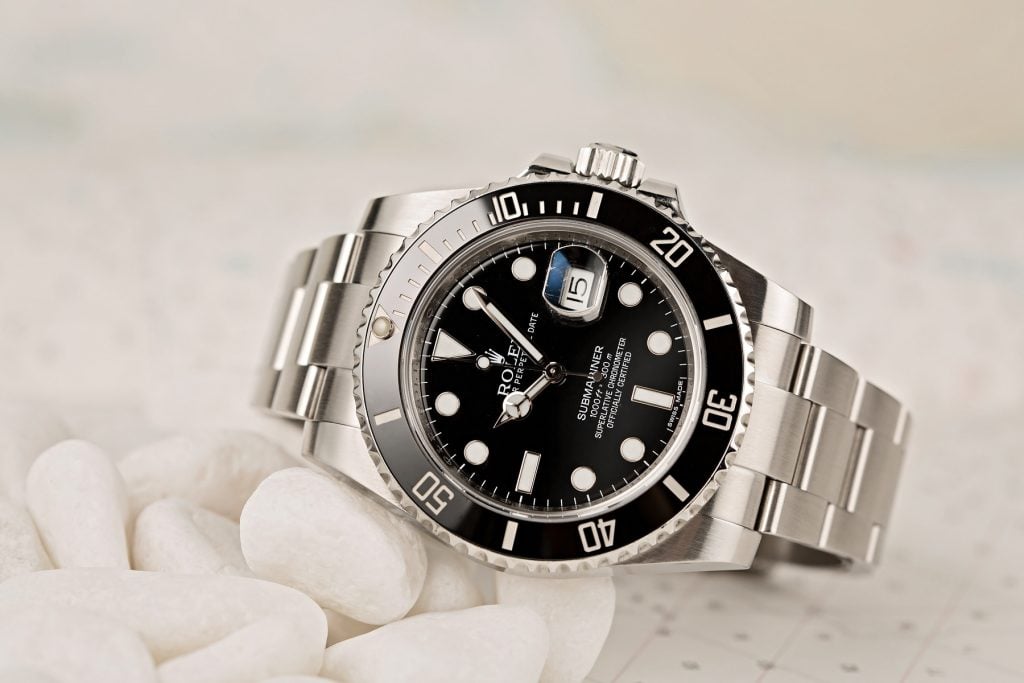 Omega Seamaster vs. Rolex Submariner: Design Options
Both models offer standard dive watch features, including substantial water resistance, luminescent hour markers and hands for optimal underwater visibility, and a uni-directional 60-minute bezel for timing decompression stops and other underwater durations. However, while Rolex keeps it traditional and never strays far from the core design it has followed for decades now, the Omega Seamaster is a bit more adventurous when it comes to design options. The broader collection includes the dressier Aqua Terra series, Diver 300M, Planet Ocean, and Heritage Seamaster 300. The Omega Seamaster Diver 300M most closely resembles the Rolex Submariner but with the addition of a Helium Escape Valve on the left side of the case. There are about 50 variations in the current Omega catalog. There are more metal finishes, dial colors, bracelet options, and case sizes than the Submariner. You even have your choice of either a standard date function or a Seamaster outfitted with a chronograph movement.
Looking at the Submariner, there are currently eight watches in the Rolex catalog, including Oystersteel, Yellow Rolesor, yellow gold, or white gold options, a black or blue dial, and either a black, blue, or green ceramic bezel. The Submariner opts for steel and gold finishes, while the Seamaster 300M has the option for more contemporary metals for the case and bracelet, such as ceramic, titanium, and platinum. Additionally, the 40mm Submariner was discontinued in 2020 to make way for the larger 41mm version, which remains the only case size in the current Submariner collection. When it comes to variety, the Seamaster 300M wins. However, there is also something to be said about keeping it simple like Rolex does.
Seamaster vs. Submariner Pricing
You can perform a detailed analysis of each watch, and in a number of categories you might end up just splitting hairs. Perhaps the most distinguishing category is in the pricing. As you might expect, the Rolex Submariner has a price that is higher, but this is generally true for almost any Rolex.
However, with a little smart shopping you may discover a pre-owned Rolex Submariner from an older generation at an excellent price, which once more narrows the fields of comparison. With that in mind, Rolex watches are categorically more expensive than their Omega counterparts, so even a used Submariner from a previous generation will likely cost more than a brand-new Omega Seamaster.
Resale Values of Rolex Watches
When it comes to aesthetics, the Rolex Submariner model is perhaps one of the most beautiful timepieces ever created. Since the creation of the first Rolex Submariner in 1953, there have been many generations of marvelous pieces that any person would be proud to own. Yes, the Rolex Submariner price point is significantly higher, but the value of these works of art hold up very well, sometimes even increasing over time.
Another undeniably popular model is the Rolex Submariner 16610LV – aka Kermit – which was the 50th anniversary limited edition. If you ever find this particular Rolex Submariner used, grab it without hesitation! Even a Rolex Submariner used is a treasure to seek and keep once you find it.
And we can't forget the now-discontinued Rolex Submariner 116610. It was the first Sub to feature a ceramic bezel and is quickly becoming a coveted collector's item now that the 41mm ref. 126610 has taken its place. Most Rolex watches end up selling for more than their original retail price on the pre-owned market and this is especially true of the Submariner. Even the least expensive used Submariner watches from 20-30 years ago are still selling for almost as much as the price that Rolex charges for a brand-new Submariner; however, since every version of the Submariner has a waiting list, buying a new one from an Authorized Dealer isn't as simple as just walking into the store and buying one.
Omega Seamaster or Rolex Submariner?
It goes without saying that both the Omega Seamaster and the Rolex Submariner are top-of-the-line timepieces, and either one will last a lifetime. Omega's new series of antimagnetic movements offers buyers quite a lot in terms of performance, and buying an Omega Seamaster can easily be done at a retail level, with even a savings to be found on the secondary market.
All things being equal, most people would choose the Rolex Submariner. However, when it costs more than twice as much as the Omega Seamaster, the big question then becomes whether or not you actually get twice as much watch for your money, and this is where things become a bit more subjective. It's undeniable that the Submariner will hold its value better or even appreciate, but when it comes to getting yourself a top-notch dive watch from one of the world's most prestigious and famous manufacturers, both watches are excellent options, and there truly are no wrong choices.