The vintage Rolex GMT-Master reference 1675 is not only one of the most recognizable Rolex watches of all time but boasts one of the longest production runs of any model in Rolex's history. First developed for airline pilots in 1959, the GMT-Master 1675 ended up skyrocketing in popularity with all kinds of collectors, continuing to remain in production until 1980.
However, while the GMT-Master ref. 1675 had a long history, it wasn't a stagnant one. Over the years, Rolex continually improved the look and features of the watch, resulting in several different variations along the way. This makes the GMT-Master reference 1675 an incredibly interesting Rolex model to study and collect – and just like most collectible vintage Rolex watches, some examples of the ref. 1675 are significantly more rare and valuable than others.
Rolex GMT-Master 1675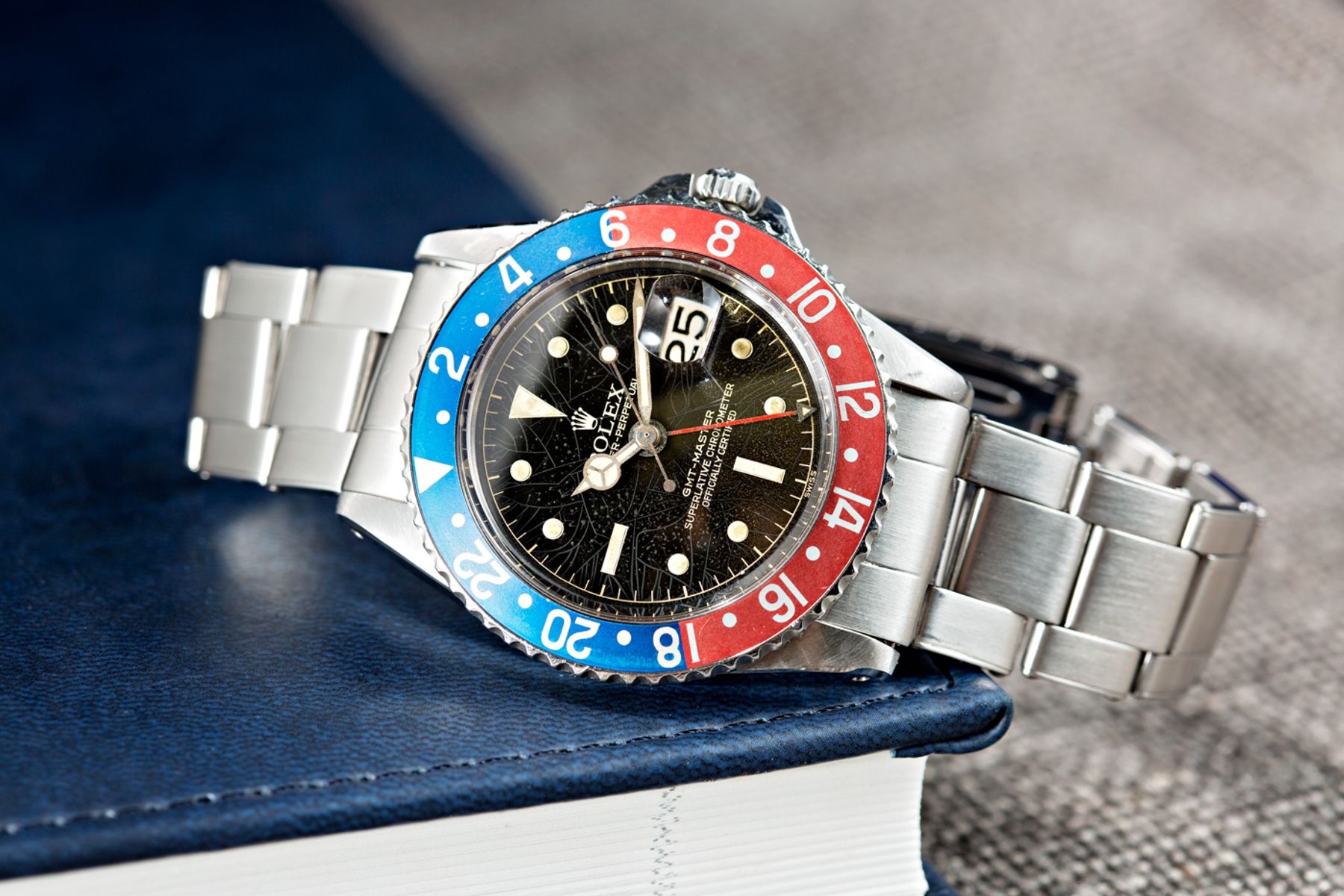 Rolex 1675 Key Features
Release Year: 1959
Case Diameter: 40mm
Materials: Stainless steel; Yellow gold; Rolesor (two-tone steel and gold)
Functionality: Time + running seconds, Date display, Second timezone
Bezel: Bidirectional, Aluminum insert with 24-hour scale
Bezel Colors: Blue and Red ("Pepsi"); Brown and Yellow ("Root Beer"); Blue ("Blueberry"); Black
Dial: Black or Brown, Luminous hour markers with Mercedes-style hands
Bracelet: Oyster or1 Jubilee
Water Resistance: 50 meters / 165 feet
Movement: Cal. 1535; Cal. 1565, Cal. 1575 (automatic, non-quickset)
Click here for our Ultimate Buying Guide on the Rolex GMT-Master.
A Brief History of the GMT-Master 1675
While the Rolex reference 1675 was made commercially available in 1959, the first GMT-Master was actually released in 1955 specifically for Pan Am pilots as the reference 6542. What was new and exciting about this model for Rolex was that it was a dual time zone watch, allowing pilots to read two different time zones on the dial thanks to an arrow-tipped 24-hour hand pointing to a 24-hour marked rotating bezel, as well as a traditional 12-hour hand.
Although the first GMT-Master followed a similar overall format to the Submariner and Turn-O-Graph models of the era, the ref. 1675 represents the second generation of the Rolex GMT-Master and marks the point in the model's history where it truly became its own unique watch. There were some big changes to accompany the reference 1675, including increasing the case size by 2mm, adding crown guards, and giving it an all-new movement. Over its 20-year history, the Rolex GMT-Master 1675 would continue to evolve – but we'll get into that below.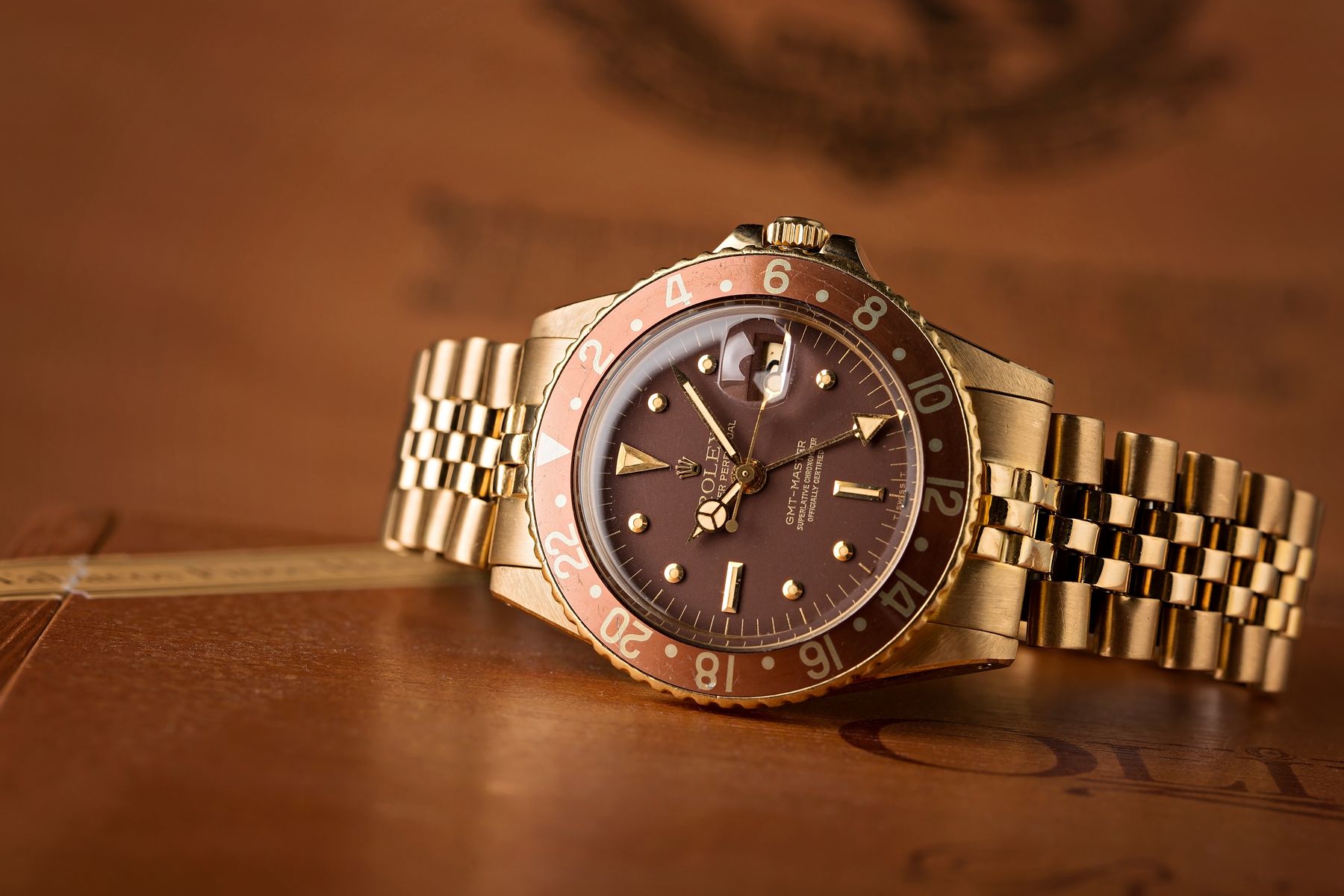 Rolex GMT-Master 1675 Timeline and Milestones
1959: Rolex introduces GMT-Master ref. 1675 to replace ref. 6542
1959: Rolex releases yellow gold GMT-Master 1675/8
1963/1964: Tritium replaces radium as the luminous material
1964: Rolex removes chapter ring from the dial
1964/1965: Rounded crown guards replace pointed crown guards
1965: Caliber 1575 replaces Caliber 1565
1966: Rolex redesigns yellow gold case to now feature crown guards
1967: Matte dials replace gilt-gloss dials
1970: All-black bezel introduced
1971: Hacking introduced to Caliber 1575
1980: Rolex discontinues GMT-Master 1675
Throughout its long production run, the ref. 1675 underwent several changes. Initially the earlier models featured chapter ring dials and cases with pointed crown guards. The first decade of production saw a small triangle on the tip of the 24-hour hand, which offers a unique look. This feature was later replaced with a larger triangle in the late 1960s. These early versions of the reference also featured glossy black dials with golden 'gilt' printing. However by 1967, Rolex had updated the dial to a matte black style that had all white text. Similarly, the shape of the crown-guards on the GMT-Master 1675 also changed throughout its history, first starting out as pointed before later being replaced with more traditionally shaped ones.
As Rolex developed more advanced movements, the caliber of the GMT-Master ref. 1675 was updated. The original ref. 1675 featured the caliber 1565 from 1959 until 1964. In 1965 the watch was updated to feature caliber 1575, which remained in use until the reference 1675 was discontinued in 1980.
The Rolex GMT-Master 1675 is not only aesthetically pleasing but also offers a waterproof Oyster case that has the ability to withstand water pressure up to 50 meters (165 feet). The Rolex GMT-Master is also the first Rolex sports watch to feature two bracelet options: the Oyster and the Jubilee bracelet styles.
The GMT-Master 1675's most recognizable feature is certainly its unique two-tone bezel option. The striking red and blue bezel have earned the watch the nickname the "Pepsi" among collectors. Although an all-black option was added to the collection by the early 1970s, the red and blue "Pepsi" bezel remains the original option for the stainless steel GMT-Master 1675.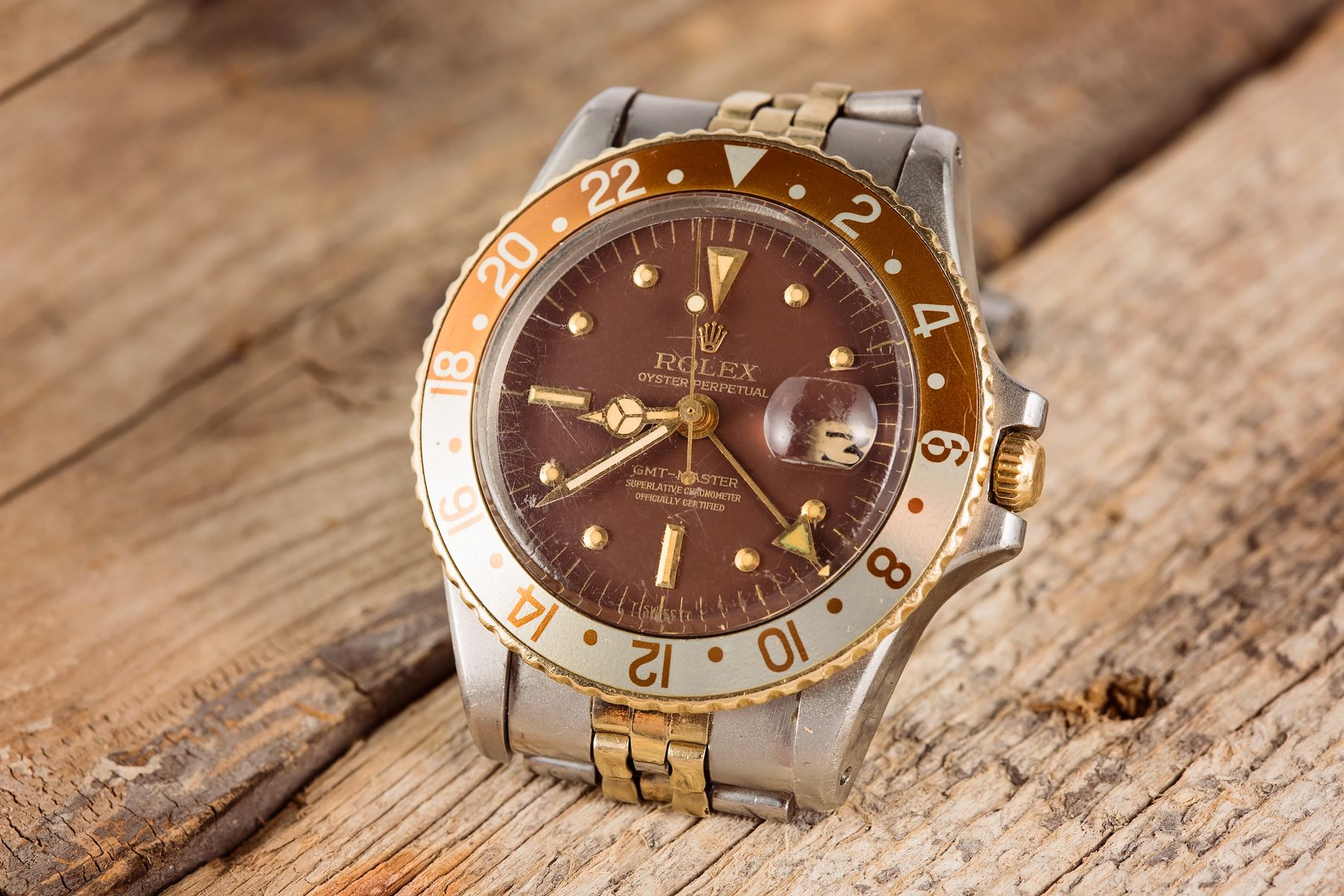 GMT-Master 1675 Value And Collectability
One of the most recognizable Rolex watches ever made is the GMT-Master 1675. Because of its long production run, the reference 1675 is fairly easy to find and add to your collection, although there are certain rare examples out there that will require quite a lot of searching to track down. If you want an aesthetically pleasing and popular vintage Rolex sports watch, the GMT-Master 1675 is a perfect choice. However, what is the value of a Rolex GMT-Master 1675, and is it collectible?
Well, the first thing to know is that not all ref. 1675 variations are considered equal. Generally speaking, the earliest versions with coveted features like gilt dials hold more value and are more sought-after by collectors. However, that doesn't mean the 'newer' (still vintage) versions of the GMT-Master 1675 aren't also incredibly collectible. In fact, they're often considered to be the quintessential vintage Rolex GMT-Master reference, yet you can find them at significantly more affordable values compared to their older ref. 6542 siblings.
The most expensive Rolex GMT-Master 1675 ever sold was one worn by Marlon Brando in the film, Apocalypse Now, which sold for almost $2 million at an auction in 2019. Obviously, that's a one-in-a-million timepiece, and you can generally expect to pay anywhere between about $13k and $50k, depending on the materials, dial/bezel variation, and overall condition. With that in mind, regardless of which version of the Rolex GMT-Master 1675 that you choose, it's always important to only buy from a trusted and reliable source, as small details can account for significant differences when it comes to overall resale value.
Continue Reading – View Related Topics Below
Rolex GMT-Master 1675 Tropical Dial
Rolex 1675 GMT-Master Co-Branded Dials
How To Use A Vintage GMT 1675
Rolex GMT-Master 1675 Radial Dial