First developed for airline pilots in the mid-1950s, the Rolex GMT-Master is one of the world's most iconic watches. Over the course of its history, Rolex has continually improved the look and features of the watch, resulting in some highly successful references, such as the GMT-Master ref. 1675. Produced from 1959 until 1980, the GMT-Master 1675 benefitted from several enhancements along the way.
Thanks to its lengthy manufacturing period and abundant variations, the GMT-Master ref. 1675 is a popular vintage Rolex model to collect. There are plenty of details to consider with this particular reference and we've laid out everything you need to know right here in our ultimate guide to the Rolex GMT-Master 1675.
Rolex GMT-Master Ref. 1675
Rolex 1675 Key Features:
Release Year: 1959
Case Diameter: 40mm
Materials: Stainless steel; Yellow gold; Rolesor (two-tone steel and gold
Functionality: Time + running seconds, Second timezone, Date
Bezel: Bidirectional, Aluminum insert with 24-hour scale
Bezel Colors: Blue and Red ("Pepsi"); Brown and Yellow ("Root Beer"); Blue ("Blueberry"); Black
Dial: Black; Brown, Luminous hour markers with Mercedes-style hands
Bracelet: Oyster; Jubilee
Water Resistance: 50 meters / 165 feet
Movement: Cal. 1535; Cal. 1565, Cal. 1575 (automatic, non-quickset)
Click here for our ultimate buying guide on the Rolex GMT-Master.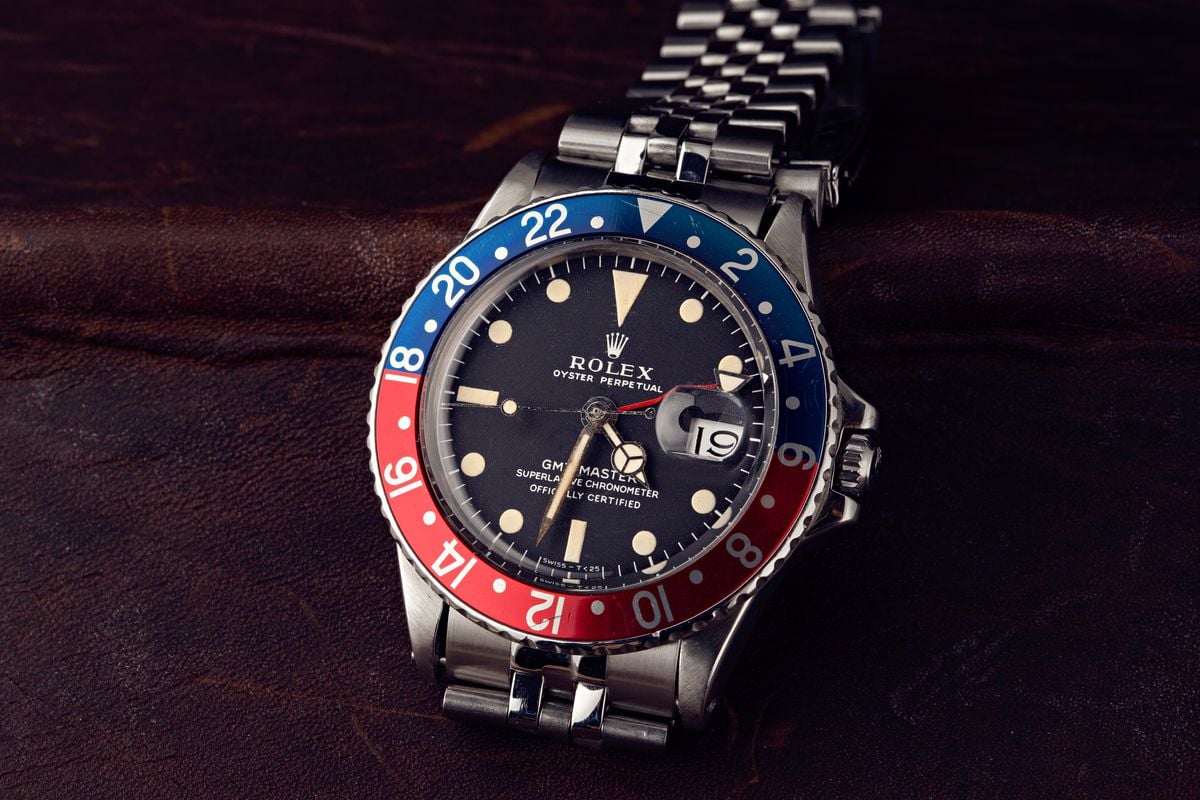 Brief History of the Rolex GMT-Master 1675
The Rolex GMT-Master was first introduced in 1955, built specifically for Pan Am pilots. It was a dual time watch that allowed pilots to simultaneously read reference time (an international time standard known as Greenwich Meridian Time a.k.a. GMT back then) and local time. Reference time is indicated via an arrow-tipped 24-hour hand pointing to a 24-hour marked rotating bezel while local time is displayed by the traditional 12-hour hand.
The reference 1675 was the second-generation GMT-Master model, which first appeared in 1959. It replaced the preceding GMT-Master ref. 6542 and brought about some significant changes to Rolex's flagship pilot's watch. For instance, the case size of the GMT-Master 1675 grew by 2mm, crown guards were introduced, and the previous Bakelite bezel insert was replaced by aluminum. Several other changes, which include crown guard shape changes, dial redesigns, caliber improvements, and new bezel colorways all occurred throughout different points of the Rolex GMT-Master 1675's two-decade history.
Initially available in stainless steel (and later joined by gold and two-tone variants) ref. 1675's case measured 40mm in diameter, featured pointed crown guards, and was originally fitted with a chapter ring dial. From about 1959 to 1965, the case encompassed Rolex's Caliber 1565 movement, which was then replaced by the Caliber 1575, with hacking later introduced to the movement in 1971. The case, as was common with Rolex watches of that era, was water-resistant up to 50 meters (165 feet) and topped with an acrylic crystal over the dial. Customers could choose to pair a GMT-Master ref. 1675 with either a five-link Jubilee ref. 62510 bracelet or a three-link Oyster ref. 78360 bracelet. The GMT Master Reference 1675 is a highly sought after vintage Rolex watch thanks in large part to the various colors of the distinct bezel that Rolex expanded over the years.
From 1959 to approximately 1966/1967, the GMT-Master ref. 1675 featured glossy gilt dials but Rolex switched them out for matte dials with white printing – a style that remained until the end of production in 1980. Most Rolex 1675 dials used tritium for luminescence and included the then-new "Superlative Chronometer Officially Certified" label on the dial – however, there were some variations in the earliest models, which we'll discuss in detail below.
GMT-Master 1675 Timeline & Milestones
1959: Rolex introduces GMT-Master ref. 1675 to replace ref. 6542
1960: Rolex releases yellow gold GMT-Master 1675/8
1963: Rolex removes chapter ring from the dial
1964: Tritium replaces radium as the luminous material
1964: Rounded crown guards replace pointed crown guards
1965: Caliber 1575 replaces Caliber 1565
1966: Matte dials replace gilt-gloss dials
1966: Rolex redesigns yellow gold case to now feature crown guards
1970: All-black bezel introduced
1971: Hacking introduced to Caliber 1575
1980: Rolex discontinues GMT-Master 1675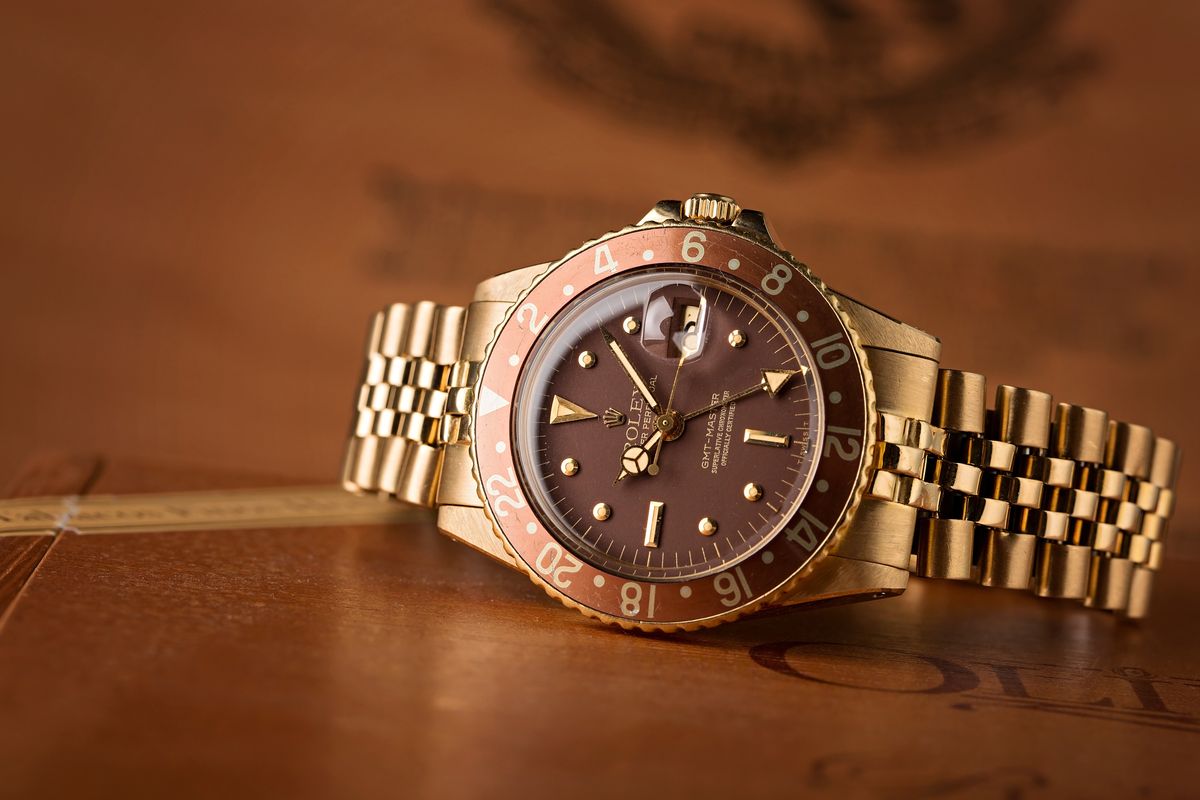 GMT-Master 1675 Material Options and Case Design
When Rolex introduced the 40mm GMT-Master 1675 in 1959, it was first only available in stainless steel. A yellow gold version joined the collection not long after, officially known as the GMT-Master 1675/8, and often nicknamed the "Concorde." Finally, around 1970, Rolex unveiled a two-tone yellow gold and stainless steel variant, known as the GMT-Master 1675/3. This was the very first two-tone GMT-Master watch ever made, and the combination of gold and steel on a watch is officially called "Rolesor" by the brand on both the Rolex website and in all official materials.
Rolex Ref. 1675 Material options
– Stainless Steel GMT-Master ref. 1675 (1959 – 1980)
– Yellow Gold GMT-Master ref. 1675/8 (1960 – 1980)
– Rolesor GMT-Master ref. 1675/3 (1970 – 1980)
Unlike the previous GMT-Master ref. 6542, the cases of the GMT-Master 1675 had crown guards protecting the winding crown, and the shape of the crown guards evolved over the decades. The earliest shape was dramatically pointed and the collecting community refers to these as Pointed Crown Guards (PCG). Rolex then noticeably smoothed out the pointiness of the crown guards, probably starting around 1963 – these are known as Broad Pointed Crown Guards. Finally, Rolex settled on Rounded Crown Guard around the following year, which is somewhat similar to the style we find on current GMT-Master watches.
Rolex Ref. 1675 Crown Guard Shapes
– Pointed Crown Guards (approximately 1959 – 1963)
– Broad Pointed Crown Guards (approximately 1963 – 1964)
– Rounded Crown Guards (1964 – 1980)
Interestingly, the first batch of yellow gold GMT-Master ref. 1675/8 did not have crown guards at all. However, by the mid-1960s, Rolex redesigned the case to include crown guards.
Rolex Ref. 1675/8 Crown Guards
– No Crown Guards (approximately 1960 – 1966)
– With Crown Guards (approximately 1966 – 1980)
By the time the two-tone GMT-Master ref. 1675/3 came onto the scene in 1970, it received rounded crown guards just like its stainless steel and gold counterparts of the era.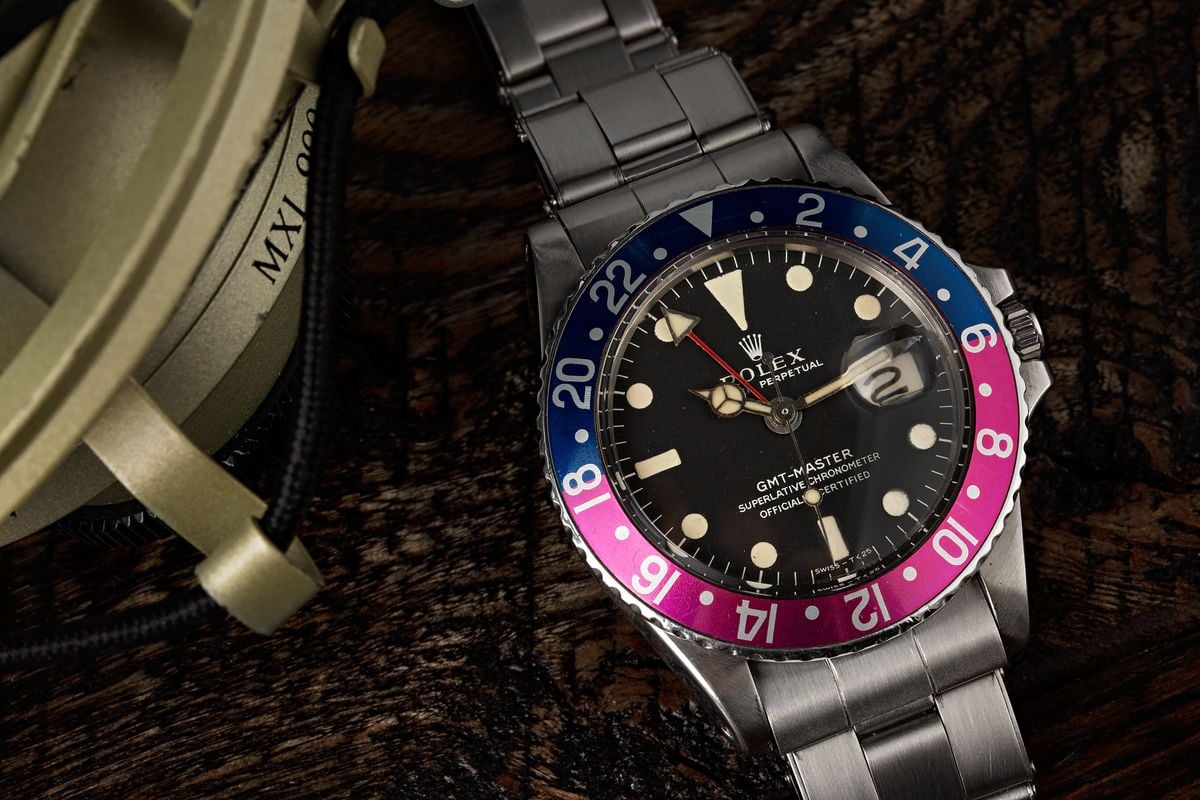 Rolex GMT-Master 1675 Bezels
The familiar design of a blue and red bezel with white numerals that made its debut on the inaugural GMT-Master 6542 model continued with the ref. 1675. In addition to being aesthetically striking, the choice of a two-tone bezel served to help the wearer easily distinguish between day and night hours when reading reference time – red for day and blue for night.
The blue and red color combination is iconic to the GMT-Master collection and is frequently called the "Pepsi" bezel among Rolex enthusiasts. However, rather than being fashioned from brittle Bakelite (like on the previous ref. 6542), Rolex opted to furnish the stainless steel GMT-Master 1675 with a blue and red aluminum bezel insert instead.
By about the mid-1960s, Rolex also offered the option of an all-black bezel for the GMT-Master 1675. Furthermore, there's also the highly disputed all-blue bezel, known as the "Blueberry," which some say was a special order made in the 1970s for the United Arab Emirates military. However, as is customary with the brand, Rolex has never confirmed nor denied ever making these blue GMT watch bezels, and they were never officially available as a standard option in Rolex's catalog.
Bezel Colors of the Steel GMT-Master 1675
– Blue and Red "Pepsi"
– Black
– Blue "Blueberry"
Rolex first equipped the gold GMT-Master ref. 1675/8 with a monochromatic burgundy-brown bezel. By 1970, Rolex added the choice of an all-black bezel, which was paired with a black dial.
Bezel Colors of the Gold GMT-Master 1675/8
– Burgundy-Brown
– Black
The release of the two-tone stainless steel and yellow gold GMT-Master ref. 1675/3 also debuted a new bezel colorway, which combined brown and yellow – now known as the "Root Beer" bezel. Like the yellow gold version, other bezel color choices for the GMT-Master ref. 1675/3 included either burgundy-brown and black.
Bezel Colors of the Two-Tone GMT-Master 1675/3
– Yellow and Brown "Root Beer"
– Burgundy-Brown
– Black
It's important to note that many of the original bezels of the GMT-Master 1675 have faded over time. For instance, some examples of the Pepsi bezel have faded into light blue and orange or light blue and fuchsia. The latter bezel is sometimes nicknamed the "Pink Panther."
Rolex GMT-Master 1675 Dials
The dial of the Rolex 1675 GMT-Master underwent a slew of modifications throughout the reference's production history. The earliest examples of the GMT-Master ref. 1675 still used radium for luminescence until about 1963, when Rolex transitioned to tritium for lume for safety reasons.
Radium: 1959 – 1963
Tritium: 1963 – 1980
Furthermore, early examples of the GMT-Master 1675 featured gilt-gloss dials. Characterized by a black glossy background and golden text, gilt-gloss dials were made using a galvanic coating process. There are several versions of the GMT-Master 1675 gilt-gloss dials to note.
GMT-Master 1675 gilt-gloss dials (1959 – 1966)
1959 – 1960: Dials have "Officially Certified Chronometer" text, known as the "OCC Dial"
1960 onward: Dials have "Superlative Chronometer Official Certified" text
1959 – 1963: Dials have a chapter ring
1963 onward: Dials do not have a chapter ring
Around 1966, Rolex replaced these dials with what is referred to as matte dials that are characterized by matte black backgrounds and white font. Collectors have detected several versions of the matte dials, categorized as Mark 0 to Mark 6.
GMT-Master 1675 matte dials (1966 – 1980)
Mark 0: (1966 – 1967) – Small arrow on the GMT hand, identical text to previous gilt dials
Mark 1: (1967 – 1972) – Thin prongs on the Rolex crown logo, larger GMT hand arrow (compared to Mark 0), and long middle bar in the "E" of "ROLEX." Also known as the "Long E" dial.
Mark 2: (1972-75, 1977-78) – "ROLEX" is written in a thick font and the letters "L" and "E" are positioned closer together
Mark 3: (1975-78) – Smaller lume plots placed further from the chapter ring. Also known as the Radial dial
Mark 4: (1978 – 1979) – Larger lume plots than Mark 3, the right vertical line in "M" of "Master" sits above the middle of "C" in "Chronometer"
Mark 5: (1978 – 1980) – Similar to Mark 4 but the right vertical line of "M" in "Master" is aligned with the right side of "C" in "Chronometer"
Mark 6: (1980) – Tallest Rolex Crown logo of all the matte dials and the words "Oyster" and "Perpetual" are placed closer together. Used on the last batch of GMT-Master 1675 models so if this dial is found on older examples, it is likely a service dial.
The yellow gold GMT-Master 1675/8 and the two-tone GMT-Master 1675/3 have what are known as "nipple dials" featuring protruding gold hour markers filled with luminescent material. Also, it is possible to find gold GMT-Master ref. 1675/8 with straight hour hands (often referred to as Concord hands) rather than the more familiar Mercedes-style hands.
GMT-Master 1675 Movements
Rolex didn't only evolve the exterior of the GMT-Master 1675 but the movements inside the cases too. Regardless of the specific caliber, all GMT-Master 1675 watches run on automatic movements with two time zones and a date indicator. The two hands on all GMT-Master watches are synchronized, which means that setting the reference time requires rotating the bezel to align the appropriate numeral with the GMT hand. Moreover, all GMT-Master 1675 movements are non-quickset date ones, which requires continuously moving the hands past midnight to change the date in the window to the next day.
The very earliest examples of the GMT-Master ref. 1675 ran on the Caliber 1535 – which did not have the Microstella adjustment – and these rare variants are typically accompanied by "OCC" dials. However, Rolex quickly switched to the Caliber 1565 (with Microstella regulation and a frequency of 18,000bph) within the year and subsequently furnished the GMT-Master 1675 with the "SCOC" dial.
Around 1965, Rolex replaced the Caliber 1565 with the higher-beat Caliber 1575, which had identical functionality but operated at 19,600 beats per hour. Finally, in 1971, Rolex added the hacking feature to Caliber 1575, which means that the seconds hand comes to a complete stop when the winding crown is pulled out for precise time-setting.
GMT-Master 1675 Caliber Evolution
1959: Caliber 1535
1960 – 1965: Caliber 1565
1965 – 1971: Caliber 1575 without hacking
1971 – 1980: Caliber 1575 with hacking
GMT-Master 1675 Price and Collectability
Since the Rolex GMT Master 1675 was produced for such a long time, it is one of the easier vintage Rolex watches for collectors to acquire. However, clearly not all ref. 1675 variations are considered equal. Generally speaking, older models with coveted features like gilt dials and rare characteristics will be worth more to collectors than newer iterations with more common characteristics. Yet, for newer collectors that want to start a vintage Rolex collection, nearly any example of the GMT Master 1675 is an excellent place to start.
How Much Is A GMT-Master 1675?
As is the case with most vintage Rolex sports watches, prices for the GMT-Master 1675 can range from accessible to astronomical. Two-tone GMT-Master 1675/3 watches are generally the most affordable, starting just above $10,000.
Stainless steel GMT-Master 1675 "Pepsi" watches are the most popular versions, and prices typically start at around $12,500. However, prices can skyrocket if the GMT-Master 1675 has coveted details such as gilt dials, Pointed crown-guards, chapter rings, and so on. The most expensive GMT-Master 1675 ever sold was one worn by Marlon Brando in the film, Apocalypse Now, selling for almost $2 million at an auction in 2019. It was a steel GMT-Master 1675 (circa 1972) with a Mark 4 matte dial, a missing bezel, and fitted with a non-original strap along with a "M. Brando" engraving on the caseback done by the actor.
As expected, full 18k yellow gold GMT-Master 1675/8 watches can be pricey thanks to their precious metal construction. These vintage Rolex watches normally start around $25,000, and (generally speaking) the examples with brown dials and bezels often sell for a premium compared to those with black dials and bezels.
The GMT-Master 1675 is an absolute classic reference in the world of vintage Rolex sports watches. The abundance of variations makes it a particularly fun watch for seasoned collectors to study and pursue. On the other hand, iconic features like a Pepsi bezel and the practicality of dual time functionality are appealing for newer collectors too, and a Rolex 1675 will always hold a highly respectable place in any vintage luxury watch collection.