Rolex Operator's Manual: User Guide & Service Care
Widely considered to be some of the finest timepieces that money can buy, Rolex watches are built to last a lifetime. However, just like anything else, knowing how to properly care for your Rolex is an important part of ownership. Although Rolex watches require very little daily upkeep, there are some best practices to keep in mind when it comes to taking care of a Rolex.
Even with very little user input, Rolex watches will deliver many years of reliable performance. However, following a few simple and straightforward ownership tips will go a long way towards ensuring that your Rolex watch stays looking good and running properly until the time comes to pass it along to the next generation.
Rolex Watches
Current Rolex Collections
– Datejust / Lady-Datejust
– Oyster Perpetual
– Sky-Dweller
How to set time on a Rolex Sky Dweller
– Day-Date
– Pearlmaster
– Cellini
– Submariner
– Daytona
– Sea-Dweller / Deepsea
– GMT-Master II
How to set date on a Rolex GMT Master II
– Yacht-Master / Yacht-Master II
– Explorer / Explorer II
– Milgauss
– Air-King
Click here for our Ultimate Buying Guide on Rolex Watches.
How To Wind A Rolex
Every single watch in Rolex's current catalog now features an automatic self-winding movement. This means that as long as they receive daily wear, they will wind themselves and they will not require daily manual winding. However, despite being powered by automatic movements, Rolex watches can still be manually wound through the winding crown, just like a traditional hand-wind mechanical watch.
Even if you do not need to do it on a daily basis, it is still important to know how to wind a Rolex. Should you want for your watch to stay running on the days you are not wearing it, you can manually wind your Rolex to resupply tension to the mainspring. Additionally, certain vintage and discontinued Rolex models feature hand-wind only mechanical movements, and will require manual winding on a daily basis to guarantee uninterrupted performance. You can learn more about the Rolex perpetual movement here.
All modern Rolex watches now feature screw-down crowns (even the current-production Cellini models that do not officially feature the brand's waterproof Oyster cases). This means that the winding crown must first be fully unscrewed from the case before the watch can either be manually wound or set. Additionally, this also means that the winding crown on your Rolex must be completely screwed back down after winding or setting in order to ensure that it stays properly sealed against moisture and dirt.
Rolex Winding Instructions
Step 1: Unscrew the winding crown of your Rolex watch. Keep unscrewing the crown until it is fully free from the threads that secure it to the case. Do not pull the crown out at all (like you would to set the time or date); the natural position that the crown pops into once it is completely unscrewed from the case will be the correct position for manual winding.
Step 2: Once the winding crown is fully unscreed, rotate the crown away from you and towards the 12 o'clock location (clockwise). Rotating the crown in the opposite direction will not "unwind" your watch, but only clockwise motion will supply tension to the mainspring and allow your Rolex to be manually wound.
Step 3: For non-automatic Rolex watches, simply rotate the winding crown until you reach its natural stopping point. Once the crown stops rotating, the watch is fully wound; do not force it beyond this point, otherwise you risk damaging your watch. For Rolex watches with self-winding Perpetual movements, you will not reach a natural stopping point. Instead, give the winding crown a full 30 to 40 rotations, and your watch will be fully wound. You cannot "overwind" a self-winding movement, so do not worry about damaging your watch by rotating the crown too many times.
Step 4: Once your Rolex has been fully wound, it is important to always remember to screw the crown back down to the case in order for it to be properly sealed (provided that your Rolex has a screw-down winding crown). Push the crown of your watch inwards and rotate it clockwise until it is fully screwed down back to the side of the case.
How To Clean Your Rolex
If you wear your Rolex on a daily basis, it is only natural for it to get a bit dirty over time. Although anything in regards to the internals of your watch or its functionality should only be addressed by a trained professional, there are a number of things that you can do to clean your Rolex and help ensure that your watch always looks its absolute best. Here are a few quick and easy tips for how to clean a Rolex.
For Rolex watches that do not have waterproof Oyster cases or screw-down winding crowns, you are going to want to keep them away from water and other cleaning solutions to ensure that your watch does not experience any moisture intrusion. For these models, simply wiping down the external surfaces of your watch with a clean microfiber cloth is the best course of action, as there is no risk of your watch sustaining incidental moisture damage.
However, for Rolex watches that feature the brand's signature Oyster case, you can use soap and water to more thoroughly clean your timepiece. With that in mind, it is important that you are first certain that your watch is properly sealed. If you have not had your Rolex's gaskets checked in more than a couple years or so, it might be worth first getting that done so that you can clean your Rolex without the potential worry of water getting inside its case.
Lastly, it is important to note that you can remove the strap or bracelet from your Rolex watch to make cleaning it easier. Additionally, with the bracelet fully removed from the watch, you can use other cleaning methods such as an ultrasonic cleaner to more thoroughly wash your bracelet without the potential worry of damaging your watch.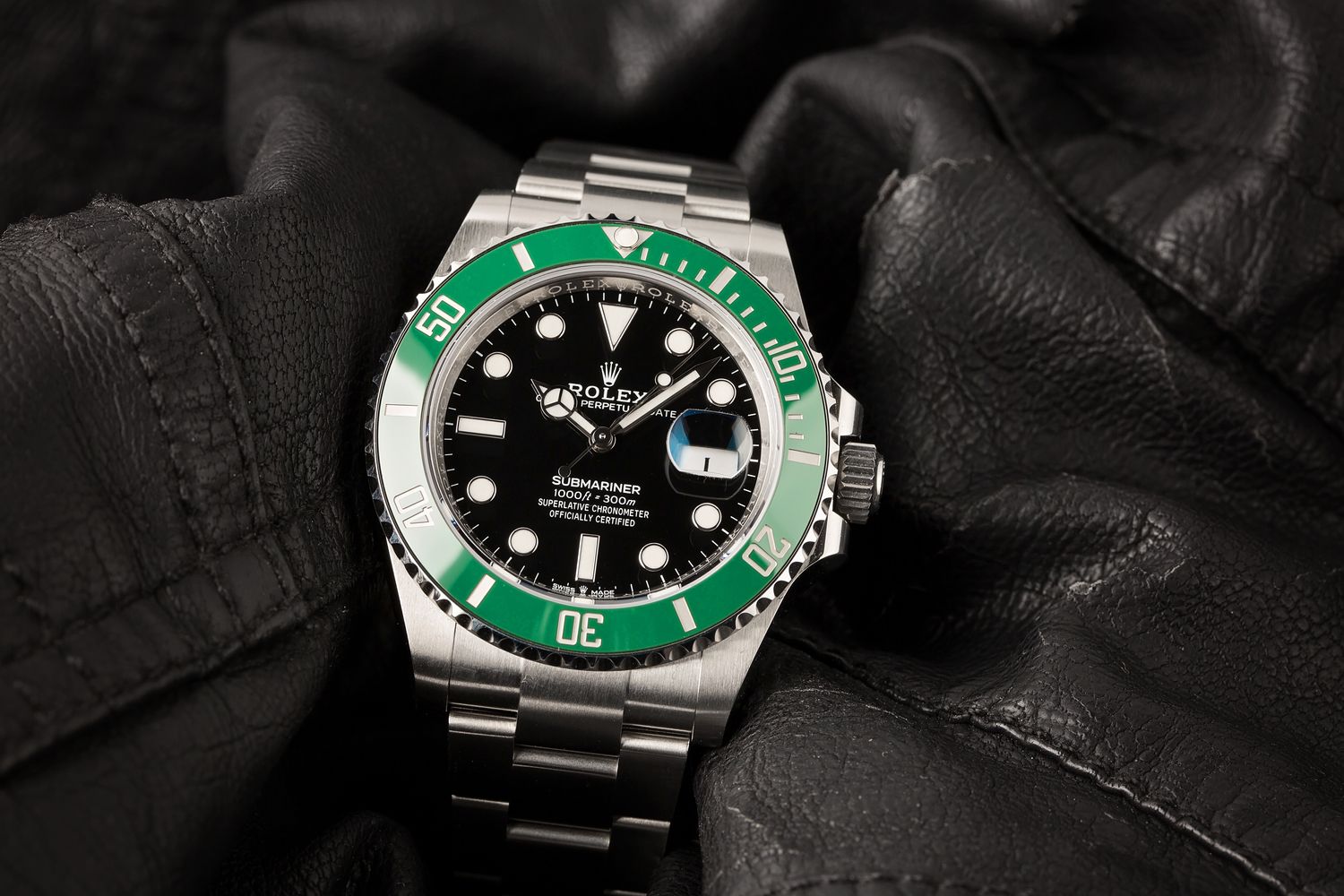 Rolex Cleaning Instructions
Step 1: First and foremost, make sure that your winding crown is all the way screwed down to the side of the case. The water resistance of Rolex watches is contingent on their winding crowns being fully screwed down, so before you start cleaning your Rolex, first make sure that the crown on your watch is completely in the screwed-down position.
Step 2: Fill a bowl with warm water and a small dab of mild, ammonia-free soap. Make sure that the water is warm and not hot, as hot water can put excess strain on the rubber gaskets that help keep out water. Additionally, it is always recommended to use a gentle, mild soap, as cleaning solutions with abrasives or strong chemicals run the risk of damaging your watch or the surface finish of its various components.
Step 3: Gently scrub the outer surfaces of your watch with a soft-bristled brush. If you do not have one available, an extra soft toothbrush will also work. Just be careful not to use a hard or wire brush, as this will damage the polish and surface finish of your watch. The warm water and soap will help to remove the dirt and grime that is stuck to the case, while the brush's bristles will allow you to scrub all of the different hard-to-reach places, such as the small gaps between the lugs and bracelet links.
Step 4: Once you have removed all the stuck dirt and grime and are done scrubbing your watch, the next step is to thoroughly rinse your Rolex under warm water to wash away any leftover dirt particles and soap residue. If not removed from the watch, residual soap can trap dirt particles and these particles can sometimes act as an abrasive or cause outer components such as rotating bezels to freeze up. Completely rinsing off your watch after cleaning helps to guarantee that this will not be a factor after you have cleaned it.
Step 5: After thoroughly rinsing off your watch, the last step is to dry it off with a clean microfiber cloth. It is important that the cloth you use is both clean and entirely free from any cleaning and polishing compounds, as these can sometimes damage the surface finish of your watch's components. Similarly, it is also important that the cloth you use is soft (microfiber works best), as this will help guarantee that you don't accidentally scratch your watch while you are drying it.
How to Remove Scratches from a Rolex
After extended periods of daily wear and use, your Rolex watch may pick up small scratches and scuffs on its external components. Scratches to its various metal parts can be remedied through polishing and refinishing; however, it is important that this only ever be done by a trained professional.
The polishing process requires the removal of a tiny amount of material from the surface of the components. If done improperly, polishing can permanently alter the shape of a watch's parts or even destroy them completely. Polishing a Rolex requires the disassembly of its case and the removal of its internal movement. Consequently, polishing is typically done as a part of the service process, and it is recommended to simply leave any scratches your Rolex might get until the next time that your watch is serviced.
With that in mind, for older vintage Rolex watches that are fitted with acrylic (plexiglass) crystals, you can easily remove lighter scratches and scuffs without the worry of accidentally damaging your watch. While acrylic is significantly more prone to scratches than synthetic sapphire, any marks and scratches can easily be remedied by using nothing more than a soft cloth and some polishing compound, such as PolyWatch.
To remove scratches from a Rolex acrylic crystal, simply put a small dot of polishing compound on your crystal, and then apply even pressure while rubbing it with a clean soft cloth for about 2 to 3 minutes. Use of a soft cloth is crucial here (microfiber works best), as a rough material actually runs the risk of creating more scratches on your crystal.
You can repeat this crystal polishing process as necessary to remove deeper scratches and scuffs. It is important to note that it may not be possible to entirely remove certain deep scratches and scuffs; however, polishing your acrylic crystal is a quick and easy way to maintain the appearance of your Rolex watch without needing any specialized tools or advanced professional experience.
How To Service Your Rolex
Unless you are a highly experienced professional watchmaker, it is not possible to service a Rolex on your own. Rolex watches are precision mechanical objects and properly servicing them required both expert knowledge and the use of specialized tools. With that in mind, sticking to a regular service schedule will go a long way towards guaranteeing that your Rolex watch stays in top mechanical and cosmetic condition.
Service of a Rolex includes the complete disassembly of the watch and its internal movement, thorough cleaning of all components, replacement of worn or damaged parts (as needed), reapplication of all lubricants, adjustments and timing calibration, and polishing and refinishing of external parts (if desired by the owner).
Rolex recommends a full overhaul and service about every ten years, and since this involves the complete disassembly of the watch, you should only ever have this done by either a highly experienced professional watchmaker or by one of Rolex's own in-house service centers.
Additionally, not all certified professional watchmakers are even able to service Rolex watches - not because it is outside of their skill level, but simply because they do not have access to genuine Rolex replacement components. Knowing how to service a Rolex watch is one thing, but being able to secure genuine replacement parts is just as important as the technical know-how itself. Rolex keeps an incredibly tight control over the supply of its parts, and only watchmakers with a parts account with Rolex can buy genuine replacement components. It is imperative that only 100% genuine components be used in the service or repairs of a Rolex, so should you choose to have your watch serviced by an independent watchmaker, it is crucial to verify that only original Rolex parts be used in the service process.
Lastly, it is also important to note a couple of the key advantages and disadvantages of having your watch serviced by an independent watchmaker versus one of Rolex's own service centers. Generally speaking, independent watchmakers will often be less expensive than Rolex, and you will also typically have a much greater say in the process of what gets done to your watch. If you have a vintage Rolex watch where a significant portion of its value and collectibility is due to the fact that it still has all of its original components, you may want to seek out an independent watchmaker who will not mandate the replacement of those components.
However, one of the main drawbacks to having your watch serviced by an independent watchmaker is that there are certain watches that Rolex has not yet allowed independents to service. Therefore, even though they have a direct purchasing account with Rolex, certain models will still need to be serviced by one of Rolex's own service centers. Furthermore, there are also certain components that Rolex simply will not sell to independent watchmakers. For example, if your watch requires a replacement case, that will require issuing it a new serial number, and only Rolex is able to do that.
When choosing an independent watchmaker for the service of your Rolex, it is incredibly important to find one that is honest and reputable. Beyond the actual work not being done correctly, there are many other things that an unscrupulous watchmaker can do inside a Rolex, that will either damage it or destroy its value, and you may be entirely unaware that this has happened until the next time that you have your watch opened up. Consequently, it is always important to read customer reviews, and get confirmation from the service center that only genuine Rolex components will be used in the repair or service of your watch.
How To Wear Your Rolex
How to wear a Rolex may sound entirely obvious - and it is - but there are still some tips you should always keep in mind to help ensure that your watch looks its best and remains comfortable on your wrist. That being said, personal preference will always be paramount, so you should always wear your Rolex in a manner that is comfortable and natural for you, even if the classic rules of how to wear a watch dictate otherwise.
For starters, you want to wear your Rolex just above your wrist, rather than on the actual wrist bone itself. In addition to the fact that it can often be a bit uncomfortable to wear your watch on top of your wrist bone, wearing your watch just above your wrist helps ensure that the winding crown does not dig into the back of your hand.
Most people choose to wear their watches on their non-dominant hand. For right-handed people, this means they will wear their watches on their left hand, and visa versa for those that are left-handed. However, most watches are configured for right-handed people, and so often things such as winding crowns and chronograph pushers are positioned on the right hand side of the case so that they can be manipulated by a person's right hand.
Additionally, in the same way that it is important to have a watch that is not too big or small for your wrist, the same goes for its strap or bracelet. If a bracelet is too loose, the watch will flop around and look sloppy. If your Rolex bracelet is too tight, the watch will simply be uncomfortable to wear - especially if your wrist swells at all throughout the day. Many Rolex watches have claps that offer some degree of adjustment, but depending on your wrist size, it may be necessary to add or remove links to ensure that it fits your wrist correctly. Again, personal preference will be paramount here, but having our Rolex's bracelet properly fit your wrist will go a long way towards ensuring that it is comfortable to wear and always looks its best.
Lastly, Rolex makes many different types of watches, so you can also choose a watch model that matches the occasion. Going on vacation to a tropical beach? Try wearing one of Rolex's legendary dive watches such as the Submariner or Sea-Dweller that offer plenty of water resistance. Going on a business trip where you will have numerous layovers and conference calls with multiple timezones? Grab a GMT-Master II or Sky-Dweller and make tracking multiple timezones a breeze. Headed to a formal black tie event? Try one of Rolex's Cellini dress watches for the ultimate in understated refined luxury. In truth, you can wear almost any Rolex watch to any occasion, but matching your Rolex watch to what you will be doing allows for the absolute perfect pairing.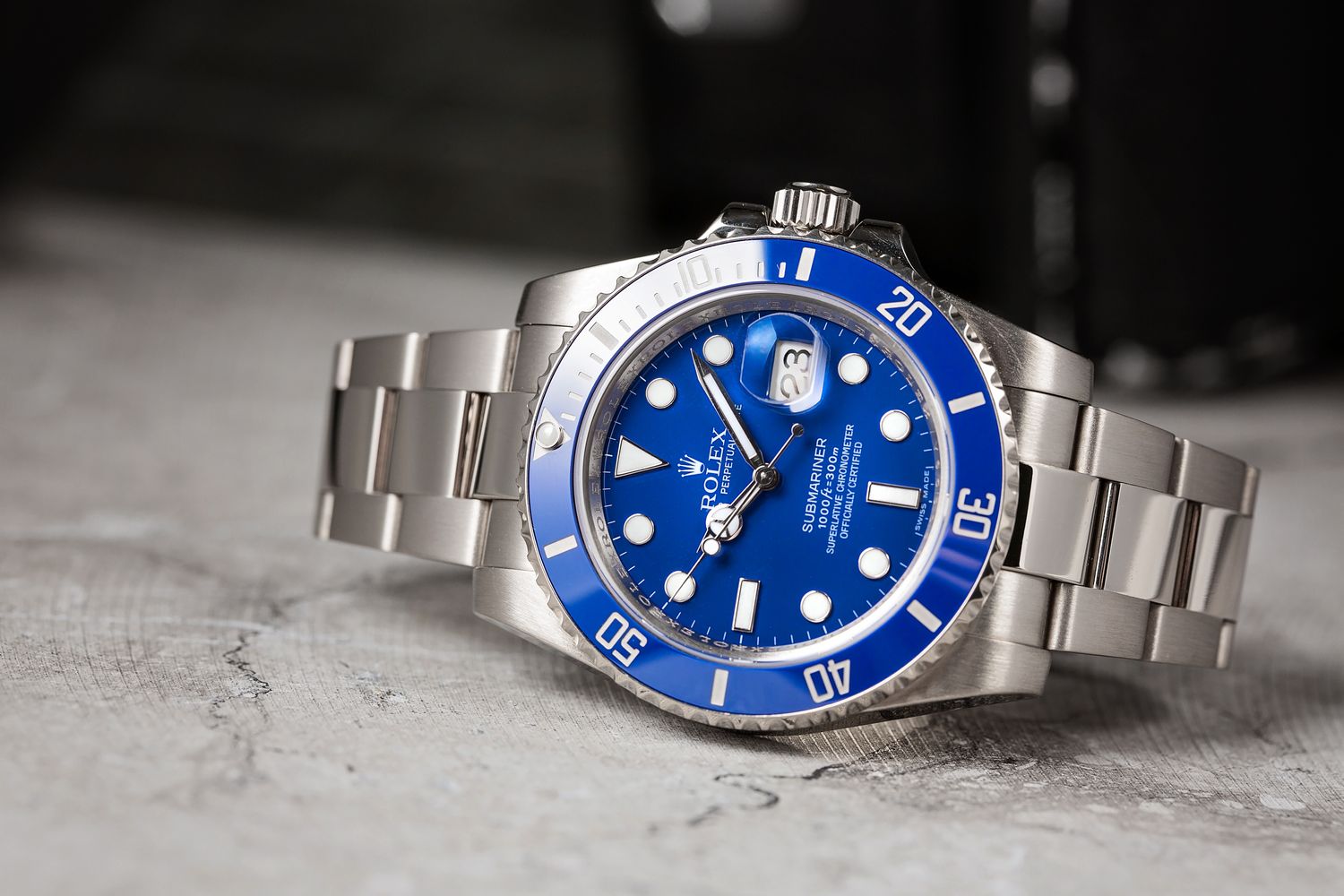 How Often To Wear a Rolex
Rolex watches are designed to be worn regularly. In fact, your Rolex watch will actually stop running if you do not wear it for more than a couple days at a time. With the exception of Rolex's various manual-wind and quartz watches (which have all been discontinued), all Rolex watches run on self-winding Perpetual movements that wind themselves automatically throughout the course of the day by using the natural motion of the wearer's wrist.
Most Rolex watches have power reserves that range between 48 and 72 hours. This means that if your watch is fully wound when you take it off your wrist, it will run for an absolute maximum of two to three days before it will come to a stop. Should you wish for your watch to stay running during the days that you do not wear it, you will either need to manually wind it each day or use a watch winder that will automatically rotate your watch and allow it to wind itself just like it would on your wrist.
For some Rolex owners, their watch is something that they wear every single day. However, others choose to only wear their Rolex watches on special occasions and this is completely fine. Letting your Rolex stop running will in no way damage it; however having it remain entirely stopped for very long periods of time is not recommended, and it is advised to have your Rolex run every now and then to ensure that the lubricants do not prematurely dry out or migrate.
For those that wear their Rolex watch every day, very little user input is required on a daily basis. The natural motion of your arm will ensure that your Rolex stays wound, and other than adjusting the time and date as needed, you will not have to do anything with your watch other than strapping it to your wrist each day and enjoying it. Naturally, the more you wear your Rolex, the more likely it will be to pick up superficial scuffs and scratches, but this will all be easily remedied at your next service. Read our full article on how to keep your Rolex watch in good running condition.
Rolex built much of its now-legendary reputation by producing reliable tool watches that were specifically designed to thrive in some of the most demanding and extreme conditions on earth. Rolex watches have been worn by everyone from world-class explorers to military personnel; if a Rolex is tough enough to be worn on the summit of Mount Everest or hundreds of feet below the surface of the ocean, it is more than capable of standing up to the rigors of everyday wear and use.
How to Spot a Fake Rolex
Rolex is the number one most counterfeited brand in the entire world. The widespread notoriety of Rolex watches and their universal appeal make them a popular target for counterfeiters, and it is estimated that there are now actually more fake Rolex watches in existence than genuine examples in circulation.
Fake Rolex watches can come in a wide variety of different levels of quality and detail. At the low end of the spectrum, you can expect to find some pretty obvious fakes where even an untrained eye will be able to spot them. However, in more recent years, there has been a significant increase in the number of "super fakes" - highly convincing replica watches that often require partial disassembly and the use of magnification in order to identify that they are actually counterfeits
When trying to spot a fake Rolex watch, it is first important to verify that the watch actually does what it is supposed to do. If the watch in question is a GMT-Master II or Explorer II, its local hour hand should be able to be jumped backwards or forwards in one-hour increments. If the watch in question is a Rolex Daytona, the chronograph pushers will start, stop, and reset the chronograph complication. Many of these mechanical features are rather expensive to produce, and many fake Rolex watches will simply look like the genuine examples, but not exactly function like they should.
Beyond that, it is always important to look at the details of the watch in question. Rolex watches are considered to be some of the finest timepieces that money can buy. If you see sloppy printing, misspellings, serious alignment issues, or anything else that does not seem consistent with a multi-thousand dollar watch, then there is a pretty good chance that the watch in questions might be a fake.
For more information on how to spot a fake Rolex, be sure to check out our How to Spot a Fake Rolex Official Guide, where we break down exactly what to look for when trying to identify a potential counterfeit watch, including how to spot a super fake Rolex.