As much as we like to talk about watches being these highly personal objects of our affection, they're increasingly becoming a bonafide commodity. Last year, the New York Times even wrote an article about how the wealthy are 'diversifying' their portfolios with luxury watch investments. That's right. The rich are getting richer by buying awesome luxury watches.
And while I don't personally think you should start a watch collection with the sole goal of making a profit, I do understand that people want to make good investments. So when I get asked what Rolex watches hold their value best, I always tell people the Daytona. In fact, I'd put money down that those wealthy people the New York Times are talking about have invested in at least one. Here's why.
The Rolex Daytona has an incredibly rich history
The Daytona has one of the most storied histories of all Rolex models. Named after the famous Florida track to attract an American audience, this bold watch was mostly scoffed at until Paul Newman strapped one on and instantly made it cool – like really cool. With a stark face defined by three sub-dials and a bezel engraved with a tachymeter scale, this watch would go on to define an entirely new era of watchmaking. The Paul Newman endorsement made this watch far more famous than Rolex could have ever imagined, making first-generation models (produced in relatively low numbers starting in 1963 and only lasting about 15 years) worth a pretty penny.
The second generation, which debuted in 1988, has today reached cult-status for its introduction of the Zenith automatic movement. The third and final generation, which was ushered in with the new millennium, finally boasted an in-house Rolex chronograph movement, also making it an icon in its own right, too. With relatively short production runs and major advancements debuted in each generation, the Rolex Daytona has become inherently valuable. Backed by cultural affinity, the watch's popularity is further bolstered by its icon status that adds immense value due to its desirability.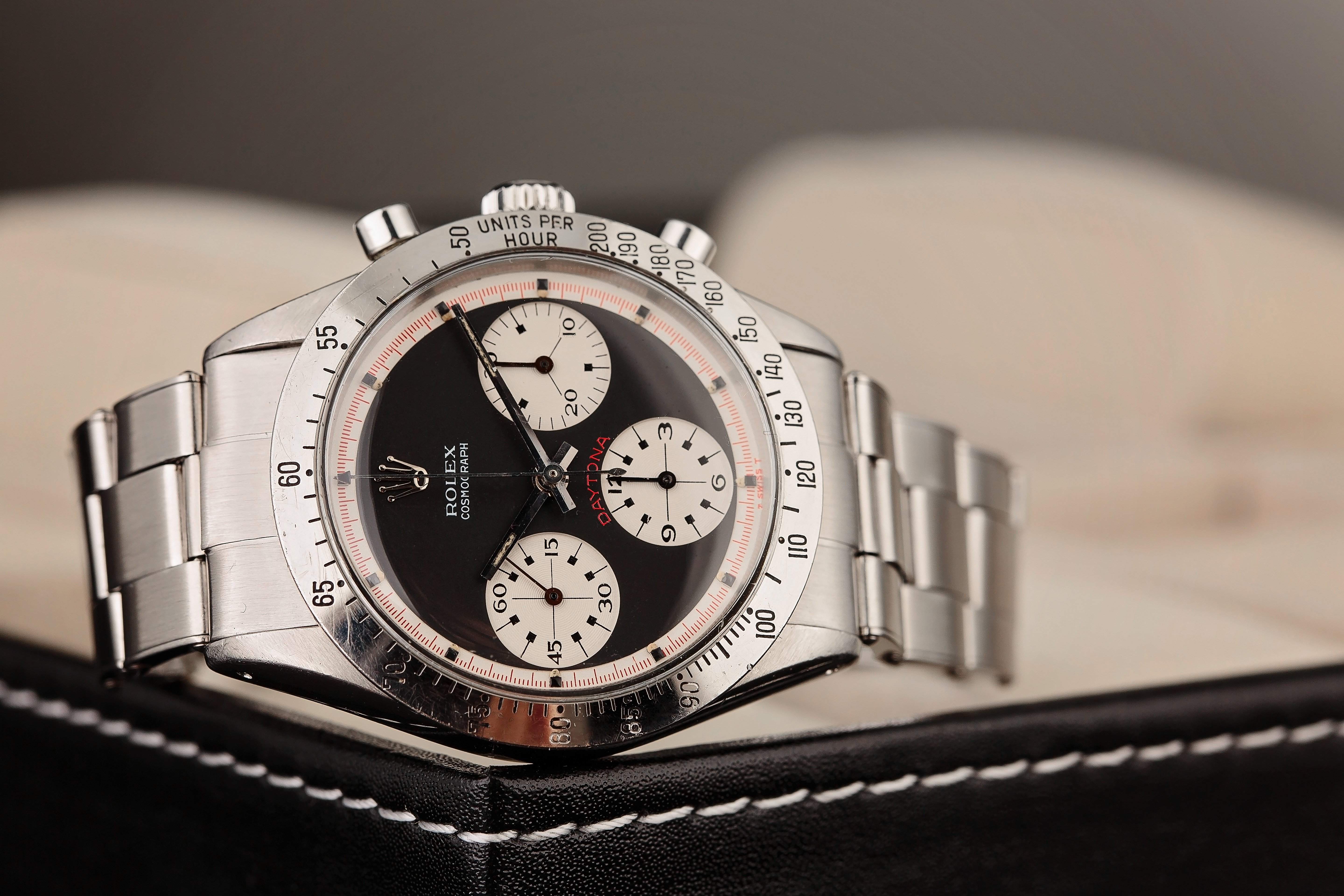 Vintage Rolex Daytona watches are unique and rare
To put it simply, the reason vintage Daytona's are so valuable is because they are relatively unique and rare. When it comes to the first generation of Rolex Daytona watches (which many consider the only true vintage Daytona's) they can be found with a variety of dial variations, with the Art Deco style 'exotic' dials (better known as 'Paul Newman' dials) sitting at the very top in terms of value, desirability, and scarcity. The extreme rarities occur with small dial changes like 'floating text,' retailer signatures like 'Tiffany' and swapping out "Rolex Oyster Cosmograph" for "Rolex Cosmograph Oyster" – among many others.
The Paul Newman dial is simply famous because it is the kind the actor and racecar driver used to sport. However, these 'exotic' dials were produced in significantly smaller quantities than the standard dials, and since they were considered to be relatively unpopular at the time, few have managed to survive today. Another example of a desirable dial variation would be the 'tropical' dials which are highly sought after for their discolored faces that have naturally faded over time. It's due to an abnormality in the finish that turns the black dial or sub-dials to brown; however, many collectors covet this hard-to-find anomaly. While certain unique qualities make specific references within the first generation exceptionally rare, the fact that the original generation of the Rolex Daytona (including all the different references) was only produced for roughly 15 years makes any first-generation Daytona inherently valuable to own.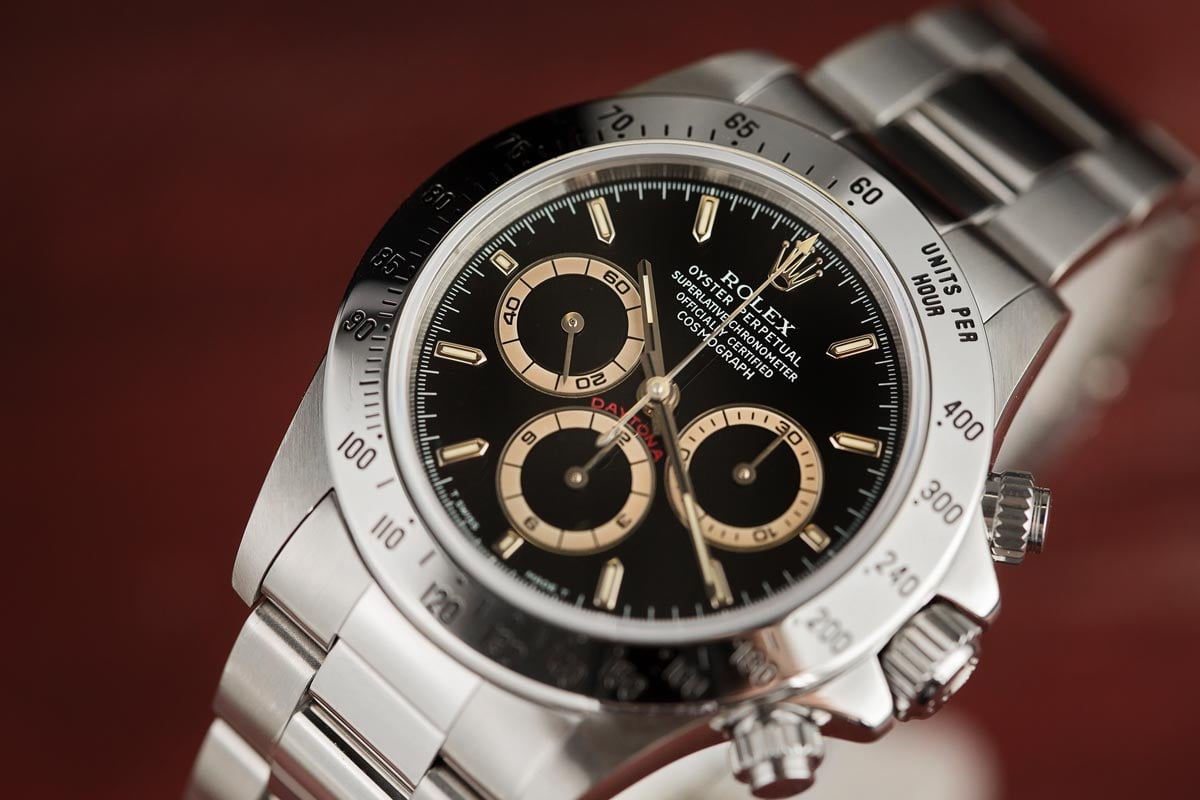 New Rolex Daytona models Hold great value
The second generation of Rolex Daytona watches (produced between roughly 1988 and 2000) has been holding great value for those who invested in it during its time – propelling stainless steel models into the $20k range. And as these watches continue to increase in age, based on how well the current vintage models are doing, we can expect to see great value here as well. Not only are these watches special because they were the first Daytona models to introduce an automatic movement, but they are also rare due to a 12-year production period. Additionally, this generation of Rolex Daytona was the last Rolex model to not feature an in-house movement, making it all the more unique among the various watches from Rolex's history.
Finally, there's the third generation of the Rolex Daytona. This one has the longest production run, hitting 20 years this year. Nonetheless, we've seen this watch hold value incredibly well due to the fact that each year Rolex only produces a finite number of models. It's increasingly difficult to get your hands on a modern Daytona, with the stainless steel versions ranking among the most desirable watches in the world. The Rolex Daytona has become a true status symbol for the rich and famous, and stainless steel third-generation Daytona watches are selling for roughly twice their original retail prices on the secondary market. Overall, because of the Rolex Daytona's rich history, cultural-icon status, and low production numbers, both new and vintage Daytona references hold their value better than almost any other watch on the planet – and we don't see that changing any time soon.