When it comes to investing in luxury watches, the fit on your wrist is just as important as the timepiece's price or condition. If it doesn't suit your wrist, you will be less likely to wear it, and the watch might end up not being worth the investment. If you can't wear it comfortably, then what is the point? That begs the question, how does one determine the right size for his or her wrist? Also, what are the best watches for a small wrist? And where can one buy them?
The market is currently booming with large, oversized timepieces. Even Rolex has gotten into the game with an increasing number of options with case diameters exceeding 40mm. Current trends aside, there is a perfect luxury watch on the market for any wrist, and this guide will help you find yours.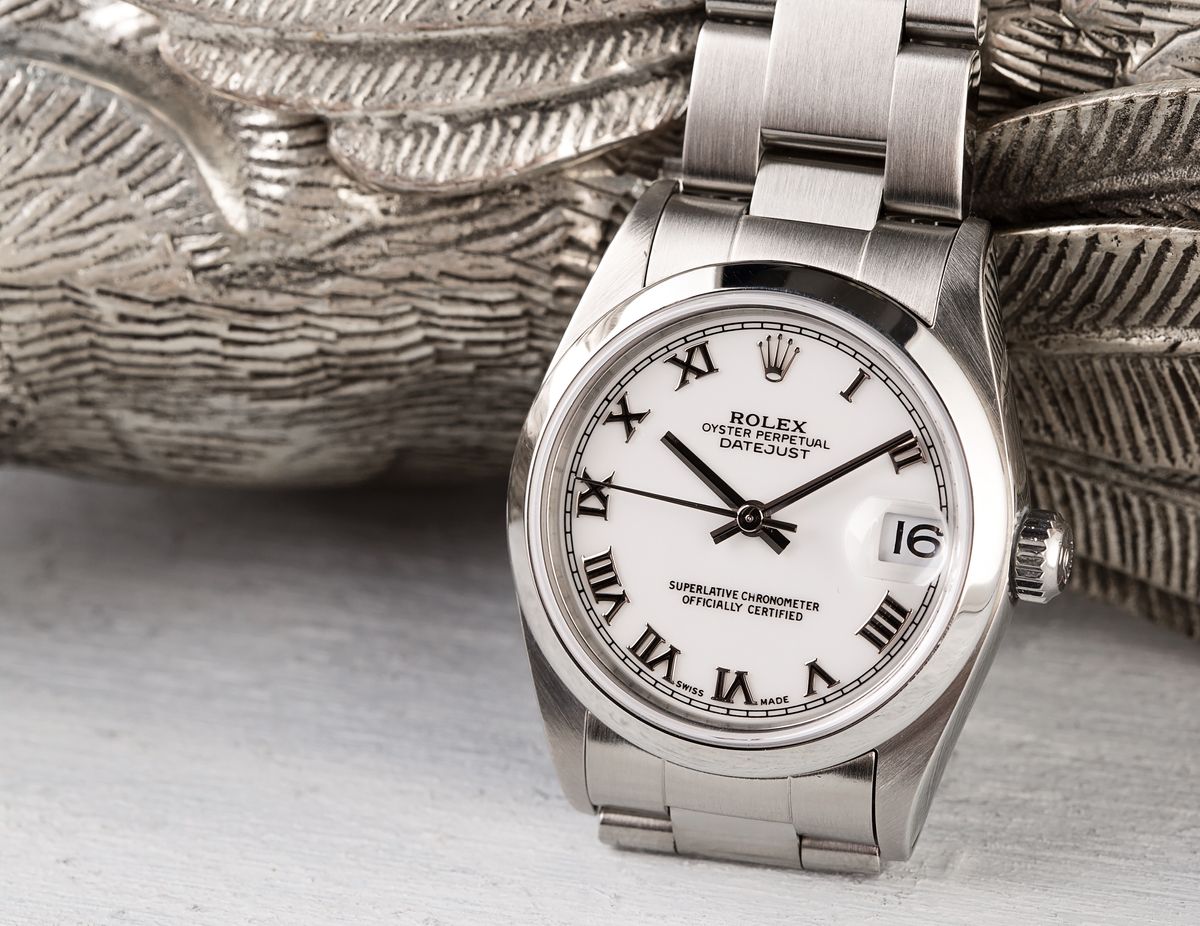 Watch Sizes Explained
A watch's size can be described in several ways. The most common is by the case diameter. For example, the most iconic version of the Rolex Datejust is 36mm in diameter. The average sports watch in Rolex's portfolio measures 40mm (although this seems to be increasing in recent years). For many collectors with a slender wrist, 36mm is a nice size and weight, while 40mm might be slightly on the larger side.
From there, the size is also characterized by the case thickness and also from lug to lug across the length of the case. If the watch has a slim profile or more tapered lugs, it might be easier to forgive a larger diameter because it will hug the wrist more effortlessly. Likewise, if the distance from lug to lug is too long for your wrist, the watch will protrude over the sides and may feel a bit uncomfortable. Additionally, the type of watch can also influence its perceived size on the wrist. For example, both the Datejust 41 and the Submariner have case diameters of 41mm, but the Datejust will likely wear slightly larger since its dial makes up a greater proportion of its overall size.
Other factors to consider are the size of the crown, pushers, and hour markers. These features can significantly impact how the watch appears on the wrist, even if the watch's size is one that you are normally comfortable wearing. The type of bracelet can also affect the way a watch wears. For example, metal bracelets typically wear larger than leather straps, and the amount of taper in a bracelet or strap can also alter the perceived size of a watch on your wrist. The case diameter only gives you an approximation of size; these other factors are important to consider when buying a new watch.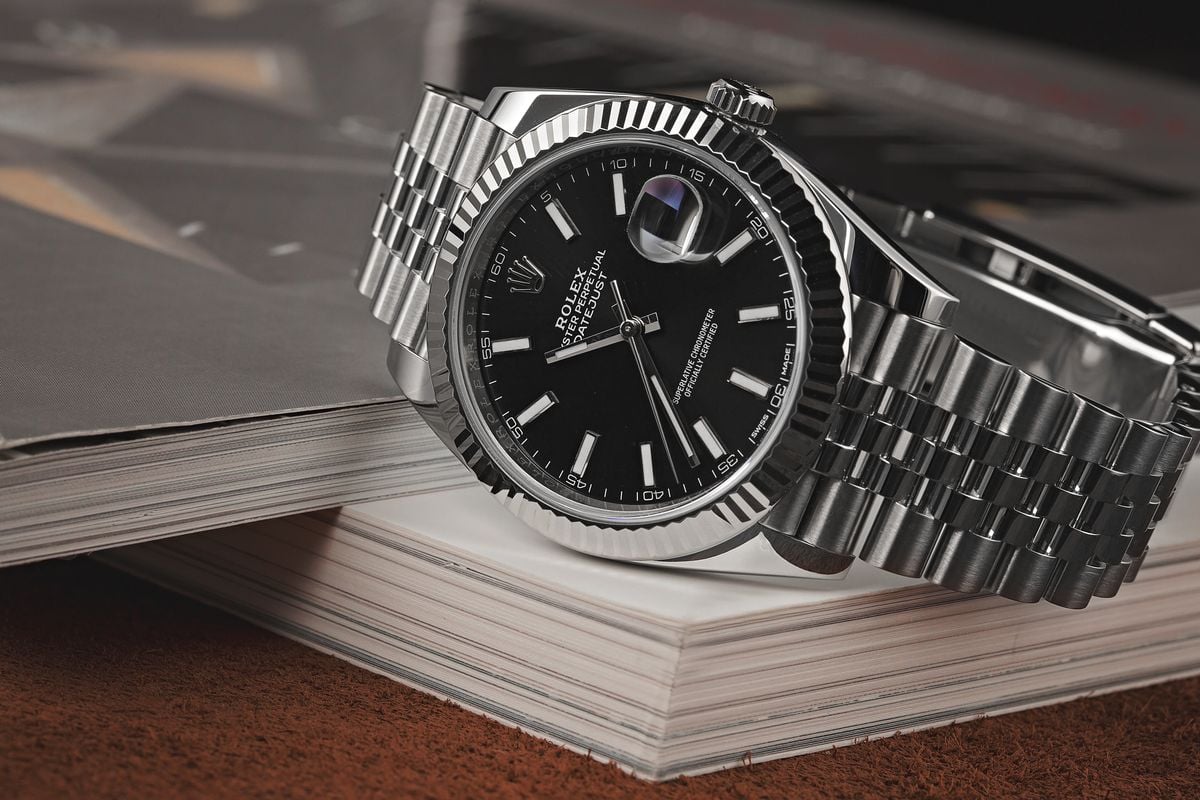 How to Measure your Wrist
Using a tape measure or string, measure around your wrist at its largest point with your palm facing up and your hand open. This position will ensure the most accurate measurement possible. Slender wrists (for men) usually fall between 6" and 7" – although this scale is subject to the individual wearer and their specific preferences for how they like a watch to fit on their wrist.
How to Find the Right Size Watch for your Wrist
Now that you know your wrist size, it's time to find the perfect watch for you. Starting with the bracelet, a general rule is to allow yourself a little extra room if it is a metal bracelet, although this is entirely up to the wearer. Since most metal bracelets will be a fixed length, a little bit of extra room from sizing up will help prevent your watch from feeling too snug and becoming uncomfortable.
The argument for sizing up is that as the temperature fluctuates throughout the day, the wrist might expand. If the bracelet is fitted to your wrist's exact measurement, it might become too tight as you go about your day. Some brands, such as Rolex, include clasps that offer extension systems, which allow wearers to adjust their bracelets on the fly to help guarantee a tailored fit. If you bracelet does not offer this micro-adjustment functionality, it might be worth going a size up.
Just like the bracelet, the case size is entirely up to the wearer. Those with a smaller wrist will find most watches under 40mm suitable. However, watch tastes are different among collectors. Some love how a larger watch looks on the wrist, in which case 40mm or larger might suit them. On the other hand, others might prefer a modest timepiece that is perfectly proportionate to their wrist.
Let's assume the wearer has a slender wrist and would like a watch that hugs the wrist nicely with lugs that don't protrude over the sides. If their wrist measures around 6", a 34mm or 36mm timepiece will suit them nicely. If the lug-to-lug measurement isn't too long, a watch in the 40mm category might also be appropriate.
If the wrist measures between 6.5" and 7", anything from 36mm to 40mm should be comfortable. Again, depending on the measurement between the lugs, something larger than 40mm might also be suitable. These measurements are completely subjective and are meant as a general guide. As we've already mentioned above, watch tastes vary.
Wrist Shape Also Matters
Lastly, it is also important to note that the actual shape of your wrist can also influence the size of the watch that you can comfortably wear. For example, two different wrists may both share the same circumference measurement of 6.5 inches; however, if one wrist is flatter in its shape, while the other is more circular, the flatter wrist will likely be able to wear a slightly larger watch, simply because the top surface area of it is larger.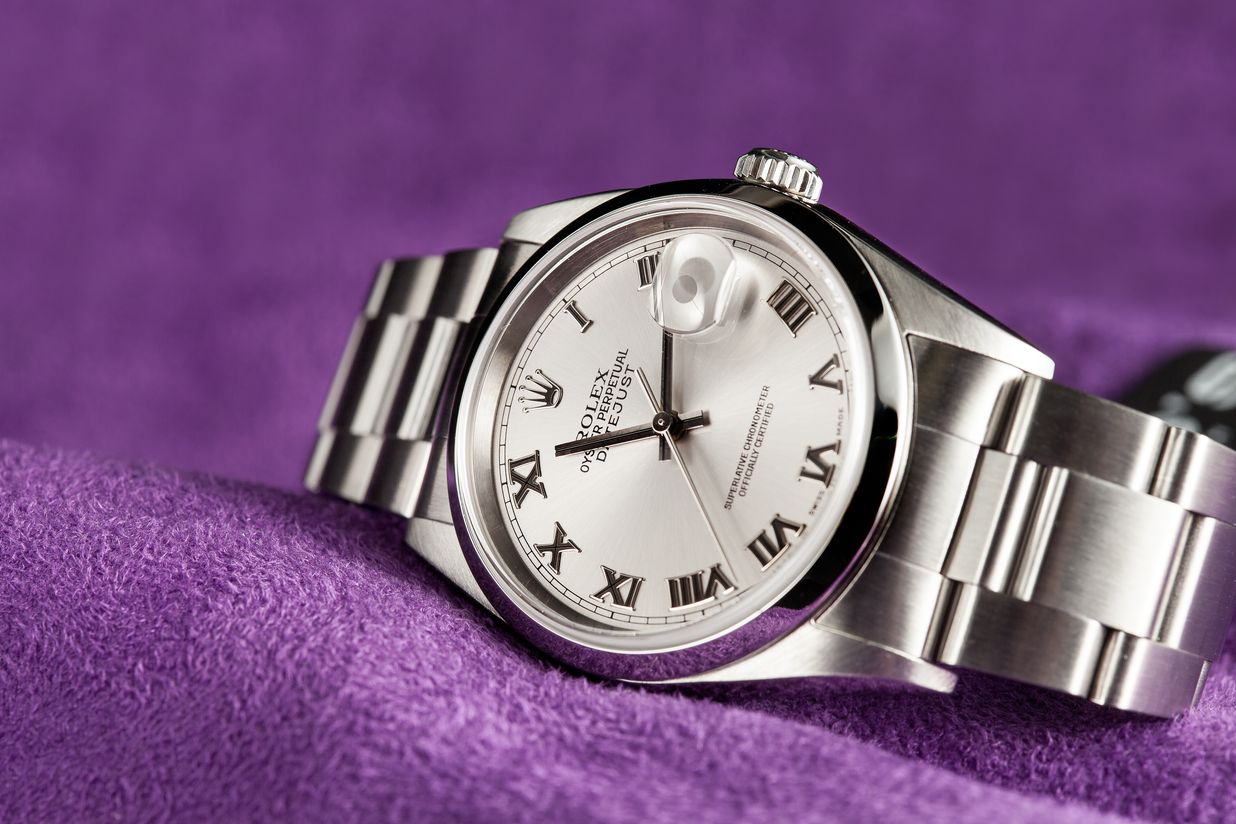 Types of Watches
Most luxury watches can be broken into two main categories: Dress and sport. From there, dress watches can also be defined as formal or casual, while sports watches are often divided into "professional" categories that commonly include dive, pilot, and motorsport. These are many other types of sport and tool watches, but these are just a few of the most popular examples currently available on the luxury watch market.
Dress Watch:
This category includes more luxurious timepieces in either steel, two-tone, gold, or platinum that look suitable tucked under the sleeve of a black tux or business suit. They're often simple in design and function, and they often feature a thin profile that wears easily under the cuff of a tight dress sleeve.
Casual Watch:
Casual watches are just that. They look best when worn casually or as part of a person's daily wardrobe, and they don't often include precious metals or gemstones. A typical casual wristwatch might include timeless and classic model, such as a stainless steel Datejust or Oyster Perpetual.
Sports Watch:
Timepieces within the sports watch category often perform a specific set of functions, such as a diver's scale or stopwatch functions. They're typically designed with a lifestyle, sport, or specific profession in mind, although watches from this category will ultimately appeal to collectors of all walks of life. They're often rugged and durable. However, in the right setting, they're also suitable for just about anything. Just think of James Bond wearing an Omega Seamaster or Rolex Submariner with his tux, but more on that later.
Pilot Watch:
Pilot's watches often have highly-legible dials and feature movements with dual-time functionality. A legible display is certainly a necessity, as is a tough case. One of the most iconic pilot's watches in the world is the Rolex GMT-Master, which includes a rotating 24-hour bezel and dedicated GMT hand on the dial.
Dive Watch:
The primary objective of any dive watch is to offer a significant level of water-resistance. A high-contrast luminous dial is also a must, as the wearer might often find themselves keeping time in low-light conditions.
Motorsport Watch:
Most watches that fall under this category include chronograph (aka stopwatch) functionality. The chronograph mechanism typically includes pushers to engage and stop the stopwatch function and corresponding registers on the dial to measure elapsed time. The Rolex Daytona is one of the most recognizable motorsport watches in the world and it also includes a tachymeter bezel meant for calculating driving speeds.
Vintage Watch:
Decades ago, 36mm was considered large, and most of the timepieces produced during this era were modest in both size and design, and typically had cases much smaller than even that. Coupled with irresistible retro styling and often a handsome patina that can only be earned through the test of time, the vintage watch category is hard for many smaller wristed gents to resist.
Best Small Watch Models to consider
Rolex
Rolex Watches for Slender Wrists
– Datejust
– Day-Date
– Date
– Oyster Perpetual
– Yacht-Master 37
– Explorer
Click here to learn more about Rolex watches.

Rolex is one of the world's most coveted luxury brands. With an ever-expanding pre-owned market, there has never been a better time to finally add your grail Rolex to your collection. If it's a classic dress watch that you desire, the Date in 34mm and classic Datejust 36 are some of the best Rolex watches for smaller wrists. The Oyster Perpetual is another popular gents watch available in a broad range of case sizes, including 31mm, 34mm, 36mm, 39mm, and just recently, 41mm. And if you really want the flagship offering from Rolex, the classic Day-Date 36 also makes for a perfect fit on slender wrists.
If you're in the market for a sport or tool watch from Rolex, the Yacht-Master 37 also offers a modest size and weight perfect for many slender wrists. The lugs are nicely tapered, and the midsize edition is available on either an Oysterflex or Oyster bracelet. It exudes the classic tool watch aesthetic that many collectors seek without the larger diameter. The Rolex Explorer at 36mm or 39mm is another great option with more modest styling that offers a smooth bezel and a simple, time-only dial.
Omega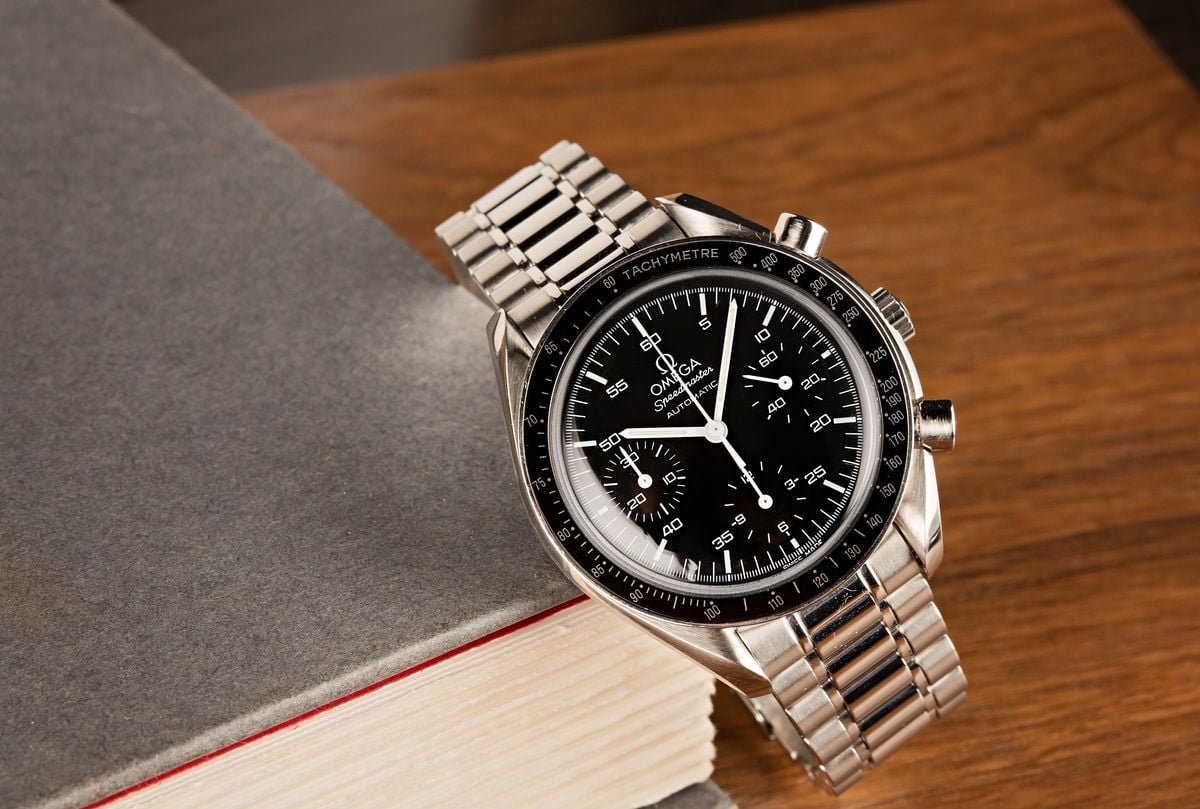 Omega Watches for Slender Wrists
– Speedmaster Reduced
– Mid-Size Seamaster Diver 300M
– Speedmaster Racing
– Speedmaster 38
– Aqua Terra
– Constellation
Click here to learn more about Omega watches.

The Speedmaster Reduced is a few millimeters smaller than the standard 42mm edition. Measuring 39mm in diameter, the Reduced edition of the iconic Moon Watch caters to those with a smaller wrist without sacrificing the famed chronograph styling that has accompanied the watch for decades. Although the Speedmaster Reduced has been discontinued, Omega still offers a smaller Speedmaster watches in the form of the Speedmaster 387 and Speedmaster Racing.
For many years, James Bond was depicted with a Rolex Submariner strapped to his wrist. At 40mm in diameter, the Submariner pushes the boundaries on what will suit a smaller wrist. However, in the 1990s, Pierce Brosnan took over as Bond, who now wore an Omega Seamaster Professional Diver 300M on his wrist. Unlike the Submariner, the Omega Seamaster is available in a broader range of case sizes. If you're keen on owning a James Bond watch, consider the mid-size version of the classic Seamaster Diver 300M, which offers all of the same stylings as 007's watch, just in a noticeably more compact package.
Breitling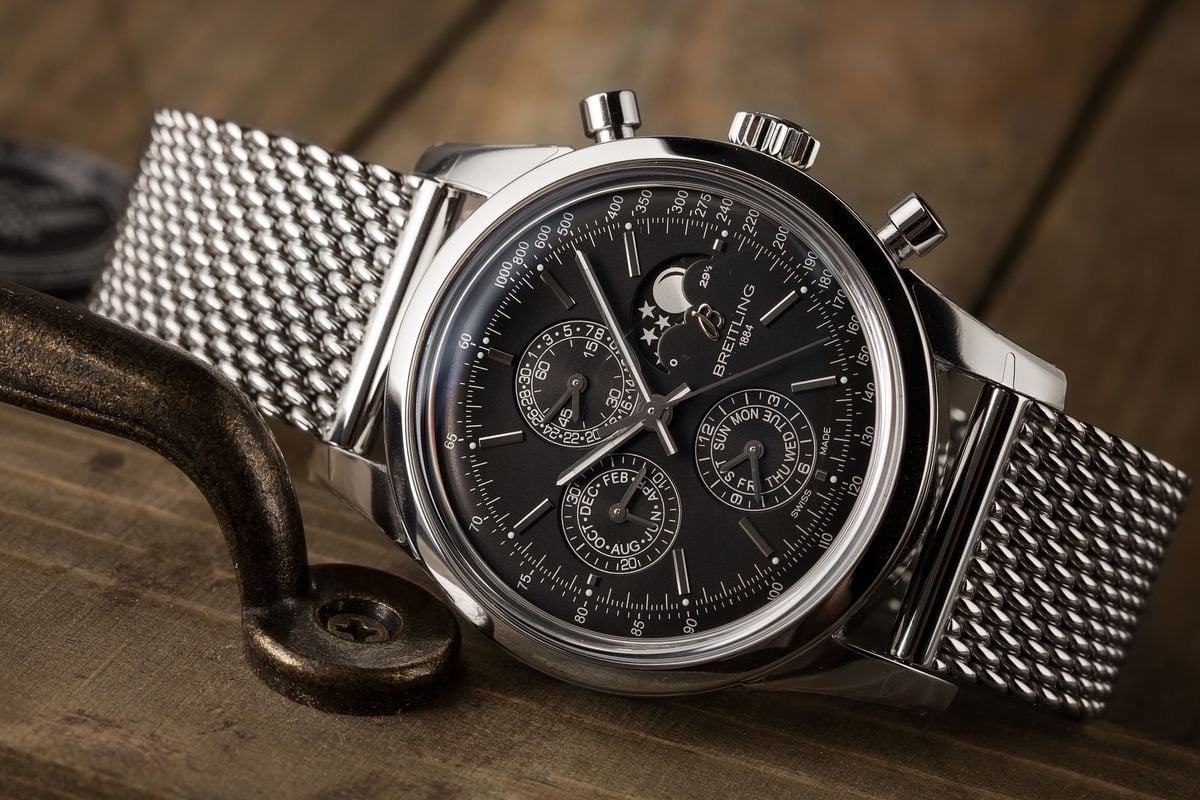 Breitling Watches for Slender Wrists
– Colt
– Superocean
– Galactic
– Premier
– Transocean
Click here to learn more about Breitling watches.

Breitling is notorious for its often-large and polarizing watches. But that doesn't mean that they don't also cater to gentlemen with a smaller wrist size. One such example is the Navitimer 1 Automatic in 38mm, which was released just recently in 2018. At 10mm in thickness, the watch hugs the wrist nicely. Also buzzing among Breitling enthusiasts with slender wrists is the Breitling Colt, which is available in a handful of sizes, including 38mm and 41mm.
On the dive watch side of things, Breitling offers a 36mm version of its Superocean professional diver. Despite the watch's significantly reduced case proportions, the Breitling Superocean 36 is still water-resistant to an industry-standard 200 meters, making it more than capable of standing up to serious scuba diving use.
Tudor
Tudor Watches for Slender Wrists
– Black Bay 36
– Black Bay Fifty-Eight
– Glamour
– Ranger
– North Flag
Click here to learn more about Tudor watches.

Tudor falls under the Rolex umbrella and is often referred to as the sibling company of the word's most famous luxury watch manufacturer. The ethos that pairs high-quality and precise timepieces with an affordable price point is the brand's cornerstone. Collectors who seek a quality luxury watch that won't break the bank often turn to Tudor and the brand's heritage-inspired pieces such as the Black Bay and Ranger offer modestly sized watches with classic and historic styles.
The best Tudor watches for small wrists include the Black Bay, which features 32mm, 36mm, and 41mm case options. A smooth bezel surrounds the case, and the dial is simple and easy to read. Additionally, the Black Bay is sold on either metal, fabric, or leather bracelets. The versatility of the Black Bay makes it a very desirable option for wrists of all sizes. Also within the Black Bay family is the Black Bay Fifty-Eight, which offers all of the same style cues as the full-size dive watch, but just in a significantly smaller package, making it perfect for slim wrists.
Cartier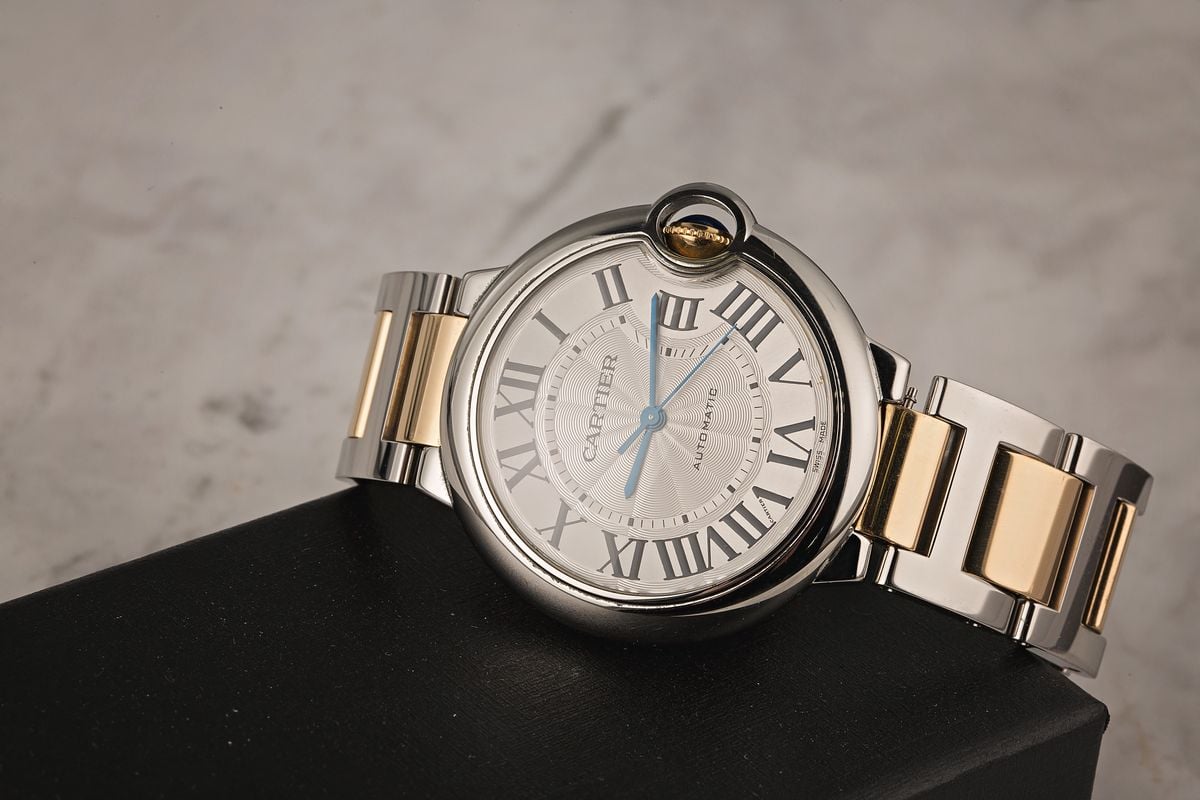 Cartier Watches for Slender Wrists
– Tank
– Santos
– Ballon Bleu
– Ronde Solo
Click here to learn more about Cartier watches.

Cartier is another brand that is universally known. Even if you aren't very into watches, chances are, you've heard of Cartier. This brand holds its value well and includes several excellent options for smaller wrist sizes, despite being equally well-known for its various jewelry offerings.
The Tank holds the title of the best-known Cartier watch for men with smaller wrists. Its design is sleek, timeless, and typically includes a rectangular case topped with the brand's iconic tall Roman numeral markers. The collection is varied, with several bracelet options, case materials, and dial color options. In the same way that the Tank is available in multiple sizes, many of Cartier's top collections such as the Santos and Ballon Bleu are also available in multiple case sizes, allowing for the perfect fit, regardless of wrist size.
Oris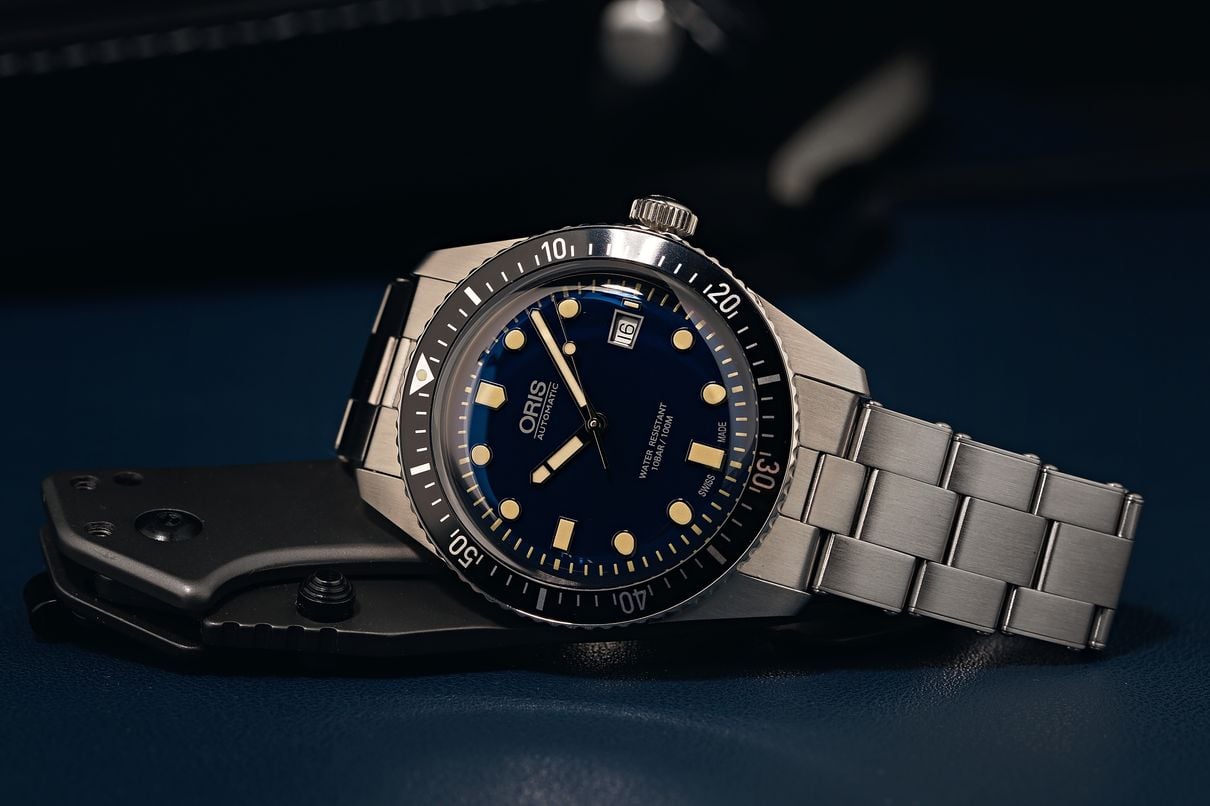 Oris Watches for Slender Wrists
– Diver's Sixty-Five
– Aquis
– Big Crown Pointer Date
– Artelier
Click here to learn more about Oris watches.

The respected Swiss watchmaker Oris has been in business for over a century. The brand's catalog includes everything from casual and formal dress watches to pilot's tool watches and classic dive watches. Additionally, Oris typically offers multiple sizes of many of its top models, which means that buyers with slim wrists have all the same options available.
One of the best Oris watches for smaller wrists is probably the Diver's 65. The retro-inspired diver takes numerous design cues from Oris' iconic dive watch from the 1960s, including lume plots in a warmer hue and smaller case size options, all while offering a modern movement and materials. The 36mm edition will likely appeal most to those with slender wrists; however, Oris also offers smaller sized options for many of its other top collections such as the Aquis and Big Crown Pointer Date.
Tissot
Tissot Watches for Slender Wrists
– Le Locle
– Bridgeport
– Carson
– Couturier
Click here to learn more about the history of Tissot watches.

For well under $1k, you can add the Tissot Bridgeport chronograph to your collection, which measures just over 37mm in diameter. For a sports watch, its size and weight are in the sweet spot for anyone with a smaller wrist; however it still offers elegant styling for pairing with formal attire.
Sporting a 39mm case, the Tissot T-Classic Le Locle Automatic is also a nice option for slender wrists. It features a sleek design set that can be classified as either casual or formal and is powered by a reliable movement. The attention afforded to even the smallest details on the Le Locle series, from the dial's finish to the case's shape, makes the watch worth owning.
Hopefully, our guide has shed some light on an otherwise confusing topic. What matters most is how a watch makes you feel when it's on your wrist. If you love the way a large watch looks, it might be worth investing in something larger than 40mm. Otherwise, anything under 40mm should suit your wrist just fine. Visit Bobswatches.com to shop our entire selection of certified pre-owned luxury watches.