Wimbledon is an is an amazing tennis event that brings people together from all over the world as top players give all they've got in their attempt to become the next champion. This year marks the 125th year of unforgettable tennis at the All England Lawn Tennis Club, just outside of London.
Wimbledon
You may be wondering what Rolex watches has to do with this tennis event, Wimbledon. (except the Wimbledon dial on the Datejust). The answer is…everything! Beginning in 1978, Rolex has been the "Official Watch" of Wimbledon. All matches are timed utilizing Rolex time clocks. The partnership began because of both parties wanting to reveal their commitment to excellence, discipline, sportsmanship and focus. And since then, top players have been sporting their favorite Rolex Watches off the court at Wimbledon.
Tennis Players
Roger Federer, noted as "the Master of the Court" proudly wears the Rolex Datejust, which was introduced in 1945 as the first wristwatch to display the date through an aperture on the dial. Both Federer and the used Rolex Datejust have been long admired for their classic and stylish appeal.
Women's tennis star Justine Henin is noted for her grace under fire and determination. She wowed the tennis world with her more than 100 weeks as number one in the world. The Rolex Yacht-Master is Henin's watch of choice. The watch is ideal for sporty, yet elegant women and can be worn both on and off the court.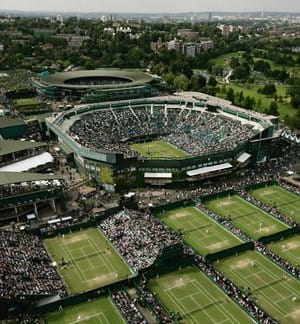 Caroline Wozniacki, now ranked number one in the world, is one of the most exciting players on the court. Her will to succeed and energy is inspiring beyond all belief. Her Rolex of choice is the 44 MM Datejust rimmed with diamonds and featuring a combination of gold and steel. It is the perfect choice for those who want to enjoy a bit of glitz, glamour and fun.
And then there is Juan Martin Del Potro, the winner of the 2009 US Open. One of his dreams is to become a Wimbledon champion. His commitment to excellence and intense focus is extremely inspiring. He is also a proud wearer of the classic Rolex Datejust.
Last but definitely not least, crowd favorite Jo-Wilfried Tsonga's personality and unrelenting passion for the game of tennis has people raving. He is quickly rising in the ranks and may very well one day become a Wimbledon champion! His watch of choice is the Rolex Milgauss, noted as ideal for those who love the world of science and discovery. Introduced in 1956, it was designed to withstand magnetic fields of up to 1,000 gauss. Keep your eyes peeled for watches that will be at the event.
No matter which Rolex you prefer, new and used Rolex worn by your favorite tennis players are available!