As any watch enthusiast knows, Rolex watches are not delicate timepieces that have to be worn carefully. On the contrary, Rolex watches are robust timepieces with solid waterproofness and rugged construction. The iconic Rolex Oyster case is built to keep out any water and other particles like sand. Also, modern Rolex Oyster watches have a minimum water resistance of 330 feet (100 meters) with many of them featuring even higher depth ratings. Subsequently, this makes it the ideal watch to take with you to the beach. So, if you find yourself surfside this summer, don't forget to pack your Rolex! Here are some of the best Rolex watches we recommend to take to the beach.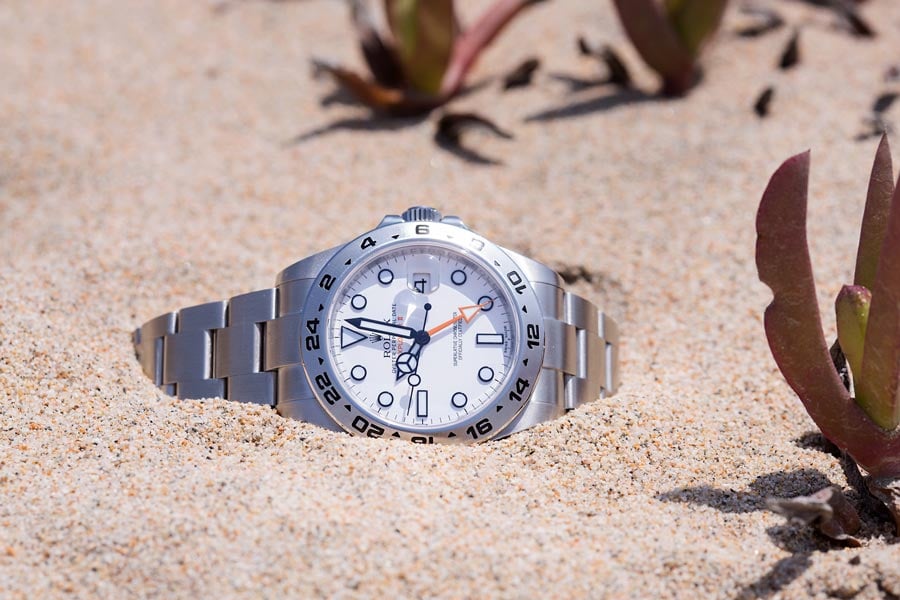 Beach Watch: Rolex Explorer II ref. 216570
While the white dial version of the Explorer ref. 216570 is nicknamed the "Polar," this Rolex is just as home on a hot beach as it is on an icy mountaintop. With a generous 42 mm-sized stainless steel case and a bright dial, the Explorer II is one of the brand's toughest watches.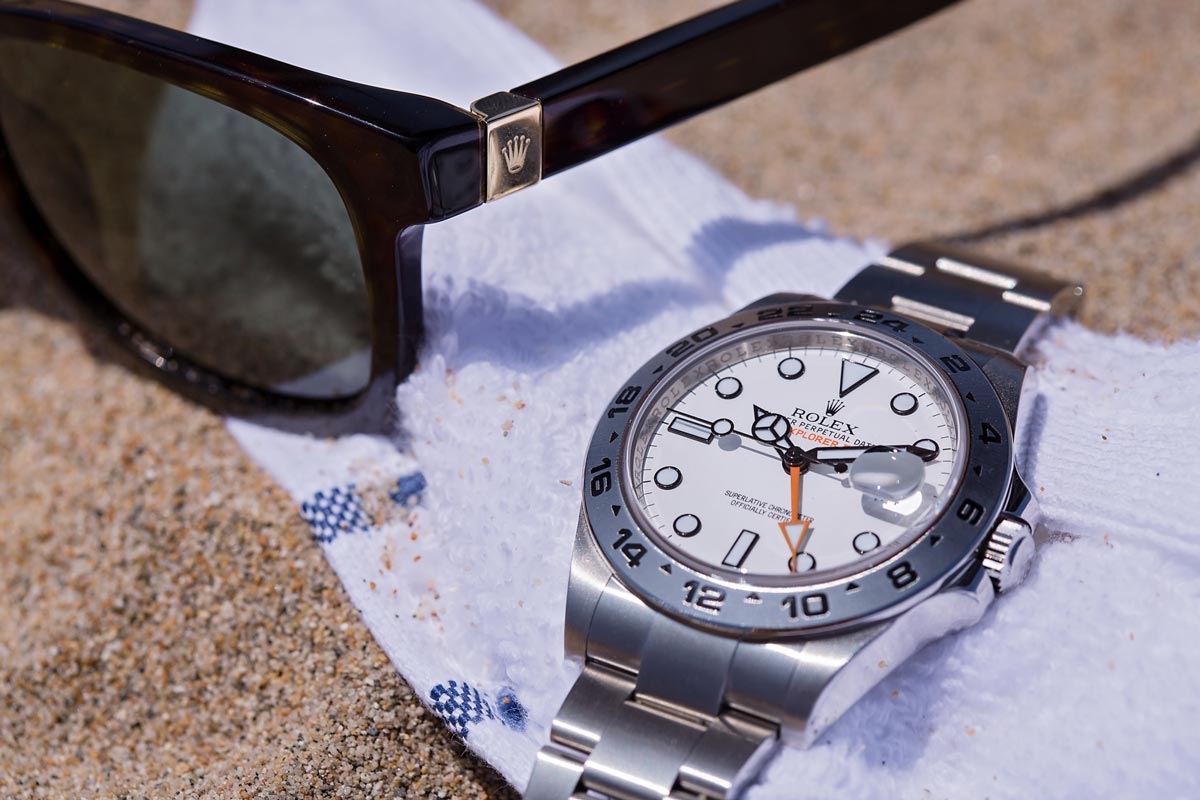 The white dial is particularly sporty with its luminescent indexes and center Mercedes-style hands outlined in black. Plus, there's the vibrant orange 24-hour orange-tipped hand. If you're traveling to a far beach this summer, the Explorer II is ideal since the orange hand, coupled with the 24-hour marked bezel, allows the wearer to keep track of an additional time zone.
Rolex Yacht-Master ref. 16622 On The Pier
The name says it all – this is the Rolex watch for a man who enjoys time on a yacht. Its stainless steel and platinum construction – a combination that Rolex refers to as Rolesium – the Yacht-Master ref. 16622 is casual chic at its finest.
But don't let the Yacht-Master's great looks deceive; this watch can keep up with any seafaring activities too. On the 40mm Oyster case sits the rotatable bezel graduated to 60 minutes for timing needs and, of course, a scratch resistant sapphire protecting the face of the watch. Whether on the upper deck with a cocktail in hand or overboard swimming in the surrounding seas, the Yacht-Master is the captain's choice.
Dock Your Rolex Submariner ref. 116613
If you really want to live it large while lounging on white sandy beaches, then it's got to be a two-tone Rolex Submariner. As Rolex's quintessential diver's watch, this Submariner – like all modern Subs – is water resistant to 1,000 feet (300 meters). And the Submariner ref. 116613 is an especially luxurious model. From its 18k yellow gold center links on the steel Oyster bracelet to the yellow gold components on the 40mm steel Oyster case, this Rolex Sub is part tool part treasure.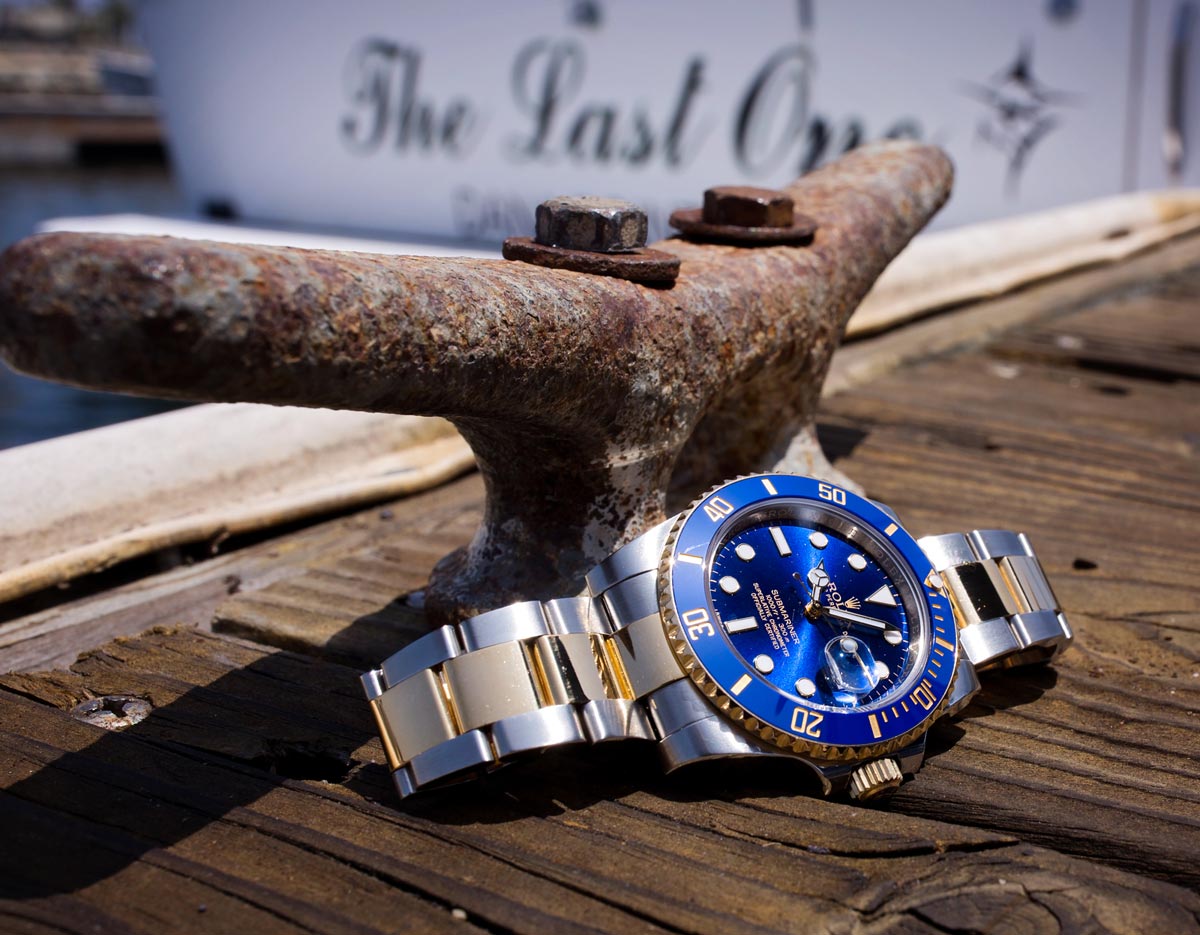 The steel and gold set the perfect stage for the Submariner's vibrant blue bezel and matching blue Cerachrom ceramic bezel. And let's not forget that Cerachrom is essentially impervious to scratching and fading – perfect for hours of relaxing in the sun!
Diving with The Rolex Deepsea ref. 116660
The granddaddy of Rolex dive watches, the Deepsea ref. 116660 can plunge down to an astonishing 12,800 feet (3,900 meters). Expertly manufactured, the Rolex Deepsea sports a large 44mm stainless steel case that houses a Helium Escape Valve (HEV). The job of the HEV is to allow the Rolex watch to decompress properly after very deep dives to avoid internal damage. There's also the ultra-thick 5mm sapphire case on top of the dial.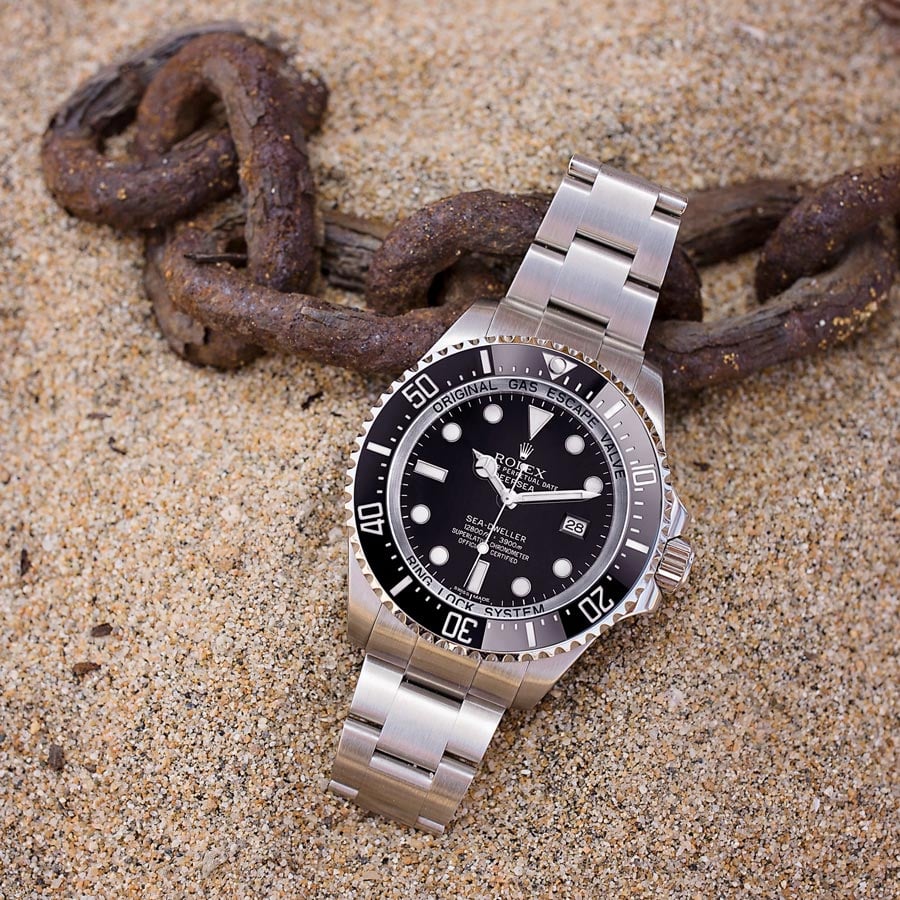 As a newer Rolex model, the Deepsea ref. 116660 also boasts a Cerachrom ceramic bezel for added sturdiness. Whether you take the Rolex Deepsea into the waters or keep it firmly on dry land, or wear it even in an office, this tough timepiece can handle almost anything you throw at it.
So there you have it, four fantastic looking Rolex watches that are built to be your daily beaters – and not just for this summer, but for many, many more.