Valentine's Day is right around the corner, which means that there's only a handful of days left to find the perfect gift. Flowers and chocolates are always classic options, but why not make this year extra memorable and give that special someone in your life a beautiful luxury watch?
Click here to discover the best Valentine's Day Rolex Watches

Luxury Watches as Valentine's Day Gifts
Luxury watches make the perfect Valentine's Day gifts. Flowers wilt, chocolates get eaten, but a true luxury timepiece will last a lifetime. Unlike most things in our lives that immediately start losing value the moment you purchase them, luxury watches retain their value over the years and serve as wearable investments that can be worn and enjoyed every single day. Additionally, since a high-quality timepiece never will truly become outdated or obsolete, luxury watches can be passed down to future generations, becoming cherished heirlooms that tell a family's story.
The sky's the limit when it comes to luxury watch prices, but you don't always have to spend a fortune to get yourself a high-quality timepiece from one of the world's top manufacturers. Let's take a closer look at some of the best luxury watches available at different price points, from under $1k to well beyond five figures.
Rolex Watches – $10k and Up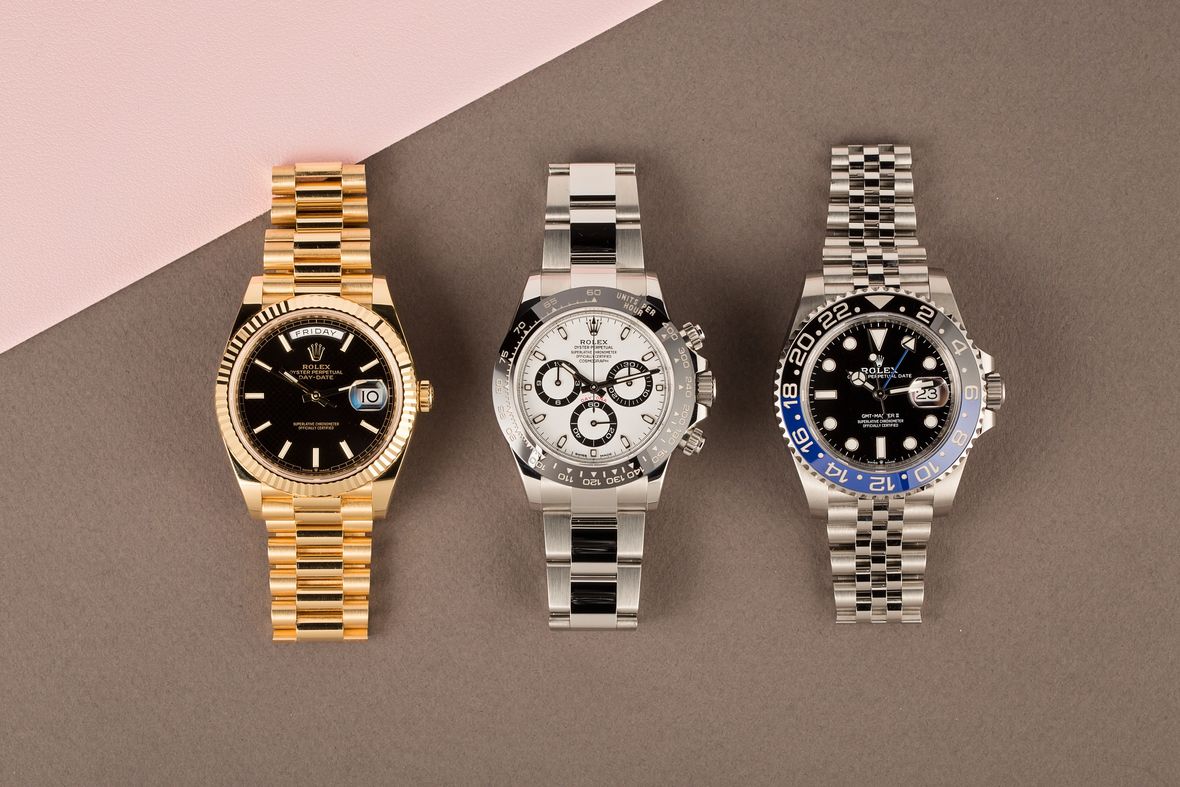 Rolex Facts:
– Founded: 1905
– Headquarters: Geneva, Switzerland
– Most Famous Models: Datejust, Submariner, Daytona, Day-Date (President), GMT-Master
– Price: Starting at $2,495 (pre-owned)
Click here for our Ultimate Buying Guide on Rolex watches.

Rolex is by no means the world's most expensive luxury watch manufacturer, but the iconic brand is definitely one of the most famous and exclusive. Rolex watches are built to last multiple lifetimes and there are many fantastic options that can be purchased for as little as a few thousand dollars on the pre-owned market. However, a budget of $10k or more opens up the doors to some of the hottest and most desirable luxury watches on this planet.
Many used Rolex watches sell for significantly more than their brand-new counterparts on the open market, and some models simply cannot be purchased at a retail level without spending a minimum of several years on a waiting list. Ultra-desirable Rolex watches such as the stainless steel Daytona and the black and blue "Batman" GMT-Master II rank among the most coveted timepieces in existence, while others such as the solid 18k gold Day-Date President are timeless icons that are recognized around the world for being synonymous with success and exclusivity.
Panerai Watches – $5k to $10k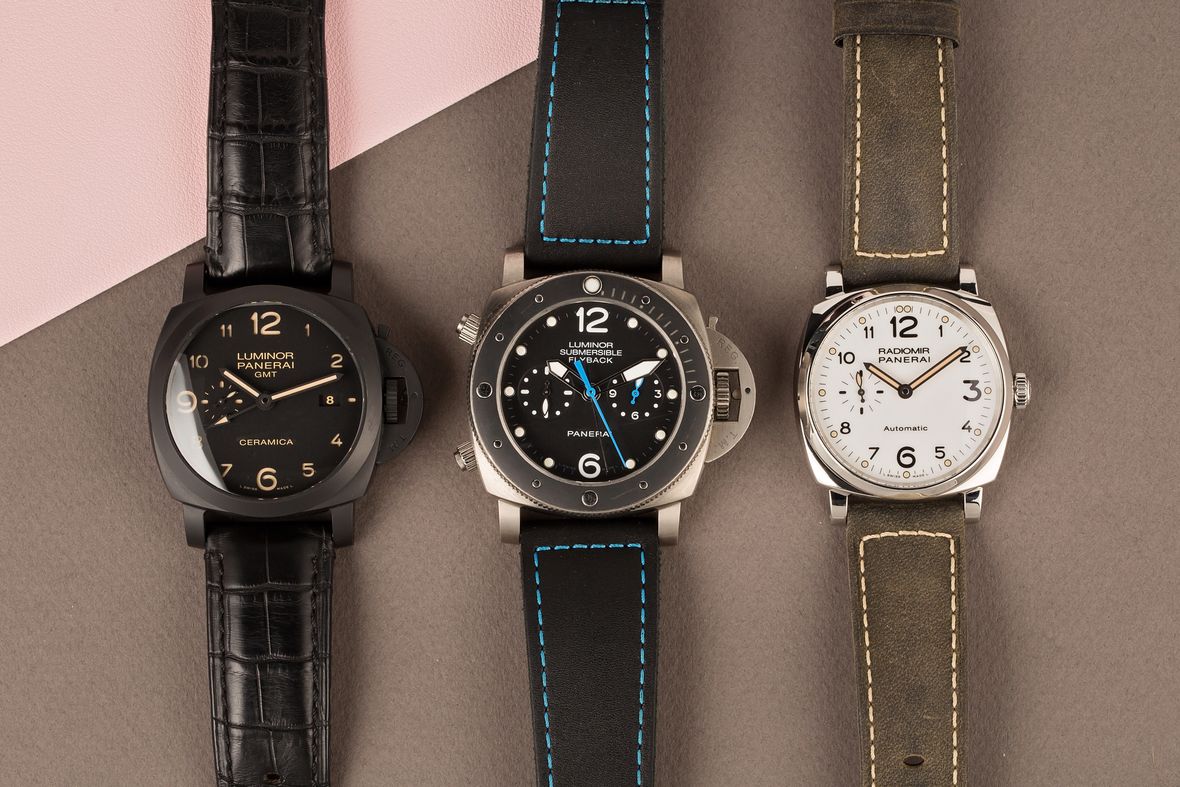 Panerai Facts:
– Founded: 1860
– Headquarters: Florence, Italy
– Most Famous Models: Luminor, Radiomir, Submersible
– Price: Starting at $3,000 (pre-owned)
Click here to learn more about Panerai watches.

Rolex is often the go-to luxury watch brand for many individuals, but for all those that either already own a few Rolex watches – or simply want to add something different to their collections, Panerai is an excellent alternative that is both less expensive than Rolex (in many instances) and also offers its own unique design language. Panerai was originally contracted to provide watches to the Italian Navy and it was not until the 1990s that this historic luxury timepiece manufacturer started making its watches available to the public.
Today, Panerai's catalog is more diverse than ever before and the brand boasts one of the most passionate collector communities among all luxury watch brands (known as the Paneristi). Panerai watches truly have their own immediately identifiable aesthetic, and the brand has become a pioneer in the material sciences, creating a number of new and highly-functional proprietary case materials. However, regardless of the specific model or year of production, all Panerai watches are united by a bold and functional design ethos that has defined the brand since the very beginning.
Omega Watches – $3k to $5k
Omega Facts:
– Founded: $1848
– Headquarters: Biel/Bienne, Switzerland
– Most Famous Models: Speedmaster, Seamaster, Constellation, De Ville, Planet Ocean
– Price: Starting at $2,095 (pre-owned)
Click here for our Ultimate Buying Guide on Omega watches.

Omega is easily one of the world's most famous luxury watch manufacturers and it is one of the few that can compete with Rolex in terms of general widespread brand recognition. Omega watches have been worn on the surface of the moon as the official flight-qualified timepieces of NASA, and they have also traveled the very deepest parts of the ocean at the bottom of the Mariana Trench. Since 1995, Omega has been the official watch of James Bond, and the brand is even the Official Timekeeper of the Olympic Games – a title that dates all the way back to 1932.
Omega typically occupies a lower price point than Rolex, yet the brand is able to offer materials and features that are typically only found on luxury watches costing several times their price. Omega's catalog is incredibly diverse and offers one of the widest selections of any luxury watch manufacturer. Just like Rolex, the sky's the limit when it comes to pricing and there are certainly ample options for gem-set and solid gold models, but a budget of $3k to $5k grants you access to many of its most famous stainless steel watches, such as the feature-packed Planet Ocean or the legendary NASA-certified Speedmaster Moonwatch.
Breitling Watches – $3k to $5k
Breitling Facts:
– Founded: 1884
– Headquarters: Grenchen, Switzerland
– Most Famous Models: Navitimer, Chronomat, Superocean, Colt, Avenger
– Price: Starting at $2,295 (pre-owned)
Click here to learn more about Breitling watches.

Breitling is another legendary watch manufacturer that typically occupies a lower price point than Rolex but boasts a comparable level of global brand recognition. Breitling is credited with inventing the two-button chronograph and the brand has made a serious push in more recent years to make every single model in its catalog run on a chronometer-certified movement. Celebrated by countless collectors around the world, Breitling pairs top-quality construction with a unique and immediately identifiable design language that has defined the brand for multiple generations.
Breitling is best known for its pilot's watches and ties to aviation, but the historic manufacturer also produces a wide range of other timepieces, including both professional divers and dress watches. The Navitimer is arguably the brand's most famous line and it is immediately identifiable due to its slide rule bezel that enables it to function as an analog flight computer. Additionally, other models such as the Superocean Heritage fuse vintage-inspired design with modern-day materials and manufacturing techniques to create high-performance luxury watches that offer the same charm of vintage models from the golden era of mechanical timepieces.
Tudor Watches – $3k to $5k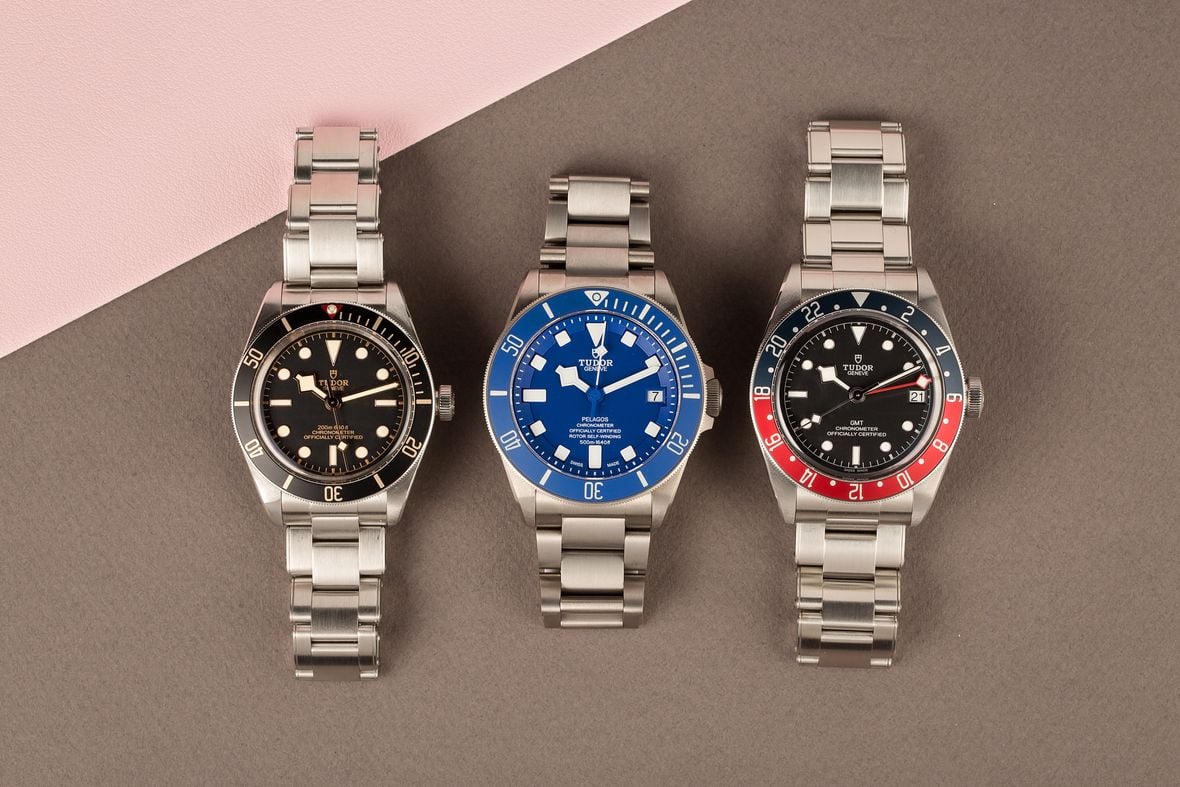 Tudor Facts:
– Founded: 1926
– Headquarters: Geneva, Switzerland
– Most Famous Models: Black Bay, Pelagos, Glamour, Prince (vintage)
– Price: Starting at $1,695 (pre-owned)
Click here to learn more about Tudor watches.

As Rolex's more affordable sibling company, Tudor naturally occupies a much lower price point than Rolex, and this has been the case ever since 1926 when Rolex founder, Hans Wilsdorf first established Tudor as a more cost-friendly alternative to his flagship Rolex brand. For many years, the greatest factor separating Tudor watches from those produced by Rolex was that Rolex's watches featured in-house movements, while Tudor's featured calibers from third-party manufacturers. However, this has rapidly been changing in recent years, and now the majority of Tudor's watches also feature in-house movements.
Despite the implementation of in-house calibers, the overall price point of Tudor watches has remained more-or-less the same, and a budget of $3,000 to $5,000 opens the doors to the vast majority of the brand's top models. The Black Bay collection is Tudor's line of heritage-inspired sports watches that draw their design cues from famous vintage Tudor models. The highly popular collection includes everything from dive watches and GMT's to everyday timepieces and even chronograph models. With that in mind, Tudor also produces watches like the Pelagos that are thoroughly modern in both their design and materials, representing the latest in mechanical dive watch technology.
Oris Watches – $1k to $3k
Oris Facts:
– Founded: 1904
– Headquarters: Hölstein, Switzerland
– Most Famous Models: Divers Sixty-Five, Aquis, Big Crown ProPilot, Artelier
– Price: Starting at $995 (pre-owned)
Click here to learn more about Oris watches.

It has almost become a cliche to say that Oris watches offer some of the most bang for your buck within the entire luxury watch industry. However, there is a very good reason that this sentiment is so prevalent among collectors and enthusiasts. While there are some ultra-premium Oris watches that are fitted with advanced in-house movements and solid 18k gold cases, the vast majority of the brand's offerings occupy the more affordable end of the spectrum and can be purchased for anywhere between $1k and $3k on the secondary market.
Oris has a long and rich history that dates all the way back to 1904, and the brand's archives span an astonishingly diverse assortment of timepieces that include everything from divers and pilot's watches to racing chronographs, dress models, and everything in between. With that in mind, it has been the brand's divers and pilot watches that have received the most attention from collectors in more recent years, and models such as the Divers Sixty-Five, Aquis, and Big Crown ProPilot rank among the most popular timepieces in this price category, offering buyers Swiss-made mechanical movements and attractive designs for a fraction of the price of many competitors.
Tissot Watches – Under $1k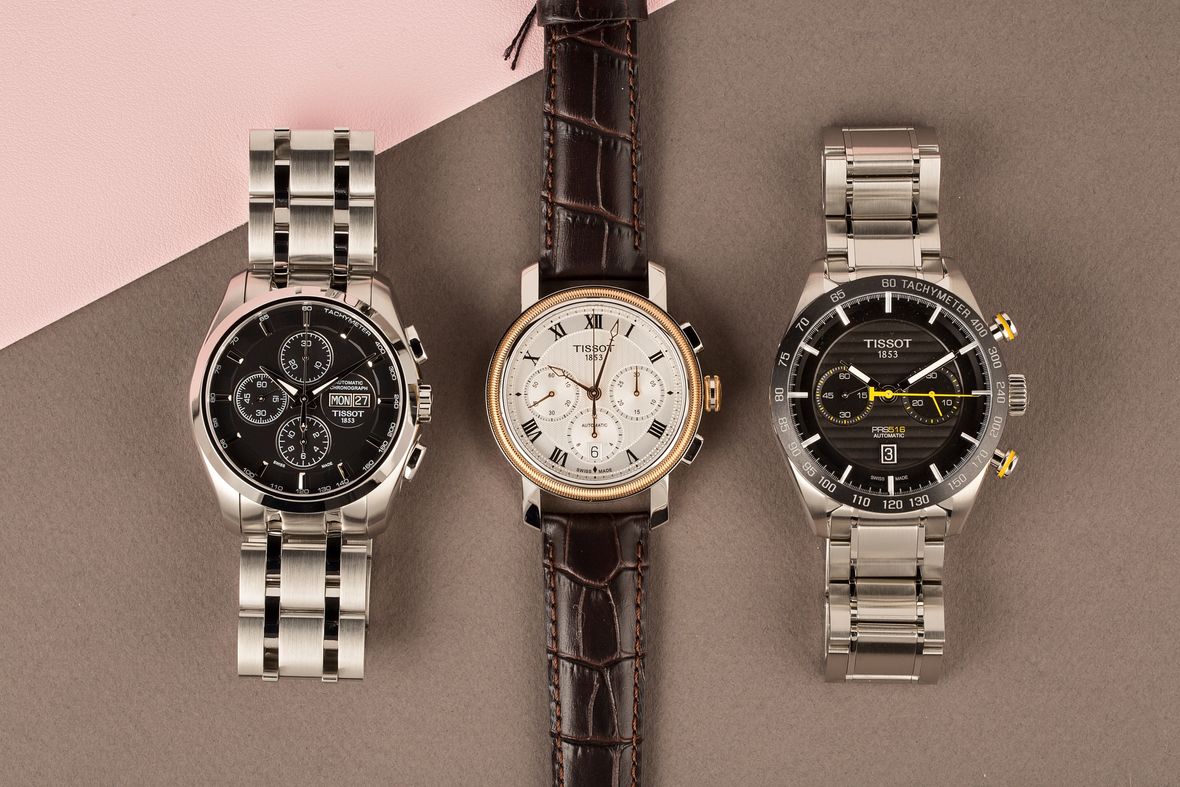 Tissot Facts:
– Founded: 1853
– Headquarters: Le Locle, Switzerland
– Most Famous Models: Bridgeport, Couturier, PRS, Le Locle, Seastar
– Price: Starting at $865 (pre-owned)
Click here to learn more about Tissot watches.

Tissot was initially founded back in 1853, making it one of the world's oldest luxury watch manufacturers still in existence today. In 1930, Tissot partnered with Omega to form what would later become the Swatch Group – an umbrella company that also contains a number of other legendary brands such as Breguet, Blancpain, Longines, and Hamilton (among others). Although Tissot is often overshadowed by its more famous and more expensive sibling companies, the brand offers a wide variety of value-packed models that deserve far more attention from the collecting community than they currently receive.
Due to the fact that ETA (the premier third-party movement manufacturer) is also a part of Swatch Group, Tissot is able to offer these same time-tested calibers at a fraction of the price of most of its competitors. While Tissot may be best known for its affordable sports watches that frequently rely on quartz movements, the brand also produces a range of premium models that feature Swiss-made mechanical calibers. Among these, it is Tissot's various chronograph models that many consider to offer the best value for the money, and a budget of less than $1,000 will get you a high-end mechanical chronograph that is powered by the same reliable and proven Swiss-made movement that can be found inside watches that cost several times their price.