With ski season upon us here in the Northern Hemisphere, it is definitely worth mentioning Rolex's growing role in the sport. The company first entered the world of skiing in 1968, when Jean-Claude Killy became the first world-class skier to wear and promote Rolex. He was chosen for his boldness, determination, and obsession with precision. Since then, other notable skiers have started sporting Rolex watches too, and the brand has been a constant presence in the sport ever since.
Today, Rolex continues to be the favorite watch of both professional and leisurely skiers alike. In this guide, we're going to talk about Rolex's most famous watch associated with skiing, the famous skiers who represent the brand and showcase a few of our favorite watches to wear when we hit the slopes. Sit back in your chair lift, and let's get started!
Click here for our Ultimate Buying Guide on Rolex Watches.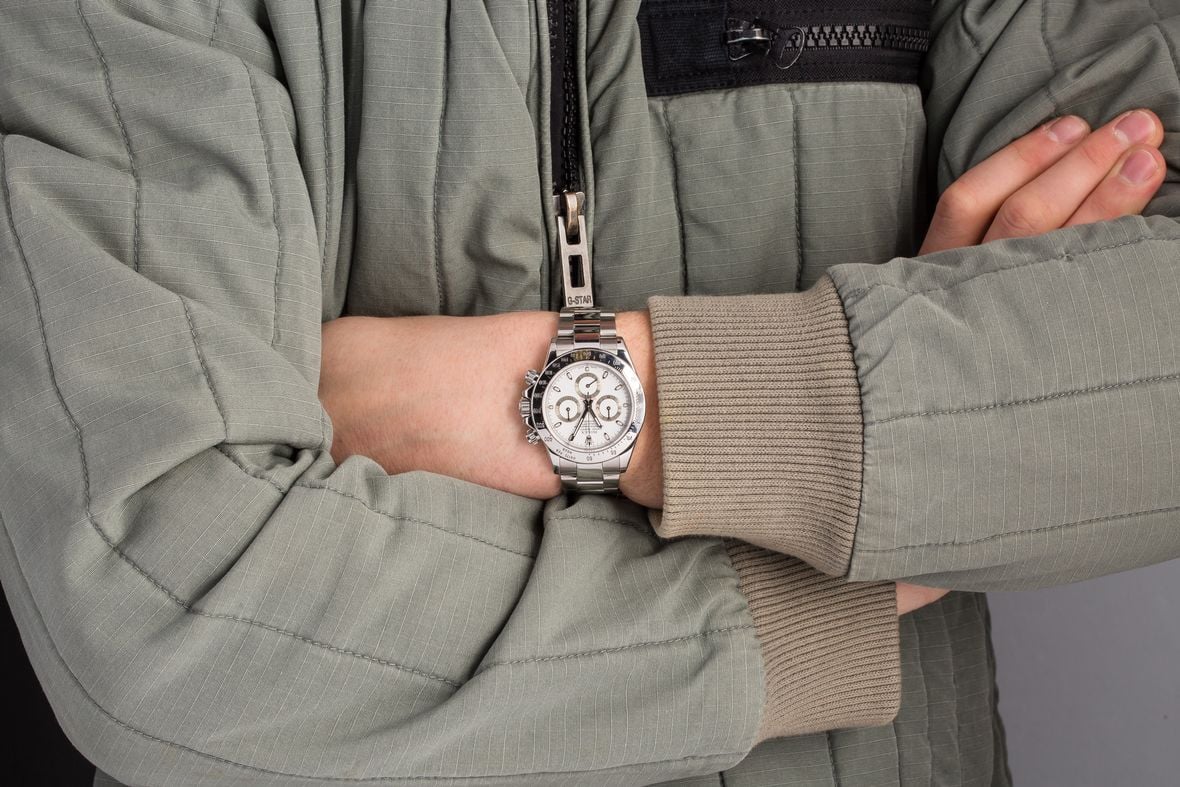 What Rolex Watch to Wear for Ski Week
You might not be able to get a sponsorship from Rolex like Jean-Claude Killy for ski week, but we can do you one better. Here are a few of our favorite Rolex watches to wear on the slopes – all luxurious, sporty, powdery white, and available on our website right now.
Rolex Explorer II ref. 16570 – 'Polar' Dial
Explorer II 16570 Fast Facts:
Case Size: 40mm
Materials: Stainless Steel
Features: Time w/ Running Seconds, Date Display, GMT-Functionality
Dial: White w/ Luminous Hour Markers (Black Also Available)
Bezel: Fixed, Stainless Steel w/ 24-Hour Scale
Crystal: Sapphire (Flat w/ Cyclops Lens)
Movement: Caliber 3185
Strap/Bracelet: Oyster Bracelet
Click here to learn more about the Rolex Explorer II.

There is no way we could make this list without including – or starting with a 'Polar' Rolex Explorer II. Nicknamed 'Polar' for its white dial and history of alpine exploration, this timepiece is built to withstand just about any adventure, and it features an icy white dial that any skier would love to strap on their wrist.
Features you'll love about this watch include that stark white dial with luminous markers outlined in black, red 24-hour GMT hand, durable 40mm stainless steel case, and reliable automatic Caliber 3185 movement. A popular favorite among countless collectors around the globe, the Rolex Explorer II 16570 Polar is easily one of our top picks for your next alpine adventure.
Rolex Daytona ref. 116520 – White Dial
Daytona 116520 Fast Facts:
Case Size: 40mm
Materials: Stainless Steel
Features: Time w/ Running Seconds, 12-Hour Chronograph
Dial: White w/ Luminous Hour Markers (Black Also Available)
Bezel: Fixed, Stainless Steel w/ Tachymeter Scale
Crystal: Sapphire (Flat)
Movement: Caliber 4130
Strap/Bracelet: Oyster Bracelet
Click here for our Ultimate Buying Guide on the Rolex Daytona.

First introduced in 1963, the Rolex Daytona is the brand's racing chronograph designed specifically for the world of motorsports. While this watch is known much more for being worn on the race track, you can easily put those sub-dials to use while timing yourself going down the mountain.
We love this cool white dial that gives this 40mm stainless steel watch an utterly classic look. At the same time, this is a stainless steel Rolex Daytona – which is widely considered to be among the hottest watches in the world right now – so you're sure to catch a few glances if it peeks out from the sleeve of your jacket. Whether you're skiing in Aspen, Vermont, or anywhere in between, this is the durable, sophisticated companion you want on your wrist.
Rolex Datejust ref. 126334 – White Dial w/ Jubilee Bracelet
Datejust 126334 Fast Facts:
Case Size: 41mm
Materials: Stainless Steel & 18k White Gold
Features: Time w/ Running Seconds, Date Display
Dial: White w/ Luminous Hour Markers (Other Styles Also Available)
Bezel: Fixed, 18k White Gold, Fluted Style
Crystal: Sapphire (Flat w/ Cyclops Lens)
Movement: Caliber 3235
Strap/Bracelet: Oyster or Jubilee Bracelet
Click here for our Ultimate Buying Guide on the Rolex Datejust.

For many collectors, the Datejust is the quintessential Rolex watch, and it is celebrated all around the world for being a true go-anywhere, do-anything timepiece that can effortlessly be dressed up or down to suit your attire. First introduced in 1945, the Datejust is a true industry classic, and it is the type of watch that you can wear on the slopes as well as at the chalet while enjoying an apres-ski with your friends.
The reference 126334 is the current version of the larger sized Datejust with its 41mm case diameter. While the Datejust collection is available in a wide variety of different metals, the ref. 126334 is the White Rolesor model that pairs durable stainless steel with a solid 18k white gold fluted bezel. Powered by the in-house Caliber 3235 movement, the Rolex Datejust 126334 offers users 100 meters of water resistance and the Jubilee bracelet makes it the perfect dressy watch that is still more than durable enough to hold up to a long day on the slopes.
Jean-Claude Killy – Ski Legend and Rolex Watch
Both a man and a watch, the two are so intertwined in history that it's hard to talk about one without the other (at least for us watch enthusiasts). But, let's start with the man. As we mentioned above, Jean-Claude Killy was an incredibly talented alpine skier, dominating the slopes in the 1960s with a trio of gold medals he won at the Winter Olympics in 1968 and a host of other accomplishments during his stellar career.
After mastering the sport of skiing and becoming a Rolex brand ambassador, Killy later went on to compete in race car driving and even acted on the silver screen. Jean-Claude Killy also sat on the Board of Directors at Rolex for more than four decades, but let's back up a little here and tell you how Killy got a Rolex watch (unofficially) named after him.
If you're a Rolex aficionado, you know that to get a Rolex named after you, you have to be pretty prolific – think James Bond or James Cameron. But as the winner of the 'Triple Crown' and being an elegant man, it's no surprise that Rolex fans nicknamed the Dato-Compax chronograph after him.
The funny thing is though, while Killy is rumored to have owned and worn the Rolex Dato-Compax at some point during his career, most photos of him from the era show the famous skier wearing a Rolex President. Nonetheless, this incredibly sophisticated Chronograph Rolex timepiece is forever tied to Jean-Claude Killy and the world of skiing as a whole.
Up Close With The Rolex 'Killy' Dato-Compax Chronograph
There are five references of the Rolex Dato-Compax "Jean-Claude Killy" – the 4768, 4767, 5036, 6036, and the 6236. While Killy would have owned or (supposedly) worn one of the later references from the early 1960s, this watch was actually produced for twenty-something years between the 1940s and 1960s. Interesting to note, it's not just the later Dato-Compax Chronograph watches that are known as Killy's either, but the entire collection (go figure).
The Rolex Dato-Compax Chronograph is actually one of the most complicated watches ever manufactured by the brand, featuring a triple calendar along with chronograph functionality. The result was a timepiece that was incredibly elegant yet entirely sporty, really fitting for the luxurious and adventurous lifestyle of a professional skier.
If we're getting up close with this ski watch, we have to dissect that snowy white dial. This dial hosts a ton of information, yet it remains quite harmonious and easy to read. You will see the date indicated by the outer track of blue Arabic numerals while the day and month are displayed in two separate windows just below the Rolex coronet. Then there are the three subsidiary dials which sit at 3, 6, and 9 o'clock positions and are embellished with subtle concentric circle motifs.
Notable Rolex Ski Ambassadors
Rolex has a host of ambassadors across sports, science, and culture who wear the brand's watches. Among them have been some of the world's best skiers.
Lindsey Vonn
The 2010/2011 season saw this inspiring young woman take first in the Downhill World Cup, Super-G World Cup, and Super Combined World Cup. Noted as a "true fighter," this Minnesota native is going to be a force to reckon with for years to come. Vonn's Rolex of choice is the yellow gold Day-Date. Her favorite model is the Rolex Day-Date 40 fitted with a stunning diamond bezel and baguette diamond dial that also features rubies at the 6 and 9 o'clock locations.
Herman Maier
He is a dynamo with an indestructible spirit. Herman Maier's events include King of the Downhill, Giant Slalom, and Super-G. His Rolex watch of choice is the black dial Milgauss ref. 116400 because of its sleek elegance and highly resilient nature.
Carlo Janka
In 2010, he was the overall World Cup winner. His victory came after he unmasked his undying spirit to be noted as one of the fastest men in the world. His watch of choice is the classic Rolex Datejust because of the watch's timeless elegance.
Rolex and the world of Skiing
Not only does Rolex sponsor some of the world's most noteworthy skiers, but the company is also the official sponsor of the Hahnenkamm Races in the Austrian Alps. The event takes place 1,665 meters above sea level and is heralded as one of the most difficult events of the season.  With drops as steep as 85% and some jumps measuring 80 meters long, this high-profile race pushes professional skiers to their absolute limits.
Rolex's visibility in the ski world continues to inspire the purchase of new and pre-owned Rolex watches all around the globe. Whether an adventurer chooses a new or used Rolex Datejust, Daytona, or Explorer, they are sure to get a watch that will endure their rough and tumble ski quests and refined sensibilities.