When most people think of tiki drinks, they think of tacky themed dive bars with sticky floors and syrupy Mai Tais. But for those who have experienced a truly exceptional tiki drink, the experience is far more mesmerizing than words could express.
Tiki drinks have been around for 80 years, and they have one man to thank for their existence: Don the Beachcomber. After spending a lot of time in the South Pacific as a young man, Don (originally named Ernest Raymond Beaumont Gantt) had the idea to start a themed restaurant in Hollywood – pairing island influenced cocktails with food that had its roots in Polynesian, Cantonese and Hawaiian cuisine. Born from his eclectic imagination, the drinks he created featured elaborate garnishes and exotic flavors never before seen in the world of bartending. His immersive restaurant experiences were widely replicated, though never fully perfected, and their influence on modern mixology is undeniable.
The Vacation Drink – Mai Tai
One of the world's most popular tiki drinks, the Mai Tai can trace its origins back to Trader Vic's Tiki Bar in Hollywood. In Tahitian, "Maita'i" means good and that is exactly what this cocktail is. This rum-based drink features four different styles of rum and packs some serious punch. No wonder Elvis liked knocking these back while filming Blue Hawaiian.
.5 oz rhum agricole
.5 oz Jamaican gold rum
.5 oz aged moderately aged rum
.5 oz aged heavily aged rum
.5 oz orange curaçao
1 oz lime juice
.75 oz orgeat
Shake hard for about 5 seconds and strain over crushed ice into desired glassware
Garnish with an umbrella, lime wheel and mint sprig
Getting Caught In The Rain – Piña Colada
There is a reason many bars don't offer this drink on their menu – it's a pain in the ass to make. But the time it takes to make this iconic tiki drink makes every ounce of effort worth the wait. This blended drink is everything tropical and exotic, wrapped up in a pillowy cloud of subtle sweetness. This variation on the classic rum-based cocktail will have you singing in no time.
1.5 oz aged Puerto Rican rum
1.5 oz cream of coconut
1.5 oz pineapple juice
5 chunks fresh pineapple
16 oz crushed ice
Combine in blender and whir for 35 seconds until frothy and smooth
Pour into glass of choice and garnish orange slice or pineapple wedge
We Want The Funk – The Jungle Bird
Deviating from the typical light and sweet style tiki drinks, the Jungle Bird is all things big and bold. And, while bitter is not what you would think when asked to describe a tiki drink, this cocktail juxtaposes fresh island flavors with bitter Italian apertif to create a complex and intriguing experience.
.75 oz aged rum
.75 oz white rum or rhum agricole (for some funk)
.75 oz Campari
.5 oz fresh lime juice
.5 oz simple syrup
1.5 oz pineapple juice
Shake hard for about 7 seconds and strain over fresh ice in glass of choice
Garnish with pineapple leaf, brandied cherry, and pineapple wedge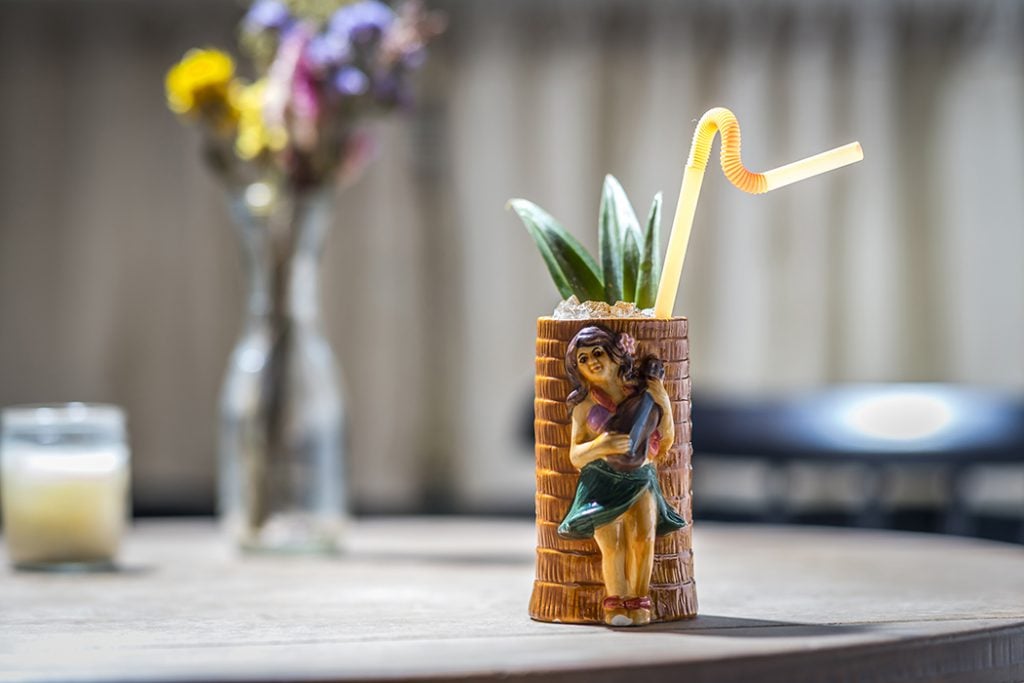 Lights Out – The Zombie
This drink is not for the faint of heart. I'm not kidding. Coming in at roughly five ounces of liquor, this tiki drink will leave you looking like a zombie in the morning if you're not careful (hence the name). But if you have taken the time to eat a hearty meal beforehand, hydrated enough, and prepped yourself for this marathon of a drink, you will experience one of the tastiest tiki cocktails the world has to offer. Don't say I didn't warn you.
.75 oz lime juice
.75 oz grapefruit juice
.75 oz cinnamon syrup
1 teaspoon grenadine
.5 oz velvet falernum
1.5 oz blended aged rum (El Dorado 12 year works well)
1.5 oz column still aged rum (Puerto Rican or Cuban rums work best)
1 oz black blended overproof rum (Cruzan or Skipper are excellent options)
2 dashes absinthe
Shake hard with ice for about five seconds
Strain over crushed/pebble ice in tall glass
Garnish with a crazy straw, a massive sprig of mint and pineapple leaves (lime wheel and brandied cherry optional)
A Watch Adventerous  Enough For These Drinks – The Explorer II
One of the cool things about Rolex as a company is that they are constantly working to refine and improve their watches – pushing the boundaries of what you thought modern watches can be. Not entirely different from what Don the Beachcomber did with cocktails back in the early days of tiki. Although the reference 216570 Explorer is a very different watch than the many of the watches Rolex rolls out, the oversized, bright-orange 24-hour hand and unique marketings make this watch unique in its own fun and adventerous way.