Smack dab in the thick of awards' season, along with the Oscar finale right around the corner, we thought it might be fun to take a look at Rolex and its place on the big screen. Along with James Bond and his early Submariner, there are countless other darlings of Hollywood who have appeared on set, with their Rolex wristwatch proudly displayed. From the famous lots of Universal Studios to filming on location across the globe, the Rolex brand has assured itself a place among some of cinema's greats. Let's take a look at these stunning Submariners.
Hollywood Submariners
Motorsports master Mr. Steve McQueen wore a submariner (Ref. No. 5512) not just for his appearance in films, but every day. Sold at auction just a few years ago for a staggering $234,000, McQueen's Submariner was supposedly worn with the bezel's 12 o'clock marker turned to the 6 o'clock position. Other silver-screen sightings include Robert Redford and his Rolex Sub in "All the President's Men." Though at first it seems hard to imagine a lowly reporter in Washington, D.C., earning enough money to make such an elaborate fashion statement, one must remember that (Redford's real-life character) attended Yale University and was the son of a chief judge of the 18th Judicial Circuit Court. The always-tan George Hamilton also dons a Submariner for his role in "Jack of Diamonds," while the outrageous '80s comedy "Airplane!" saw Lloyd Bridges' character display an 18 kt. gold Sub, complete with a blue dial, on his wrist.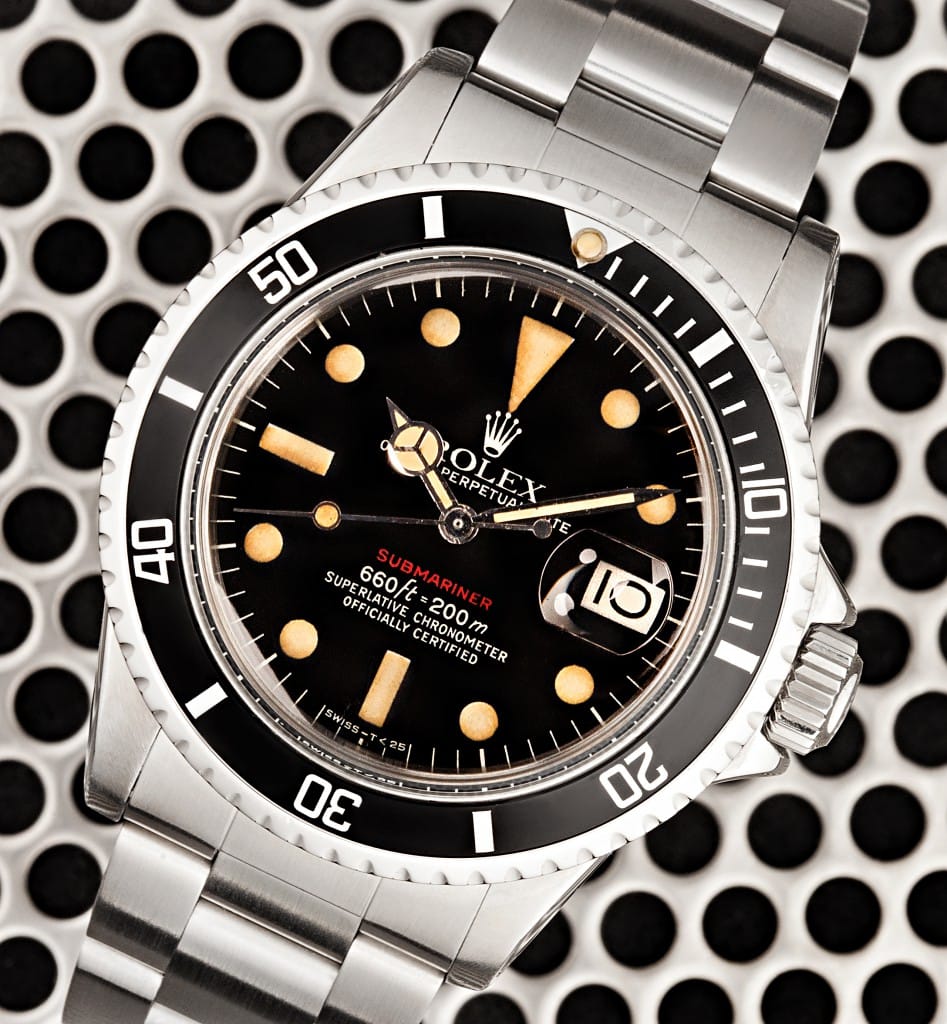 Bobby DeNiro
The list of celebrities wearing Rolex Submariner watches goes on and on: Bobby DeNiro's Sub appeared in the gritty "Deer Hunter" flick; Sharon Stone wore the iconic watch in the sci-fi "Sphere," and our favorite Death Wish hero, Charles Bronson, took a non-date Sub for a spin during his role in the movie, "The Mechanic." Compare these timeless watches to a few of our more modern Sub's here and you will find that the original classic timepieces look just as good as some of the newer models.
Introduced in 1953, the Rolex Oyster Perpetual Submariner is not only the quintessential diving watch, its pedigree has made it one of the most popular among the brand's many models. One of the first watches pressurized up to 330 feet, or 100 meters, modern versions can take divers below the water more than 1,000 feet, or 300 meters. This water-resistant watch guarantees reliability and precision, while remaining luxurious and rugged at the same time. Bob's Watches is currently offering a Ref. No. 1680 Red Sub. These particular vintage models were produced between the years 1967-1973.The 1680 was also the first Submariner to include a date complication, which ushered in the watch's move from diving tool to luxury fashion accessory.