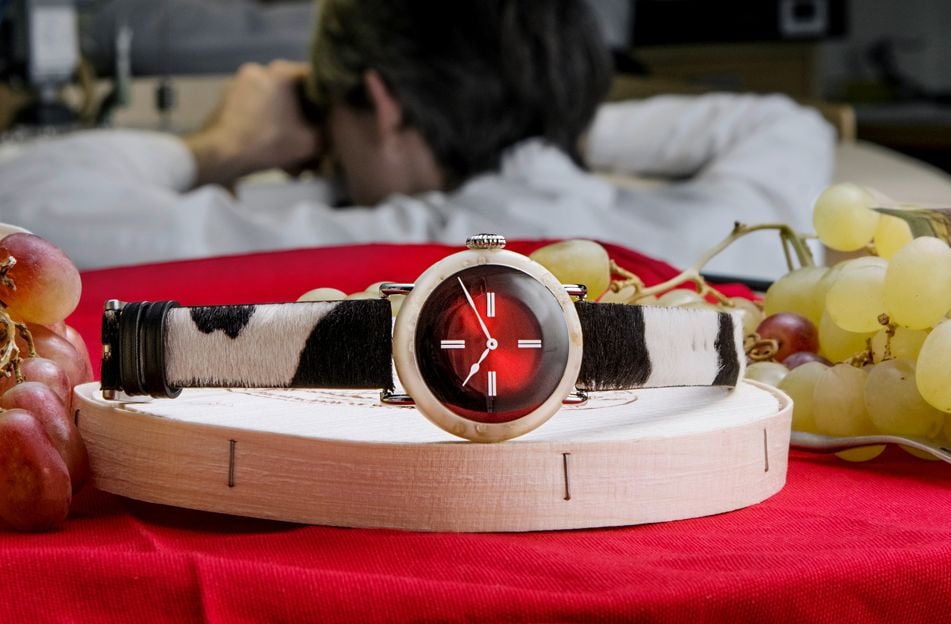 Modern watchmaking is all about pushing boundaries. In their efforts to try new things, creators are forced to think so far out of the box that they might as well be standing in another box that treats the original box that everyone's supposed be in with vitriolic contempt. As a result, we sometimes end up with watches that inspire something between a scratch of the head and a splash of involuntary vomit. Either way, conversations are sparked, pay checks are cashed, and the industry trundles on, happy to file the oddities of the past under the heading of 'excusable transgressions'.
One of the easiest ways to create a buzz around a new watch is to employ the use of unusual materials. Due to its static nature and protected environment, the dial is often the canvas for experimentation. In the past decade, we've seen meteorite and aventurine (both the stone and glass varieties) become almost commonplace – an expected avenue down which every luxury watch brand will eventually wend. There are weirder and more wonderful materials used in dial manufacture, but we'll save those for another day.
What we want to focus on in this article, are the times that watchmakers went the extra mile to make waves. Some of the following examples are pretty palatable; at least one is downright ridiculous. But the fact that I'm still talking about it years after its release pretty much confirms its success.
So forget steel or gold. Cast off your ceramic, titanium, or carbon fiber cases. Shelve even sapphire. This is a rundown of 5 of the most unusual case materials used in watchmaking in the past few years.
Number 5: Morta (Featured in the Schofield Blacklamp)
We start with the most palatable entry on the list. Morta is a proprietary material created for English watch brand, Schofield. It is featured in the Schofield Blacklamp, which was a mechanical hand-wound watch, most notable for its ring of Moonglow that encircled the dial. That material was produced for the brand by the Black Badger of Sweden, perhaps better known for his work with MB&F, but it really meshed well with the textured black surface of the Morta case.
Technically, Morta isn't a million miles away from carbon fiber, with the case shape having been milled from a compressed billet of carbon, but the end appearance is so novel, and the name so catchy, it has to be acknowledged as something new (if only a little bit).
The minor alterations to an already existing material are what matter to a brand like Schofield. Known for their sharp design and indefatigable coolness, this British brand will never settle for 'just about sufficient'. They always push the boat out and sail for the shore that offers them exactly what they set out to find, whatever the cost.
Number 4: Granite (Featured in the Tissot Rock Watch)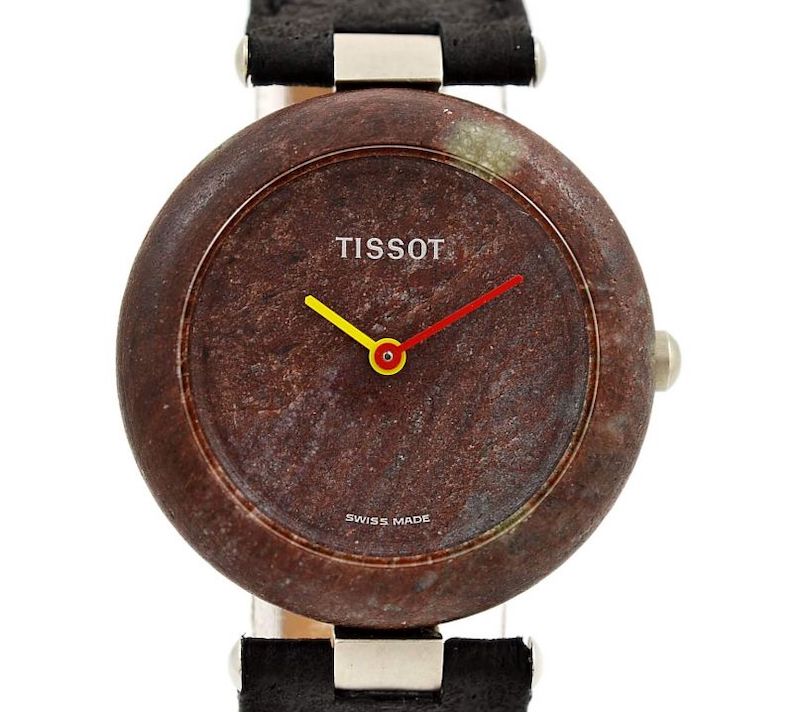 I delved into the archives for this one, and pulled a piece that I had the misfortune of servicing during my days at the bench. It's a simple idea that seems to have overawed designers when they came to its implementation. Powered by a quartz movement, the two-piece case was a nightmare to disassemble by virtue of the fact that the glass was glued in, making it very difficult to remove without shattering (not to mention the damage it could potentially do to the handset).
Still, it was a cute idea, and a bit of a forerunner in the field of creative cases. For me, this is the kind of watch that a serious watch collector might buy for their child to inspire an interest in the field of horology without breaking the bank.
Number 3: Carrara Marble/Concrete (Both courtesy of Giuliano Mazzuoli)
A double mention for 'horological artist' Giuliano Mazzuoli. His Carrara Marble case surround is a beautiful, luxurious material, hand-shaped and reminiscent of an opulent era gone by. And the Carrara Marble isn't the first time he's experimented with non-standard case materials.
The Cemento, a previously released, no longer available model used concrete instead of marble to bring this Fiorentino visionary's dreams to life. Concrete is a funny old thing. Its general reputation is that of purely functional, man-made stone that is used in some of the most monstrous, brutalist buildings in history. While a skyline comprised of the stuff might fail to inspire, it has also found a niche as a luxury material in interior design. Mazzuoli rides on the coattails of that trend superbly.
It's clear that he has a talent for manipulating unexpected materials into something surprisingly luxurious. Large, imposing, unchallenging, maybe; but soulful, expertly wrought, and arresting for sure.
Number 2: Crushed cigar leaves (Featured in the HYT H1 Cigar)
Okay, so maybe inclusions are not quite the same level of crazy as a case made entirely from a typically utilitarian material, but they are certainly a talking point. In this model, the hydro-mechanical horologists from Neuchâtel fused crushed leaves of cigar Rodolfo Vitola with Polyepoxyde to create an emotive housing like few others. Polyepoxyde may not sound so robust, but it compares favorable on the Vickers scale to steel (scoring 700 as opposed to 860). And besides, this isn't a watch designed to be beaten around. It's made for relaxing in a burgundy chesterfield in front of an open fire, while drawing on the finest tobacco products the world has to offer.
The HYT H1 Cigar is the ultimate timepiece for cigar aficionados and straddles collectability boundaries superbly well. It's a top-notch watch, with world-leading fluidic technology, and just enough talking points to fascinate both horologists and collectors of smoking paraphernalia. HYT pulled the same trick with a Dubai special edition that had a case infused with desert sand to pique the interest. For pure style points though, the HYT H1 Cigar wins hands down.
Number 1: Cheese (Featured in the H. Moser & Cie. Swiss Mad Watch)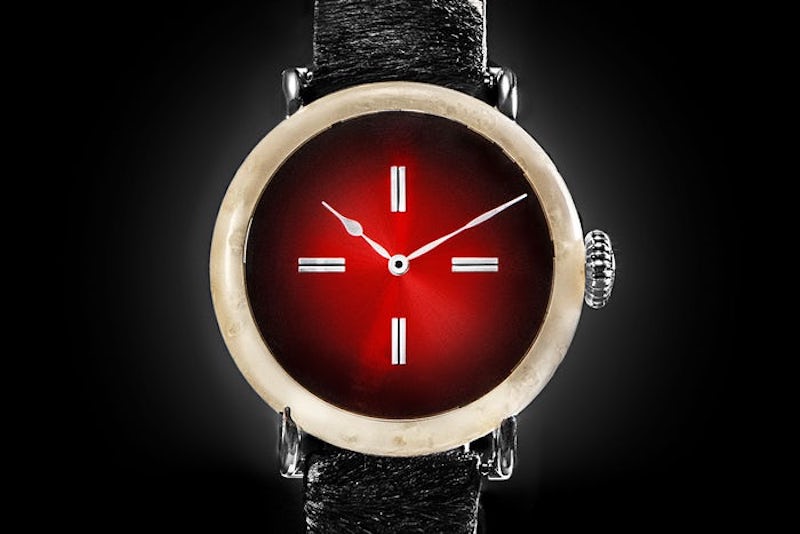 Yep. The top spot is reserved for cheese. Thankfully this is a one-off piece. H. Moser & Cie. did produce this watch in a larger series of 50 pieces in white gold, dubbing it the Ventura and attaching an asking price of $21,500.
The one 'resin-infused' cheese piece (sounds delicious) retailed for CHF 1,000,000, and was no doubt sold before the curd had cured, or whatever the process used in creating a luxury item out of over-churned milk is called…
It was ridiculous at the time (2017), but perception has perhaps softened somewhat to view it more as audacious in hindsight. I certainly laugh with amusement these days when I think about it. At the time I was more horrified than entertained.
Since then, however, H. Moser & Cie. Has continued to establish itself as a brand with a serious sense of humor. I've often thought that Edouard Meylan, the brand's CEO, must have one of the best jobs in the world. If you don't believe me, check out the YouTube video that accompanied the release of the Swiss Mad watch. I don't think I've ever seen a man look any happier in novelty braces.