We're all looking for a steal. Bargains should never be viewed in an absolute sense, but always in a relative way. Cheap doesn't necessarily mean good value; in watchmaking that is certainly the case. One of the most frequent questions I am asked in my position as a watchmaker and industry analyst is which watch people should buy if they want a strong financial return from their luxury watch investment.
Unsurprisingly, it's not the easiest question to answer…
Investment Piece vs. 'Unicorn Find'
A lot of the wild success stories people are familiar with – those bizarre instances when someone opens the sock drawer of their recently deceased great uncle to find a box-fresh vintage Rolex from the 1950s that has a dial misprint and is worth seven figures -might as well be fairytales. These 'unicorn finds' are not commonplace. And more still, they are going to become rarer. Why? Because the rare watches from the era in question were not produced with the intention of being rare or valuable. Remember, in those days, watches were simply tools. Yes, good ones and bad ones existed, but the idea of a timepiece as a luxury item first and a utilitarian one second is a very modern invention.
Modern brands try and create scarcity to create demand and drive desire to feverish levels, but these products will never be as rare or valuable as their forebears, because we, the collectors, will keep them safe. We will love and cherish them, in full awareness of how valuable they could become if only no one else looks after theirs in the same way. Except everybody does, because we all singing from the same hymn sheet.
Regardless, there are still some watches that will age better than others. It really comes down to brand names that are regarded as luminaries in this most competitive arena. In this writer's opinion, there are three standout models from Baselworld 2019 that you should chase after, should you have the inclination…and the dollars…
Patek Philippe Aquanaut Ref. 5168G-010
Well, the green trend is finally here officially, because Patek Philippe says so with their latest Aquanaut. Released in the 'Jumbo' case, the 42.2mm reference 5168G-010 is a vision in white gold. The khaki green dial is a seriously sporty shade for a brand more known for their lounge-room luxury.
No British racing green here, oh no. This is the epitome of casual cool. The khaki actually dresses down more readily than it does up, which speaks volumes of the kind of wealth Patek expects the prospective 5168G-010 customer to have. Price is around $39,650 before state taxes.
Rolex GMT Master II – Ref. 126710BLNR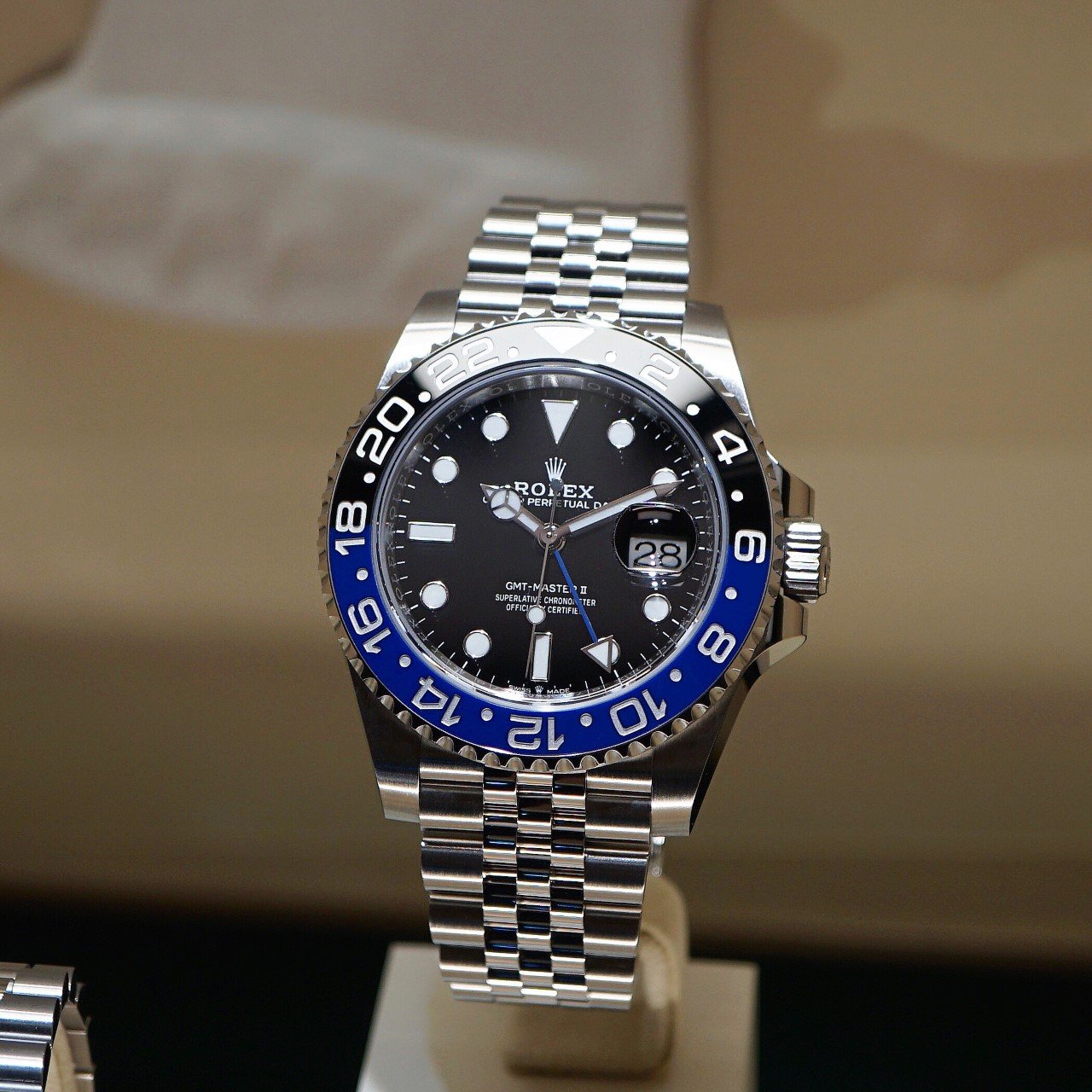 "Oh, hey Batman, nice of you to drop in. Wait… You look different. Did you do something new with your hair?"
You've probably heard of the "Batman" Rolex. It also goes by its other moniker, the "Bruiser". Named because of its black and blue bezel, I'm actually a bigger fan of the latter nickname, but whatever you want to call it, you know it's cool. In fact, it's one of the hottest watches of recent years. Until the updated Pepsi bezel dropped in 2018, the Batman was the piece that topped everyone's wish list.
This year sees the famous black and blue Cerachrom bezel paired with Rolex's Jubilee bracelet. The Jubilee has always been my favorite bracelet Rolex has produced, and its absence from certain models (2018's bi-color Root Beer specifically) has kept my finger on the trigger and the bullet in the chamber. Now the Batman has that extra dash of luxury that the complex and elegant Jubilee bracelet affords whatever watch is paired with it. A smart, simple update, that will continue to propel this model for years to come. Retail price will be $9,250.
Tudor Black Bay Chrono S&G
I'm developing an unhealthy Tudor Fetish. This new Black Bay Chrono is probably my favorite release of the fair below $10,000. It is already a retro classic. When a watch is released to this kind of reception – as Tudor should be getting kind of used to these days – you know there's something special about it. The 41mm case is a bi-color dream, and looks most at home on the bicolor bracelet. The fabric strap is a nice alternative for a subtler, sportier style, but the pure vintage vibes of the gold and steel together can't be beaten in my opinion.
Powered by the manufacture caliber MT5813, this watch also boasts some tasty technical credentials. With the backing of their big brother (Rolex), Tudor seems to be taking strides towards a position of dominance within its price bracket. And what's not to like? An affordable, aesthetically accessible product crafted with the expertise of the industry's finest. Prices start at $5,600 on the strap, and run to $6,800 for the bracelet version.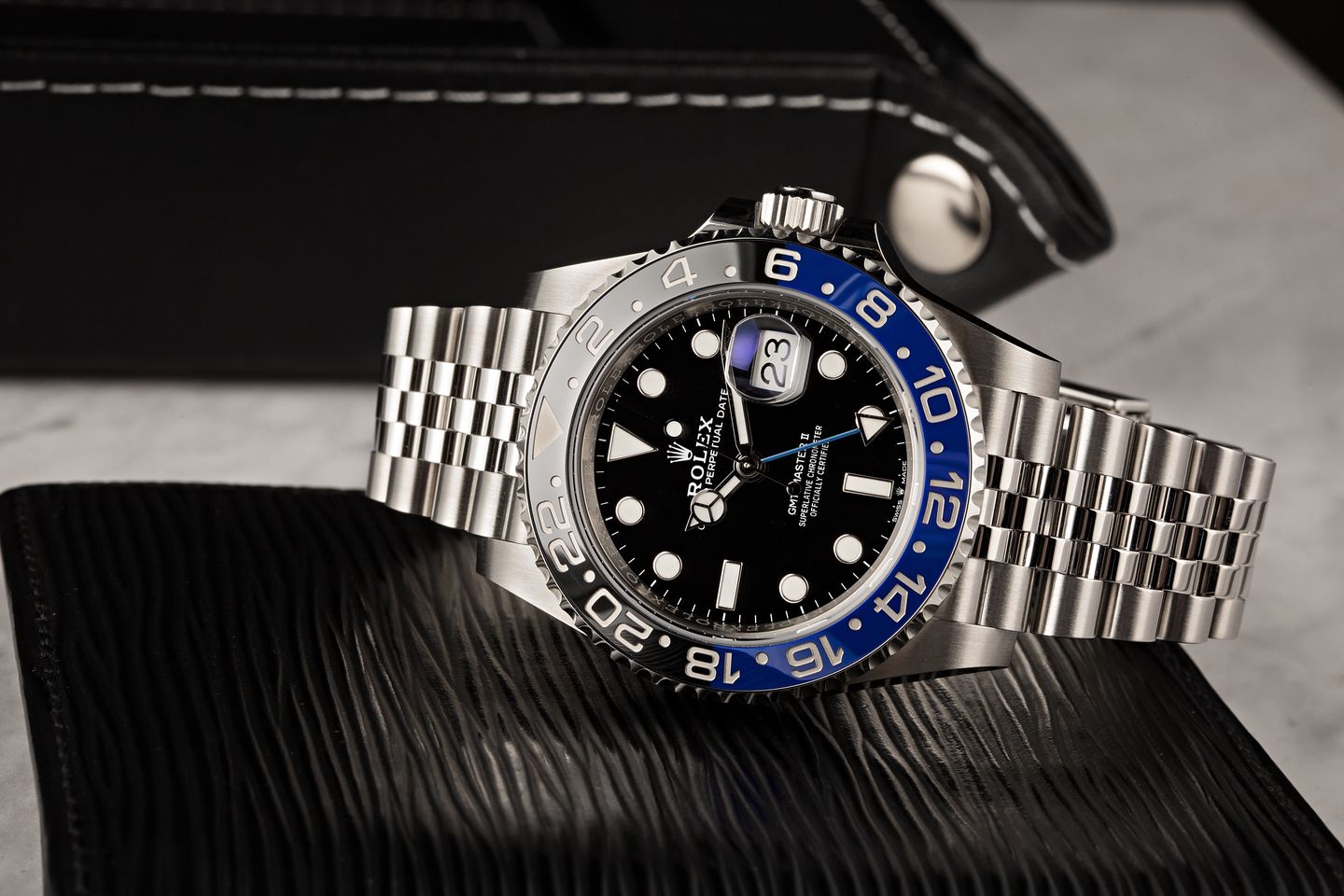 UPDATE: October 2019 – The Best Investment Watch?
We are now in the home stretch of 2019, so we figured we would circle back to see which one of the three timepieces in our selection turned out the be the best investment from Baselworld 2019.
Both the Rolex GMT-Master II ref. 126710 "Batman" and the Patek Philippe Aquanaut 5168G-010 have experienced incredible popularity this year since their release, with demand far exceeding supply. Due to the overwhelming demand for these two models, both the new Batman GMT-Master II and the 5168G-010 Aquanaut are currently selling for roughly 100% above their retail prices on the secondary market.
The "best" investment watch for one person will not be the same as what is best for another person. This is one area where your budget will significantly dictate what is best for you. However, if we have to choose only one piece as the best investment watch from the show, the clear choice is the new ref. 126710BLNR "Batman" GMT-Master II.
The Patek Philippe Aquanaut in solid white gold will set you back nearly $40,000, making the point of entry significantly higher for this particular investment watch. Additionally, supply is far more limited, meaning that it will be more difficult to obtain one of these Aquanaut watches compared to the Batman GMT, and considering that both of these watches have multi-year waitlists at retailers, the actual availability of these models is not something that should be overlooked.
With a retail price of under $10k, the new stainless steel Batman GMT-Master II is less than 1/4 the price of the white gold Patek Aquanaut, and since both watches (when purchased at their respective retail prices) give their owners roughly the same percentage return on their investment, the ref. 126710BLNR represents a far more accessible target, and its stainless steel constructions makes it better suited to be an investment watch that you can also wear every day.