Today marks the start of the Formula 18 (F18) Sailing Americas Championship, which will take place at Alamitos Bay Yacht Club in Long Beach, California. Luxury watches have strong ties to the world of competitive sailing and many of the industry's top brands sponsor professional teams and make timepieces specifically designed for yacht racing. Since the F18 Americas Championships are taking place just right up the coast from our Newport Beach Headquarters, and since we love a good purpose-built sports watch, we are going to be taking a closer look at a few of our favorite regatta timers, along with some of the best sailing watches for those days when you aren't competing.
Before we get started, it might be worth clarifying what we mean by a "regatta timer" and a "sailing watch" in this instance. For the purposes of this guide, the sailing watches are going to be nautically-themed timepieces that are inspired by the world of sailing and designed for the luxury yacht lifestyle, which includes being worn on land, below deck, and in the water. However, within the greater category of timepieces for sailing are regatta timers, which are specialized chronographs and countdown timers that are specifically designed for the world of competitive boat racing. So, without further ado, below is a closer look at some of our favorite watches for a life spent out on the water.
About Regatta Timers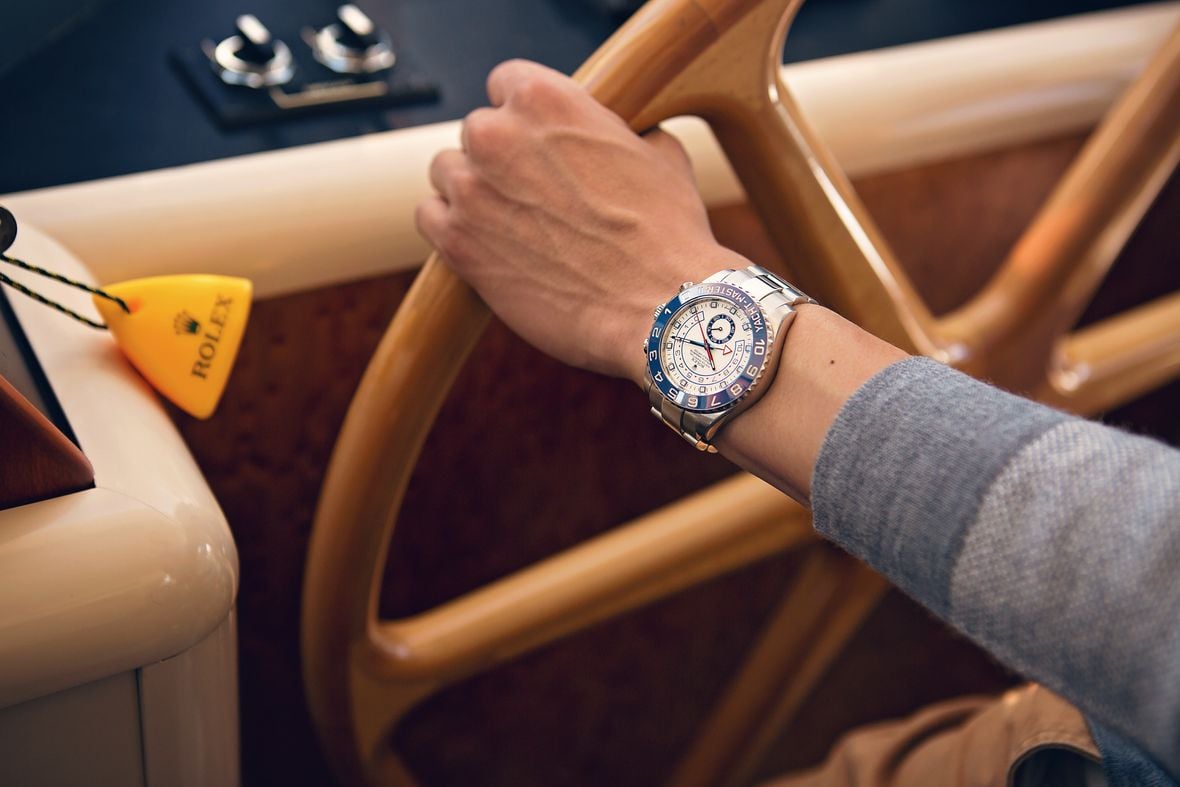 The Purpose of a Regatta Timer
Being able to keep track of time is an essential part of most sports, and this is especially true with anything that involves racing. However, unlike normal races that take place on dry land, the starting process of sailing races (collectively known as regattas) is a bit more involved, since the participating boats are not able to simply stay perfectly still at the starting line and quickly take off once the race begins.
Given that they are already going to be subject to natural movement from winds and currents, the boats competing in a regatta are allowed to be in motion prior to the start of the race. However, they may not cross the actual starting line before the race officially begins, otherwise they risk incurring penalties. Therefore, rather than measuring the amount of time that it takes for a boat to complete the race, the core purpose of a regatta timer is actually to help the crews measure down to the start of the race.
This countdown stage (which is typically between 5 and 10 minutes) is crucial in determining the overall outcome, and some regattas can be decided even before they officially begin. The goal during this stage is to build up as much speed and get as close to the starting line as possible before the race begins. However, since the boats cannot cross the line prior to the start, nor can they stop suddenly to avoid crossing the line should they miscalculate the countdown, knowing exactly how much time is left before the official start is a key part of a team having a successful race. Regatta timers are specifically designed to help track this rather complex countdown stage, and below are a few of the best in the business.
Rolex Yacht-Master II
Yacht-Master II 116680 Key Features:
– Reference Number: 116680
– Case Size: 44mm
– Materials: Oystersteel (904L Stainless Steel)
– Functions: Time w/ Running Seconds, Flyback/Fly-Forward Regatta Timer w/ Mechanical Memory
– Dial: White w/ Luminous Hour Markers
– Bezel: Ring Command, Blue Cerachrom Insert w/ 10-Minute Countdown Scale
– Crystal: Sapphire (Flat)
– Movement: Rolex Caliber 4161
– Water Resistance: 100 Meters / 330 Feet
– Strap/Bracelet: Oyster Bracelet
While the original Yacht-Master model was intended more for spending time lounging on a boat, the Rolex Yacht-Master II was designed from the ground up to be specifically for boat racing, and it might just be the single most capable and purpose-built regatta timer currently available (excluding quartz and digital models). The vast majority of mechanical regatta timers are powered by standard chronograph movements that are paired with specialized displays that aid with tracking the countdown stage. However, Rolex designed the Yacht-Master II to have a dedicated programmable countdown timer with a mechanical memory, which features both flyback and fly-forward functionality so that its users can easily synchronize it to the official race clock.
When Rolex first released the Yacht-Master II, it was exclusively available in solid 18k gold. However, a two-tone Everose Rolesor model and stainless steel version have both joined the lineup over the years, with the latter being the most suited for actual boat racing. Most notable about the Yacht-Master II is that accessing its advanced functionality is surprisingly simple due to its Ring Command bezel, which links the external rotating surround to the movement within, to facilitate the process of setting its adjustable countdown timer. With a 44mm case and Oyster bracelet made of highly corrosion-resistant 904L stainless steel and an ample 100 meters of water resistance, the Rolex Yacht-Master II ref. 116680 might be the ultimate mechanical regatta timer.
Omega Seamaster Diver 300M ETNZ
Seamaster Diver ETNZ Key Features:
– Reference Number: 212.92.44.50.99.001
– Case Size: 44mm
– Materials: Titanium (Grade 5)
– Functions: Time w/ Running Seconds, Date Display, 12-Hour Chronograph w/ Regatta Timer Display
– Dial: Sand-Blasted Titanium w/ Luminous Hour Markers
– Bezel: Unidirectional, Black Ceramic Insert w/ 60-Minute Scale
– Crystal: Sapphire (Domed)
– Movement: Omega Caliber 3330
– Water Resistance: 300 Meters / 1,000 Feet
– Strap/Bracelet: Black Rubber Strap
Omega is a long-time supporter of Emirates Team New Zealand (ETNZ) and the world of competitive sailing. Over the years, the historic Swiss watch manufacturer has created a number of special edition models (most frequently from the Seamaster collection) that have celebrated the brand's relationship with the championship-winning team, and the Omega Seamaster Diver 300M Chronograph ETNZ was a watch originally launched in 2015 that expanded upon the standard Seamaster Diver Chronograph platform to include a regatta-oriented display, sailing-inspired features, and the signature colors of Emirates Team New Zealand.
Rather than being built from stainless steel like the normal Seamaster Diver 300M, the ETNZ edition features a case constructed from satin-finished grade 5 titanium that is fitted with a sand-blasted grade 5 titanium dial and a matte black ceramic bezel. Although the Co-Axial Caliber 3330 movement that powers the watch is a standard chronograph movement, it has been fitted with a specialized chronograph minute hand that works in conjunction with the corresponding scale on the sub-dial to help track the countdown to the start of the race. Despite being intended for the world of competitive sailing, the fact that the Omega Seamaster Diver 300M ETNZ Chronograph was built upon a dive watch platform means that it retains many of its professional diver features such as a unidirectional timing bezel, helium escape valve, and 300 meters (1,000 feet) of water resistance.
Panerai Luminor Yachts Challenge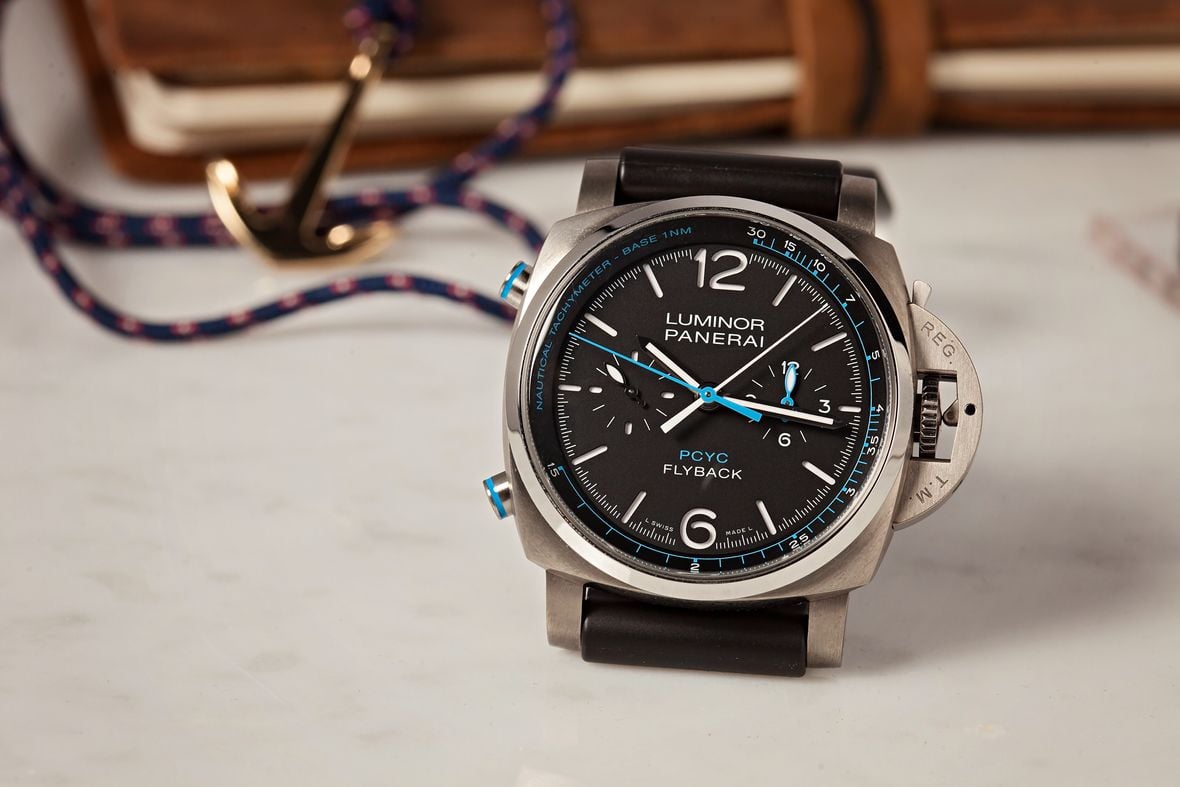 Luminor Yachts Challenge Key Features:
– Reference Number: PAM00764
– Case Size: 44mm
– Materials: Titanium
– Functions: Time w/ Running Seconds, 12-Hour Flyback Chronograph w/ Regatta Timer Display
– Dial: Black w/ Luminous Hour Markers and Nautical Tachymeter Scale
– Bezel: Fixed, Brushed Titanium, Smooth Style
– Crystal: Sapphire (Domed)
– Movement: Panerai Caliber P.9100
– Water Resistance: 100 Meters / 330 Feet
– Strap/Bracelet: Black Rubber Strap
Panerai is another brand with strong ties to the sea and today, the brand sponsors professional divers along with the Luna Rossa yacht racing team. Panerai originally got its start producing water-resistant compasses and other diving instruments for the Italian Navy more than a hundred years ago, and water-resistant timepieces are still a major part of the brand's contemporary catalog. Not only does Panerai have a dedicated line of dive watches in the form of the Submersible, but it also produces a number of other nautically inspired models such as the Panerai Luminor Yachts Challenge.
Released in 2019 to celebrate the brand's relationship with the Panerai Classic Yachts Challenge race, the watch features a large and lightweight 44mm titanium case paired with a high-tech flyback chronograph movement. On the right-hand side of the case is the Luminor's signature crown protecting bridge, while a pair of pushers for operating the chronograph stick out from the opposite side of the case. Powering the watch is the Caliber P.9100 movement, which features a 12-hour flyback chronograph that includes centrally-mounted hour and minute hands for maximum legibility. Additionally, the Cal. P.9100 also features Panerai's "seconds reset" function, where the running seconds hand for the time automatically resets to zero when the crown is pulled out to facilitate the time-setting process. Under the domed sapphire crystal is a black dial that includes a nautical tachymeter scale for use while out on the water, while a sturdy black rubber strap takes care of keeping the watch securely held to your wrist.
About Sailing Watches
Watchmaking's intertwined relationship with the earth's seas has been central to its evolution over the last three centuries. Following the Scilly naval disaster of 1707, the Parliament of Great Britain established the Longitude Act in 1714, which offered significant financial rewards to anyone who could figure out how to determine longitude accurately at sea.
After years of research, development, and different "sea clocks," British horologist John Harrison invented the marine chronometer, (now known as the H4 watch), which would retain timekeeping accuracy even during turbulent seafaring voyages. The pioneering marine chronometer not only paved the way for today's 'certified chronometer' luxury wristwatches but also cemented horology's continued fascination with nautical life. For all those individuals who enjoy nautically-inspired watches and spending time on a boat – but who do not actually spend their days racing boats, here are a few of our top picks for luxury sailing watches.
Patek Philippe Nautilus
Named after Captain Nemo's submarine in Jules Verne's novel Twenty Thousand Leagues Under the Sea and sporting a case fashioned after a ship's porthole, the Patek Philippe Nautilus' ties to the sea are unquestionable. In fact, Gerald Genta, the man behind the design of the Nautilus, knew that the Stern family (owners of Patek Philippe) was enthusiastic about sailing and the designer no doubt used this as inspiration for the groundbreaking Patek timepiece. The Nautilus made its debut in 1976 and as a large stainless steel luxury sports watch, it competed directly with the (also Gerald Genta-designed) Audemars Piguet Royal Oak watch of that time. With a water resistance rating of 120 meters, the Nautilus watch could accompany even the most active of the well-heeled class.
While the Nautilus began as a stainless steel 42mm men's model with a simple time and date dial, Patek Philippe has continuously widened the assortment of the collection over the years to include precious metal options, different case sizes, versions with complications, and smaller ladies' models. Today, the sea-inspired Nautilus is one of the most sought-after luxury watches in the market, with demand far exceeding supply.
Omega Seamaster Aqua Terra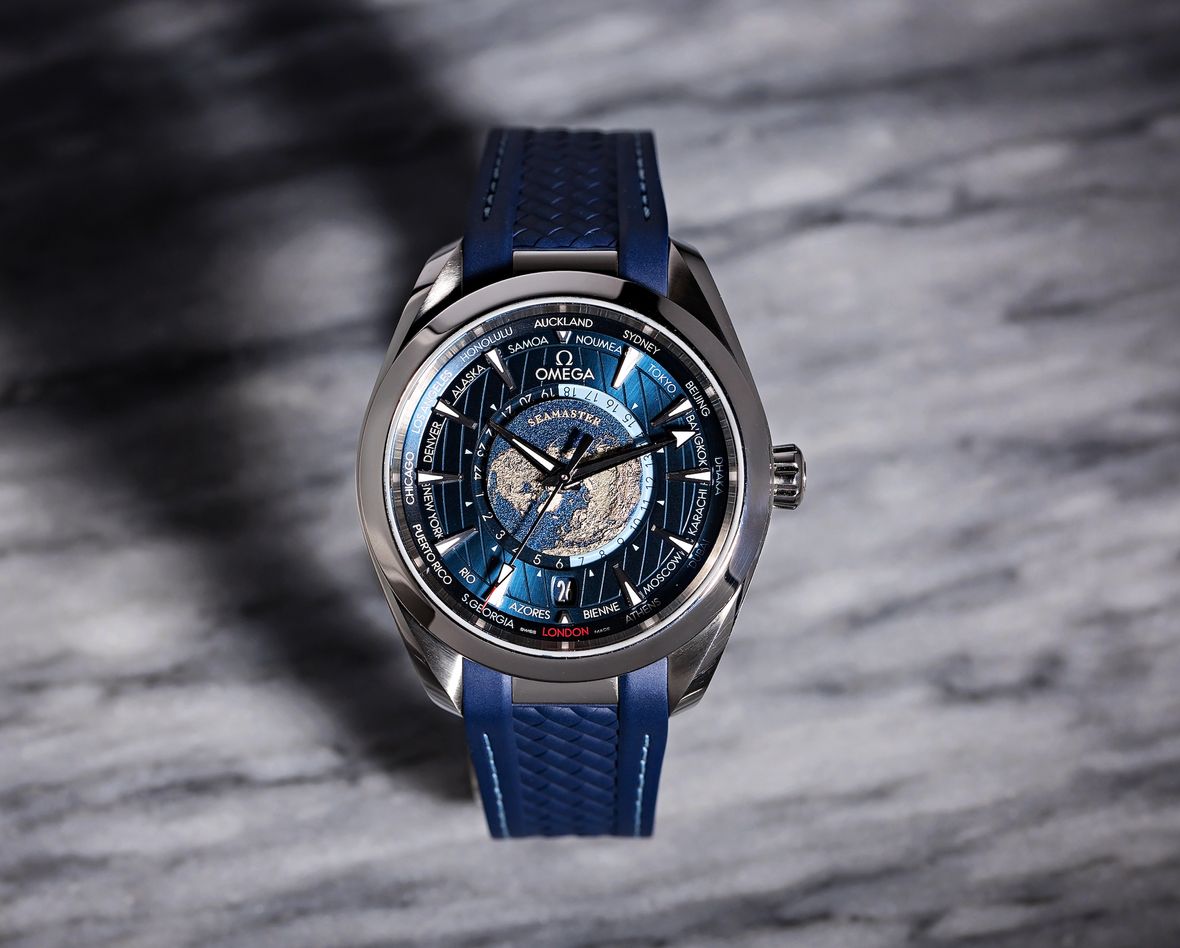 In 2002, Omega launched the Seamaster Aqua Terra collection with, as its name suggests, watches inspired by the sea and land. Positioned as an elegant yet sporty watch to be worn every day, Omega doubled down on the Aqua Terra's nautical association when it introduced the "teak concept" to the watch dials. The vertical lines (later horizontal) of the Aqua Terra watch dials were designed to mimic the wooden decks of luxury yachts.
While a good majority of the Seamaster Aqua Terra collection is made up of 41mm time and date models, Omega does also make larger and complicated versions for intrepid travelers such as GMT models and World Timer editions. There are also the smaller ladies' Seamaster Aqua Terra watches. The latest versions of the sea-inspired Aqua Terra come equipped with Omega's latest generation Master Chronometer automatic movements, which are antimagnetic to 15,000 gauss. In true Omega fashion, the Aqua Terra watches come in a generous range of metals, dial colors, and strap options.
Rolex Yacht-Master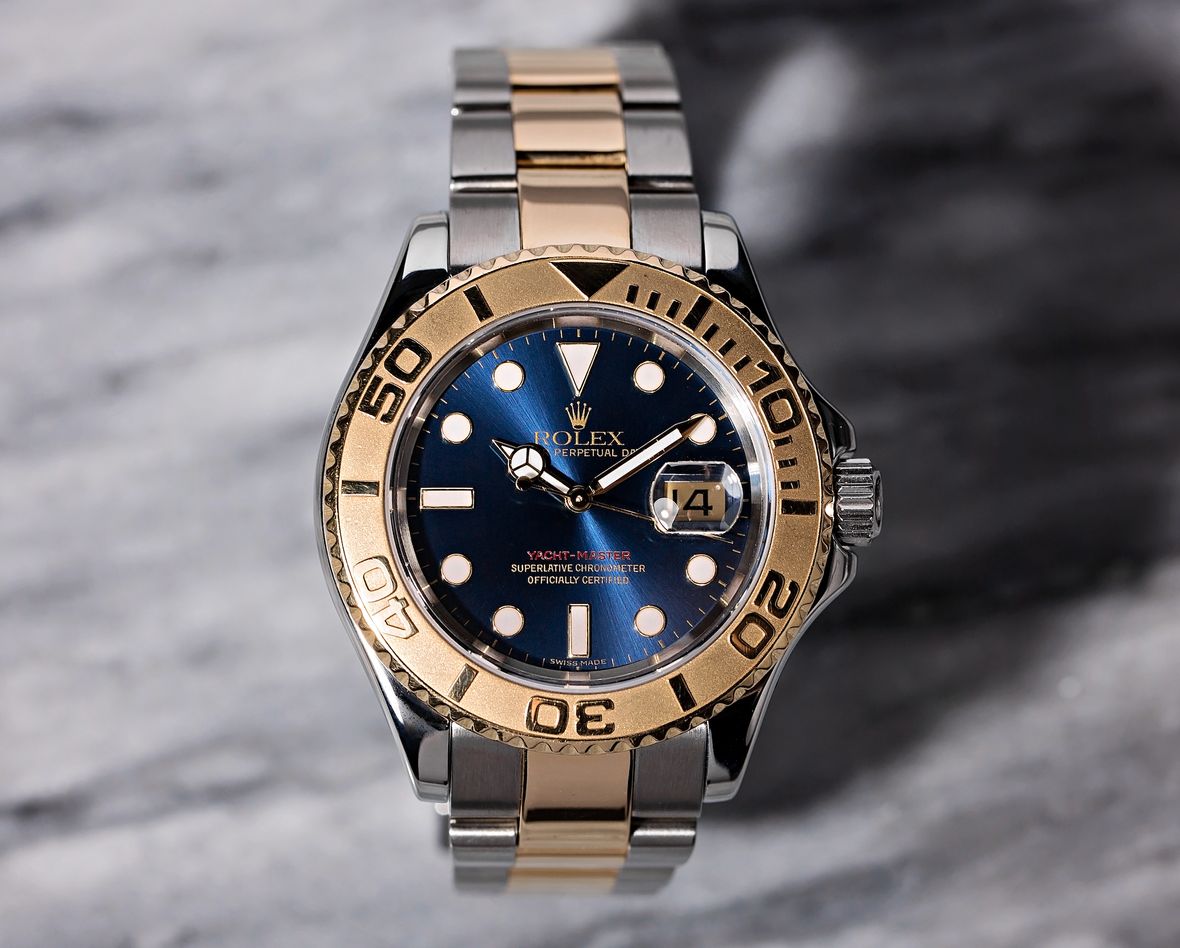 Rolex is well known for its assortment of dive watches built for underwater exploration, but the brand also makes nautical-inspired watches housed in the Yacht-Master collection. First introduced in 1992, the Yacht-Master has carved out its space as a luxury sports watch that shares some design traits with the Submariner but with a more tailored touch. Rolex Yacht-Master watches feature Oyster cases water-resistant to 100 meters for those times you want to jump off the boat for a swim in the sea and rotating bezels as a way to measure elapsed time.
The Yacht-Master is one of Rolex's most diverse collections, featuring a slew of materials, sizes, and design options. There are stainless steel models topped with platinum bezels, full yellow gold models, and Everose and white gold models with black ceramic bezels and black Oysterflex bracelets. Rolex has also made five different sizes of the Yacht-Master (29mm, 35mm, 37mm, 40mm, and 42mm) over the years, and of those sizes, only the three largest are still in production.
Dressier than divers and more rugged than dress timepieces, luxury watches inspired by the sea offer a great balance of timeless style, continuous comfort, and everyday practicality.