The Rolex Daytona timepiece may be one of the most iconic watches that Rolex produces, however much of the success of the modern-day Daytona can be attributed to the various Rolex chronographs that came before it. One particular model of chronograph produced in the early 1950s, the Rolex Oyster Chronograph (reference 6034) stands out due to its popularity among celebrities, and its precursor status to the now-iconic Daytona.
The Oyster Chronograph 6034 Led The Way
The Daytona, named after the famous Daytona 500 NASCAR race, is oriented towards racing drivers, however drivers were donning Rolex chronographs long before the official release of the Daytona. The reference 6034 was particularly popular among drivers due to the inclusion of different-colored tachymeter and telemeter markings on the dial- for measuring speed and distance respectively. Additionally, the watch features three subsidiary dials at the 3, 6, and 9 o'clock markers that display constant seconds, thirty-minute, and twelve-hour counters.
This package of features, coupled with Rolex's reputation for producing top-quality sport watches, made it an excellent choice for drivers. In 1953, LeRoy Neumayer wore a reference 6034 when he broke the land speed record at 233 miles per hour, further cementing the connection between Rolex and auto racing.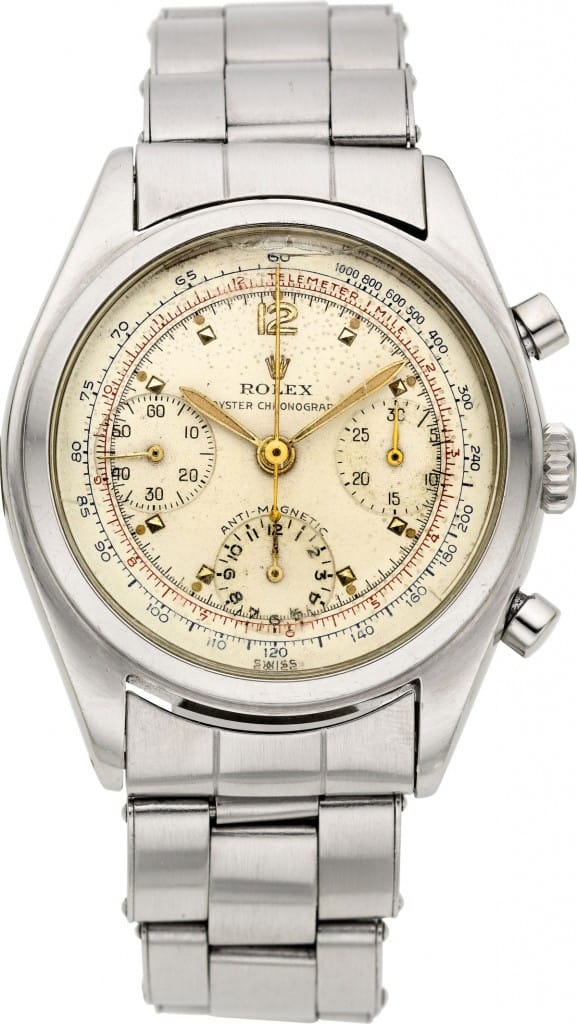 Here are a few features on this vintage chronograph that pre-dates the Daytona. The 6034 chronograph features both tachymeter and telemeter scales, however, the contemporary Daytona has done away with the telemeter and has moved the tachymeter markings from the face of the watch to the bezel. As a result of this change, the reference 6034 looks much more subtitle and less robust than the Daytona.
At the heart of the reference 6034 chronograph beats a caliber 72 mechanical movement. This movement contains 17 jewels and features a monometallic screw balance and an in-line escapement. Although later versions of Rolex chronographs are self-winding, the movement in the 6034 must be wound by hand, with chronograph functions accessible via the two round push buttons located on either side of the crown.
The reference 6034 was offered both in stainless steel and in 18-karat yellow or pink gold, with stainless steel models largely outnumbering gold. Both the watch movement and the 36 mm tonneau-shaped case are antimagnetic, and the case back and crown screw down for water resistance.
The reference 6034 chronograph is desirable to collectors largely due to the place that it holds in Rolex's history. The Daytona is one of Rolex's most iconic watches, and the reference 6034 stands as one of the precursors that paved the way. Anyone with sufficient funds may purchase a new Daytona, however acquiring a reference 6034 speaks to a deeper understanding about the watch itself and the history behind the company. In short, the reference 6034 is emblematic of a watch that is truly desirable – even before it was recognized as such.