While many Rolex President watches out in the wild have diamonds, more than a fair share of them are, in fact, customized with aftermarket additions. As some of you may already know, there is a significant difference between adding your own custom-set diamonds versus buying a Rolex with factory diamonds. Let's have a look at a factory diamond Rolex example in the form of this dazzling Day-Date 18348.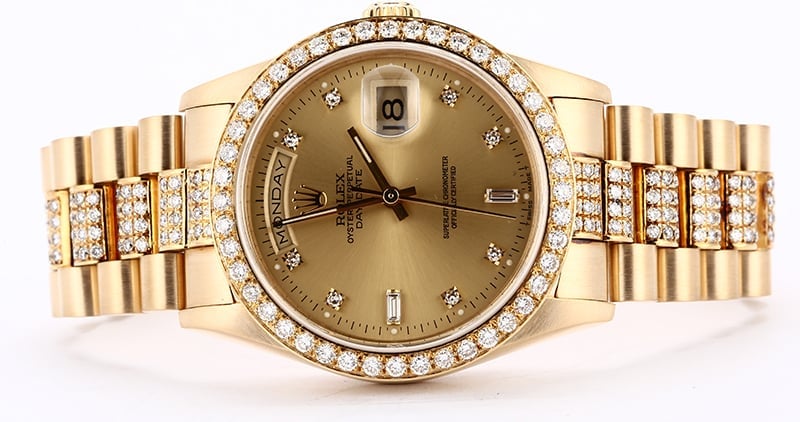 Rolex Day-Date 18348 with Diamond President Bracelet
In the late 1980s, Rolex introduced a new generation of the Day-Date model. Unlike the ones that came before, the new models (which have 182xx or 183xx reference numbers) boasted the double quickset feature thanks to the Caliber 3155 movement. This simply means that both calendar windows can be adjusted independently without the need for continuously turning the hands around the dial.
The difference between the 182xx and 183xx reference numbers is that the latter includes diamond-set cases, such as this Day-Date 18348. Along with the diamond-set bezel on the 36mm case and diamond indices on the dial, this particular 18k yellow gold President ref. 18348 is even more spectacular thanks to its diamond-set bracelet.
Most Day-Date watches come equipped with the now-iconic President bracelet, characterized by its three semi-circular link design. However, very few include a factory diamond-set President bracelet. Each of the center links of the President band on this Day-Date ref. 18348 is meticulously diamond-paved, resulting in a specular jewelry-like effect.
In-House Rolex Gem-Setting
It is worth mentioning that Rolex takes the art of gem-setting very seriously. In addition to employing hundreds of watchmakers, the Crown also has an in-house gemology department where gemologists are in charge of sourcing the highest quality gems, while master jewelers set the precious stones by hand into the watches. This is why factory diamond Rolex watches are much more valuable than Rolex watches that have been customized with aftermarket gems.
Of course, there is nothing wrong with customizing a Rolex watch with diamonds after you have purchased it. After all, it is yours to do as you wish with it! However, keep in mind that once a Rolex has been modified in any way, Rolex authorized service centers will no longer service the piece. Plus, the secondary market favors Rolex watches that have original components over those with customized parts.
A yellow gold Rolex Day-Date is an absolute classic in luxury watches. And when one is blanketed with factory diamonds like the ref. 18348, it is even more exceptional.