The second generation of the brand's aviation-themed timepiece, the ref. 1675 GMT-Master, had a long and illustrious life. Released in 1959, it served with great distinction all the way up to 1980; a prolific run of more than 20 years that secures it as one of the easier vintage Rolexes to find. It's often the gateway into the world of vintage Rolex sports watch collecting.
Click here for our Ultimate Guide to the vintage Rolex GMT-Master 1675.
All reference GMT-Master 1675 watches, however, are not created equal. Yes, there are variations in dial finishing, crown guard shapes, and caliber numbers. But beyond that, there are also some Rolex GMT-Master 1675 models with co-branded dials floating around in the vintage market.
These unusual examples are relics of an era when Rolex allowed other companies to stamp logos on watch dials. Interestingly, some of these companies have not survived either due to bankruptcies, acquisitions, or rebranding; yet, the Rolex watches that bear their names live on. Join us as we explore the origins of Rolex co-branded watches and highlight a particular GMT-Master 1675 with a co-branded dial.
Rolex's Co-Branding History
At the start of the 20th Century, the young Wilsdorf & Davis company, later to become Rolex, made its mark by producing unbranded watches for jewelers. The jewelers were then free to print with their logos and sell the watches as their own. That practice had ceased by the 1920s with Hans Wilsdorf vowing to have every Rolex watch bear his company's name and now-famous crown emblem.
However, as late as the 1990s, some of the company's signature models would bear the names of famous jewelers, such as Tiffany or Asprey, alongside the Rolex moniker, designating the prestigious stores selling those rarefied examples.
Similarly, Rolex made co-branded watches for certain entities, to present as unique gifts or as recognition for noteworthy deeds. The givers of these favors range from Middle Eastern royalty and military forces to top professional operations. For instance, French commercial diving specialists, Compagnie Maritime d'Expertises, ordered custom Rolex Submariner and Sea-Dweller watches for its fleet of divers, complete with the COMEX logo imprinted on the dial. It comes as no surprise that COMEX branded Rolex watches are exceedingly collectible in today's market.
It's hard to imagine now given how exclusive and guarded the Crown has become, but by the mid-20th Century, Rolex actively advertised its commercial branding services. There's even a vintage ad promoting Rolex's Service Awards program, proudly stating: "A Rolex Watch is your soundest corporate choice." Rolex evidently wanted to cash in on the service awards traditions of the era. Let's not forget that for a certain generation, a fine watch – especially a Rolex – was the ultimate token of appreciation from their employer.
As a result, several high-profile retail businesses graced their top performers and most loyal employees with Rolex watches emblazoned with their company logo. Supermarket giant Winn-Dixie is one example, and of course, who can forget the infamous Domino's Pizza Air-King presented to store managers grossing $25,000 a week for four consecutive weeks? The Coca-Cola Company famously rewarded executives with 25 years of service with co-branded pieces of their own.
These unusual double-stamped dials that combine logos of mass-market companies (that sell groceries, pizzas, and sodas) with one of the world's most luxurious names is a juxtaposition that'll make anyone pause and have another look.
The Reference 1675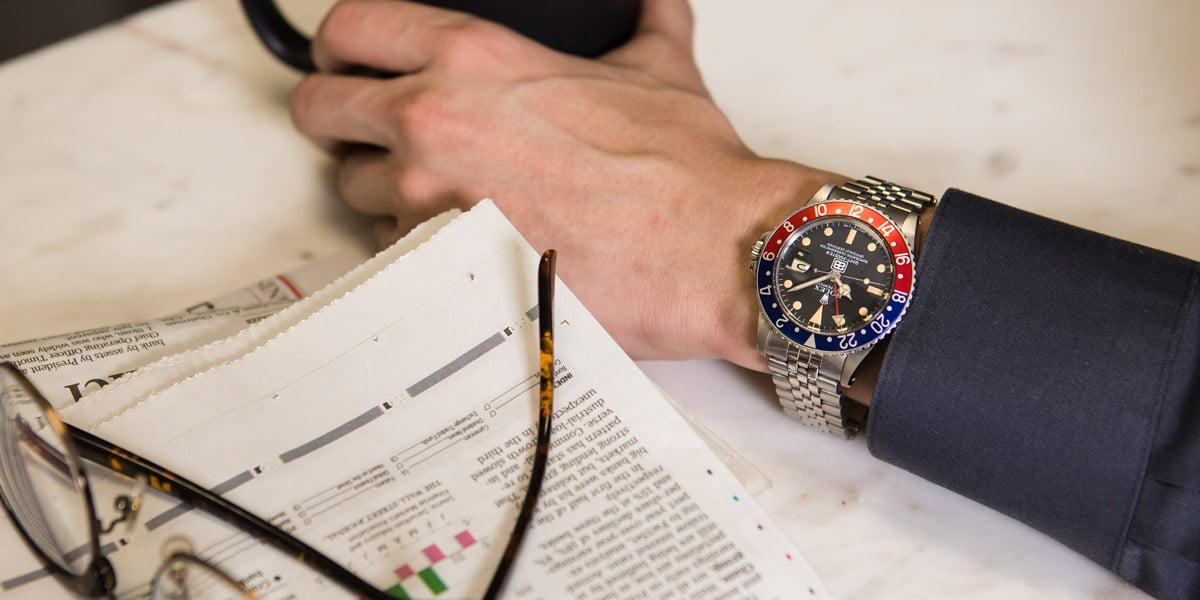 Production years: 1959 – 1980
Case: 40mm; stainless steel
Crown guards: Square or rounded
Bezel: Aluminum, blue/red "Pepsi" or all-black
Crystal: Acrylic
Dial: Black; gilt-gloss or matte with white print
Caliber: 1565 or 1575 automatic movements
When Rolex replaced the original GMT-Master reference 6542 with the ref. 1675 model in 1959, the company introduced some notable updates to the then-new model. First, the 1675 GMT-Master had crown guards – a detail that the preceding reference lacked. To accommodate the new shoulders flanking the winding crown, the 1675's case grew by 2mm, clocking in at 40mm in diameter. Furthermore, another important change that Rolex made was replacing the Bakelite bezel used on the older 6542 with an aluminum bezel on the GMT-Master 1675.
Since Rolex produced the GMT-Master 1675 for two decades, the reference underwent a few changes throughout its history. For example, early examples of the 1675 had pointed crown guards (known as PCG or El Cornino), which eventually evolved into the more rounded guards we're familiar with today. Additionally, the dials of the ref. 1675 changed over time; early examples were fitted with a gilt-gloss dial, characterized by shiny black dials with gold-toned text. From the mid-sixties on, the company switched to matte black dials with white text. From there, several additional dial variations exist, including glossy dials with or without a chapter ring and several matte dial variations categorized into different "Marks" from Mark 0 to Mark 6. The GMT showcased in this review features the rare and highly sought-after Mark 3 Radial Dial. Rolex also added the option of a 1675 with an all-black bezel in the early seventies to sit alongside the models with the iconic blue and red "Pepsi" GMT-Master bezels.
Finally, Rolex also updated the movement inside the GMT-Master 1675. The first one to power the reference 1675 was Caliber 1565, which operates at a frequency of 18,000 beats per hour. By the mid-1960s, that movement was replaced with Caliber 1575 with an increased frequency of 19,800bph. In 1971, Rolex added the hacking feature to Caliber 1575, which allows the seconds hand to halt when adjusting the time.
GMT-Master Ref. 1675 with AB Co-Branded Dial
This particular GMT-Master 1675 this a later model, made in the late-1970s. Its dial is of the matte black variety and its tritium lume plots have aged into a warm creamy shade. Moreover, it has what collectors refer to as a Mark 5 dial, which is in part defined by the right vertical line of the M in "Master" aligning with the middle of the C and H in "Chronometer."
But it's the detail on the dial, just above the six o'clock index, that makes this GMT-Master 1675 especially intriguing. An AB logo sits atop the GMT-Master name, which makes this a co-branded dial. The AB logo is from the Arkansas Best Corporation (now rebranded as the ArcBest Corporation), which was founded as a local freight hauler OK Transfer in Fort Smith, Arkansas in 1923. The company formed Arkansas Best Corporation in 1966, and in 1972 it becomes a public company listed on the New York Stock Exchange. We can only assume that the firm gave out these AB logo Rolex GMT-Master 1675 co-branded examples to its longest-serving personnel.
The bezel, the most recognizable of attributes with its iconic blue and red Pepsi color scheme, was replaced at service, which gives the watch a look almost as pristine as when it was made nearly 40 years ago. A pilot's watch it may be, but the GMT-Master's legendary toughness and resilience make it a logical choice to present as recognition for the demands of the haulage industry.
Other GMT-Master 1675 Co-Branded Dials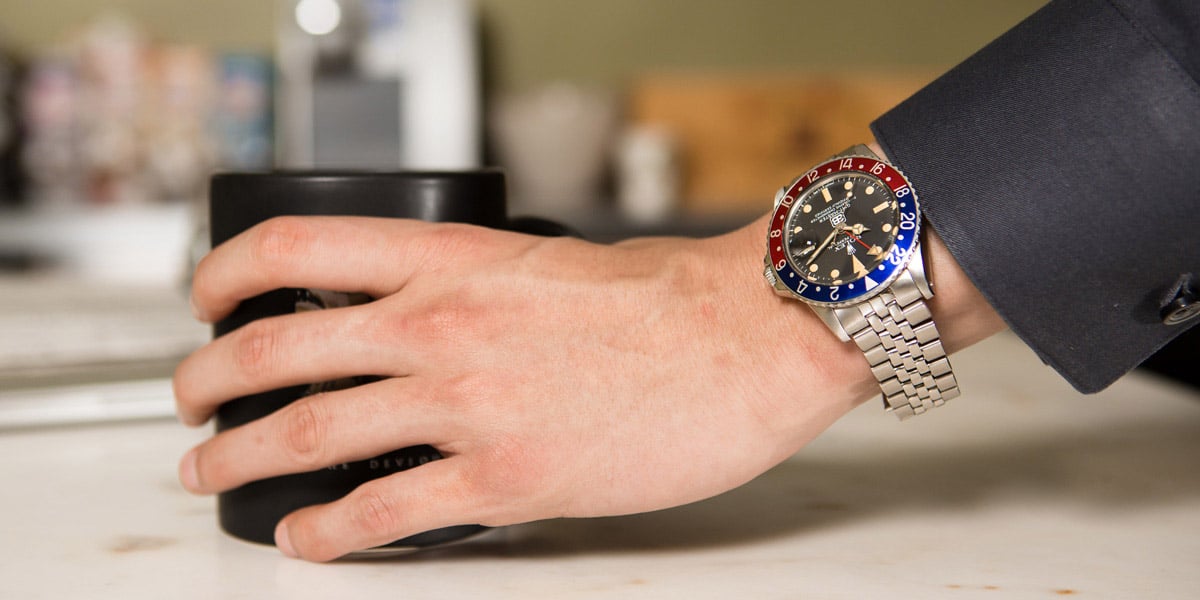 Aside from the GMT-Master 1675 with the AB logo we highlighted above, Rolex made plenty of other examples of the same references with different co-branded dials. The most famous of them all is the double-stamped Tiffany GMT-Master 1675, featuring the Tiffany & Co. logo above the GMT-Master name – and of course, retailed exclusively at select Tiffany boutiques.
There are also some vintage GMT-Master 1675 models stamped with official insignias of Middle Eastern countries such as the United Arab Emirates and Oman. These double-stamped Rolex watches were often worn by government, army, and police personnel or given by the leaders to civilians as gifts.
The co-branded dial segment is a fascinating corner of the vintage Rolex market – and some collectors concentrate on studying and accumulating them. The AB-branded Reference GMT-Master 1675 is just one fascinating example among plenty of other examples of double-stamped Rolex dials.