A quality watch is an investment. You want a watch that is functional, stylish, and timeless from a trusted brand, so you can cherish your timepiece for many years to come. The Rolex 16600 Sea-Dweller is the ultimate dive watch and is perfect for both professional and recreational divers, as well as any watch enthusiast or collector. If you are considering purchasing one of these watches, this guide will cover important information that you need to know.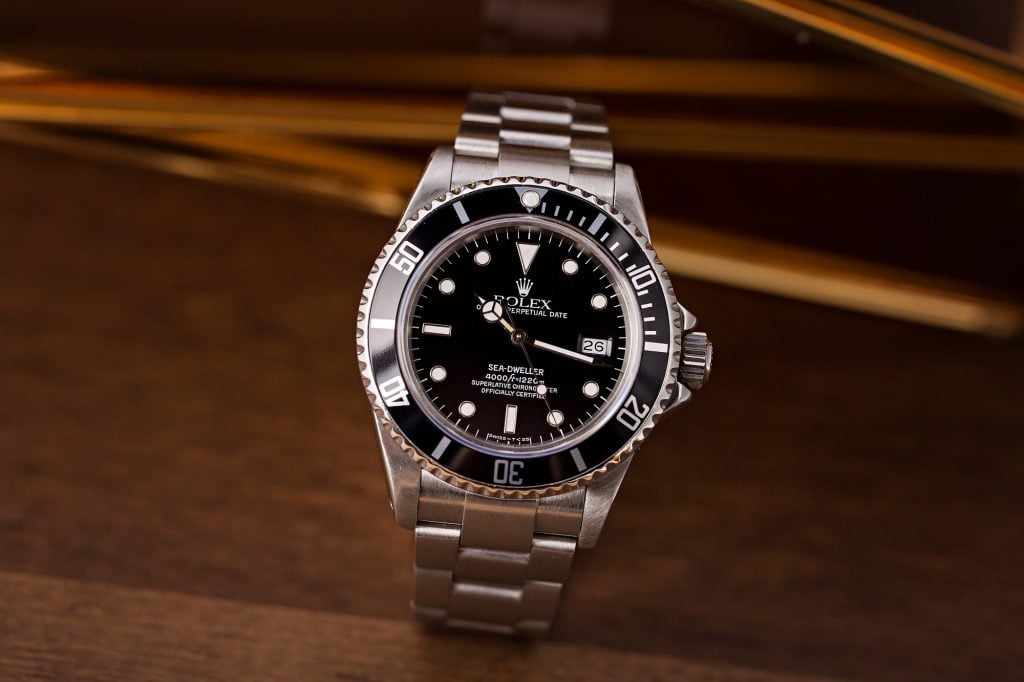 The History of the Rolex 16600 Sea-Dweller
The Rolex Sea-Dweller line was created in 1967 and included the very first watches in the world to ever feature a helium escape valve built into their designs. An essential member of the Sea-Dweller line, the 16600 was built in 1988 to withstand further depths than other members of the Rolex Dweller group, like the Submariner.
The sapphire crystal and new and improved helium escape valve design are to thank for the extended depth rating. These elegant watches were engineered and built for just twenty years before being retired in 2008. Featuring all the same iconic traits as the other Sea-Dwellers, the 16600 is the perfect watch choice for the experienced diver who desires precision and class.
The Key Features of the Rolex 16600 Sea-Dweller
The Rolex 16600 Sea-Dweller is a high-quality watch, considered by many to be the very best of the best. Its wide range of features ensures style and durability for years to come. Here are the Rolex 16600 Sea-Dweller's most renowned features!
Water Resistant Up to 4,000 Feet
By far, the most famous and well-loved feature in this line of watches and particular model is the fact that the Rolex 16600 Sea-Dweller is water resistant for up to 4,000 feet. This makes this watch the ideal model for diving, as you'll never need to worry about water damage or atmospheric pressure issues, thanks to its Swiss-made helium release valve and sapphire crystal.
Helium Escape Valve
If you spend any amount of time diving or underwater, then you know the importance of a helium escape valve likely better than most. The particular helium escape valve in the Rolex 16600 Sea-Dweller is the first of its kind and is also automatically operated, meaning it will automatically engage and disengage depending on the atmospheric pressure that it detects. This means you can focus on working or enjoying the dive, knowing that you have a reliable timepiece, whether you are in or out of the water!
60-Minute Diver's Scale
The Rolex 16600 Sea-Dweller is the result of years of collaboration between Rolex and real-world diving professionals, who worked together to create what is truly the ultimate diving watch. This iconic history of science and exploration is reflected in each detail of the watch, including the unidirectional bezel and 60-minute scale, which it shares with its cousin, the Submariner.
40mm Case
Like earlier Sea-Dweller models, the stainless steel case retains its original 40mm size, making it the perfect blend of classic and modern. Its familiar design stands out in a crowd while still referencing the rich history behind Rolex and its world-renowned watch designs.
Oystersteel Bracelet
The Rolex 16600 Sea-Dweller also features Rolex's iconic, patented Oystersteel for maximum protection against wear and tear, as well as a timeless appearance, no matter what the occasion might be. One of the best features of this bracelet is the fact that it is able to be adjusted without the use of a tool. This feature was built specifically with wetsuits in mind so that you can easily adjust your Rolex 16600 Sea-Dweller to fit on the outside of your wetsuit before each dive.
Automatic Movement
Like other fine watches in its class, the Rolex 16600 Sea-Dweller winds itself automatically, ensuring you never have to worry about pausing to wind it or do other daily maintenance. Enjoy fashion and function without any of the tedious, traditional watch mechanics.
Variations, Colors, and Customization Options
Despite its limited run of just twenty years, there are a few differences in the Rolex 16600 Sea-Dweller models, depending on the year that it is good to be aware of. Models created before 2000 feature 3135 automatic movement, but after 2000 they feature T25 tritium dials, which are branded as Swiss-made. Depending on your personal style and overall preferences, you may very well opt for one versus the other.
Pricing and Availability
Because of its iconic status in the watch world, the Rolex 16600 Sea-Dweller is in high demand. Today, it is one of the rarest watches on the market, emphasizing its quality and timeless style. Generally, you can expect to spend, at a minimum, at least $10,000 for a Rolex 16600 Sea-Dweller. However, this can vary quite a bit depending on the year, the exact model, and the overall condition of the watch that you are looking at.
Due to its rarity and the fact that Rolex stopped manufacturing the Rolex 16600 Sea-Dweller, you will need to consider a vintage or another gently used watch when searching for this exact model. At Bob's Watches, we have a huge variety of verified reseller options, so no matter your price range, you can find the perfect option!
Other Considerations For Your Watch
When selecting the perfect diving watch, it's important to consider a few things when choosing the Rolex 16600 Sea-Dweller. Most of what you need to factor into your decision-making mainly depends on what sort of diving you do and also how many feet you dive. For example, if you are doing extended deep diving, a more modern option, such as the Rolex Deepsea, came directly after the 16600 in 2008 and is rated for 12,800 feet. However, for most divers, the Rolex 16600 Sea-Dweller is a robust, reliable option that is well-suited to all their diving needs!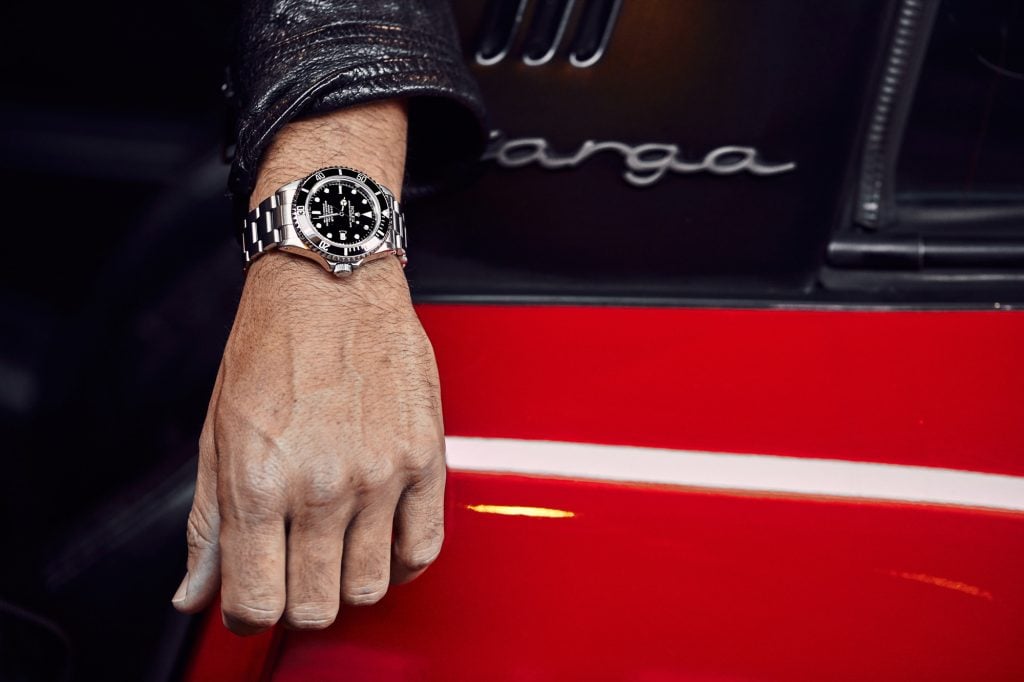 Care and Maintenance of Your Rolex 16600 Sea-Dweller
Caring for your Rolex 16600 Sea-Dweller can help ensure that it is an investment and purchase that you are able to use and enjoy for many years to come. Following a few basic guidelines can help to preserve the function and durability of your watch. Read on for a few easy, simple tips!
Read the User Guide
It probably sounds pretty obvious, but do make sure that you take the time to read the user manual or guide for your Rolex 16600 Sea-Dweller! Doing so will ensure you know how to care for it and that your watch will last a long time. If you ever lose your guide, Rolex has a variety of user manuals posted online on their official website. You can also call a friendly watch sales representative, such as our professionals at Bob's Watches, who will be happy to answer any and all questions or concerns that you might have regarding your watch!
Clean It as Needed
A big part of maintaining the appearance and overall life of your Rolex 16600 Sea-Dweller is simply just cleaning it on a regular basis! The good news is you absolutely do not need to be a jewelry professional to do this. Rolex recommends using a microfiber cloth to wipe it down occasionally, as well as soapy water and a gentle brush if a little extra cleaning is needed. Taking care of these very basic steps can do a lot towards ensuring your watch lasts as long as possible.
Have Regular Maintenance Done
Much like cleaning your Rolex 16600 Sea-Dweller, taking it in for regular maintenance to an authorized dealer or repair person is also very important. Not only can they address any concerns or issues you might be having, but they can also do a much more thorough internal cleaning and inspection of the watch than you can do at home. They can even refinish or repolish individual pieces, as well as test your waterproofing, which is very important for the health of any dive watch!
Get It Certified If You Buy Secondhand
It is very important when buying a watch secondhand that you buy from a reputable dealer who can certify your Rolex 16600 Sea-Dweller's authenticity. All of the timepieces sold at Bob's Watches are verified by WatchCSA, with documentation of this certification available at checkout. This ensures you never have to worry about the frustrating experience of receiving a counterfeit piece when shopping for a watch or parts for your Rolex 16600 Sea-Dweller.
Get a Warranty For Your Watch
Getting a warranty for your Rolex 16600 Sea-Dweller when you purchase it is also a wise decision. All of the watches sold at Bob's Watches come with a one-year warranty designed to provide transparency and peace of mind for each of our valued customers!
Conclusion
Whether you're an experienced diver, a passionate recreational swimmer, or just a lover and collector of watches, a Rolex dive watch can make all the difference to your diving experience. The Rolex 16600 Sea-Dweller is an incredible piece to add to your wardrobe and is an elegant statement whether you are in or out of the water. If you have any questions about this watch or any of its vast features, our friendly, helpful representatives at Bob's Watches can answer all of your inquiries!