Rolex's use of gold in its watches has both increased and become more intentional over the years. While certain purpose-built tool watch collections such as the Submariner, Daytona, and GMT-Master now feature a wide range of both two-tone and solid gold models, other aspects of Rolex's gold usage have been trimmed down and become more directed. Along with creating watches from 14 karat gold (rather than the now-standard 18k variety), Rolex also previously offered solid gold versions of both Date and Datejust watches, and one model that perfectly underscores this past chapter of the iconic brand's history is the Rolex 15037 in solid 14k yellow gold.
Rolex Date reference 15037
Rolex 15037 Key Features:
Circa: 1980s
Case Diameter: 34mm
Materials: 14k Yellow Gold
Features: Time w/ Running Seconds, Date Display
Dial: Multiple Options Available
Bezel: Fixed, Fluted-style, 14k Yellow Gold
Crystal: Acrylic w/ Cyclops Lens
Movement: Caliber 3035
Bracelet: Oyster or Jubilee
Price Range: $9,000 to $14,000 (pre-owned)
Click here to learn the difference between the Rolex Datejust and Rolex Date.

Rolex Date ref. 15037 – A Short History
The Rolex Date could best be described as a slightly smaller version of the classic Datejust. What is most interesting is that while Rolex now produces numerous different sizes within the Datejust collection, the band's 34mm date-displaying watch is known simply as the Rolex Date. This practice continues to this day, and although the Date now occupies a smaller role in Rolex's catalog than ever before, it still remains its own distinct watch within the company's lineup.
In the past, the Rolex Date offered many of the same options as the Datejust line and even was powered by the exact same movement as the standard 36mm men's Datejust. While the Date collection was generally a bit more limited and there were also some slight differences in regards to the styles of dials and bezels that were available on the two models, the key difference was the 2mm smaller case size of the Rolex Date. However, because the Datejust was Rolex's original flagship model, it often featured more-premium options than the Date. For example, solid gold Datejust watches featured 18k gold, while the solid gold Date was made from 14k.
A New Solid Gold Rolex Date Watch
In 1977, Rolex unveiled its Caliber 3035 movement, which brought both a higher frequency of 28,800bph and quickset functionality to Rolex's date-displaying men's watches. The arrival of the Cal. 3035 also marked the first of Rolex's 5-digit reference number models and over the course of the next several years, many of the brand's collections would see updated generations based around this new movement.
Rolex already had a solid 14 karat yellow gold version of the Date with a fluted bezel in the form of the reference 1503 and just like its 4-digit Datejust siblings, it was powered by Rolex's Caliber 1575 movement. However by the beginning of the 1980s, the full gold Rolex Date was due for an update, and the brand launched the reference 15037, which offered much of the same overall styling as the ref. 1503 but with the new and improved Caliber 3035 movement.
By the end of the 1980s, Rolex had updated its date-displaying movement again with the launch of the Caliber 3135, signaling an end for the reference 15037. Rolex would still continue to produce a solid yellow gold version of the Date; however, the subsequent model based on the Cal. 3135 was crafted from 18k yellow gold and featured a sapphire crystal, resulting in a significantly more modern overall look and feel. The reference 15037 offers much of the same vintage charm of the ref. 1503 due to its 14k gold construction and acrylic crystal; however, it also benefits from the day-to-day convenience of having a high-beat quickset movement.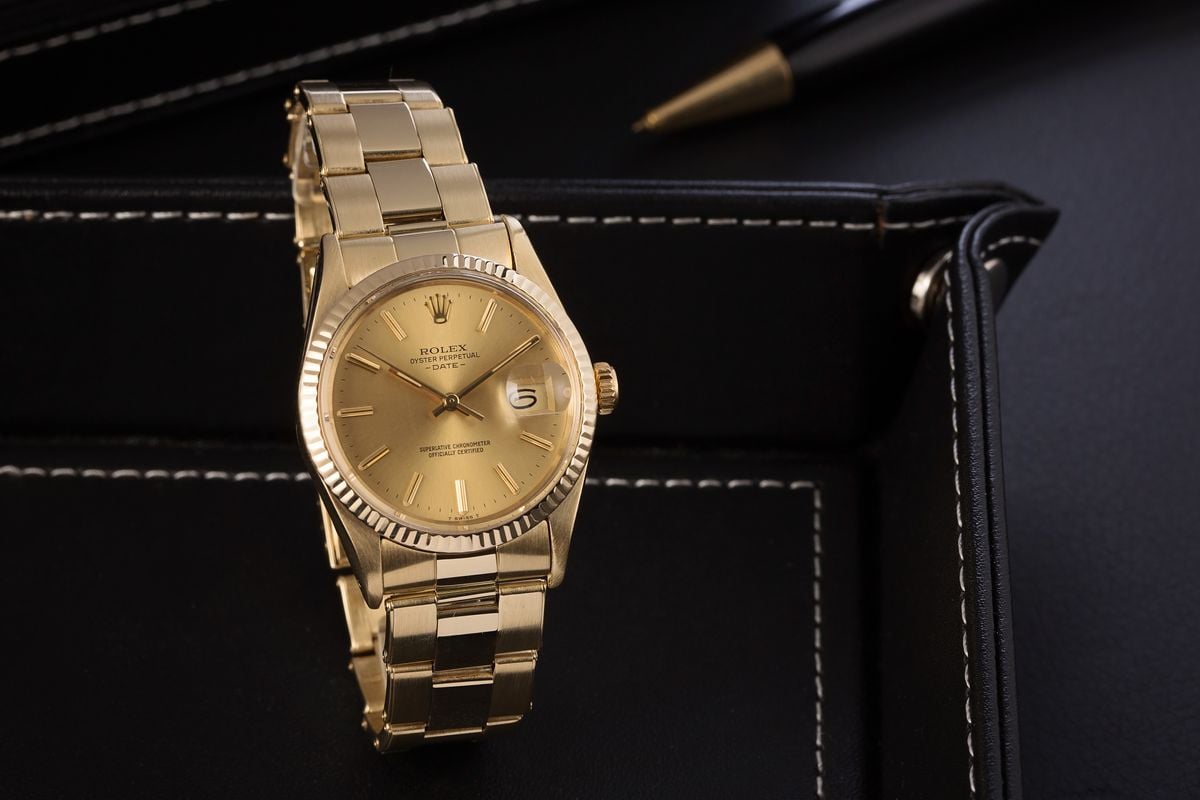 Rolex Date 15037 – Features & Options
Timeless in its design yet offering a decidedly vintage presence on the wrist, the Rolex Date ref. 15037 includes a number of unique features and is unlike anything that is currently available in Rolex's modern catalog.
14k Yellow Gold Construction
These days, all of the gold used in Rolex's watches – regardless of whether it is yellow, white, or Everose gold – is 18 karat and produced from within Rolex's own in-house foundry. Some flagship models such as the Day-Date President have only ever featured 18k gold, but Rolex previously would also use 14k gold to create both two-tone and solid-gold versions of some of its more accessible lines of watches.
Compared to 18k yellow gold, 14 karat is typically lighter and less yellow in color. This is simply a direct result of the different amounts of pure gold used in the two alloys, but the pale color does provide watches crafted from 14k gold with a noticeably different overall aesthetic compared to the warm and saturated tones of 18k gold Rolex watches.
Quickset Caliber 3035
Arguably the greatest factor separating the Rolex Date ref. 15037 from its 4-digit predecessor is its Caliber 3035 movement. Often referred to as a high-beat version of the Caliber 1575 that powered the previous generation of Rolex's date-displaying men's models, the Cal. 3035 is a 27-jewel, COSC-certified automatic chronometer movement featuring a free-sprung balance with a Breguet overcoil. Much of the overall architecture of the Caliber 3035 is carried over from the previous generation; however, the increased frequency of 28,800bph means that the Cal. 3035 movement promises greater precision.
While the higher operating speed of the Caliber 3035 is certainly important, possibly the greatest advancement that it offers over the Cal. 1575 is its quickset date feature. Rather than having to adjust the date display by rotating the hands past midnight, the date wheel on the Cal. 3035 can be advanced independently of the time-telling hands via an extra position in the winding crown. While this may seem relatively minor (and completely expected by today's standards) , this small convenience significantly decreases the amount of user input that is required to compensate for months with less than 31 days in them.
Gold Fluted Bezel
Just like many of Rolex's most iconic watches, the Date ref. 15037 is fitted with a solid gold fluted bezel. Originally the fluting on Rolex's bezels was a functional design feature that allowed Rolex's watchmakers to screw the bezel down to the case for super water resistance. Over the years, technology advanced and Rolex no longer needed to screw the bezels onto its watches in order to make them water-resistant. However, the brand has kept the fluted bezel as a constant presence within its catalog (although with a slightly modified and more contemporary aesthetic), as it has become one of the signature design traits of Rolex watches.
It is also worth noting that Rolex fluted bezels are only crafted from solid gold. While smooth bezels can be found in stainless steel, gold, or platinum, Rolex's hallmark fluted bezel is only ever crafted from solid gold, and the fluted bezel on the reference 15037 Date is constructed from solid 14k yellow gold to match its case.
Acrylic Crystal
Like almost all vintage Rolex watches, the crystal on the Rolex Date ref. 15037 is made from acrylic (plexiglass) rather than scratch-resistant synthetic sapphire like on modern watches. While acrylic crystals are quite a bit easier to scratch than their sapphire counterparts, most scratches and scuffs can easily be polished out, and many vintage collectors favor Rolex watches with acrylic crystals due to their inherently retro aesthetic.
Oyster or Jubilee Bracelet
The iconic Oyster bracelet is Rolex's go-to wrist closure option and it is available on the vast majority of the collections in the brand's portfolio. Despite producing several different bracelet styles, Rolex's catalog has become significantly more rigid in terms of bracelet options for its watches, and the majority of its models are now only available with a single style of bracelet. With that in mind, this was not always the case, and a number of older Rolex watches – particularly vintage references – were made available with the option of a couple of different bracelets, including the 14k gold Rolex Date ref. 15307.
Although the Jubilee bracelet was originally designed specifically for the Datejust, Rolex has paired it with a number of different models over the years, including its slightly smaller sibling, the Rolex Date. The reference 15037 can either be found with a rivet-link Oyster bracelet or a hollow-link Jubilee bracelet and in both instances, the bracelet is crafted entirely from 14k yellow gold and fitted with a gold fold-over clasp to match the rest of the watch.
How Much is a Vintage Rolex 15037?
Given that the reference 15037 is a solid gold vintage Rolex watch, there is a certain price floor for the model, as the raw materials used in its construction alone are still worth a decent chunk of change – entirely independent of the fact that they are used to create a precision timepiece from the world's most famous luxury watch manufacturer.
Since the vintage Rolex Date 15307 has been discontinued for more than a quarter of a century, the secondary market is the only place to buy one, since any lingering stock at retailers was likely sold decades ago. Prices start out at around $5,000 for models fitted with leather straps and then quickly jump up to around $9k-$10k for similar versions with matching gold bracelets. While prices can reach up to $14,000 or more for incredibly well-preserved models fitted with unusual dials, the vast majority of Rolex 15307 watches can be purchased for anywhere between $9,000 and $11,000 on the pre-owned market.
The Best Value Solid Gold Rolex Watch?
No gold Rolex watch can ever exactly be considered inexpensive, but when you compare prices for the reference 15037 to those for similar solid gold models from Rolex's past catalog, the value proposition is hard to ignore. A similar full-gold Rolex model from the 1980s (either from the Day-Date or Datejust collections) will cost a minimum of $13,000 to $15,000, and although these watches use 18k gold rather than 14k like the ref. 15037, they still represent a significant step up in price that not all collectors may be willing to pay.
Furthermore, the 34mm case size of the reference 15037 makes for an incredibly versatile package on the wrist that can effortlessly be worn by both men and women alike. Its solid yellow gold construction guarantees that it will always offer plenty of wrist presence, while its manageable case size ensures that it will not overpower even the most modest of wrists. Timeless in its core design, yet oozing with vintage charm, the Rolex Date 15037 offers incredible value and makes the perfect addition to any vintage watch collection.