For many years, the Rolex Explorer II stood in the shadow of its older, aviation-themed brother, the GMT-Master II. While the GMT was designed for pilots and frequent air travelers, the Explorer II was built for speleologists exploring caverns beneath the earth's surface.
The Rolex Explorer II reference 216570 was recently discontinued, making it even more collectible than ever. Join us today as we take a closer look at what makes this edition of the Polar Explorer II special, including its design set, history, and price.
Rolex Explorer II 216570 – White Dial
White Explorer II 21650 Key Features:
Reference Number: 21650
Production Years: 2011 – 2021
Case Size: 42mm
Materials: Oystersteel (904L Stainless Steel)
Functions: Time w/ Running Seconds, Date Display, GMT-Functionality
Dial: White w/ Luminous Hour Markers
Luminous Material: Chromalight
Bezel: Fixed, Stainless Steel w/ 24-Hour Scale
Crystal: Sapphire (Flat w/ Cyclops Magnification Lens)
Movement: Rolex Caliber 3187 (Self-Winding)
Water Resistance: 100 Meters / 330 Feet
Strap/Bracelet: Oyster Bracelet (Stainless Steel)
Approx. Price: $14,000 – $18,000 (Pre-Owned)
Click here for our Ultimate Buying Guide on the Rolex Polar Explorer II.
The Original Rolex Explorer II
The original reference 1655 Explorer II had a very unique appearance, featuring hashes on the bezel instead of inverted triangles and rectangular hour markers instead of dots. Its poor initial sales were largely due to its oddly specific target demographic rather than an overlap with another watch in Rolex's lineup. Its successor, the reference 16550, was largely based on the GMT-Master II line of watches, and its numerous similarities ultimately hindered potential Explorer II sales.
Throughout its history, including several different reference releases, Rolex's Explorer II line of watches more-or-less remained a GMT-Master with a fixed 24-hour bezel and the option of a white dial. However, at Baselworld 2011, Rolex released a new version of the Explorer II – one that followed a design entirely unique to itself.
The White Explorer II 216570
The new Rolex Explorer II, the reference 216570, featured a brand new movement – one never before seen in any other Rolex model – the caliber 3187, and also featured a larger, 42mm case. With 31 jewels, a blue Parachrom hairspring, a variable inertia balance wheel, and the addition of Paraflex shock absorbers, the cal. 3187 movement can be considered an improvement over the caliber 3186, which was the movement that was fitted to the GMT-Master II watches produced during this time.
The Rolex Polar Dial
The "Polar" dial has been a fixture of the Explorer II collection for most of its production run – Rolex released the unique dial colorway in the mid-1980s alongside transitional reference 16550. It is characterized by a crisp white dial decorated with luminous hour markers and Mercedes hands trimmed in black. While one might think that white lume set against a white dial might be illegible, that is hardly the case with the Rolex Polar dial. In fact, the black surrounds allow the hour markers and hands to pop in light or dark conditions. As a newer Explorer II, the ref. 216570 also features Chromalight, which emits a brilliant blue glow in the dark for up to eight hours yet remains stark white during the day.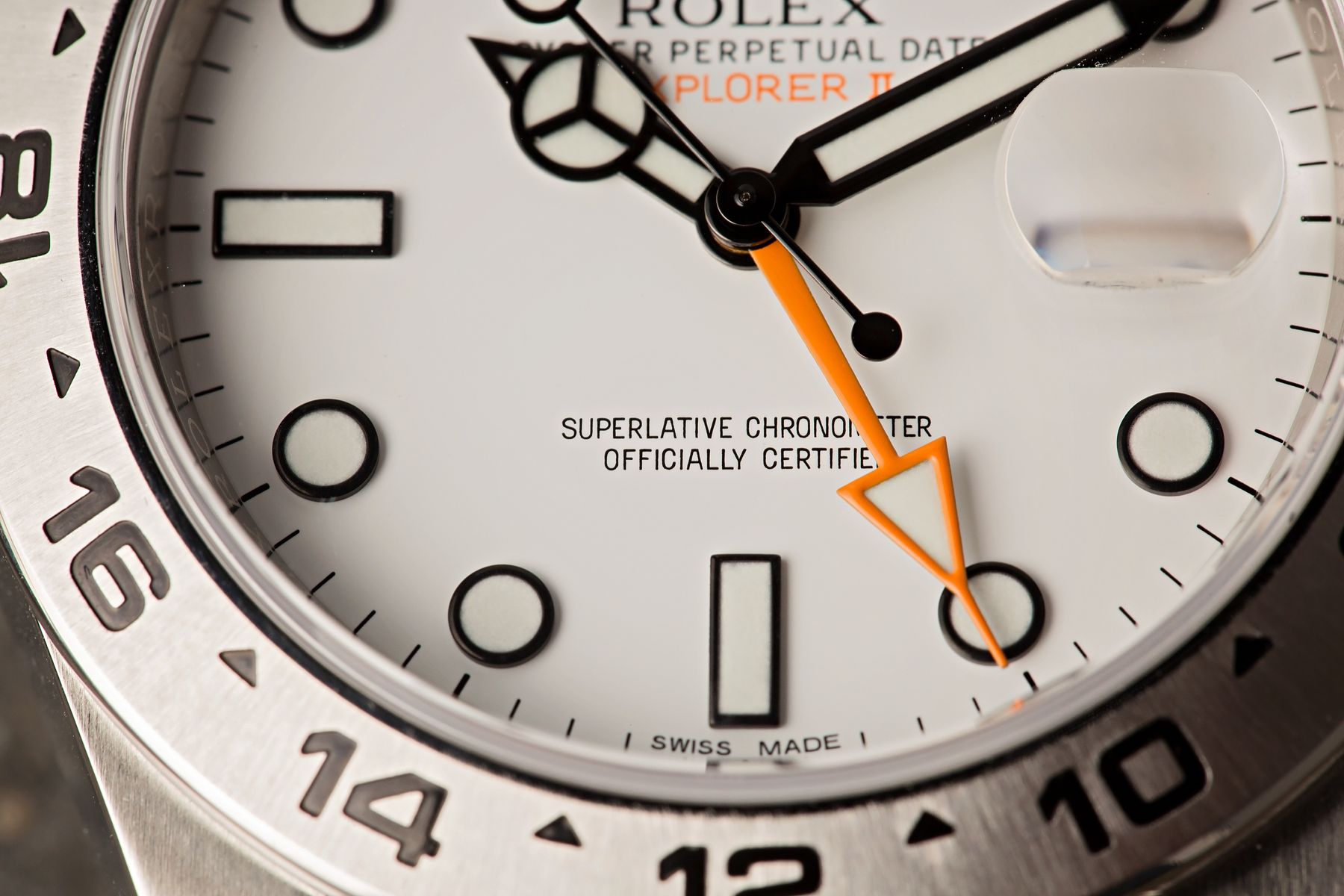 Details On The White Explorer II 216570
Another change that significantly helps separate the reference 216570 from the contemporary GMT-Master II is the revival of its bright orange, 24-hour hand – a trait borrowed from the original "Freccione" Explorer II. The reference 1655 had its triangular-shaped 24-hour hand finished in bright orange so cave explorers could easily differentiate between day and night when viewing their watch in low-light conditions. Subsequent generations of the Explorer II shared a 24-hour with the GMT-Master and GMT-Master II lines of watches featuring a longer and thinner red hand topped with a smaller triangle, so the revival of the orange 24-hour hand certainly helps tie the reference 216570 to the Explorer II's past.
Although relatively minor, the white dial option, bright orange 24-hour hand, and extra 2mm in case diameter help make the reference 216570 a significant departure from Rolex's GMT-Master II range of watches. While the contemporary GMT-Master II closely resembles the modern Submariner, the Explorer II has now become a watch entirely of its own design; and it does not resemble any other watch in Rolex's current lineup.
Rolex Explorer II 216570 Price
Before it was discontinued, the Rolex Explorer II ref. 216570 retailed for $8,350. Now that it is no longer in production, this particular white dial Explorer II trades hands for well over that price, typically for around $15k as of April 2022. With that in mind, while most examples sell from some where between $14k and $18k, there are some incredibly rare examples that were purchased by the 22 Special Air Service that feature special engravings and can be worth multiple times the price of a normal white dial Rolex Explorer II 216570.
As it usually goes with most discontinued Rolex watches, we can only expect that price to climb over the next several years. It's a highly functional tool watch that has since become a prized collector's item in many watch collecting circles and is quickly proving to be quite valuable.
Rolex Explorer II 216570 vs. 226570
2021 brought us the newest iteration of the Explorer II via the ref. 226570, just in time for the collection's 50th anniversary. It replaced the ref. 216570 and is virtually indistinguishable from its predecessor, except for a new movement and various small design differences. Most notably, the ref. 226570 marked the Explorer II's integration to the cal. 3285 movement, the same engine that drives the current GMT-Master II series. Additionally, the lugs are slightly thinner, and the bracelet is now wider by about 1mm. Other minor differences include the addition of a Rolex coronet between the "Swiss Made" distinction below 6 o'clock, an anti-reflective coating on the inside of the sapphire crystal, an anti-reflective Cyclops lens, and slightly thinner lugs
For multiple decades, the Explorer II became the forgotten sibling to Rolex's GMT-Master line of watches; however, in 2011 (for its 40th anniversary), Rolex finally gave the Explorer II the long-awaited upgrade it deserved. The reference 216570 is a modern watch that fully embraces its past and history without ever losing sight that it is a contemporary timepiece. While the reference 216570 Explorer II from Baselworld 2011 is a bold, modern watch by all standards, the reference 216570 also retains the cornerstone DNA that defines Rolex's Explorer II line of watches.