Caring For Your Rolex Submariner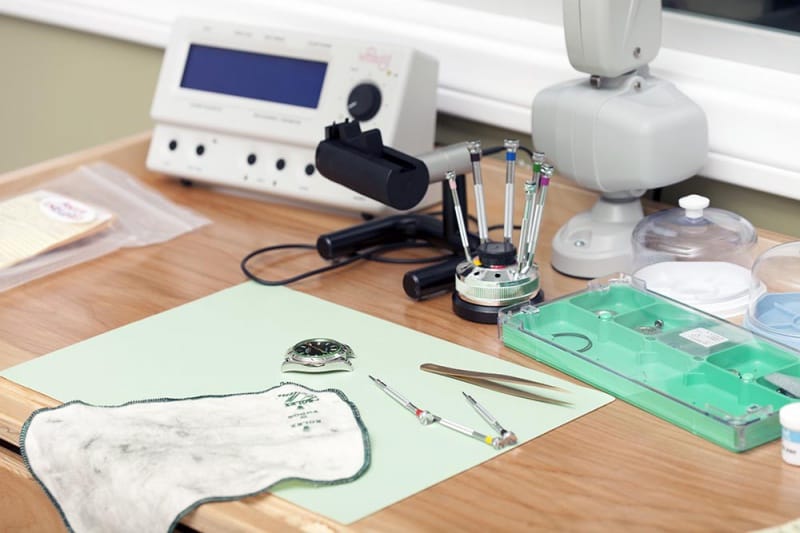 Rolex is well known for its innovative, luxurious, and precision timepieces. Many Rolex models were the first wrist watches to carry common modern-day features, like the date feature or the ability to withstand water pressure. The Rolex Submariner diving watch, for example, was designed for underwater exploration, featuring an impressive watertight case. Coupled with great technological innovation, Rolex is also a luxury brand, utilizing the finest precious metals and components. Many Rolex watches seem more like pieces of art than the useful tools they really are.
Despite their strength and innovation, Rolex watches are still machines. All machines need to be properly cared for and maintained. To keep your Rolex running smoothly and shining brightly, it is important to properly care for it. A common trend among Rolex owners is continuously wearing the watch. Many of these watch owners never send their watch in for servicing. Unfortunately, over time that can cause problems as some parts can wear out without proper servicing.
The Rolex Submariner with Caliber 3135, for example, is a popular watch among Rolex owners. Though it is a premium product, it is still a machine that needs servicing. Several of its parts can be prone to the effects of wear without proper servicing. One such part is the balance staff, which is the ultra-critical bearing surface for the balance wheel. Over time, the balance staff's tips can flatten, making it the component most likely to break if the watch is dropped or suffers a hard shock. The oscillating weight axel, which provides the bearing surface for the post to turn inside the watch, can also receive rapid wear compared to other components due to constant erratic movement.
Likewise, the lower oscillating weight axel bushing, a synthetic ruby, can also wear as it is driven into the plate of the watch, providing a surface for the oscillating weight axel to bear against. The smaller diameter and geometry of the automatic winding mechanism means it experiences a higher pressure load when in use.
The mainspring is another excellent example of why servicing your Rolex is so important. The modern mainspring provides extreme performance compared to the steel springs of earlier watchmaking. However, cycle fatigue will eventually lead to failure if not properly maintained. As a watchmaker cannot tell how old a spring is on sight, this part is routinely changed as a precaution against having a failure occur when the watch is wound, which would most likely damage other components.
Finally, the setting lever is a component that can potentially fail if not properly maintained. The setting level is the guide pin that slips the yoke in and out of engagement for the quick change and time setting positions. It can experience a great deal of sliding force over a small surface area causing a groove which makes the force needed to pull out the crown greater, causing potential issues.
Having your Rolex serviced will prevent any of these components from wearing and potentially damaging your valuable timepiece. Rolex suggests having your timepiece serviced once every five to seven years. This service is recommended because over time oils, gears, and gaskets wear, as the above examples show. Servicing the watch allows an expert Rolex certified watch maker to take the watch apart and repair any damage, clean the interior and exterior, and ensure the watch is running smoothly and precisely for years to come.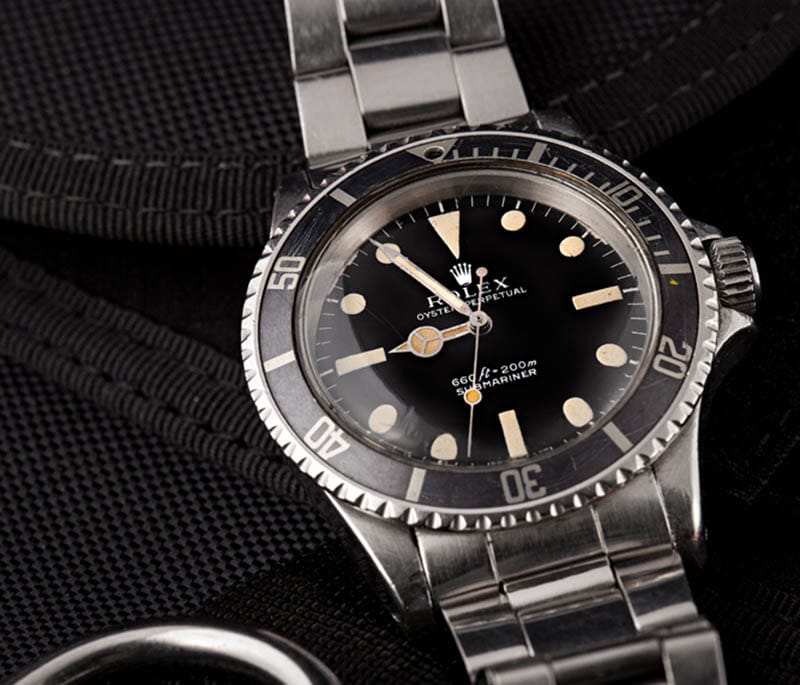 It's easy to see that there are many important reasons to service your Rolex. But what actually happens when a Rolex is being serviced? Firstly, it is crucial to only have your Rolex serviced by an authorized Rolex service center. The service provider will take your watch for about 2-3 weeks and:
Disassemble the timepiece, removing the movement. The individual components of the movement are inspected, ensuring no damage or excessive wear. If there is damage or wear, the component will be replaced
The case is checked for water tightness
All watch components are cleaned in a multi-step process to remove all oils, corrosion, and dust
The mainspring is replaced
The movement is reassembled, with components oiled
The movement is regulated to factory specifications of -4/+6 seconds/day
The case and band are polished and restored to appear close to their original condition
The assembled watch is subjected to final tests to ensure accuracy and water resistance
Those who own Rolex watches appreciate a fine investment and quality product. Thus, it is important to service and maintain that product, ensuring your investment continues to run smoothly and retain value.