Dive Watch Ultimate Buying Guide
Dive watches are everywhere in the luxury watch market. However, have you ever stopped to think about what makes a dive watch a dive watch? Originally built to accompany military, professional, and hobby skin and SCUBA divers during underwater adventures, the dive watch has transcended its intended purpose to become one of the most popular sport watch styles today. So if you're looking to buy a dive watch, there's certainly not a lack of choice. But what makes a good dive watch and which ones are worth buying? To answer these questions, let's have a look at the history of dive watches, the characteristics of a dive watch, and some of the best luxury dive watches you can buy today with our ultimate dive watch buying guide.  
Characteristics of Dive Watches 
What are the necessary characteristics of a dive watch? 
To be considered a true dive watch, they have to adhere to the International Organization for Standardization 6425 (ISO 6425), which includes the following stipulations:  
Minimum Water Resistance Rating of 100 meters 
Unidirectional bezel with at least at every 5 minutes elapsed minute markings and a pre-selected marker to mark a specific minute marking. The bezel only turns one way to prevent underestimating immersion times. 
Clearly distinguishable minute markings on the face 
Adequate readability/visibility at 25 cm in total darkness 
Indications that the watch is running in total darkness (such as a running seconds hand)
Resistant to magnetic fields, shocks, and chemicals 
Durable strap/band/bracelet tested by applying a force of 200 N (45 lbf) to each spring bar in opposite directions with no damage to the watch or attachment point
It should be mentioned that many of the luxury dive watches for sale today may not be ISO-certified, yet they are still highly-capable diving watches. 
A History of Dive Watches
Although digital dive computers have become the go-to method for modern scuba divers to keep track of time while underwater, dive watches remain one the most popular types of timepieces among collectors and enthusiasts who appreciate them for their durable construction, purpose-built designs, and rich history.
Dive Watch Milestones
1926 - Rolex launches the waterproof Oyster watch
1932 – Omega presents the Marine watch for diving
1936 – Panerai develops prototype watches for Italian Navy combat divers
1942 – Captain Jacques Cousteau and Émile Gagnan invent the Aqua Lung for SCUBA diving
1953 – Blancpain debuts the Fifty Fathoms, the first modern dive watch
1953 – Rolex introduces the Submariner, the first dive watch water resistant to 100 meters
1957 – Omega releases the Seamaster 300 dive watch
1957 – Breitling launches the Superocean dive watch 
1967 – Rolex introduces the Sea-Dweller watch for COMEX divers, fitted with a Helium Escape Valve it co-created with DOXA
1971 – Omega debuts the PloProf professional diving watch 
1994 – Omega launches the Seamaster Diver 300M
2005 – Omega introduces the Planet Ocean to the Seamaster collection
2012 – Rolex Deep Sea Challenge reaches the bottom of the Mariana Trench with James Cameron 
2019 – Omega Seamaster Planet Ocean Ultra Deep sets new record for greatest depth reached by a watch.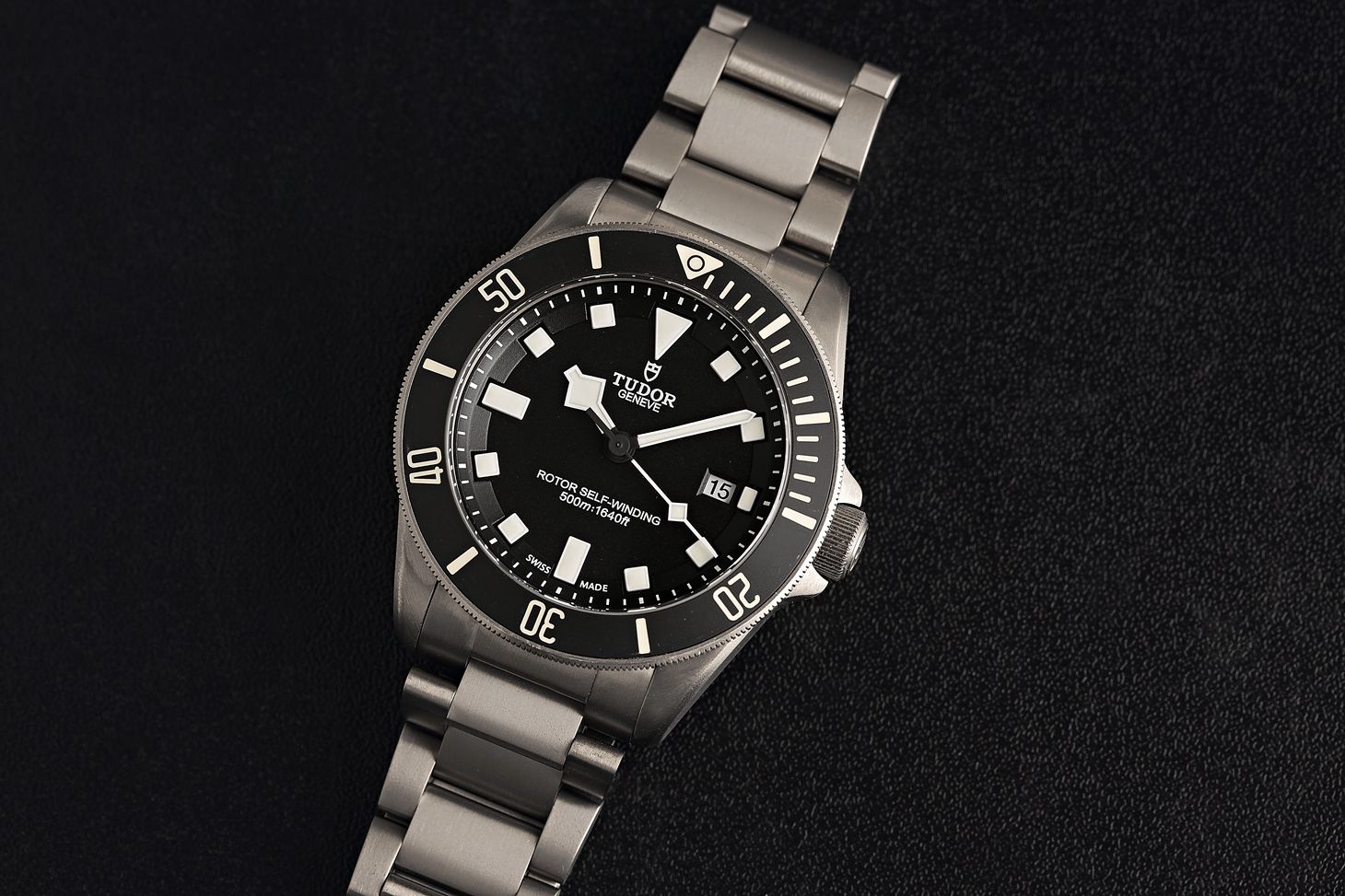 The First Dive Watches
In the early 1900s, men were still carrying pocket watches while wristwatches were reserved for women. However, the two World Wars that took place in the first half of the 20th Century fundamentally changed that. During the First World War, soldiers transformed their pocket watches into wristwatches with straps since it was quicker to read the time that way versus having to dig through one's pockets to pull out a timepiece. Post-WWI, men's wristwatches were starting to become accepted among the civilian population. 
In 1926, Rolex presented the Oyster watch, which offered exceptional water resistance. The Oyster watch's water resistance was possible due to its screw-down caseback, bezel, and winding crown. The following year, Rolex gave English swimmer Mercedes Gleitze an Oyster watch to wear around her neck while she attempted to swim across the English Channel. The Rolex Oyster was subjected to ten hours of frigid waters and remained perfectly functional the entire time. 
Although the Rolex Oyster was categorized as a waterproof watch, it was never tested for water pressure. In 1932, Omega created the Marine watch for diving, compete with resistance to water pressure. In 1936, the Omega Marine took a 73-meter deep swim in Lake Geneva and in 1937, the watch was officially certified with a water resistance rating of 135 meters deep. 
In addition to water and pressure resistance, a dive watch needs to be legible underwater to be useful. Officine Panerai was already supplying nautical instruments to the Italian Navy when the watchmaker applied for a patent for a luminous material in 1916. The glowing substance was radium-based and Panerai called it Radiomir. By the mid-1930s, the Italian Navy needed wristwatches for the frogmen unit to take underwater and Panerai presented prototypes in 1936. These watches, (which would later be known as Radiomir watches) sported large waterproof cushion-shaped cases and manual-wind movements (supplied by Rolex) and had luminous dials painted with Radiomir paste. The Panerai prototypes went into production two years later in 1938 and were used extensively as dive watches in WWII by Italian combat divers.  
The Rise of Scuba Diving
In 1942, Captain Jacques Cousteau and Émile Gagnan invented the Aqua Lung, an open-circuit, self-contained underwater breathing apparatus (aka SCUBA), which paved the way for recreational diving. After the Second World War in the 1950s, scuba diving took off - and the need for dive watches followed the same trajectory. 
The first two watches that set the groundwork for modern dive watches are the Zodiac Sea Wolf and the Blancpain Fifty Fathoms - launched at the same time at the 1953 Basel Fair. As the old saying goes, "necessity is the mother of invention," and Captain Bob Maloubier from the French Ministry of Defense needed a dive-ready watch for his Frogmen. So he teamed up with Blancpain (after many other watchmakers turned him away) and the Blancpain Fifty Fathoms dive watch was born. The watch featured a large 42mm steel case, a black dial with luminous details, a rotating dive bezel to time immersion times, and it could dive down to fifty fathoms (around 91 meters) deep. Because of these traits, the Blancpain Fifty Fathoms is considered the first true diver in the history of dive watches. 
Also in 1953, Rolex released its purpose-built dive watch in the form of the Submariner. The Rolex Submariner may have come out after the Fifty Fathoms, but it won in the water-resistance department with a depth rating of 100 meters. Similarly, Rolex's dive watch was a steel model with a black dial with plenty of luminescence and a rotating bezel marked to 60 minutes. 
Swiss watch brand Oris also began making dive watches with rotating bezels in the mid-1960s, branded as "Super" divers. Not to be left behind, Omega joined the modern dive watch trend with its own version. The Omega Seamaster 300 dive watch made its debut in 1957 with (somewhat confusingly, given its name) a water resistance rating of 200 meters. Breitling also released two dive watches that same year - one chronograph and one time/date - called the Superocean. Finally, Jaeger-LeCoultre came to the dive watch market in 1959 with the Memovox Deep Sea, complete with an alarm to signal to divers when it was time to ascend. 
From the late 1950s onwards, watchmakers that had dive watches as part of their lineup continued to enhance them with better water resistance, tougher construction, and slightly modified dial designs. Other watch brands also developed their own dive watches, including Seiko from Japan, first with the 150M Diver in 1965 followed by the 300M Diver in 1967. 
The Unique Challenges of Saturation Diving 
As the 1960s ushered in the commercial diving industry, commercial divers needed watches that could go not only go deeper but also face the unique challenge of helium penetration. To reduce the risk of nitrogen narcosis, saturation divers have to breathe a special gas mixture in which helium replaces the nitrogen in the air. The small size of helium molecules means that they can infiltrate watch seals and fill the case. So, when divers decompress on the way back up to the surface after extended periods in pressurized environments, the pressure difference of the exterior and interior of the watch can cause the watch crystal to pop off. 
To solve this problem, Doxa and Rolex co-created the Helium Escape Valve (HEV) to fit into the watches they were supplying to the commercial dive company, Compagnie Maritime d'Expertises (COMEX). In 1967, Rolex introduced the Sea-Dweller water-resistant to a depth of 610 meters and equipped with an HEV to release any helium buildup from the watch. 
On the other side of the world from Europe, Seiko released a new high-beat Diver 300M in 1968. However, Seiko soon received a letter from a saturation diver complaining that the crystals would burst off or the watches would get damaged with a few knocks. Consequently, Seiko established a new R&D department focused on the development of professional dive watches. Finally, in 1975, the Seiko Professional Diver's 600M was released with a titanium case shrouded with ceramic, resulting in an impenetrable shield that helium could not breach. 
Likewise, Omega also began building professional dive watches, introducing the Seamaster 600M "Ploprof" (Plongeur Professionnel, or "professional diver" in French) to the market in 1971 and Seamaster 1000M "Ploprof" in 1972. The watch featured a distinctive case silhouette machined from a single block of steel, which successfully sealed off helium from creeping in, even while under extreme pressures. 
As the decades went on, top-tier watch brands battled to make better luxury dive watches, with increased water depth ratings, better lume, and more appealing overall designs. Although dive computers have taken over from dive watches as the must-have underwater equipment, luxury dive watches remain as some of the most coveted sports watches for sale today.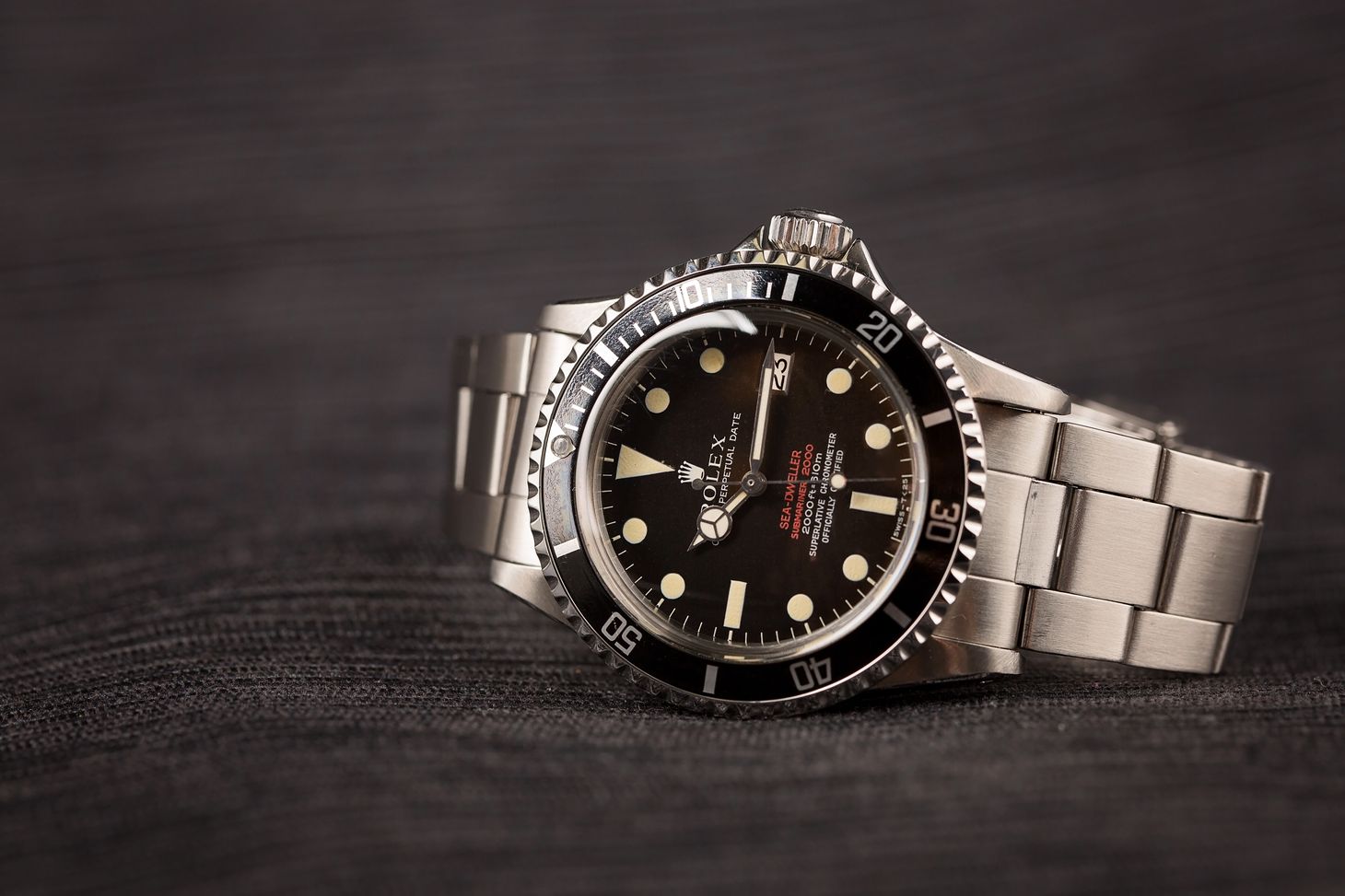 Popular Dive Watches
There are several brands noted for their specialty in manufacturing dives watches, including Rolex, Omega, Tudor, Breitling, Panerai, Oris, and Blancpain. Here are some of the most popular dive watches from Rolex, Omega, and Tudor.  
Rolex Dive Watches
Although Rolex wasn't the first to create the modern dive watch, it has become the watchmaker that makes the most sought-after dive watches in the market. Rolex currently offers two collections of dive watches, which spans a total of 4 different watch models: 
Rolex Submariner
Rolex Submariner Date
Rolex Sea-Dweller
Rolex Deepsea
Rolex Submariner
Submariner Key Features:
Case size: 38mm (vintage), 40mm (discontinued), 41mm
Material: Stainless steel, yellow gold, two-tone steel/gold, white gold
Bezel: Aluminum (discontinued), Cerachrom
Bezel colors: black, green, blue 
Dial colors: black, green (discontinued), blue
Crystal: Acrylic (vintage), Sapphire (modern)
Water-resistance: 100 meters (vintage), 200 meters (vintage), 300 meters
Movement: Automatic
Helium escape valve: No
The Rolex Submariner is the world's most famous dive watch, evolving from an essential tool for diving to a globally recognized status symbol. While plenty has changed over the years, what makes the Submariner such a classic - even modern versions - is that the fundamental design has remained the same over almost seven decades. When you compare a vintage Submariner with a current iteration, the similarities are as apparent as the differences. The Submariner, perhaps more than any other Rolex watch, clearly demonstrates Rolex's design mantra: evolution rather than revolution.  
For the first 16 years, regardless of the reference, the Submariner was exclusively made in stainless steel and came equipped with a time-only dial. However, in 1969, Rolex debuted the Submariner Date, with as its name implies, a date window on the dial. While the (no-date) Submariner has remained as a time-only steel watch, the Submariner Date collection has other material options including yellow gold, two-tone steel/yellow gold, and more recently, white gold. Rolex originally fitted the Submariner with aluminum bezels but switched to more durable Cerachrom ceramic bezels in 2008. One of the biggest design changes to the Submariner lineup occurred in 2020 when Rolex replaced the once-standard 40mm case size to 41mm. The last time the Submariner grew in size was when it increased from 38mm to 40mm in 1959 - the same year that crown-guards were added to the side of its case.
Prices for pre-owned Submariner models start at just over $9,000 for older discontinued references. The official retail price for the newest Submariner starts at $8,100 for the no-date version and $9,150 for the Submariner Date. However, since they're sold out in authorized retailers, expect to pay a premium of 50% or more for the newest steel Submariners on the secondary market. 
Rolex Sea-Dweller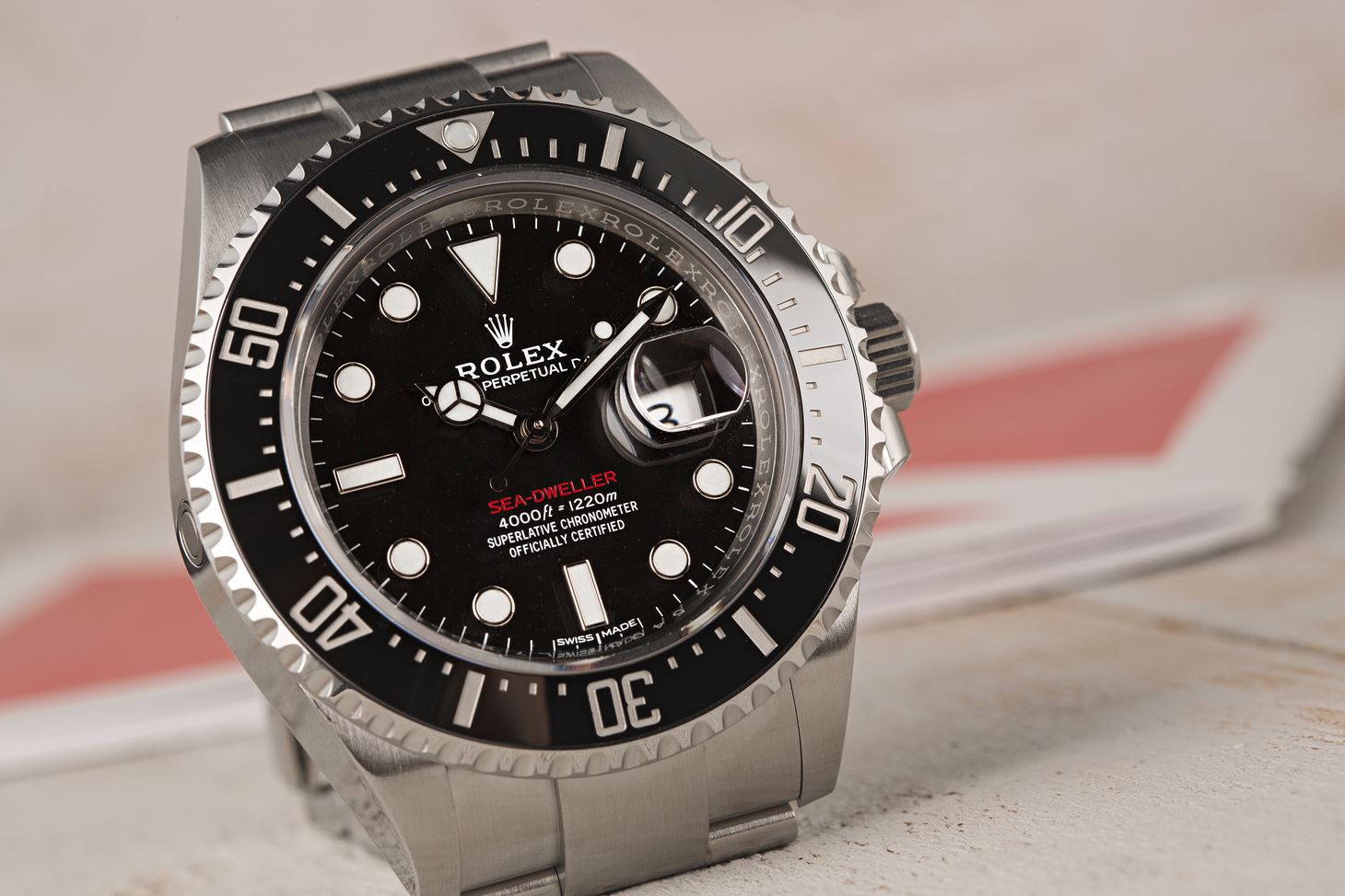 Sea-Dweller Key Features:
Case size: 40mm (discontinued), 43mm
Material: Stainless steel, two-tone steel/gold
Bezel: Aluminum (discontinued), Cerachrom
Bezel color: black
Dial color: black
Crystal: Acrylic (vintage), Sapphire (modern)
Water-resistance: 610 meters (vintage), 1,220 meters
Movement: Automatic
Helium escape valve: Yes
Developed as a tool watch for saturation diving, the Rolex Sea-Dweller is not only more water-resistant than the Submariner but it also comes fitted with a helium escape valve to prevent the crystal from popping off during decompression periods. It made its debut in 1967 and throughout its more than 50-year history, the Sea-Dweller has undergone some key changes.  
Similar to the Submariner, earlier Sea-Dweller models featured aluminum bezel inserts, which were replaced by Cerachrom ceramic ones in 2014.  For most of its history, the Sea-Dweller sported a 40mm stainless steel case. However, in 2017, Rolex replaced it with a 43mm case. Furthermore, Rolex also expanded the Sea-Dweller collection in 2018 to include a two-tone variant, combining 18k yellow gold and stainless steel. It's also worth noting that with the increase in size came the addition of the Cyclops magnification lens above the date window - something the Sea-Dweller never had before. 
Pre-owned Sea-Dweller watches start at around $8,795 for older discontinued models. Conversely, new Sea-Dweller references have retail prices of $11,700 for the steel edition and $16,600 for the two-tone gold and steel version. However, current-production Sea-Dweller models are priced higher than retail on the pre-owned market due to their demand far exceeding their supply.  
Rolex Deepsea Sea-Dweller
Deepsea Key Features:
Case size: 44mm
Material: Stainless steel with titanium caseback
Bezel: Cerachrom
Bezel color: black
Dial color: black, D-blue
Crystal: Sapphire (modern)
Water-resistance: 3,990 meters
Movement: Automatic
Helium escape valve: Yes
Boasting an impressive water-resistance rating of 3,990 meters and equipped with a 44mm case, the Deepsea is Rolex's most extreme dive watch. It was introduced in 2008, initially with a black dial to match the black Cerachrom ceramic bezel. However, in 2014, Rolex unveiled a special edition Deepsea with a black-to-blue gradient dial called D-Blue. The D-Blue dial was made in honor of James Cameron's historic 2012 expedition into the Mariana Trench. 
The D-Blue versions are marginally more expensive than the standard black dial editions, priced at $12,900 at retail compared to $12,600 for the latter. Pre-owned Deepsea watches are priced close to or even above retail prices on the secondary market - yet again illustrating the insatiable demand for (and resulting strong resale value of) Rolex dive watches. 
Omega Dive Watches
Omega is another watch brand with a long history of making dive watches. Though there have been several diver models offered by the brand over the decades, the most popular Omega dive watches include:
Omega Seamaster Diver 300M
Omega Planet Ocean 600M
Omega Seamaster Diver 300M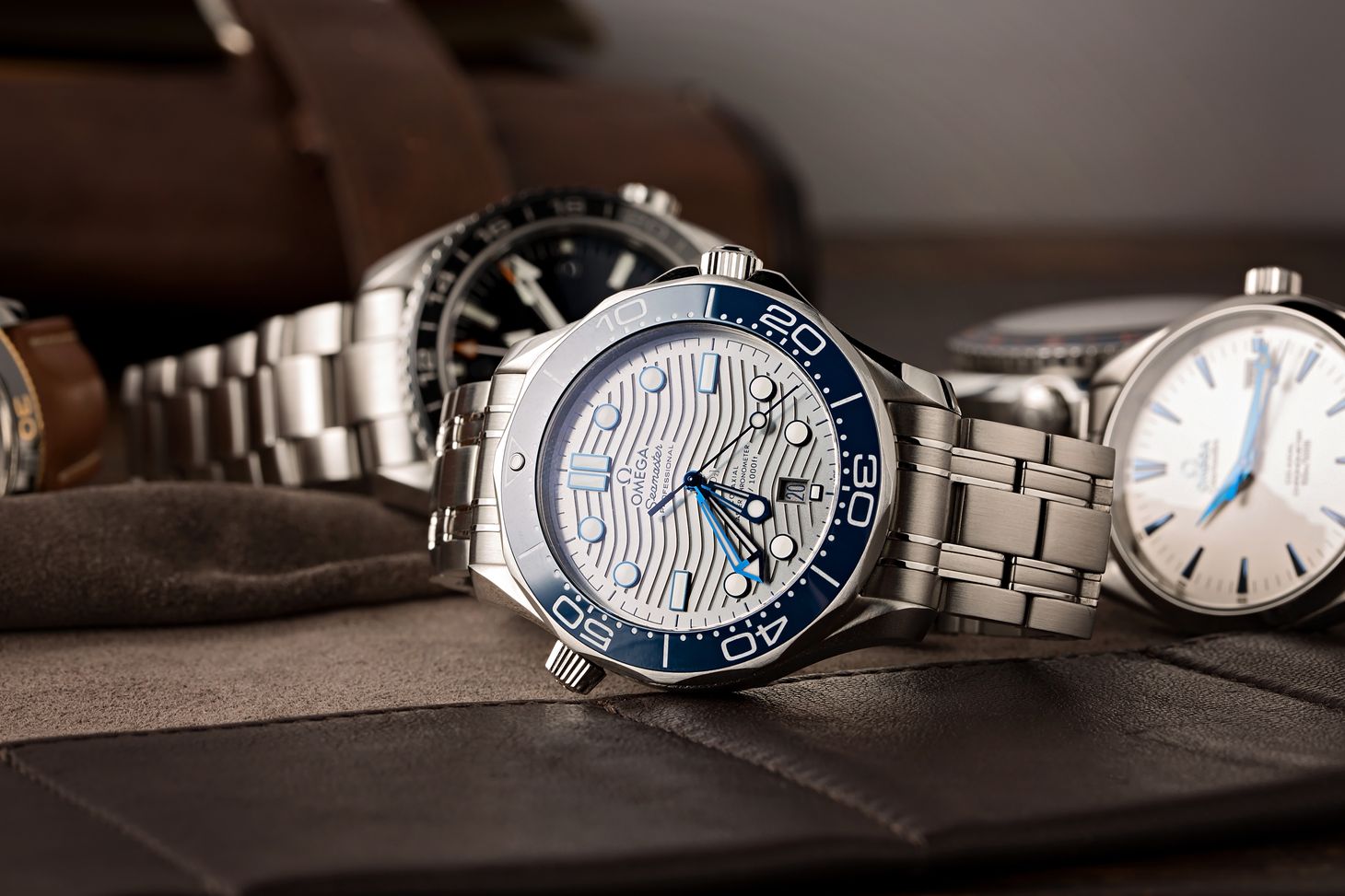 Seamaster Diver 300M Key Features:
Case size: 36mm, 41mm, 42mm, 44mm
Material: Steel, titanium, yellow gold, rose gold, two-tone
Bezel: Aluminum, ceramic
Crystal: Sapphire 
Water-resistance: 300 meters
Movement: Automatic, Quartz
Helium escape valve: Yes
Introduced in the mid-1990s and rising to prominence as James Bond's watch, the Seamaster Diver 300M - also known as the Seamaster Professional - is Omega's flagship dive watch model. As its name implies, the Seamaster Diver 300M is water-resistant to 300 meters and like all modern dive watches, it includes a unidirectional rotating bezel and luminous dial. 
In true Omega fashion, the Seamaster Diver has been made available in a vast assortment of materials, sizes, and colorways. Additionally, Omega has also offered various types of Seamaster Diver 300M to accompany the standard time/date editions including chronograph versions and GMT editions. There are also automatic and quartz editions to consider. However, despite the variety, the signature design traits of the Seamaster Diver 300M include skeletonized sword-shaped hands, a scalloped bezel, and a manually-operated  helium escape valve at 10 o'clock. Plus, many versions include a distinctive wave-patterned dial. 
The latest Omega Seamaster Diver editions with 42mm cases, ceramic bezels, and wave dials start at $4,900 retail for steel editions with rubber straps, but can quickly escalate for precious metal variants. Pre-owned Omega Seamaster Professional watches can start as low as less than $3,000 for older discontinued models. 
Omega Seamaster Planet Ocean 600M
Seamaster Planet Ocean Key Features:
Case size: 37.5mm, 39.5mm, 42mm, 43.5mm, 45.5mm
Material: Steel, titanium, ceramic, gold, two-tone steel/gold
Bezel: Ceramic
Crystal: Sapphire 
Water-resistance: 600 meters
Movement: Automatic
Helium escape valve: Yes
Omega released the Seamaster Planet Ocean in 2005 as a beefier alternative to the Seamaster Diver 300M. Compared to the dressier Diver 300M, the Planet Ocean leans into its tool watch vibes, complete with 600 meters of water resistance and some design nods to the original Seamaster dive watch from 1957. 
As is customary for Omega, the Planet Ocean is offered in a slew of sizes, materials, and colors - not to mention the availability of additional functions such as chronographs and GMT models. Strap options are varied too, from metal bracelets to leather bands to rubber straps. 
The steel versions of the newest Planet Ocean watches are priced around $6,500 at retail, give or take a few hundred dollars depending on the bracelet type. However, pre-owned Planet Ocean watches can be purchased for less than $4,000. 
Tudor Dive Watches
One of the main reasons Tudor has enjoyed a solid comeback in the last decade is the brand's focus on making great dive watches. Tudor diving watches share some similarities with Rolex dive watches but are significantly more accessibly priced. Two of the best Tudor dive watches are: 
Tudor Pelagos
Tudor Black Bay
Tudor Pelagos
Pelagos Key Features:
Case size: 42mm
Material: Titanium 
Bezel: Ceramic
Bezel colors: black, blue
Dial colors: black, blue
Crystal: Sapphire 
Water-resistance: 500 meters
Movement: Automatic
Helium escape valve: Yes
With a 42mm titanium case, unidirectional ceramic bezel, helium escape valve, and a water-resistance rating of 500 meters, the Pelagos is Tudor's most technical dive watch. The original Tudor Pelagos, made from 2012 until 2015, featured a black bezel and black dial combination and an ETA-based movement. In 2015, Tudor released a new generation Pelagos, fitted with a new in-house-made movement - plus, it also added a blue colorway to the collection. There's also an LHD version, which places the winding crown on the left-hand side of the case and offers a slightly vintage-inspired take on the black colorway. 
A brand new Tudor Pelagos will cost you $4,575 from an authorized retailer and pre-owned Pelagos watches are typically priced around $4,000 on the secondary market. 
Tudor Black Bay 
Black Bay Key Features:
Case size: 41mm, 39mm (Black Bay Fifty-Eight)
Material: Stainless steel
Bezel: Aluminum
Bezel colors: black, blue, burgundy
Dial colors: black
Crystal: Sapphire 
Water-resistance: 200 meters
Movement: Automatic
Helium escape valve: No
The Black Bay made its debut in 2012 and it is now Tudor's flagship dive watch. From its oversized winding crown and Snowflake hands to its rivet-style bracelet and domed crystal, the Black Bay draws heavily from vintage Tudor dive watches.
However, it has plenty of modern considerations too including a generously sized 41mm case topped with sapphire crystal and an in-house automatic movement (early Black Bay models ran on ETA-based movements). While the Tudor Black Bay is only available in stainless steel, the brand does offer different bezel colors and bracelet types to mix and match.  
Cost-wise, Tudor prices the Black Bay from $3,475 to $3,800, depending on the bracelet. Pre-owned Tudor Black Bay watches can start as low as $3,295.  
The Appeal of Dive Watches 
Although the above dive watches are some of the best available today, others that deserve honorable mentions include the Panerai Submersible, Breitling Superocean Heritage, and the one that started it all, the Blancpain Fifty Fathoms. 
Regardless if you ever plan on SCUBA diving, most watch enthusiasts will agree that a collection isn't complete without at least one dive watch model. The combination of sporty looks and robust durability makes a dive watch a great option for just about any occasion.