Prices for luxury watches have increased dramatically in recent years, but that doesn't mean you always have to spend a fortune to get yourself a high-quality timepiece from a world-renowned manufacturer. For many decades, Rolex was the go-to brand for those in the market for a luxury watch. However, prices for Rolex watches have gone up significantly in recent years, and now nearly every model in the brand's catalog will set you back more than $5,000 when purchased brand-new at retail.
For those with their hearts set on a Rolex, the pre-owned market can offer significant savings and there are still several fantastic Rolex models that can be purchased for under $5k. With that in mind, in addition to Rolex, there are countless other high-end Swiss timepiece manufacturers that produce excellent watches, which can all be purchased at significantly lower price points than even the most cost-friendly Rolex models.
In this guide, we will be taking a closer look at some of the best watches for under $5,000. We will first go over a few of the classic Rolex options that can still be found on the secondary market within a $5k budget, and then explore some other watches from top brands like Omega, Tissot, and Oris, which all offer exceptional value for the money.
Rolex Watches Under $5,000
Rolex Datejust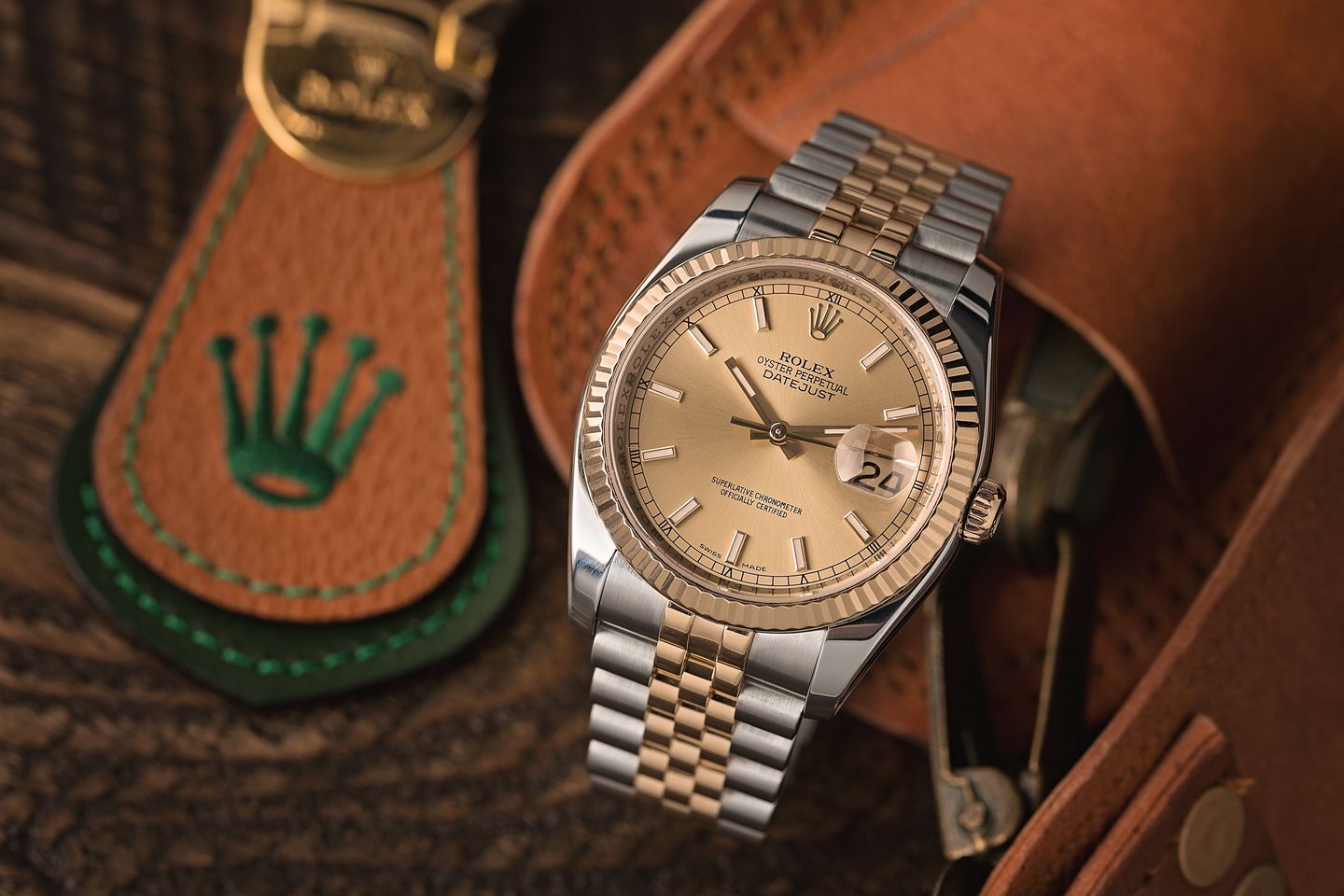 The Rolex Datejust is a true industry icon and the best-selling Rolex model of all time. First launched in 1945, the Datejust forever set the standard for date displays on wristwatches, and it has been a cornerstone offering within the Rolex catalog ever since. As a result of its long history and continuous production run, a fair number of examples exist today and many can still be purchased for less than $5,000 on the secondary market.
One of the best things about the Rolex Datejust is the remarkably wide range of diversity that exists within this single collection due to how long it has been in production and its enduring popularity throughout the years. Along with both modern and vintage models, you will also find Rolex Datejust watches in a variety of different sizes, crafted from a number of different materials, and fitted with an impossibly diverse assortment of different dials, bezels, and bracelets.
Not all Rolex Datejust models can be purchased for under $5,000 and generally speaking, modern Datejust watches and those crafted from precious metals will typically be the most expensive. However, there are still quite a few different references – particularly those produced between the 1960s and 1990s – that can be purchased for under $5k, and you will even have the option of the iconic two-tone models that feature both stainless steel and yellow gold components.
Rolex Air-King
The Rolex Air-King is another historic model that can often be found for well below the $5,000 price point. The Air-King collection was first officially introduced in 1957, but the actual first use of the 'Air-King' name on Rolex watches dates all the way back to the 1940s. Although the collection was briefly discontinued between 2014 and 2016, the remarkably long production span of the Rolex Air-King means that there are a still number of examples that can be readily found on the secondary market at very reasonable prices.
The longest-running reference from the collection's history is the ref. 5500. This historic model holds the distinction of being the first official Air-King reference from 1957 and it remained available all the way up until the early 1990s. Vintage Rolex prices can often be astonishingly expensive, particularly for inaugural references. However, due to the incredibly long production period of the ref. 5500 and the numerous examples available on the market today, it is actually one of the least-expensive Rolex models currently available.
Additionally, the vast majority of 34mm Rolex Air-King models can be found for under $5,000, giving you the option of either having a vintage or modern watch. All Rolex Air-King models produced up until the collection's re-launch in 2016 have case diameters of 34mm, meaning that the vast majority of references from the collection's entire history will be on the table with a budget of $5k.
Rolex Oyster Perpetual
The Rolex Oyster Perpetual was the brand's original self-winding water-resistant watch, and it has served as the foundation for virtually every single Rolex model produced ever since. Today, the Rolex Oyster Perpetual collection represents the point of entry into Rolex ownership, and it also represents one of the most affordable options on the secondary market, with both vintage and modern examples available for less than $5,000.
Just like many of Rolex's other watch collections, there exists a fairly large range of prices when it comes to Oyster Perpetual models. Certain vintage references are considered rare and can be worth a sizable premium due to their collectability. Additionally, Rolex previously offered solid-gold versions of the Oyster Perpetual, and these models can sell for significantly more than the price of brand new Rolex Oyster Perpetual watches, simply due to the inherent value of their intrinsic materials.
With that in mind, all of the current-production Rolex Oyster Perpetual models are built entirely from stainless steel, making them some of the most affordable modern Rolex watches available. Rolex Oyster Perpetual watches can be found in sizes ranging from 24mm to 39mm in diameter, and due to the collection's remarkable long history, there are countless different references that can be purchased for under $5k on the pre-owned market.
Omega Watches Under $5,000
Omega Speedmaster
Omega is one of the world's oldest and most celebrated timepiece manufacturers, boasting a history that dates all the way back to 1848. Just like Rolex, Omega watches have become increasingly more expensive over the years; however, unlike Rolex, a budget of $5,000 opens the doors to a significant range of options, including the legendary Omega Speedmaster – especially when shopping on the secondary market.
Without a doubt, the most famous Omega watch is the classic Speedmaster Professional Moonwatch, which is known throughout the world as the first watch worn on the moon. Flight-certified by NASA, and offering a timeless aesthetic that has hardly changed in half a century, the Omega Speedmaster is widely regarded as one of the best mechanical chronograph watches available, and a true must-have for any serious watch collector.
A brand-new Omega Speedmaster will cost a bit more than $5k and certain rare vintage models can top out into the six-figure range when they sell at auction. However, pre-owned examples (both vintage and modern) can easily be found well under budget on the secondary market. Additionally, alongside the original NASA-certified model, there are countless other versions of Omega's iconic chronograph that have been produced over the years, with many selling for less than $5,000.
Omega Seamaster Diver 300m
The Omega Seamaster collection is a remarkably diverse assortment of timepieces that range from professional dive watches to vintage-inspired dress watches and chronographs. Although the Seamaster name is one of Omega's oldest and previously only applied to a vast variety of water-resistant dress watches, the modern Omega Seamaster collection (at least as it exists today) is largely occupied by dive watches.
The Planet Ocean sub-collection is part of the greater Seamaster family and it is Omega's line of ultra-capable professional dive watches. With that in mind, there are also other dive watches in the Omega Seamaster collection that are not Planet Ocean models, such as the Omega Seamaster Diver 300m, which offers users all the features of a professional dive watch – including even a helium escape valve for saturation diving – but wrapped up in a slimmer and more refined overall package for a highly versatile package on the wrist.
The Omega Seamaster Diver 300m was made famous as the watch of James Bond during the 007 films from the 1990s, and it remains a popular favorite among collectors to this day. On the secondary market, even the current generation of Omega Seamaster Diver 300m models that feature ceramic dial and bezel inserts can be purchased for under $4k, making them one of the best all-around watches for the money from any manufacturer.
Omega De Ville Co-Axial
The Omega De Ville collection is the brand's lineup of classically styled dress watches, and often one of the most affordable on the secondary market. Originally the 'De Ville' name applied to a line of traditional watches within the Seamaster collection; however in 1967, the Omega De Ville became its own separate collection of luxury watches that combine classic and timeless aesthetics with modern materials and technologies.
While the Seamaster is the watch you want on your wrist while scuba diving and the Speedmaster is the one you want while flying in a rocket, the Omega De Ville is the timepiece that you want to wear when getting dressed up and going to a formal event. Placing an emphasis on refined designs and elegant profiles, Omega De Ville watches are designed to effortlessly slip under the cuff of a shirt rather than offering features created exclusively for a specific sport or lifestyle activity.
With the exception of certain models crafted from precious metals, most Omega De Ville watches can be purchased for significantly under $5,000 on the secondary market. Watches such as the Omega De Ville Co-Axial are the perfect blend of classic design and modern execution. At first glance, they may almost appear to be vintage watches; however they benefit from modern case proportions for a contemporary look and feel. Additionally, they also feature modern technologies such as a scratch-resistant sapphire crystal and Omega's Co-Axial escapement, providing you with a classic appearance with the worry-free experience of a modern watch.
Tissot Watches Under $5,000
Tissot Carson Powermatic 80
Tissot is another incredibly old and historic manufacturer that frequently gets overlooked, despite being a key player in the luxury watch industry since 1853. Today, the brand offers an astonishingly diverse assortment of watches, and in addition to its readily available and affordable quartz models, Tissot also produces a range of watches with solid 18k gold cases and Swiss-made mechanical movements.
Many buyers often overlook these models, as their attractive price point can conceal their premium materials and specifications. A solid gold luxury watch usually costs a minimum of several thousand dollars from most Swiss manufacturers, so you'd be forgiven for assuming that these watches simply have gold-plated cases. However, despite their affordable prices (both at retail and on the secondary market), these finely-crafted luxury watches feature cases that are constructed from solid 18k gold.
The Tissot Carson Powermatic 80 is just one of these premium Tissot watches, but there are other classically-styled dress pieces from the brand's Powermatic 80 range that boast similar high-end attributes. Solid 18k yellow or rose gold cases house self-winding mechanical movements that offer impressive 80-hour power reserves. While features like these typically cost well into the five-figure range from most Swiss luxury watch brands, you can easily find these sold-gold watches from Tissot for under $2,000.
Tissot PRS 516 Chronograph
Tissot watches offer excellent value for the money at every single price point they occupy, and this is especially true when it comes to its mechanical chronograph models. With prices for most models coming in at under $1,500 on the secondary market, they represent serious value propositions and might just be the top option for those that want an affordable mechanical chronograph from a well-known Swiss luxury manufacturer.
Since Tissot is part of the greater Swatch Group (along with Omega, Blancpain, Breguet, Longines, Hamilton, and many more), the brand has consistent and reliable access to ETA movements. At this price point, having a genuine ETA mechanical chronograph movement is a serious positive. Used in countless luxury watches from a wide variety of manufacturers, ETA calibers are the gold-standard for Swiss-made generic movements, and they are frequently used in many watches that cost several times the price of Tissot's various chronograph models.
The Tissot PRS 516 is the brand's line of sporty chronographs that draw their design inspiration from 1960s race cars. While Tissot offers a vast assortment of other chronographs in their more classically styled collections, the PRS 516 series is the go-to option for those that want a bold sports watch. With a budget of $5k, nearly all Tissot watches will be within your budget, and you can even find certain PRS 516 models on the secondary market for under $1,000.
Tissot Heritage Navigator
Tissot excels at classically styled timepieces, but the brand's archives also are home to some truly unique designs that you won't find anywhere else. Additionally, much like most of Tissot's watches, nearly everything you are likely to encounter will be priced significantly below $5,000, meaning that you can focus on finding something that will make you happy, rather than just something that will come in under budget.
The Tissot Heritage Navigator is a modern-day recreation of a historic model from 1953, which was originally released to celebrate the company's 100th anniversary. The watch's signature feature is a central world time disc with city names to represent the different time zones. Although the original model from the 1950s measured just 36mm in diameter, the new version has a case diameter of 43mm, allowing for significantly more space and increased legibility. This is particularly useful when referencing the various city names during use as a worldtime watch.
The Swiss-made, ETA-based movement powering the Heritage Navigator is a COSC-certified chronometer, meaning that it has passed stringent testing standards and promises to be highly accurate and reliable. While the Tissot Heritage Navigator retails for under $2k and is a fantastic option even at that price, examples on the secondary market can often be found for under $1,000, which makes them excellent contenders for anyone in the market for a worldtime watch with a truly unique design.
Oris Watches Under $5,000
Oris Divers Sixty-Five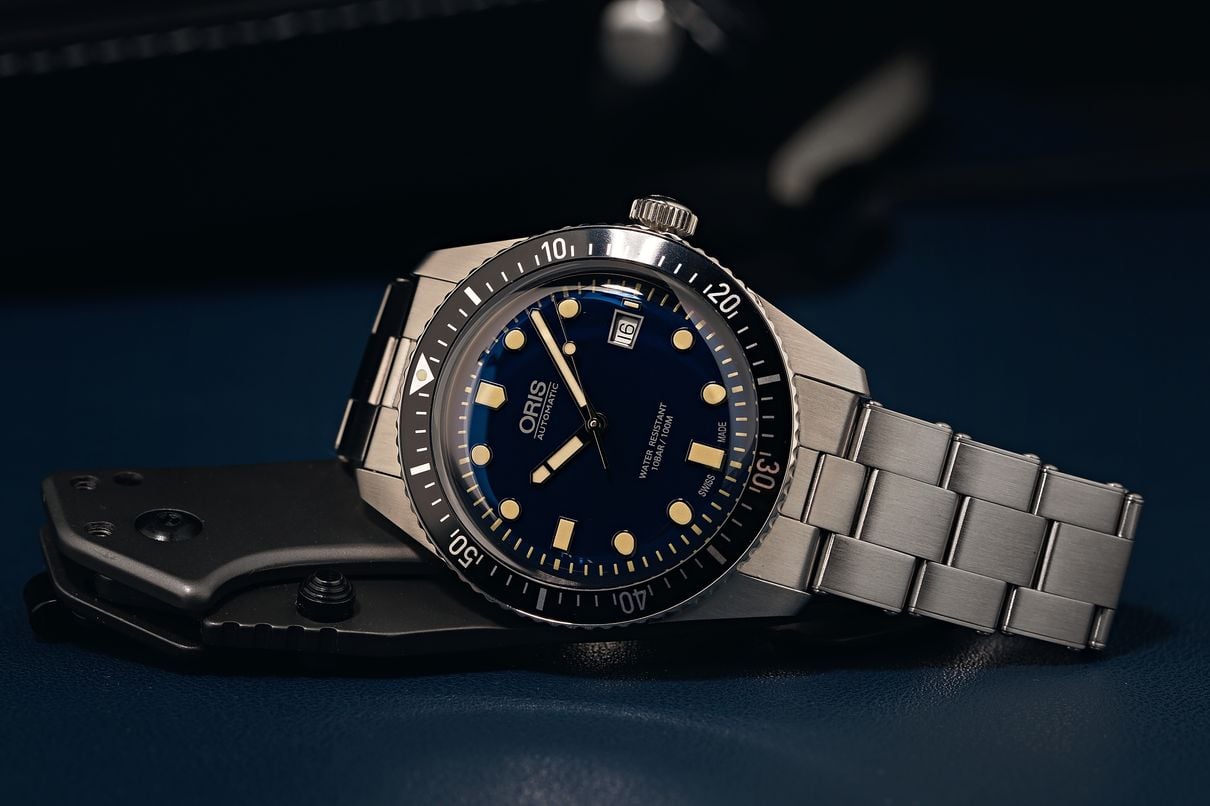 It is virtually impossible to have a conversation about affordable Swiss luxury watches without mentioning Oris. Originally founded back in 1904, Oris is now best known for producing high-end luxury watches at relatively affordable price points. With the exception of a handful of Oris watches that can be rather expensive, the vast majority of the brand's offerings, including all Oris Divers Sixty-Five models, can be within reach with a budget of $5,000.
One of the most popular Oris models currently available is the Divers Sixty-Five. Drawing its design inspiration from vintage Oris dive watches from the 1960s, the Divers Sixty-Five collection is available in a range of different sizes, dial styles, bezels, and strap/bracelet options. A vintage Rolex Submariner will likely set you back a minimum of five-figures, but nearly all Oris Divers Sixty-Five models can be purchased for anywhere between $1k and $2k, making them some of the best Swiss-made dive watches for the money.
Case sizes for Oris Divers Sixty-Five watches can range from 36mm to 42mm. Additionally, with the huge range of options available in regards to dials, bezels, and straps, there is guaranteed to be a model that suits everyone with an appreciation for vintage dive watch aesthetics. Additionally, unlike vintage timepieces, the Oris Divers Sixty-Five collection is built with modern materials and manufacturing techniques, meaning that long-term ownership will be both simple and cost-effective.
Oris Big Crown ProPilot
The Oris Big Crown first appeared in 1938 and was characterized by its highly legible dial and oversized winding crown. These features were aimed at pilots, as the large winding crown made it easier for them to operate while wearing thick gloves. Today, the modern Oris Big Crown collection consists of an assortment of different models; however, all feature highly legible dials and large winding crowns, just like the inaugural model from the 1950s.
While the Big Crown collection includes a number of vintage-inspired watches such as the Pointer Date lineup, it also is home to a range of modern pilot's watches that take the defining elements of the Big Crown collection and re-imagine them for the modern era. These Oris Big Crown ProPilot watches often feature utilitarian designs, and just like the rest of Oris's lineup, most can be purchased for significantly below $5,000.
The Oris Big Crown ProPilot range features standard time and date watches, alongside other models with chronographs or GMT complications. Additionally, there are even certain Oris Big Crown ProPilot models that feature built-in analog altimeters for a truly unique and purpose-built package. Despite the range of different features and complications, all Oris Big Crown ProPilot watches are relatively affordable, and you can expect to pay anywhere between $1,000 and $2,000 on the secondary market, regardless of the specific model that you choose.
Oris Aquis
Oris actually has two different incredibly popular dive watch collections. While the Divers Sixty-Five is a vintage-inspired line of timepieces, the Oris Aquis collection is a series of highly-capable professional dive watches with a distinct and thoroughly modern aesthetic. Just like many of Oris's other collections, options for the Aquis line are extensive; however, virtually all models will come in significantly below the $5,000 price point.
The Oris Aquis collection covers a wide range of sizes from 36.5mm all the way up to 48mm, and it consists of simple time models along with others that feature chronographs and GMT complications. Additionally, there are elegant Oris-Aquis models that are set with diamonds, and even some that feature an innovative analog depth gauge built into their sapphire crystals that allows water to enter and be read against a scale printed along the periphery of their dials.
With the exception of the models that are either set with diamonds or feature solid 18k gold cases, nearly all Oris Aquis models can be purchased for less than $3k. Additionally, on the secondary market, you can even find simple time and date Oris Aquis models fitted with rubber straps for under $1,000 with a little bit of searching. Given their high degree of craftsmanship and performance-oriented designs, Oris Aquis models are some of the brand's best-sellers, and the collection makes a top option for those seeking a modern luxury dive watch at an affordable price.