When posed with the question of which watch to buy and when, every industry "expert" probably begins their answer with some variation of the same caveat: Buy for love, not for money. Watch collecting is a wild and unpredictable hobby. Auction prices for classic models have been known to hit eight figures (and then some), but most of the Rolex watches out there depreciate the moment you strap them on your wrist.
Click here for our Ultimate Buying Guide on Rolex watches.
The Road to My First Rolex Watch
I have a young friend who is ready to buy his first luxury watch. He's been thinking about it for weeks (good behavior), but every few days he calls me (bad behavior) and labors the same point: He wants a watch that is an investment (even worse behavior). There exists in modern watch collecting a problem: collectability is now treated as a selling point. But the problem with everybody and their dogs knowing that something is collectible is that everybody and their dogs are quite likely to collect it.
The most expensive Rolex wristwatch ever sold was the Rolex Daytona worn by Paul Newman himself. It fetched $17. million at a 2017 auction. That's a pretty good price for a watch that was so unpopular when it was initially launched that it lingered on dealers' shelves with relatively few actually making their way onto customers' wrists. One of those wrists happened to be Paul Newman, who had reputedly been bought the watch by his wife, Joanne Woodward. And it isn't that she made a sound investment in a Rolex watch, but rather her purchase created an investment piece by her gifting it to her stratospherically famous husband.
Buying For Passion vs. Buying Watches as Investments
This generation's Paul Newman Daytonas are currently flying under the radar. Yes, the Rolex GMT-Master II has already doubled in value, and is likely going to appreciate further due to Rolex carefully managing the supply of that model to the ravenous public, but only by 200%, 300%, 500%. Now, that's not too bad at all, but the really crazy money is likely hiding somewhere in the far corner of the industry and we won't know what it is until it's too late to rush out, cash in hand, and "collect" it.
So what should we do in the meantime? I told my little friend, desperate to see a return on his money that he should be patient. He should wait to fall in love. He should truly get to know himself before he pulls the trigger. And then, when he's good and ready, he should buy a Rolex anyway.
Rolex has graduated from a watch brand into a seismic force to which the regular rules do not apply. While it is far (far) from guaranteed that any Rolex watch you buy will appreciate from the day you bought it, time is showing us that these models, both old and new, endure the fluctuations of the watch market very well indeed.
The Advantages of Going Pre-Owned for Your First Rolex
And, in fact, buying a pre-owned model might well be the very best thing you can do in the case of Rolex. Many of the new professional models are simply unattainable without waiting an inordinate amount of time – or without paying an exorbitant grey market mark-up to skip the queue. Older professional models are available for prices below those of a new model, and present the chance to pick-up a potential classic while also expanding your knowledge of the crown.
Part of the joy of the watchmaking game is getting to know the tiny ticker on your wrist. Buying modern watches because they are in vogue is all well and good, but it can sometimes be a bit of a rushed exercise (thanks to all that competition). A far nicer, and (in my opinion) rewarding way to pursue this hobby is to consciously decouple oneself from the pursuit of luxury, or status, or the latest trend, and instead put stock in the long road. Read about old models. Pore over their nuances. Allow yourself to appreciate how certain models and certain designs can somehow, almost inexplicably to a modern mind, encapsulate an era so perfectly. These wordless time capsules are worth seeking, as they can, in a single glance, remind us of a simpler time when things didn't move so fast.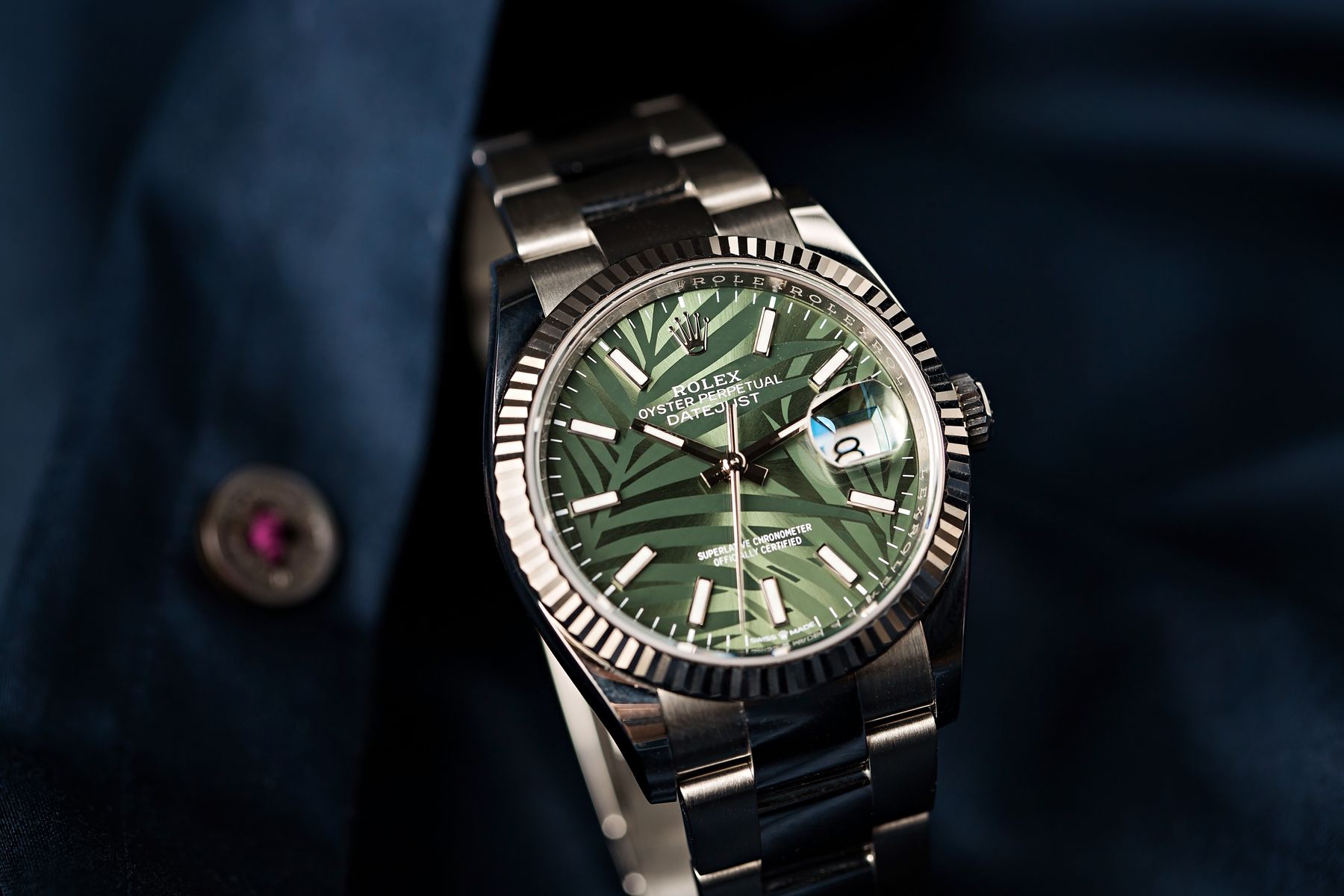 Buying Your First Rolex Watch
My first Rolex was a Rolesor Datejust from 1985. I bought it pre-owned after finally managing to get over my thirst for Pepsi, and having hit the history books in search of inspiration. It cost me around $4,000 and it looked brand new but so satisfyingly anachronistic. Vintage is not for everyone, but before you dismiss it as an option, remember that whatever you like right now will be old someday soon. And it is only with the passing of time that we're really able to understand what has managed to stand its test.
At the same time, you can also get a somewhat newer Oystersteel Datejust, such as ref. 116200, on your wrist for around $7k. Not bad for a 6-digit model with a slightly more contemporary design set than its vintage predecessors. With the 6-digit series, you'll also enjoy the convenience of a scratch-resistant sapphire crystal, a high-beat caliber 3135 movement, and a Twinlock waterproof screw-down crown, features not often found on vintage models.
On the other end of the spectrum, you can invest in a handsome yellow gold Day-Date on a leather bracelet for just under $10k. Options, like ref. 18038 offer the exclusivity of a gold Rolex while also including amenities such as a Quickset function for the date. Of course, we can't forget the charm that comes with many vintage models in the form of an older-style case and lume that has often formed a nice patina over the years.
Let's say you prefer a sports watch. In that case, the Explorer will likely make your wallet happy with a price of around $7k. It doesn't have a rotating bezel, date mechanism, or other additional functions – just a time-only, three-hand dial. Until recently, the Explorer was also solely produced in stainless steel, which has helped references like 14270 and 114270 keep an attractive entry-level price. Bump your budget up to around $9k, and you can invest in the Explorer II instead, which includes a fixed 24-hour bezel, a date mechanism, and four centrally mounted hands that offer GMT functionality. Both are excellent opportunities to add a non-vintage Rolex sports model to your collection without draining your bank account.
Again, it isn't always guaranteed that any of the watches I mentioned will appreciate. However, most pre-owned Rolex watches tend to hold their value, especially long-term. It also appears that the white-hot market is starting to cool and correct itself to more "normal" prices, which might bode well for any aspiring Rolex collector.