In terms of the most recognizable watch brands in the world, one of the few to really give Rolex reason for the occasional anxious glance over its shoulder is Omega. Their extensive portfolio contains a raft of iconic models, made memorable by some of history's greatest achievements, and some of pop culture's most enduring heroes. The lineup includes names familiar even to those with the merest passing interest in horology; and for the real aficionados, they speak of adventures on land, beneath the waves, and some that are genuinely out of this world.
Omega has existed since 1848 and has evolved over the last 170+ years into one of the true greats of the Swiss watch industry. Their classic yet innovative designs have been favored by a diverse assortment of personalities including President JFK, Elvis Presley, Tom Hanks, Cindy Crawford, Michael Phelps, and George Clooney. On-screen, you will see them worn by Tony Montana in Scarface, and most famously of all, they have been the brand of choice for the James Bond since the mid-90s.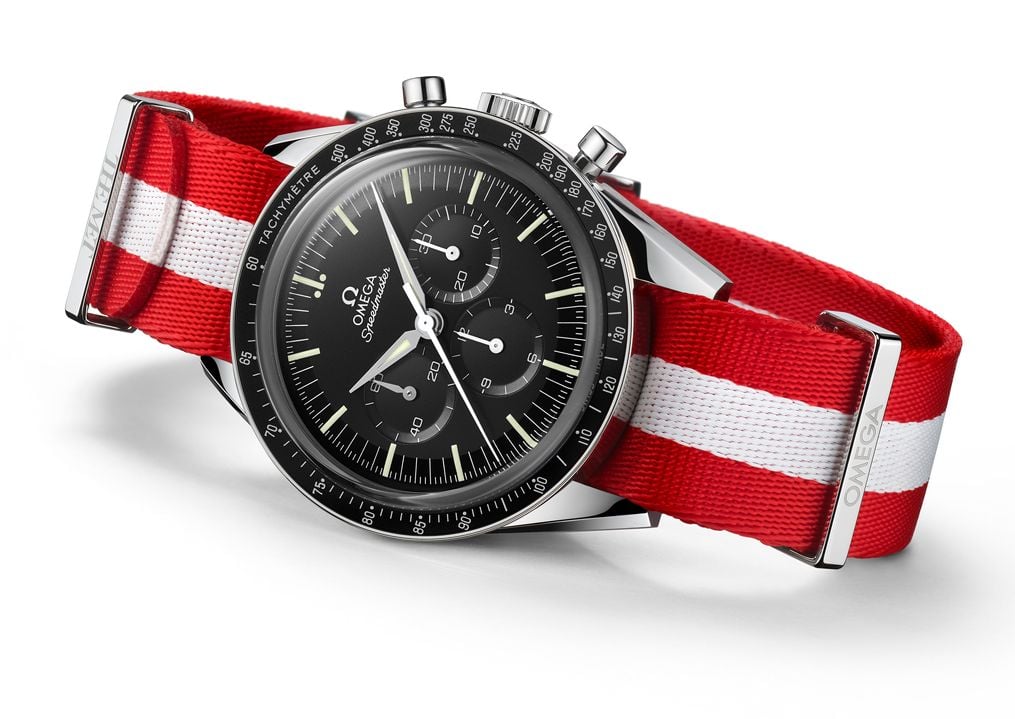 However, perhaps their greatest claim to fame, and one that outdoes just about every other manufacturer on the planet, is Omega's status as the brand behind the first watch worn on the moon. Since 1963, they have been the official timepiece supplier to NASA, and the Speedmaster chronograph accompanied Apollo 11's astronauts on their inaugural trip to the lunar surface.
If that wasn't enough, they were also the only company with the foresight to recognize the genius of George Daniel's Co-Axial escapement, arguably the biggest revolution in watchmaking since the 18th century. By transforming the traditional lever escapement's sliding motion, as its pallet fork's teeth lock and unlock into a radial movement, the Co-Axial eliminates the inherent problem of friction that has long hindered the performance of the standard arrangement. In doing so, it has ushered in a level of long-term accuracy and resilience previously unheard of in mass-produced luxury watches. Omega bought the patent to the Co-Axial escapement in 1999 and has since gone on to build most of their modern timepieces around the system. Together with their own Master Chronometer rating certificate, this advanced technology helps puts the brand at the very forefront of what is possible in mechanical watchmaking.
Today, the Omega catalog is comprised of four main collections (the Speedmaster, Seamaster, De Ville, and Constellation), and each one is split into a number of sub-groups. The company offers world-class dive models, industry-leading chronographs, supremely elegant dress pieces, and rugged everyday beaters, with price points ranging from the extremely attainable to top-end expensive.
Below we have put together a quick buying guide on Omega watches as an overview of the manufacturer's biggest hitters. While it doesn't touch on every available piece, it gives a good starting point for what can, at times, be a confusing selection. We've also elected to avoid the limited edition models, as there may not be enough space on the internet to list them all.
Omega Speedmaster 
Arguably the most well known of Omega's collections thanks to its association with the Space Race, the Speedmaster was introduced in 1957 and became the chronograph against which all others would be measured. The first to move the tachymeter scale from the dial to the bezel, thus offering unparalleled legibility, plus its bombproof engineering was enough to win it the NASA gig. Following on from those early days, the Speedy name has been used for a wide variety of different models, including everything from faithful reissues of that moonwalking original to quartz-powered analog/digital display pieces for a new generation of astronauts. There is a broad collection to choose from, and we have isolated a few of the most important.
Speedmaster Professional Moonwatch 42mm 
With the possible exception of the Rolex Daytona, there is no other chronograph out there to match the Moonwatch's fabled appeal. It is virtually a direct recreation of the model Buzz Aldrin wore during his historic feat, complete with a hand-wound movement and Hesilite crystal. One of the most well-loved watches of all time, every collector should own a Speedy at some point.
Size: 42mm
Case: Stainless Steel
Bracelet: Stainless Steel (Or Black Leather)
Movement: Caliber 1861 (Or 1863 on Display Back Models)
Retail Price (MSRP): $5,350
Speedmaster FOiS 39.7mm
Although also called a Moonwatch, this smaller, more retro-designed Speedy is actually subtitled 'The First Omega in Space' (FOIS) and is centered around the model worn by Wally Schirra on his 1962 Earth orbit flight aboard Sigma 7.
Size: 39.7mm
Case: Stainless Steel
Bracelet: Brown Leather
Movement: Caliber 1861
Retail Price (MSRP): $5,300
Speedmaster Co-Axial 44.25mm Grey Side of the Moon 'Meteorite'
Omega has been among the pioneers of using ceramic for watch cases, the material forming the basis of their 'Of The Moon' range in colors of black, white, blue, and grey. The Grey Side of the Moon models are available with a standard dial, or one taken from a slice of ancient meteorite, acid etched to expose its unique natural pattern. Larger than the standard Omega Moonwatches, it also benefits from the automatic Co-Axial caliber 9300.
Size: 44.25mm
Case: Grey Ceramic
Bracelet: Grey Leather
Movement: Co-Axial Caliber 9300
Retail Price (MSRP): $15,600
Speedmaster Skywalker X-33 Chronograph 45mm
A natural progression of the classic mechanical Moonwatch, the X-33 is a 45mm titanium-forged, analog/digital LCD timepiece powered by a multifunctional thermo-compensated quartz chronograph movement. Able to display a timer, MET (Mission Elapsed Time), PET (Phase Elapsed Time), three alarms and a perpetual calendar, it has been approved by the European Space Agency (ESA)
Size: 45mm
Case: Grade 2 Titanium
Bracelet: Grade 2 and Grade 5 Titanium
Movement: Quartz Caliber 5619
Retail Price (MSRP): $5,900
Omega Seamaster
The most stylistically diverse range of watches in Omega's whole collection, the Seamaster takes in everything from pieces made originally for scientists and technicians, to extraordinarily robust dive monsters able to withstand impossible depths. While the name itself might lead to some puzzlement, many of the Seamaster models are among the most well-known of all, helped along by a certain fictional super spy. From a huge selection of watches, below we have picked out some of the most noteworthy.
Seamaster Diver 300m Co-Axial Master Chronometer 42mm
When Pierce Brosnan slipped on the quartz version of the Omega Seamaster Diver 300m in 1995's Goldeneye, it triggered a resurgence for the brand that they have been riding ever since. The latest iteration comes in 23 different possible configurations, with the steel-cased, blue bezel/dial model remaining the closest to Bond's original Omega of choice. Now a 42mm piece powered by the Master Chronometer Caliber 8800 movement, it remains one of their most popular offerings, with the beautiful laser-etched wave pattern across the face making a very welcome comeback in recent years.
Size: 42mm
Case: Stainless Steel
Bracelet: Steel (Also available on a rubber strap)
Movement: Co-Axial Master Chronometer Caliber 8800 with Date
Retail Price (MSRP): From $5,200
Seamaster Railmaster Co-Axial Master Chronometer 40mm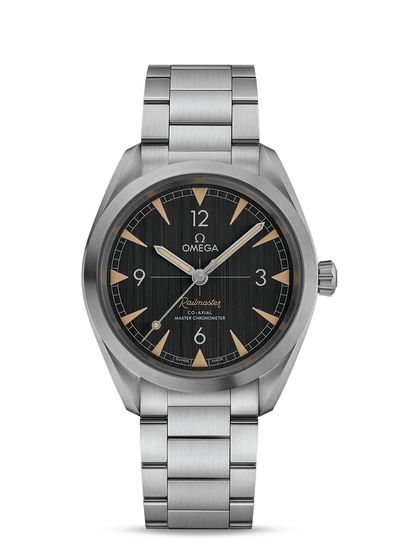 The Railmaster series was initially its own line of watches, making up one-third of Omega's original 1957 Professional Collection, along with the original Speedmaster and Seamaster. Intended as a model for scientists, it contained a soft iron interior shield to protect the movement's delicate components from strong magnetic fields. Nowadays, it is part of the Seamaster range and its Co-Axial caliber, made with naturally antimagnetic parts, means that it no longer has any need for the extra inner shielding, allowing the state-of-the-art movement to sit on display through its sapphire caseback. Simple, elegant and accomplished, this is Omega at its most practical.
Size: 40mm
Case: Stainless Steel
Bracelet: Nylon Fabric (Also Available on Steel and NATO)
Movement: Co-Axial Master Chronometer Caliber 8806
Retail Price (MSRP): $5,200
Seamaster Planet Ocean 600m Co-Axial Master Chronometer 43.5mm
Positioned as Omega's collection of ultra-capable dive watches, the Planet Ocean series was launched in 2005. Boasting twice the water-resistance of the Seamaster Diver 300m, they are also offered in a variety of sizes (39.5mm, 43.5mm, and 45.5mm), with three-handed date versions alongside chronographs and a GMT. Materials range from stainless steel, Sedna gold (18K rose), or titanium, and all are modern models are driven by Master Chronometer Co-Axial movements.
Size: 43.5mm
Case: Steel
Bracelet: Steel
Movement: Co-Axial Master Chronometer Caliber 8900
Retail Price (MSRP): $6,550
Seamaster Planet Ocean 600m Co-Axial Master Chronometer GMT 43.5mm
Sporting the world's first polished, bi-ceramic black and white bezel, the GMT-equipped Planet Ocean 600m is one of the most all-around useful versions of Omega's versatile diver. The contrasting colors on the bezel offer the clearest indication of night and day, as well as giving the watch a beautifully sophisticated visual. Like the rest of the series, the in-house Co-Axial movement is Master Chronometer certified.
Size: 43.5mm
Case: Stainless Steel
Bracelet: Black Leather with Rubber Lining
Movement: Co-Axial Master Chronometer Caliber 8906
Retail Price (MSRP): $7,900
Seamaster Aqua Terra 150m Co-Axial Master Chronometer 41mm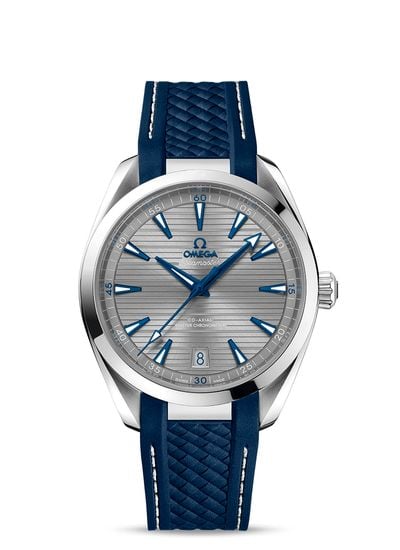 Another relatively new addition to the Seamaster family, the Aqua Terra range first appeared in 2003. As a water-resistant watch with an elegantly formal aesthetic, the series is more in keeping with the original Seamaster models dating from 1948. It is also hugely diverse, with a total of 86 different watches, covering a variety of sizes (including ladies' pieces), mechanical and quartz movements, and even some impressive complications. The 41mm Co-Axial Master Chronometer is available with a selection of dial colors, all featuring etched grooves to emulate the look of a yacht's decking. Bracelets also come in steel, rubber, or leather, giving the piece either a sporty or dressy look. A handsome, somewhat minimalist watch with a cutting-edge caliber, the Aqua Terra represents exceptional value for money.
Size: 41mm
Case: Stainless Steel
Bracelet: Stainless Steel (Also available with rubber or leather straps)
Movement: Co-Axial Master Chronometer Caliber 8900
Retail Price (MSRP): $5,500
Seamaster Aqua Terra 150m Omega Co-Axial 41.5mm >15,000 Gauss
The world's first completely antimagnetic watch, the Aqua Terra >15,000 Gauss contains the Co-Axial Caliber 8508, developed by teams from ETA, ASULAB (the research and development laboratory for Swatch Group), Nivarox, and Omega themselves. Able to withstand magnetic fields greater than 1.5 tesla, it represents the brand's commitment to completely safeguarding the performance of their watches.
Size: 41.5mm
Case: Stainless Steel
Bracelet: Stainless Steel
Movement: Co-Axial Caliber 8508
Retail Price (MSRP): $6,600
Seamaster Aqua Terra 150m Omega Co-Axial Master Chronometer GMT Worldtimer 43mm
An extraordinary addition to the Aqua Terra collection, this 18k Sedna (rose) gold piece includes a Worldtimer complication, with an outer chapter ring displaying the names of 24 international cities, one for each time zone. The 24-hour inner scale rotates once a day and shows the time in other locations on the dial, one half in dark blue to indicate nighttime and the other in a silvery opaline representing daylight. In the center is a beautifully realized globe on a Grade 5 titanium plate, laser-ablated to leave a relief map of the continents. The top of the Aqua Terra range, it manages to be both a highly intricate dress watch and robust enough to remain water-resistant to 150m.
Size: 43mm
Case: 18k Sedna Gold
Bracelet: 18k Sedna Gold
Movement: Co-Axial Master Chronometer Caliber 8939
Retail Price (MSRP): $36,200
Seamaster 300 Co-Axial Master Chronometer 39mm
A wonderful throwback to the original Professional Collection, Omega launched the '1957 Trilogy' on the 60th anniversary of that groundbreaking trio's release. The Seamaster 300 from the series is an almost exact visual reproduction, with a host of vintage styling touches, but with the benefit of the brand's latest movement technology.
Size: 39mm
Case: Stainless Steel
Bracelet: Stainless Steel
Movement: Co-Axial Master Chronometer Caliber 8806
Retail Price (MSRP): $7,000
Seamaster Ploprof 1200m Omega Co-Axial Master Chronometer 55x48mm
With the advent of saturation diving, a new problem emerged for the industry's deep divers. The mixed breathing gases they had to use contained a high proportion of helium, and the molecules were able to seep inside their watch cases. Upon the ascent, those bubbles would expand, blowing out the protective crystals covering the dials. While other brands, most notably Rolex, tackled the problem by inventing the Helium Escape Valve to let the gas purge without causing any damage, Omega went the other way and created a model so immense and solid that it didn't let the helium inside in the first place. That watch was the Ploprof, an utter beast of a timepiece, water-resistant to more than 4,000ft underwater. There are now five in the series, and the modern versions are now fitted with helium escape valves, with this orange-bezel titanium slab among the standouts. Definitely an acquired taste, but massively impressive (and just plain massive) all the same.
Size: 55mm
Case: Grade 5 Titanium
Bracelet: Grade 2 Titanium
Movement: Co-Axial Master Chronometer Caliber 8912
Retail Price (MSRP): $13,800
Omega Constellation
Once the flagship from Omega, the Constellation collection, which also takes in the retro-inspired Globemaster subdivision, is the brand's dress watch range. A focus on sophistication and refinement, it is an extensive series and features some notable complications and tasteful use of precious metals. Below are a few of its best examples.
Constellation Omega Co-Axial Master Chronometer 39mm
Omega's first Constellation watch was launched in 1952 and was a tribute to the Lockheed Constellation aircraft which had served for the allies during WWII. Several generations have come and gone since then, and the current range has in excess of 150 different models in both men's and women's sizes. As extensive as the modern collection is, they all share certain stylistic touches, most prominently the four 'claws' on the bezel, the integrated bracelet design and the small star on the dial. The steel Co-Axial Master Chronometer 39mm is among the more understated models, available in a choice of colors and with Roman numerals engraved on its surround.
Size: 39mm
Case: Stainless Steel
Bracelet: Stainless Steel
Movement: Co-Axial Master Chronometer Caliber 8800
Retail Price (MSRP): $6,050
Constellation Globemaster Co-Axial Master Chronometer 39mm
A far smaller collection but an extremely popular one, the Globemaster watches are exemplified by their pie-pan dials, a much-missed element from the 1950s and 60s. The 17-strong range contains models crafted in steel and both yellow and Sedna gold, along with a number of bi-metal two-tone examples. All are given fluted bezels fitting for a dress watch and a variety of either steel bracelets or leather straps.
Size: 39mm
Case: Stainless Steel
Bracelet: Blue Leather Strap
Movement: Co-Axial Master Chronometer Caliber 8900
Retail Price (MSRP): $6,900
Constellation Globemaster Co-Axial Master Chronometer Annual Calendar 41mm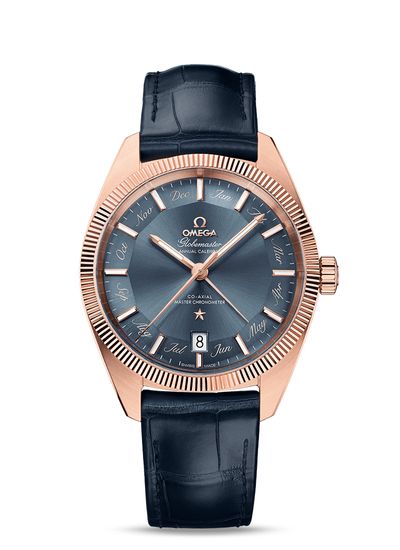 One of the most beneficial complications for a mechanical watch, an annual calendar compensates for months with varying numbers of days, adjusts itself automatically, and only requiring resetting once per year. On the Globemaster, each facet of the distinctive pie pan dial is given a month of the year, pointed out by an additional, blued hand. The 18k Sedna gold version with the sun-brushed blue dial is an absolute beauty and an ideal watch for formal occasions.
Size: 41mm
Case: Sedna Gold
Bracelet: Blue Leather Strap
Movement: Co-Axial Master Chronometer Caliber 8923
Retail Price (MSRP): $23,700
Omega De Ville
Introduced in 1960, the De Ville is another range that previously was part of the Seamaster collection, before breaking away into its own line in 1967. It is also the series most commonly used as a proving ground for Omega's succession of innovations – for example, it was a De Ville watch that debuted the first Co-Axial movement in 1999. Containing some of the most intricate and flamboyant pieces in the whole of the brand's portfolio, many crafted from precious metals, this is where many of the priciest offerings can be found.
De Ville Prestige Co-Axial 39.5mm De Ville 50th Anniversary
Commemorating the 'De Ville' name's half-century, Omega released anniversary watches in white, yellow, and red gold, each featuring a striking white enamel dial. The period-correct Arabic numeral hour markers are picked out in Anthracite, apart from the bright red 12 o'clock, and the inner railway minute track keeps everything suitably vintage looking. The caseback is engraved with Chronos, the god of time, and the watch is powered by the in-house Co-Axial Caliber 2500.
Size: 39.5mm
Case: White Gold (Also Available in Yellow and Red)
Bracelet: Grey Leather Strap
Movement: Co-Axial Caliber 2500
Retail Price (MSRP): $12,500
De Ville Tourbillon Co-Axial Numbered Edition 44mm
Although we said no limited editions, this one was important enough to break our own rule. A very special watch, with a very special price tag, the 44mm solid Sedna gold piece features a centrally-mounted tourbillon, with flying hands pointing out the time on an outer minute ring. The dial is sun-brushed and treated with blue PVD, while inside, the exclusive Omega 2638 movement is given an oscillating weight of 950 platinum.
Size: 44
Case: 18k Sedna Gold
Bracelet: Blue Leather Strap
Movement: Co-Axial Caliber 2638
Retail Price (MSRP): $156,000
*All images courtesy of OMEGA.