Graduation is an important milestone in one's life – the end of an era and the beginning of a whole new chapter. To commemorate such a momentous occasion, there is arguably no better gift to give that recent grad in your life than a luxury timepiece. Regardless of what your new graduate plans to do next in life, they will need to be on-time for it, and what better way to keep them on time than by giving them a Rolex watch.
From one generation to the next, a Rolex watch not only celebrates excellence, but it is a timepiece that will be cherished forever. When properly maintained, a Rolex watch will last multiple lifetimes, delivering reliable timekeeping performance for generations to come. Graduating is a big deal, and your recent grad deserves the best. As Rolex so eloquently says, "a crown for every achievement."
The Best Rolex Watches To Give As Graduation Gifts
Nothing marks an achievement quite like a Rolex watch – and graduation is one of the most important milestones for a young adult. So, if you have a soon-to-be graduate in your life, consider gifting them a Rolex watch to commemorate the occasion. Not only is a Rolex a very special gift that will bring tremendous joy when received, it's one that will continue to be cherished for the rest of the recipients life. Built with only the best materials and powered by in-house automatic movements, these are exceptional watches to celebrate an exceptional moment.
A Rolex watch is a smart choice as a grad gift for three key reasons. First, these watches are simply timeless, versatile classics that never go out of style whether your grad is headed for the boardroom or the open road. Second, Rolex watches are built like tanks, making them the kind of piece your grad can wear and enjoy for decades. Lastly, especially when buying pre-owned, they're an investment piece. Statistically vintage Rolex do nothing but increase in value over time, meaning should your grad face tough times down the road, they will have a solid asset at their disposal.  There are countless Rolex watches that will make a fantastic gift for young grads, but we've picked out two great collections that make the perfect gifts for the recent grad in your life: the Rolex Submariner and the Datejust.
Rolex Submariner
If you'd rather gift a Rolex sports watch, then nothing beats the quintessential luxury diver's watch: the Submariner. A luxurious sports watch that began life in 1953 as the quintessential diving watch of its era, today this Rolex icon can pair just as well with a corporate suit as with a diving suit and is a strong contender for being the only watch that your recent grad will ever need.
Produced from 1988 until 2010, among the family of Rolex Submariners, reference 16610 is one of the most popular and makes a perfect gift for the recent graduate. From an aesthetic point of view, the Sub ref. 16610 is everything a Submariner should be – full stainless steel construction, black dial, and matching black rotating bezel. The hands and indexes on the dial are luminescent for easy visibility in the dark while the practical date window sits at 3 o'clock magnified by the Cyclops lens affixed to the scratch-resistant sapphire crystal. Additionally, unlike the newest version of the Submariner, the ref. 16610 has holes in the lugs, allowing the Oyster bracelet to be switched out for a leather or rubber strap for a quick style change.
In terms of performance, the Submariner is the gold standard for diving watches. Thanks to its watertight Oyster case with the screw-down crown and caseback, the Submariner 16610 is waterproof to 1,000 feet (300 meters). Equipped with the Rolex Caliber 3135 – a COSC certified automatic mechanical movement designed and built entirely in0-house by Rolex – the Submariner offers pristine reliability, precision, and resistance.
The Rolex Submariner 16610 is not only the perfect way to celebrate an educational accomplishment but also a perfect watch to accompany your recent grad as they begin the next phase of his life. For those that want to get their recent grad a Submariner but do not want it to have a date display, the Submariner no-date ref. 114060 is the perfect option. As its name suggests, the ref. 114060 does not include a date window, therefore offering a flawlessly symmetrical face.
As the most current version of the no-date Submariner, the 40mm Oyster case comes with a black Cerachrom ceramic bezel and thicker lugs and crown guards. Prized for its appearance and durability, Cerachrom has a gorgeous sheen that will not fade – even after prolonged sun exposure. Plus, ceramic is also resistant to scratching, making this Submariner the ideal everyday watch.
Like other Submariner watches, the ref. 114060 is water-resistant to 330 feet and has fantastic Chromalight lume that glows blue in the dark. Additionally, the Glidelock system on the Oyster bracelet allows the band to be extended by 20mm should it need to fit over a diving suit, however, you don't have to be a scuba diver to rock this timepiece on your wrist, and it looks just as sharp when paired with formal or casual attire.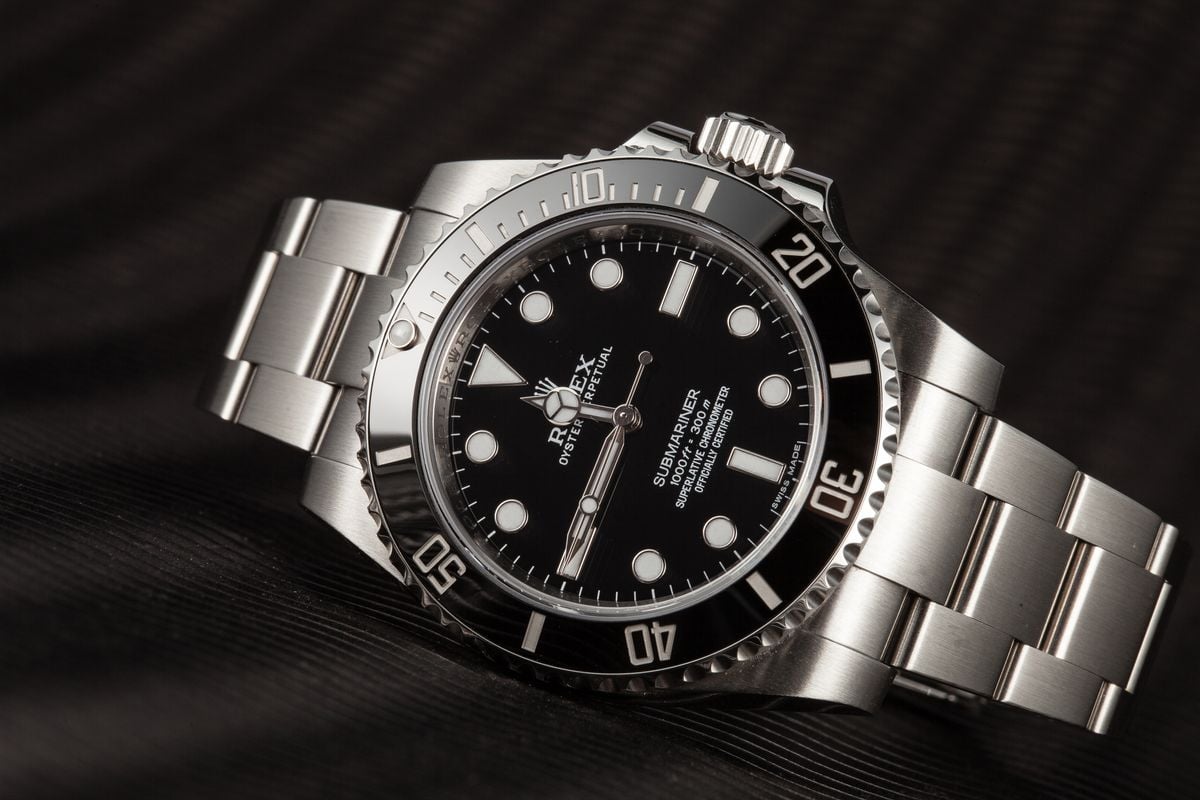 Rolex Datejust
Although the Rolex Datejust 36mm is classified as a gent's watch, its highly versatile case diameter works well on wrists of any gender. For a timeless design that will never go out of style, the Rolex Datejust 116200 in full stainless steel with a smooth domed bezel fits the bill perfectly, and is another great option for the one and only watch your recent graduate will ever need.
The Datejust collection is characterized by a date aperture sitting at 3 o'clock with the characteristic Cyclops lens, which offers and iconic look and real-life practicality. The flat three-piece link construction of the stainless steel Oyster bracelet on the ref. 116200 lends a sportier touch to an otherwise relatively dressy Rolex watch. With its understated sophistication, the Rolex Datejust 116200 can seamlessly go from day to night, and from weekday to weekend.
Ticking beneath the Oyster case of the ref. 116200 is the Rolex Caliber 3135 self-winding mechanical movement that is COSC certified, thus ensuring optimal timekeeping. The Rolex Datejust is waterproof to 300 feet (100 meters) due to its screw-down crown and impermeable fluted caseback. This watch is as timeless as it is iconic – tasteful, functional, and most importantly durable.
If you think your the Rolex Datejust is the perfect watch for your recent grad, but you think they will get likely some use out of the rotating timing bezel on the Submariner, then the Rolex Datejust Turn-O-Graph "Thunderbird" is the perfect watch.
The 1950s Turn-O-Graph was nicknamed the "Thunderbird" because it was the official watch of the U.S. Air Force's Thunderbird aerobatic squadron, and the modern day Turn-O-Graph is ideal for a young adult. It features a very wearable 36mm Oyster case in stainless steel along with a fluted 18k gold rotating bezel bezel that can be used to measure elapsed time. Additionally, unlike other fluted bezels, the on on the Turn-O-Graph is marked with numerals for an added sporty touch.
Other Great Gifts Ideas for the Recent Grad
A graduation is one of those occasions that doesn't come about all that frequently in one's lifetime, and one that deserves a gift that the graduate can look back on for years to come. Obviously there's a broad pool of options to pick from, however, there are a few crucial items that will follow a recent grad through their professional career, regardless of field or specialty. Below are a few great additional options for graduation gifts.
Montegrappa Fortuna Mule Pen
Whether signing contracts or penning the next great classic of American literature, there's a lot to be said for a good pen. Montegrappa is one of the real benchmarks in the industry when it comes to quality craftsmanship, however there's a specific reason we opted for this sleek Fortuna Mule. Being crafted in copper, this unique pen will slowly begin to patina with age, evolving as time goes on in a similar fashion to how we all grow and change with time.
Ghurka Expediter No. 34 Attache Case
Yet again, there are countless selections on the market for a respectable briefcase, though few are the type that are genuinely built to last a lifetime. Ghurka, much like Berluti, crafts their leather goods from the finest leathers available -in this case French calfskin, due to the fact that the French don't used barbed wire, and their climate is cool enough that bug bites are also a non-issue.
The Expediter No. 34 Attache case is a classic design dating back to 1979, yet one which translates perfectly to present-day business needs. The sturdy and understated bag is large enough to fit a laptop, notebook, tablet and other necessary daily essentials with easy, and can be used with a supplied shoulder strap when the day calls for a more casual carry.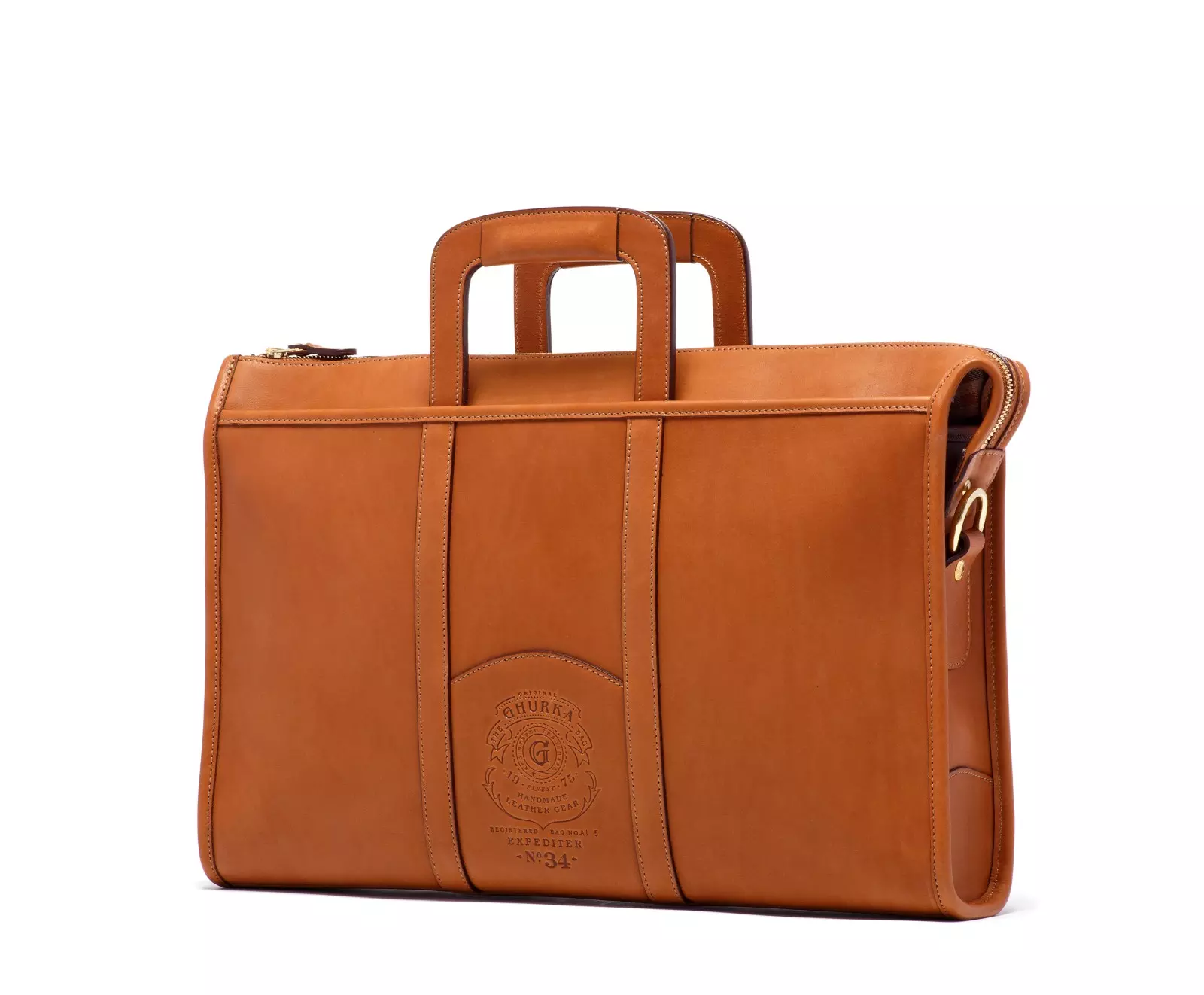 Jura 28 Year Old Platinum Old And Rare Scotch Whisky
Celebrating graduation is very much about the experience. Thus, connecting this momentous occasion with the experience of sampling a rare limited-edition Scotch whisky is a logical one. Also, should the of-age grad be capable of showing some restraint, a bottle like this Jura 28 Year Old Platinum Old and Rare should last a reasonable amount of time. This particular single cask expression was distilled in April of 1979, and bottled in August of 2017, and it's a particularly tricky one to track down on the open market, as only 109 bottles of the rarified spirit were ever produced.
A Fine Tailored Suit
Unlike our other selections, this pick remains a touch more vague because selecting the right suit is entirely too personal decision. At the end of the day what truly matters is fabric and fit. The best suit can easily be ruined by not having the perfect fitment, and often more moderately-priced suiting can quickly look like a million bucks if your tailor knows what he's doing. Personally we're rather partial to offerings from Brunello Cuccineli and P.Johnson these days, but a browse through the suiting offerings at Barney's or Neiman Marcus will reveal a plethora of noteworthy options.
For something a touch more special, going custom/bespoke can be a solid option, especially if you're in one of the country's hubs. Outfits like High Society in Los Angeles, and Musika Frere in New York both offer exceptional bespoke and made-to-measure suiting using world-class fabrics, and on occasion, the aforementioned luxe department stores will hold custom suiting events for certain brands, which would be another option to keep an eye out for. Of course the right suit would need to be paired with an appropriate dress watch, but that's a talking point for another occasion.