While racing watches are commonly associated with motorsports, the concept of the race watch pre-dates the invention of the automobile by over six decades. But what exactly is a racing watch and how does it differ from a chronograph? Perhaps more importantly, what are the best racing chronographs out there? Here's everything you need to know about racing watches before you buy. 
What is a Racing Watch?
As its name suggests, a racing watch is a purpose-built timepiece used to measure race times – whether car, motorbike, horse, or yachting races. Today, racing watches are essentially synonymous with chronograph watches. However, while all modern racing watches are chronographs, not all chronographs are racing watches.
A chronograph is a watch that at the very least includes a stopwatch function but also frequently features additional counters to display how much time has passed. A contemporary chronograph typically has two chronograph pushers flanking the winding crown, which serve to start, stop (upper pusher), and reset (lower pusher) the central chronograph hand. Additionally, chronograph watches normally include sub-dials to read the elapsed hours and minutes since the start of the event. There often is an additional sub-dial for the running seconds hand too. It's important to note that there are variations such as chronographs with a single pusher or chronographs that display both the elapsed minutes and hours on a single sub-dial.
Not all chronographs include scales but many of them do. A chronograph can be used to measure different types of events depending on the scale it has paired with it.
Pulsometer scale for doctors: measures heart rate
Telemetric scale for military: measures distance of a visible and audible event
Decimeter scale for scientists: breaks a minute down into 100 parts
Tachymeter scale for racing: measures average speed based on time traveled over a fixed distance
Therefore, the presence of a tachymeter scale is a critical component of a racing watch. 
Racing Watch Characteristics And Features
Luxury racing watches today are defined not only by their technical ability but also by their dashingly good looks and their handsome, chiseled physique, which embodies the expertise involved in the production of a race car and mirrors a speed-hungry aesthetic. This style of wristwatch is not bound by restraint or uniformity, moreover, their exotic colors and adrenaline-infused designs allow the wearer the flexibility to express character on the wrist. Attributes of a racing watch include, but are not confined to the following characteristics:
1) CHRONOGRAPH:
Most frequently found with two or three counters on the dial commonly known as bi-compax or tri-compax. These counters serve to measure an elapsed period of a timed event and are often rendered in contrasting colors to enhance visibility. A pair of chronograph pushers to start, stop, and reset the sweeping seconds hand. A special variant is the flyback chronograph which allows resetting and starting a new timing with one simple push of a button.
2) TACHYMETER SCALE:
Allowing the wearer to measure either distance or speed based on the time traveled over a fixed distance, the tachymeter scale is an indispensable tool for the design of a racing watch. Not only does it enhance the sporty look, but it makes basic conversion on the race track incredibly easy. Tachymeter scales are found either on the dial or on the bezel.
3) HIGH-CONTRAST DIAL:
Easy to read at high speeds and with just a quick glance, racing watches often boast a high-contrast dial which enhances the visibility of features like the sweeping seconds hand and the chronograph counters.
4) RALLY STYLE STRAPS OR METAL BRACELETS
No vintage racing watch looks complete without the addition of a rally-inspired strap crafted from a durable material like rubber or leather. Perforated holes on the strap are a key feature, inspired by knuckle cutouts of racing gloves and drilled holes of steering wheels. These perforations also allow airflow under the watch while wearing racing gear.
Today, many racing watches are presented on metal bracelets crafted from stainless steel or lightweight titanium for long-lasting wear on the wrist. There are also solid gold or platinum bracelets for ultra-luxurious racing watches.
Brief History of Racing Watches
Louis Moinet is credited as inventing the very first chronograph in 1816. But, it was not called a chronograph then but rather a "Compteur de Tierces" (which is French for "thirds counter"). Moinet's invention included a center-mounted hand, activated and reset by two buttons, to accurately measure intervals to 1/60 of a second. However, this innovative timepiece was not built for racing but in fact, to time the passage of stars, planets, and moons.
It was Nicolas Mathieu Rieussec who invented the first racing watch in 1821 for King Louis XVIII to time horse races. Rieussec's "time-writing" device included an ink-tipped hand that would mark the dial with a little ink dot via a press of a button. So, each time a horse crossed the finish line, the race official could press the button and at the end of the event, the dial would indicate the various timings of all the competitors. The term "chronograph" is derived from the Greek words chronos (for "time") and graph (for "writer").
The chronograph complication and the racing watch evolved significantly over the next century. Innovations such as Heuer's "Time of Trip" dashboard chronograph in 1911, Longines' first chronograph for the wrist in 1913, and Breitling's first wristwatch chronograph with two pushers in 1933 all advanced the racing chronograph to where it is today. The first half of the 20th Century witnessed many major watch brands unveil their chronograph models – most built to answer the call of military needs of two world wars.
During the second half of the 20th century, when wartime was over in Europe, watchmakers shifted their attention from military timepieces to flourishing industries and pastimes such as diving, air travel, and motorsports. As a result, some of the best in the business launched chronograph watches dedicated to racing. 
Perhaps the most important year in chronograph history was 1969 with the invention of the automatic chronograph movement. Depending on whom you speak to, Zenith, Seiko, or a consortium made up of Heuer, Breitling, Hamilton-Buren, and Dubois Depraz have all been credited with this breakthrough.
WATCHES AND MOTORSPORTS
One of the reasons why watches and the motor-sport industry are so inseparable is due to the needs of high accuracy timekeeping at the track. Manufacturers like Rolex and Omega continue to maintain their longstanding commitment to providing the racing world with reliable precision watches for recording lap times and other important race track data. Watch connoisseurs who collect racing watches are still looking for a timepiece that delivers the same performance whether worn for driving purposes or not. After motoring enthusiast and actor, Paul Newman sported the Rolex Cosmograph Daytona upon his wrist, it gained an almost cult-like status, spawning a dedicated fan base of motor-sport enthusiasts, businessmen, and style-conscious individuals alike.
The history of the racing watch also includes the pivotal role Omega played with the launch of their famous Speedmaster. Before the Omega Speedmaster became the first watch worn on the surface of the moon, forever cementing its role in the space and aviation industries, it was a racing chronograph developed for professional race car drivers to use at the track. Adding leverage to the company's position as official timekeeper for the Olympic Games, the first Speedmaster was created in 1957 as a racing and sports chronograph with a visually impressive and easy to read dial. The original Omega Speedmaster, the CK2915 was designed by Claude Baillod and featured a tri-compax chronograph layout with high-contrast index markers. Additionally it made the pioneering decision to have its tachymeter scale moved to its bezel rather than printed on its dial for increased legibility.
Despite choices ranging from conservative to extremely bold, along with a vast array of racing watch straps now available, all luxury racing watches are bound by the same core values that inextricably connect them to precision driving and technical excellence.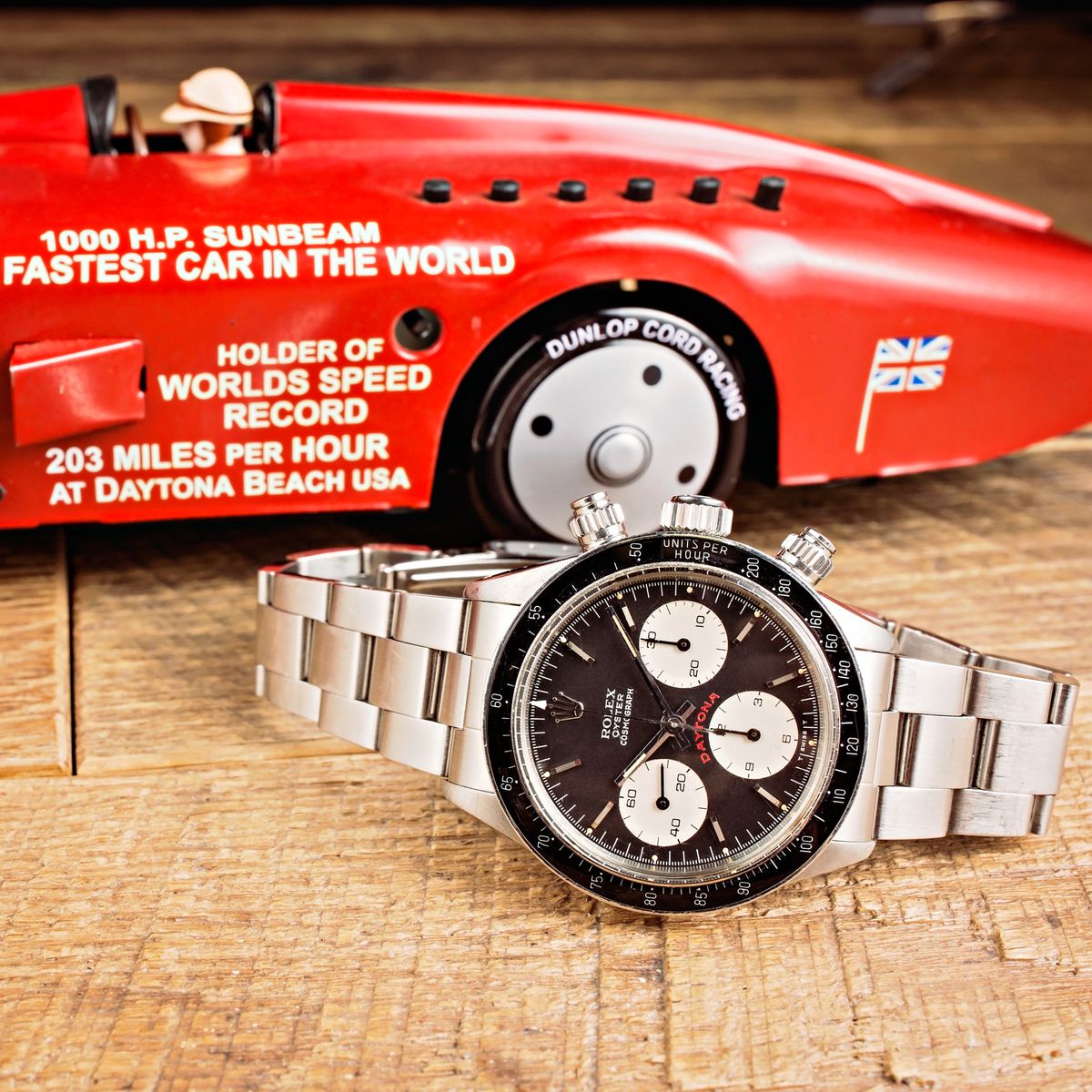 History of Rolex Racing Watches
Harking back to as early as the 1930's, Rolex has been linked with the racing car industry, sharing a passion for the racetrack as well as a commitment to precision. Although racing drivers may no longer rely on a watch to keep track of their own lap time, Rolex racing watches have played an integral part in assisting the racing driver in the past. Facilitating easy recording of lap times and other measurements through their refined chronographs, Rolex racing watches have helped shape the history of the car racing industry and of course, Swiss timekeeping. It was not until the mid-1930's that racing watches became so widely used. In 1935, Rolex and the King Of Speed, Sir Malcolm Campbell, were united in their passion for precision and their quest for speed when a world record was broken behind the wheel of the Bluebird at Bonneville Salts Flats in Utah. Campbell reached a record-breaking speed of 300mph with the Rolex Oyster watch strapped securely to the wrist to which he described the watch has having been worn under "… somewhat strenuous conditions."
When the 1894 "Competition for Horseless Carriages" took place from Paris to Rouen, it was plagued with mis-timing issues, resulting in a number of different finishing times through lack of any reliable equipment to assist with accurate recordings. But 1902 the first of the Daytona races occurred – an event that would later see Sir Malcolm Campbell break the land speed a total of four times whilst wearing the iconic Rolex Oyster. It changed the racing industry forever. Rolex would also honor their connections to this prestigious event, by eventually creating a chronograph watch named after the races called the Rolex Cosmograph Daytona.
In early 2013, Rolex became a Global Partner and Official Timepiece of Formula 1, welcoming a number of champions into their family along the way. Nico Roseberg, 23 Grands Prix™ winner (and son of 1982 Formula One World Champion™ Keke Rosberg), along with Australian racing driver Mark Webber – winner of FIA World Endurance Championship and runner up of the Le Mans race in 2015, are just two examples of those who wear a Rolex racing watch.
Best Racing Watches from Top Watch Brands
With a better understanding of what exactly a racing watch is and its history, it's time to look at a few of our favorite options. From aspirational to affordable, here are some of the best racing watches from leading watchmaking brands.
Rolex Daytona
Key Features:
Chronograph functionality
External tachymeter scale bezel
Tri-Compax dial layout
Click here to learn the history of the Rolex Daytona.

The Rolex Daytona is the most famous chronograph in the world. Born in 1963 and named after the renowned Daytona Speedway in Florida, the Rolex Daytona has evolved quite dramatically over its 50-plus years of history. Rolex's now-iconic racing watch began as a manual-winding chronograph, evolved into a Zenith El-Primero powered automatic chronograph in 1988, and then finally, progressed into an entirely in-house made self-winding chronograph in 2000.
Automatic Rolex Daytona models all sport 40mm cases with screw-down crowns and chronograph pushers, along with external tachymeter scale bezels. They're available in an assortment of different materials including steel, 18k gold (yellow, white, and Everose), two-tone steel and gold, and platinum. Bezel options range from Cerachrom ceramic to metal to gem-set. Additionally, while most Rolex Daytona watches come fitted with an Oyster bracelet, there are also select models with leather straps or rubber Oysterflex bracelets. 
The Daytona's popularity commonly causes shortages in boutiques for particular models, leading the way for a booming secondary market for them. It's not unusual to find the pre-owned versions of the stainless steel and ceramic Rolex Daytona ref. 116500LN selling for roughly double its $13,150 retail price tag. 
Omega Speedmaster Racing
Key Features:
Chronograph functionality
External tachymeter scale bezel
Bi-Compax dial layout
Click here to learn how NASA tested the Omega Speedmaster.

Before it became known as the "Moonwatch" the Omega Speedmaster was the brand's racing watch, first introduced in 1957. The Speedmaster was the first chronograph to have the tachymeter scale engraved on the bezel instead of on the dial for better legibility. Although there are many Speedmaster sub-collections, the Omega Speedmaster Racing models are dedicated to that original competitive motorsport spirit. 
Omega Speedmaster Racing Master Chronometer watches have 44.25mm cases, available in stainless steel or 18k Sedna rose gold. One of the watch's defining features is the so-called "racing dial," characterized by a checkered-flag minute track inspired by a 1968 Speedmaster. Those dials are home to two subdials rather than three and the ceramic bezels are furnished with tachymeter scales. As is customary with Omega, the Speedmaster Racing watches are available with either metal bracelets or leather straps. 
Under the hood of the Omega Speedmaster Racing Master Chronometer models is the METAS-certified Co-Axial Master Chronometer 9900 automatic chronograph movement, visible through the sapphire exhibition casebacks.
TAG Heuer Monaco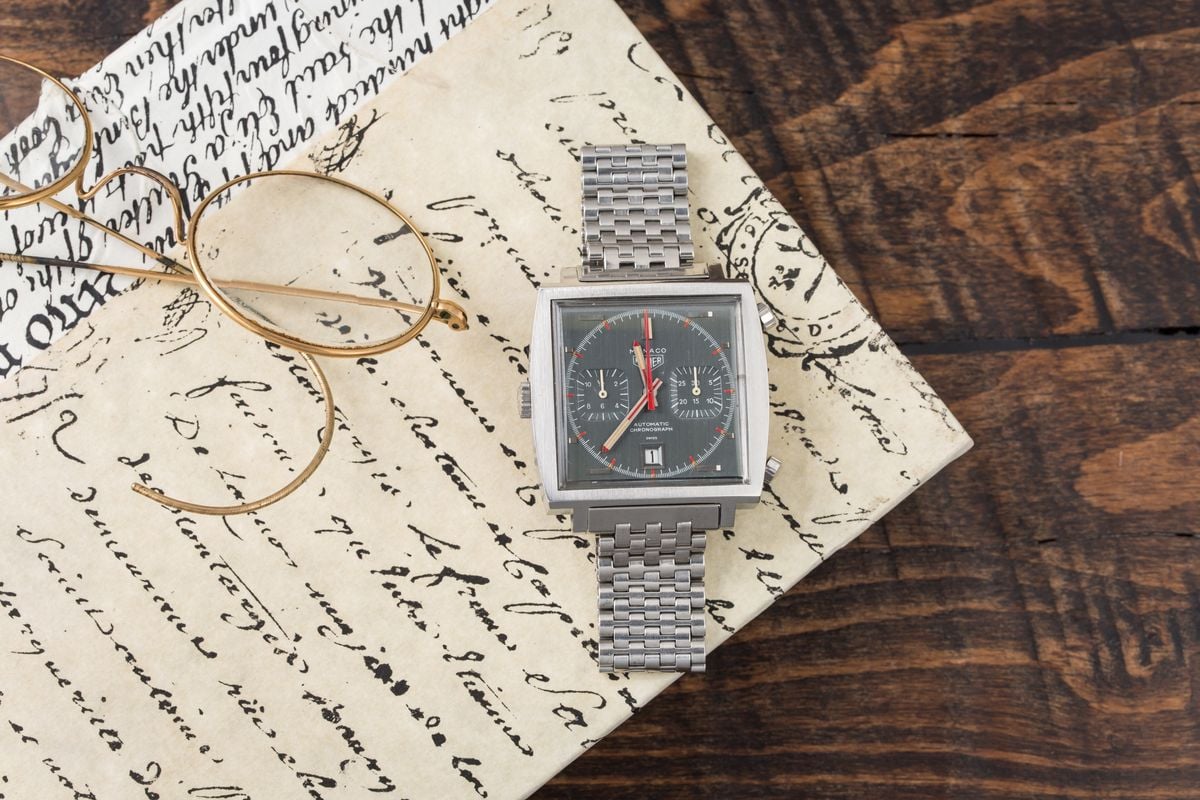 Key Features:
Chronograph functionality
Square-shaped case
Bi-Compax dial layout
Click here to learn more about the vintage Heuer Monaco.

Of all the watch brands, Heuer (now known as TAG Heuer) is the one with the longest history of making racing watches with models like the Autavia, Carrera, and Monaco. Named after the Monaco Grand Prix, the Heuer Monaco watch made its debut in 1969 – the same year Heuer, Breitling, Hamilton-Buren, and Dubois Depraz unveiled their jointly-developed automatic chronograph movement. 
The Heuer Monaco was the world's first water-resistant automatic chronograph with a square case. And thanks in part to the Monaco's association with Steve McQueen in the 1971 film, Le Mans, it's become one of the most iconic racing watches ever made. A signature design trait of early vintage Monaco watches is the placement of the winding crown on the left side of the square case while the duo of chronograph pushers is on the right. Other key details included a circular minute track on the square dial accompanying two subsidiary dials and a date window. 
The Monaco watch has, of course, evolved over the years. While the winding crown now typically sits on the right-hand side of the case, the pushers have been redesigned, and the dial has undergone more than a few facelifts, the Monaco still remains one the most recognizable watch design of the modern era. 
Cartier Roadster Chronograph
Key Features:
Chronograph functionality
Tonneau-shaped case
Tri-Compax dial layout
Click here to learn more about Cartier watches.

Cartier may no longer make the Roadster watch but its unique silhouette is still a cult-favorite among many watch enthusiasts. Cartier launched the Roadster in the early 2000s, inspired by the sports cars of the 1950s and 1960s.
From the windshield-like date magnification lens over the date and winding crown fashioned after a tire to the speedometer style dials and aerodynamic tonneau case, Cartier was not shy about drawing design cues from cars to develop the Roadster watch. Plus, it's hard to miss the headlight-shaped cavities that house the lug screws.  
Though most models in the collection are time and date only, for racing watches we look to the automatic Cartier Roadster Chronograph models. These sporty pieces not only include pedal-like chronograph pushers but some even also a tachymeter scale around the periphery of the dial. 
Breitling for Bentley 
Key Features:
Chronograph functionality
Internal slide rule and tachymeter bezels
Bi-Compax or Tri-Compax dial layout
Click here to learn more about Breitling for Bentley watches.

Automaker Bentley and watchmaker Breitling first teamed up in 2002 when Breitling was asked to develop the onboard clock of the Bentley Continental GT. A year later, Breitling released a special-edition Bentley Le Mans watch in honor of the racing team's 1st and 2nd place wins at the 2003 24 Hours of Le Mans. 
Since then, the duo of luxury brands have been behind the Breitling for Bentley watches – a collection of bold chronograph models inspired by cars, racing, and top-tier watchmaking. Although there have been numerous Breitling for Bentley models made over the years, they almost always feature bezels with the car's honeycomb grille pattern, COSC-certified chronograph movements, and a variable tachometer with an additional circular slide rule. 
Panerai Luminor Chrono Daylight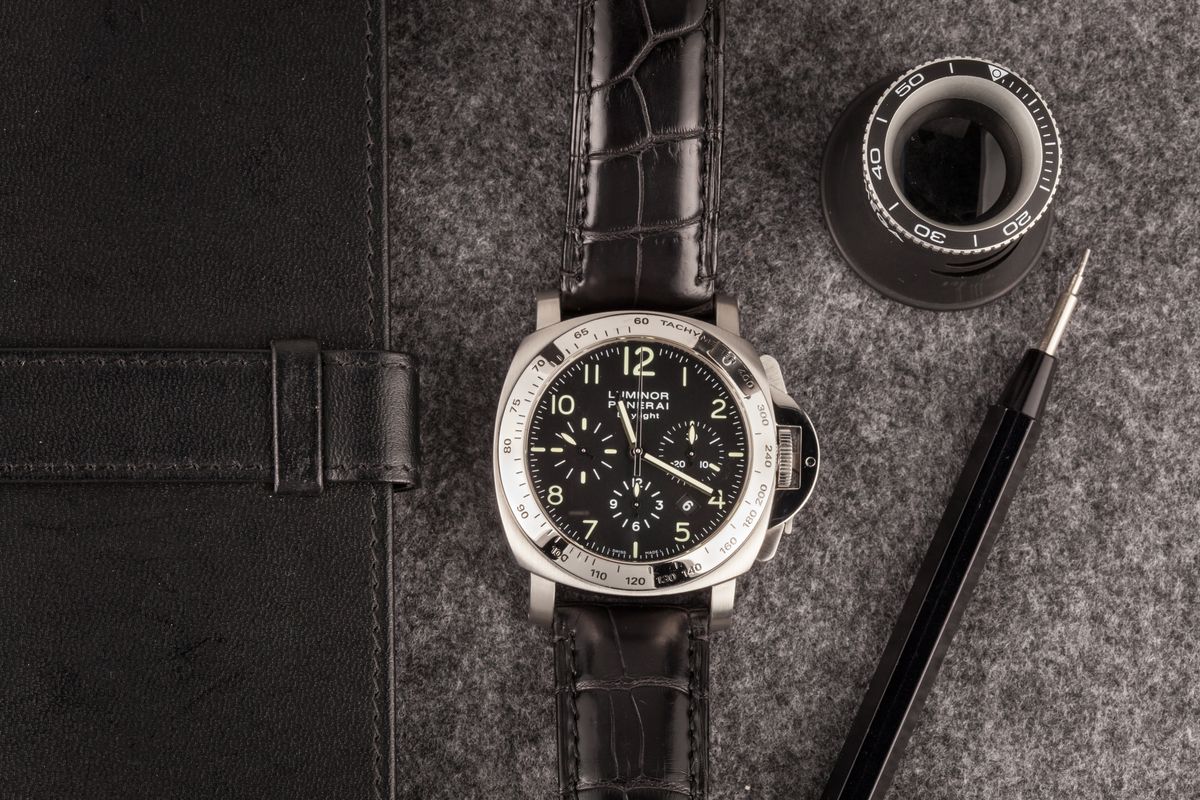 Key Features:
Chronograph functionality
External tachymeter scale bezels
Tri-Compax dial layout
Click here to learn more about the Panerai Luminor.

Panerai may be most famous for making extra-large luxury watches modeled after vintage military diving watches, but tucked away in the brand's archives are a handful of racing chronographs too.  
Take the Panerai Luminor Chrono Daylight models for example, which feature chronograph complications inside the famed oversized crown guard-equipped 44mm Luminor case. Additionally, the metal bezel is engraved with the tachymeter scale and the dial is punctuated with three sub-dials. The functionality of the watch coupled with the high legibility of Panerai's signature dial design makes the Luminor Chrono Daylight a solid (albeit not an obvious) racing watch choice.  
Tudor Fastrider Chrono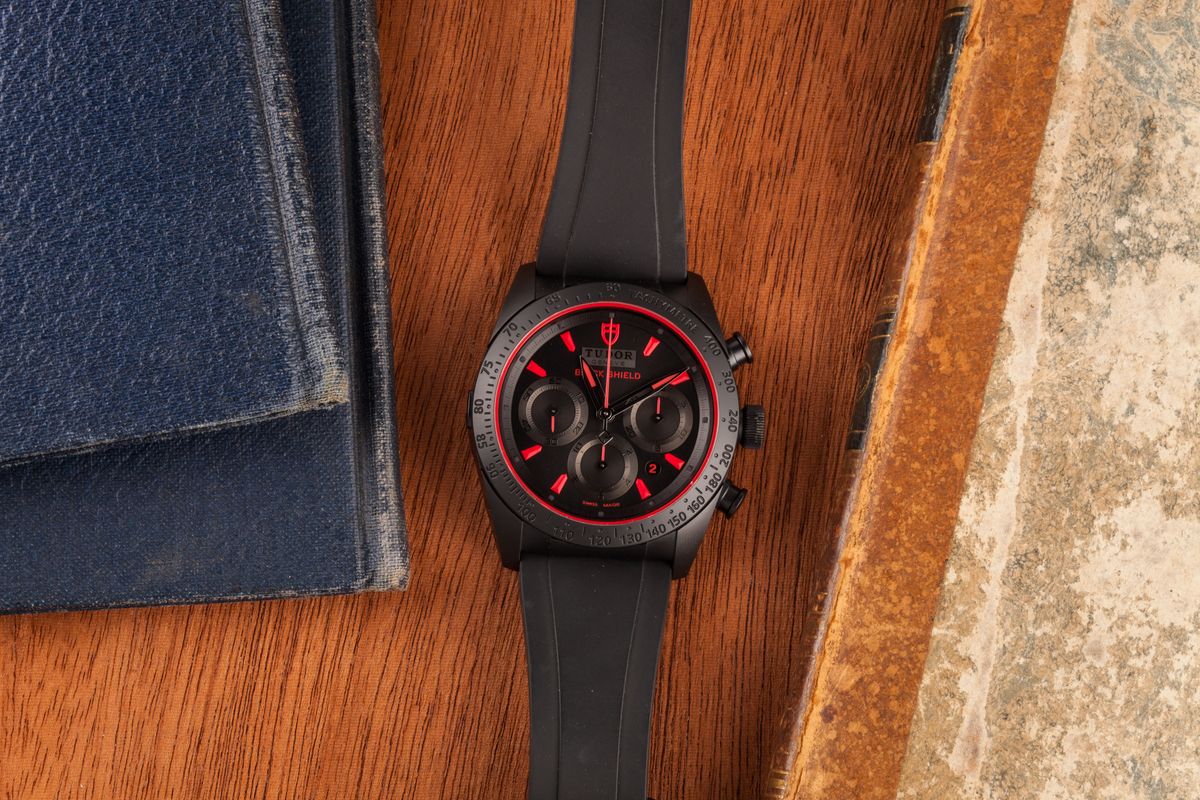 Key Features:
Chronograph functionality
External tachymeter scale bezels
Tri-Compax dial layout
Click here to learn more about Tudor watches.

Unlike the car-centric racing watches we've outlined so far, Tudor took a slightly different turn by teaming up with motorcycle-manufacturer Ducati in 2011 to develop the Fastrider chronograph. To kick off the partnership, the pair presented a special edition Tudor Fastrider automatic chronograph dressed in Ducati's red and black colorway. 
This paved the way for other Tudor Fastrider models to join the collection a few years later, complete with tachymeter-engraved ceramic bezels and various dial colors. Then in 2013, Tudor took it a step further with the Fastrider Black Shield variants, boasting full black ceramic 42mm cases and matching black dials. 
Oris Calobra Chronograph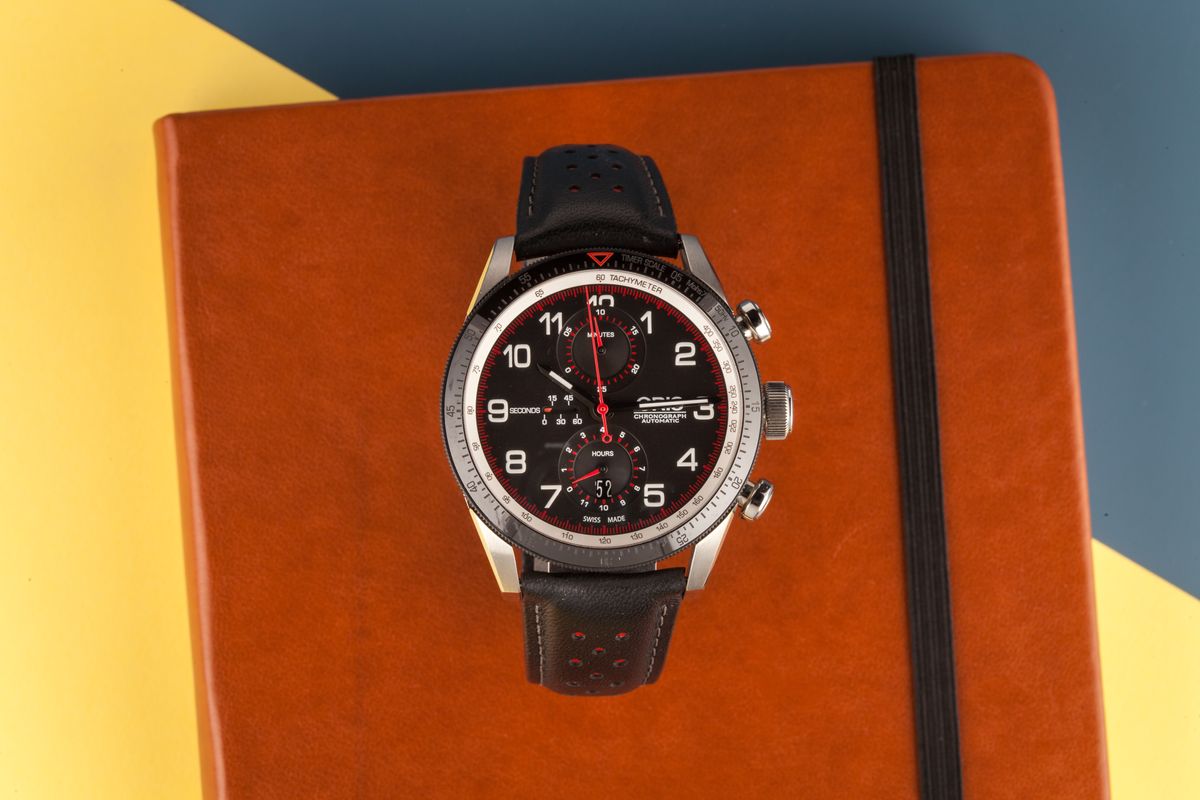 Key Features:
Chronograph functionality
External tachymeter scale bezels
Bi-Compax or Tri-Compax dial layout
Click here to learn 8 interesting facts about Oris watches.

Oris is no stranger to making motorsport watches and one of the more intriguing models is the Calobra Chronograph. Named after a small village in Majorca, Spain, the Oris Calobra Chronograph collection is home to the limited-edition racing watches the brand made in honor of its sponsorship of the Rally Clásico Isla Mallorca.  
With 44mm stainless steel cases, old-school-style pump chronograph pushers, shiny black tachymeter bezels, and dashboard-inspired dials with either bi-compax or tri-compax layouts, the relatively affordably priced Oris Calobra Chronographs are attractive options for Swiss-made automatic racing watches.
Tissot PRS 516
Key Features:
Chronograph functionality
External tachymeter scale bezels
Tri-Compax dial layout
Click here to learn more about the history and heritage of Tissot watches.

Race cars and motoring have been a source of inspiration for the Tissot PRS 516 since the 1960s. "PRS" is short for "Particularly Robust Sport" (or "Particularly Resistant Sport"), while the 5 denotes the specific caliber finishing and 16 represents the 16th model. While these numbers no longer apply to the current PRS 516 range, they remain part of the collection's name as a tribute to the history of Tissot's racing watches.  
From early watch designs that featured holes in the straps (similar to those found on steering wheels of the era) to today's bold and sporty iterations, the PRS 516's connection to racing is always front and center. As one of the more affordable Swiss watch brands on the market, Tissot's expansive automatic PRS 516 chronograph lineup offers some fantastic entry-level options in a variety of styles and materials. 
Whether or not the stopwatch function is ever activated, chronographs – particularly the racing watch varieties – are some of the most popular styles of timepieces today. The appealing combination of sporty designs and links to the adrenaline-fueled world of automotive racing is one that will continue to drive the demand for racing chronographs for the foreseeable future.