In the world of Rolex collecting, vintage Daytona watches are in a league of their own. Vintage Rolex Daytona collectors are fervently passionate about these manual-wind chronographs and the interest in these particular timepieces extends far beyond just watch enthusiasts and can be found among members of the general public.
Let's not forget that Phillips made global headlines in October 2017 after the sale of Paul Newman's very own Rolex Daytona ref. 6239 "Paul Newman" – which sold for $17.8 million, making it the most expensive Rolex watch ever sold at auction. Additionally, Paul Newman's other Daytona (a reference 6263 with a standard black dial) fetched $5.48 million, Eric Clapton's Rolex Daytona ref. 6263 "Albino" sold for a whopping $1.4 million, and there are numerous other vintage Daytona watches that have been known to break the million-dollar mark whenever they surface at auction.
Today, we take a look at one particular reference of the vintage Daytona family – one that some collectors say is the single most desirable model – the Daytona ref. 6263. Here is everything you need to know about the vintage Rolex Daytona reference 6263.
Rolex Daytona Reference 6263
Daytona 6263 Key Features:
– Reference Number: 6263
– Production Years: 1971 – 1987 (Approx.)
– Case Size: 37mm
– Materials: Stainless Steel; 14k Yellow Gold; 18k Yellow Gold
– Functions: Time w/ Running Seconds, 12-Hour Chronograph
– Dial: Black; Silver; Champagne; Exotic (Paul Newman) w/ Luminous Hour Markers
– Bezel: Fixed, Black Acrylic w/ Tachymeter Scale
– Crystal: Acrylic (Box-Shaped)
– Movement: Valjoux 727 (Manual Wind)
– Water Resistance: 50 Meters / 165 Feet
– Strap/Bracelet: Oyster Bracelet; Jubilee Bracelet; Leather Strap
– Price Range: $75,000 – $5.5 Million (as of June 2021)
Click here for our Ultimate Buying Guide on the Rolex Daytona.
Rolex Daytona 6263: The Basics
Before we get into the dials, let's quickly go over some general information about the Rolex Cosmograph Daytona reference 6263. Produced from the early 1970s through 1987, the Daytona ref. 6263 sports the second-generation screw-down chronograph pushers that separate it from earlier vintage Daytona references that were fitted with traditional pump-style pushers and offer superior water resistance. Additionally, signaling the increased depth rating of the Daytona ref. 6263 is the presence of the "Oyster" label on the dial. Manufactured in stainless steel, 14k yellow gold, or 18k yellow gold, the Rolex Daytona 6263 is powered by the famous manual-wind Valjoux 727 chronograph movement.
Daytona 6263 Bezel
A distinguishing hallmark feature of the Rolex Daytona ref. 6263 is its black acrylic bezel with a tachymeter scale (the Daytona 6263's sibling reference, the Daytona 6265 features a metal beze)l. The black acrylic bezel on the ref. 6263 is an inherently vintage design element that you will not find on any modern Daytona watches; however, some collectors say that it served as the inspiration behind the black ceramic bezel that can be found on modern stainless steel Daytona watches.
Rolex Daytona ref. 6263 Dials
During its more than 15-year production run, the ref. 6263 was made available with an assortment of different dials. Stainless steel examples were typically fitted with either black or silver dials, while the gold variants received dials in either black or champagne. Additionally, Rolex also produced the Daytona 6263 with "Exotic" dials (now known as Paul Newman Dials), which feature unique Art Deco style numerals. While there's plenty of variety, the fundamental layout of the Cosmograph Daytona remains the same – a trio of registers at 3, 6, and 9 o'clock, along with center hour, minute, and chronograph seconds hands – and of course, no date window.
Rolex Daytona Ref. 6263 – Sigma Dial
Known among vintage collectors as a Sigma dial, this unique variation includes two lowercase Greek Sigma letters (σ) flanking the "T SWISS MADE T" signature that is positioned at the very bottom part of the dial, under the 6 o'clock hour marker. The Sigma symbols indicate the use of solid gold to create the hour markers – either white gold or yellow gold depending on the specific version of the reference 6263 Daytona.
Sigma dials are found on several different Rolex models from the beginning of the 1970s until the latter part of the decade, including the Cosmograph Daytona ref. 6263. While an easy detail to miss at first glance, these small Sigma symbols found on Rolex Sigma Dials are indeed rare and coveted, and therefore command a premium on the vintage market.
Rolex Daytona Ref. 6263 – 'Big Red'
It's interesting to note that earlier versions of the Rolex Daytona ref. 6263 actually did not include the now-famous Daytona signature on them – only the 'Cosmograph' name. Remember, Cosmograph Daytona is the full name of the Rolex Daytona, and since the 'Daytona' part was a later addition, most early examples of Rolex's iconic chronograph watch do not have the legendary 'Daytona' name appear anywhere on them. However, around 1975, Rolex started including the Daytona name on the majority of reference 6263v watches. Always in red letters on the stainless steel examples and present on both black and silver dials of the Daytona ref. 6263, the 'Daytona' name arches above the sub-dial at 6 o'clock in the exact same location where it remains today.
Keep in mind that there are Big Red Daytona and Small Red Daytona watches, and as their names suggest, they have different sizes of the red 'Daytona' printing on the dial. Additionally, there are also slight differences in where the red Daytona text is placed in relation to that 6 o'clock subdial. The so-called Big Red Floating dials have the Daytona print further away from the sub-dial compared to other versions.
Values of the various red Daytona dials vary wildly. We've seen examples starting at around $75,000 and reaching well into the six-figure territory (However, Paul Newman's personal "Big Red" Daytona ref. 6263 sold for a staggering $5.48 million at an auction in December 2020). Additionally, the Big Red Sigma Daytona dials with both the red text and the sigma symbols are a particularly rare, coveted, and valuable variant that is often at the top of many reference 6263 collectors' wish lists.
Click here to learn more about the Rolex "Big Red" Daytona reference 6263.
Rolex Daytona Ref. 6263 – Paul Newman
Finally, at the top of the vintage Daytona chronograph heap are undoubtedly the examples equipped with what Rolex once referred to as 'Exotic' dials but now are ubiquitously known as Paul Newman Daytona dials, ever since the legendary Hollywood actor was spotted wearing one on the cover of an Italian magazine.
These particular exotic Paul Newman dials carry with them a handful of signature design hallmarks that set them apart from standard Daytona dials. First, there are the Art Deco style numerals on the trio of registers. Also on the registers is the presence of square ends on the hash marks, while the sub-dial at 9 o'clock includes 15, 30, 45, and 60 numerals rather than just the 20, 40, and 60 of standard Daytona dials. Finally, the registers are always in a contrasting color to the main dials, whether that's a panda white dial with black registers or a black dial with white registers (or black and champagne on the yellow gold versions of the Paul Newman Daytona 6263).
It's been said many times before that among all the six references that are available with Paul Newman dials, it's the Daytona ref. 6263 Paul Newman that's the most sought-after among vintage collectors. The market for Paul Newman Daytona watches is extremely robust at the moment with values steadily on the rise. Prices for used Rolex Daytona 6263 watches with Paul Newman dials start out at well over six figures for the most affordable examples and increase from there depending on factors such as age and overall condition.
Paul Newman's Rolex Daytona 6263
When people talk about Paul Newman's personal Rolex Daytona, they likely are referring to his reference 6239 fitted with a 'Paul Newman' dial. This is the exact watch that sold for $17.8 million in 2017; however, Paul Newman owned multiple Rolex Daytona watches in his personal life, including a reference 6263 "Big Red" that was fitted with a classic black dial.
Just like his other Daytona watch, Paul Newman's reference 6263 was a gift from his wife Joanne, and just like his other watch, his Daytona 6263 also features a case-back engraving. While Paul Newman's Paul Newman Daytona will always be the watch most associated with the legendary Hollywood actor and racing driver, it is highly likely he actually wore his reference 6263 more frequently, as he gave away his Paul Newman Dial Daytona to his daughter's boyfriend in 1984. Despite not being fitted with a Paul Newman dial, Paul Newman's Rolex Daytona 6263 still managed to sell for an impressive sum of $5.48 million dollars at an auction in December 2020, making it one of the most expensive Rolex watches ever sold.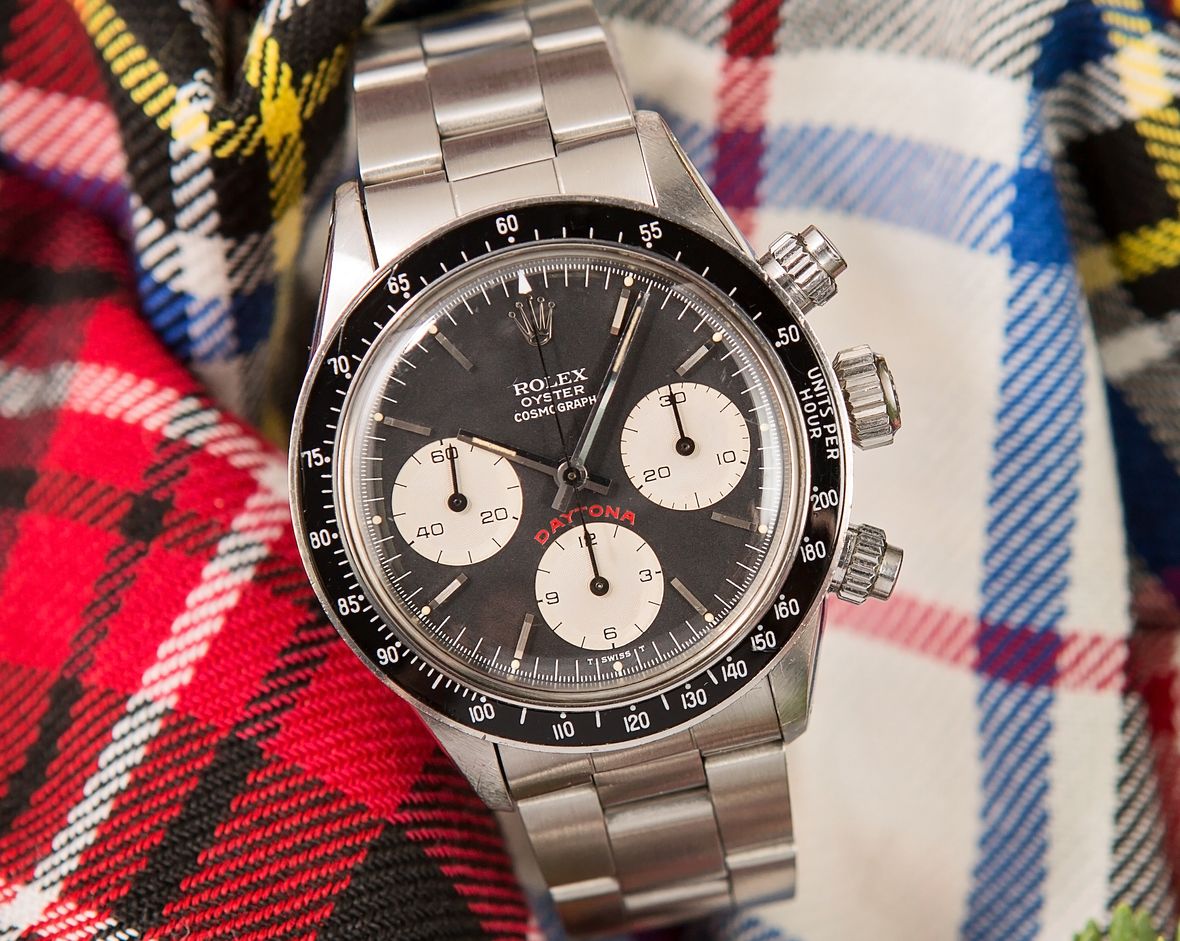 Why the Rolex Daytona 6263 Is the Ultimate Collectors' Dream
Among all vintage Rolex watches, it is the various manually-wound Daytona models from the first generation that are often regarded as the most valuable, desirable, and collectible. However, not all vintage Daytona references are considered equal and some are simply held in higher regard than others, with the reference 6263 consistently ranking among the most coveted vintage Daytona references available.
Part of the reason why the reference 6263 is so desirable is that it (along with its metal bezel sibling, the reference 6265) is the last iteration from the first generation of manual-wind Daytona watches, before automatic winding movements, sapphire crystals, and larger 40mm cases with crown-guards were introduced to the collection. This means that these Daytona watches are the last true vintage Daytona models, and represent Rolex's final vision for its manually-wound chronograph watch.
Additionally, it is also worth noting the Daytona 6263 is typically considered to be more desirable than the ref. 6265. Beyond the difference in bezels, these two vintage Daytona watches are virtually identical, but the Daytona 6263's black acrylic bezel makes it worth significantly more than an otherwise identical ref. 6265, especially if the black acrylic insert is in good condition and free of all cracks, chips, and scratches.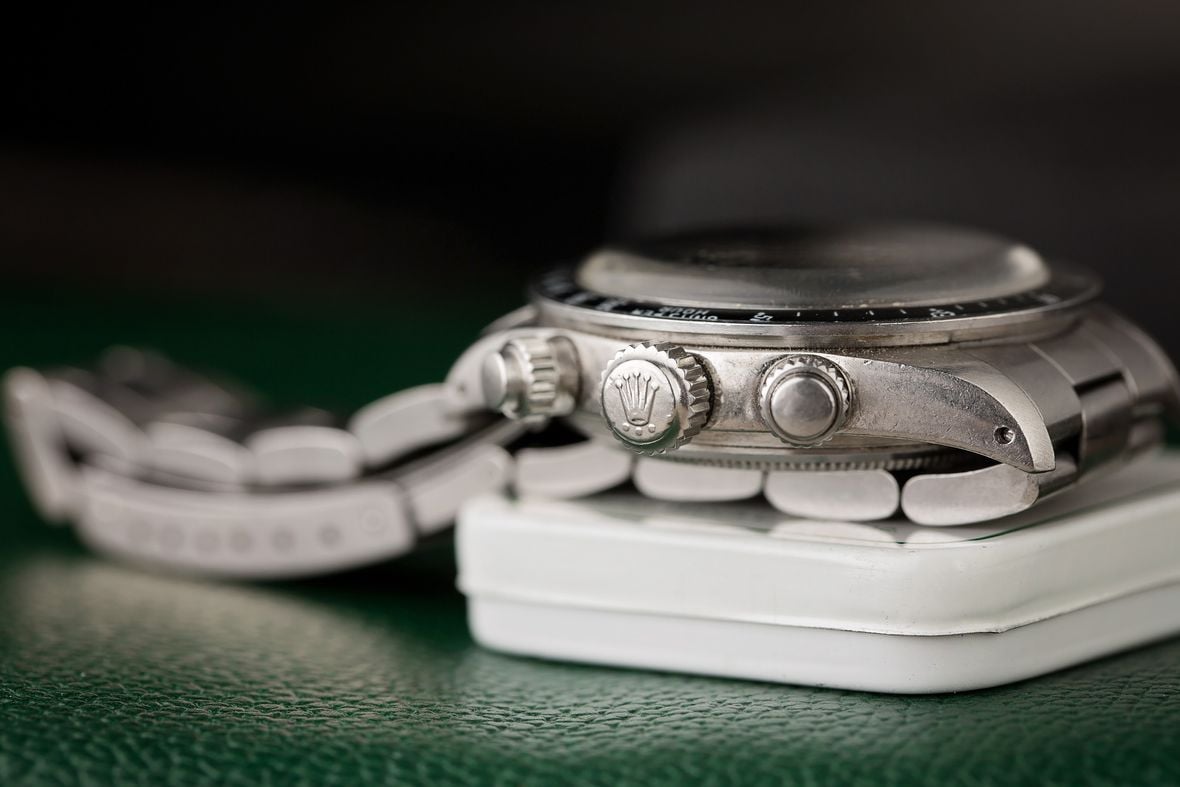 Rolex Daytona 6263 Investment Value
It is no secret that Rolex watches make excellent investments – arguably better than any other luxury timepieces – and vintage Daytona watches are some of the most valuable Rolex watches in existence. Any Rolex Daytona reference from the first generation of manually-wound watches will be regarded as one of the most collectible vintage Rolex references available, but the Daytona 6263 reigns supreme and is often valued higher than some references that are technically less common based on production numbers alone.
Prices for vintage stainless steel Rolex sports watches continue to increase each year, and although a significant outlay is required in order to secure a Daytona 6263 – especially if you have your eyes set on one with a Paul Newman dial – they are easily one of the safest bets in the world of luxury watches. All Rolex Daytona watches rank among the most desirable watches in the world, and even the current-production versions trade hands for values that are two to three times greater than their original brand-new retail prices. When it comes to ultra-collectible vintage models such as the reference 6263, the sky's the limit in regards to prices and each year these iconic chronograph watches only get harder to find and more expensive to purchase.
When it is all said and done, pretty much any vintage Rolex Daytona ref. 6263 is a joy to wear and own, regardless of the dial variant. While they may differ in value, each one has its own character and appeal, and all of them rank among the most desirable vintage Rolex timepieces in the world. A true grail watch by any and all standards, the popularity of the Daytona 6263 doesn't look like it'll be slowing down anytime soon. And if you're lucky enough to have one in your collection, then you'll be happy to know that their values are going in the same upward direction too!